News
15 students selected amongst hundreds to serve as national Youth Heart Ambassadors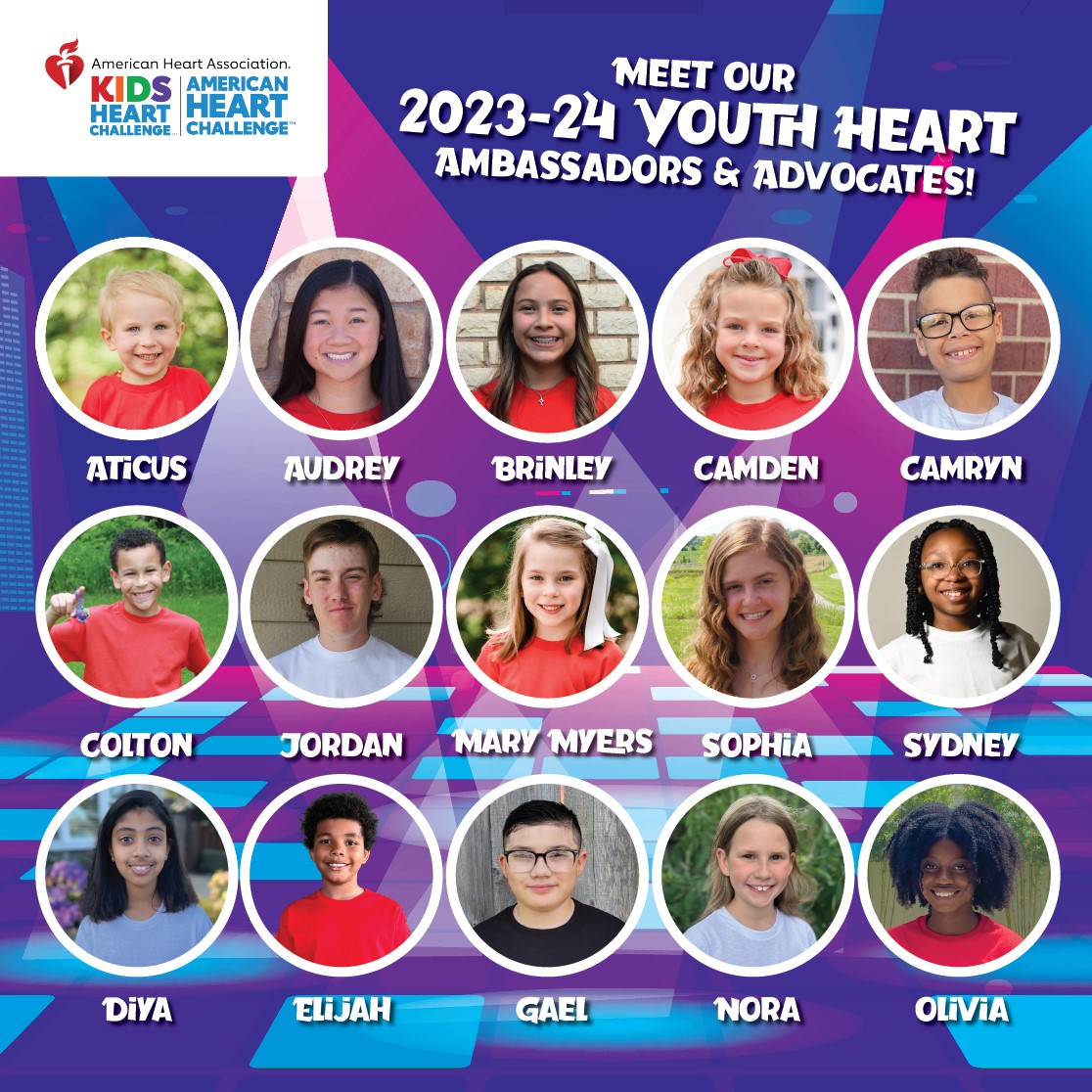 (NewMediaWire) – August 15, 2023 – DALLAS — Fifteen students from coast to coast are joining the American Heart Association, a global force for healthier lives for all, to champion their peers to live heart healthy. Representing a diversity of backgrounds and experiences, these youth selected as national volunteer Youth Heart Ambassadors for the association's in-school programs, Kids Heart Challenge™ and American Heart Challenge™ will share how heart disease and stroke have impacted their lives while encouraging others to establish healthy habits to better mental and physical well-being.
"The Youth Heart Ambassador role gives students a platform and voice to encourage, advocate and underscore the need to raise critical funding to end heart disease and stroke" said Matt Pearce, PhD, volunteer chair of the American Heart Association national superintendent board and Midwest board of directors, and superintendent of Republic School District in Republic, Missouri. "The stories these youth have to share are incredibly moving and inspiring and we are excited to see the impact they make on their peers throughout the 2023-2024 school year."
The American Heart Association invited applicants ages 2-19 who have been affected by heart disease or stroke through a personal diagnosis, diagnosis of a loved one, or who are passionate about a heart healthy lifestyle change to submit their stories online for the opportunity to serve in this role. Over 200 youth submitted applications and the following were selected by the American Heart Association as the 2023-2024 national class of Youth Heart Ambassadors:
Aticus Grindstaff, a pre-kindergarten student, of Spruce Pine, North Carolina, was born with a congenital heart defect and underwent heart surgery twice, his first at just five days old. 

As an active student many would not know that Audrey Doering, a 12th-grader, of Wausau, Wisconsin, has had two open heart surgeries and seven cardiac procedures due to a congenital heart defect she shares with her twin sister.

Brinley Rodriguez, a seventh-grader, of Wichita Falls, Texas, was born with a congenital heart defect and has had three open-heart surgeries.

Camryn Childs, a third-grader of Manassas, Virginia, was only a baby when he had a stroke. Today, Cam is in good health and is excited to be a part of the Kids Heart Challenge because it helps others understand kids like him.

When Camden Dove, a first-grader of Escondido, California was just two days old, she was diagnosed with over five heart defects. At three months old, doctors successfully performed surgery on Camden's heart.

At 7 weeks old, Colton Loyer, a third-grader of Danvers, Illinois stopped eating due to a congenital heart defect and needed open heart surgery. After 6 hours of operation, he was placed on an ECMO machine to help his body continue to pump blood to his heart, spending 23 days in the hospital.

Diya Bharadwaj, a seventh-grader of Sunnyvale, California, participates in the Kids Heart Challenge to help fundraise and show support for all of the loved ones impacted by heart disease.

Elijah Imasiku, a fourth-grader of Berrien Springs, Michigan, champions a heart healthy lifestyle in support of his grandparents who battle heart disease.

Having never met his grandfather who passed away from a stroke, Gael Perez, a sixth-grader of Kingsville Texas, is committed to keeping his heart healthy by having annual check-ups and living a healthy lifestyle. 

While playing in a football game Jordan O'Connell, a 10th-grader of Colorado Springs, Colorado, went into cardiac arrest and was saved by bystander CPR and AED usage. Doctors discovered Jordan had hypertrophic cardiomyopathy and placed an implantable cardioverter-defibrillator (ICD) into his chest. If he were to have one wish granted, it would be for all school facilities to have access to AED machines and for all school staff to be certified in CPR. 

As a baby, Mary Myers Clarke, a second-grader of Spanish Fort, Alabama, stopped eating due to a rare congenital heart defect and was taken to the hospital. At the hospital, Mary Myers experienced her first cardiac arrest and underwent open heart surgery. The surgery did not go as expected, and Mary Myers miraculously survived a second cardiac arrest.

Nora Polito, a fifth-grader of Newport News, Virginia is inspired by her grandmother's fight with heart disease to live a healthy life and encourage her classmates to do the same. 

Oliva Norah Eugene, a 12th-grader of Apopka, Florida, is passionate about heart health because her father received a heart transplant at the age of 30. Olivia wants to encourage others to live a healthy lifestyle. 

Born with a congenital heart defect, Sophia Anna Ferraro, an eighth-grader of Sykesville, Maryland was an infant when she received her first of many heart catheterizations. Later, at three years old, she underwent her first of three open heart surgeries. 

Before her fourth birthday, Sydney Callands, a fifth-grader of Silverdale, Washington, experienced an unexplained stroke and was diagnosed with atrial septal defect. Her excellent team of doctors and nurses provided physical therapy to help her walk and talk again.
Rooted in physical activity, Kids Heart Challenge and American Heart Challenge are service-learning fundraising programs that teach students how to improve their overall health while doing good for the health of others. Through interactive curriculums and various online challenges, participating students get active and have fun while raising critical donations and awareness for congenital heart defects, nutrition security, CPR training, mental well-being and more. These collective efforts help further the American Heart Association's mission to be a relentless force for a world of longer, healthier lives.
Schools interested in participating in either Kids Heart Challenge or American Heart Challenge can register now for the school year. For more information on the 2023-2024 Youth Heart Ambassadors visit heart.org/youthambassadors.
About the American Heart Association
The American Heart Association is a relentless force for a world of longer, healthier lives. We are dedicated to ensuring equitable health in all communities. Through collaboration with numerous organizations, and powered by millions of volunteers, we fund innovative research, advocate for the public's health and share lifesaving resources. The Dallas-based organization has been a leading source of health information for nearly a century. Connect with us on heart.org, Facebook, Twitter or by calling 1-800-AHA-USA1.  
###
For Media Inquiries: 214-706-1173
Megan Ramsey: 980-613-9066; Megan.Ramsey@heart.org
For Public Inquiries: 1-800-AHA-USA1 (242-8721)
heart.org and stroke.org