Featured
AgriFORCE Growing Systems: The Manna IP Acquisition Is a Step in the Right Direction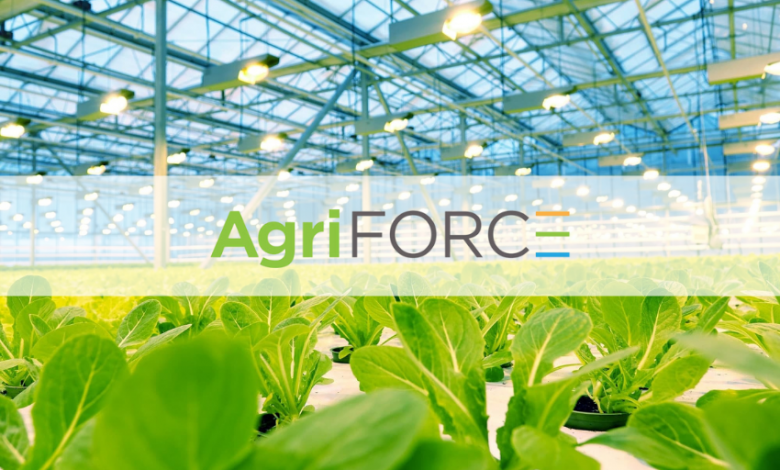 There have been significant advancements in technology in the agricultural sector that have played a substantial role in ensuring that the world's population has access to the highest quality food grains, vegetables, and fruits all year long, with the best possible taste and nutrition. This is the reason why agri-tech startups and emerging companies receive funding in different parts of the world at exceptional valuations. Today, we are looking to throw some light on one such emerging, recently listed agri-tech player that is available at surprisingly low valuations and that could be an excellent investment opportunity for small cap investors – AgriFORCE Growing Systems Ltd. (NASDAQ: AGRI).
A Quick Recap of AgriFORCE
AgriFORCE is a pre-revenue AgTech firm that aims to transform different aspects of agriculture, from cultivation to manufacturing. Through its proprietary facility design and other agri-tech intellectual property (IP), its management is constantly looking to develop unique technologies that deliver innovative, trustworthy, and financially strong solutions for cultivating high-value crops. AgriFORCE intends to operate in plant-based foods and products, pharmaceutical, nutraceutical, and other high-value crop markets by utilizing their proprietary facility design, hydroponics-based automated growing system and fully integrated controls and procedures. The management believes that this will allow cultivators to grow crops more effectively in a controlled environment, resulting in higher yields. The company aims to use its technology to ensure that farmers can grow crops in virtually any climate location and optimize crop yields to reach their genetic potential while eliminating the need for herbicides, pesticides, and/or irradiation. AgriFORCE was established in 2017 and is headquartered in Vancouver, Canada.
Latest IP Acquisition From Manna Nutritional Group
AgriFORCE recently announced the signing of a material definitive agreement to acquire the intellectual property from Manna Nutritional Group LLC, a privately held firm based in Boise, Idaho. This intellectual property includes patent-pending technologies for naturally processing and converting grain, pulses, and root vegetables, resulting in low-starch, low-sugar, high-protein, fiber-rich baking flour products, and a by-product of a high-nutrition juice that can be used in a variety of applications. The core process is a pending patent application in the United States and key international markets. This all-natural process is intended to naturally unlock nutritional properties, flavor, and other qualities in a variety of modern, ancient, and heritage grains, pulses, and root vegetables. Focusing first on wheat, the largest opportunity as it represents 20% of the world's daily intake of calories, the Manna Nutritional Group's wheat flour contains over 40 times the amount of natural fibers, up to 3 times more proteins, and only 12% of the starch, as compared to standard all-purpose wheat baking flour, a staple of our everyday diet. AgriFORCE plans to develop a range of consumer branded premium flours, as well as a premium flour ingredient lineup to target wheat-based baked goods, breads, bakery, and dough categories aimed at the food service and manufacturers businesses.
The AgriFORCE management believes that this acquisition is the next step in their comprehensive strategy to use intellectual property to create more sustainable, natural, and high-quality food, medicine, and plant-based products. The company's CEO, Ingo Mueller also stated that he believes that by capturing a small portion of the overall flour market with their own brand and through relationships as an ingredient supplier, this IP will provide an opportunity to transform the landscape of food production across a variety of categories. Manna's proprietary process, built with tremendous effort over the past 6 years, is designed to provide the key ingredients for many of the foods that people want to eat, as well as the nutrition and flavor they seek could blend wonderfully with AgriFORCE's offerings in support of providing consumers with healthier options.
AgriFORCE's Continued Expansion and R&D
Over and above the Manna IP transaction, AgriFORCE is creating and acquiring intellectual property in order to improve the agricultural value chain. The management is streamlining the traditional farming method by incorporating modern technologies. The AgriFORCE precision growth method, which uses a unique combination of modern and traditional techniques to outperform traditional growing methods and increase yields, is a classic example of this. This revolutionary approach leverages cutting-edge technologies in the Internet of things (IoT) and artificial intelligence (AI). It assists farmers in developing a new green standard for crop cultivation as well as managing the production process for plant-based products. Furthermore, it contributes to addressing some of agriculture's most pressing legacy issues, including environmental impact, operational efficiency, and yield volumes. Given the management's efforts to build an optimized facility design, AI utilization, IoT, and nutrient delivery to help produce larger crops with fewer resources and a minimal impact on the environment, AgriFORCE's methodology can be described as scientific, intricate, and success-oriented. The management began implementing its innovative technology in the rapidly rising hydroponic farming market, focusing on high-value crops that are notoriously difficult to cultivate. It has also been considering expanding its operations into other verticals like vegetable and fruit cultivation in order to increase the use of its intellectual property. AgriFORCE is also looking to use its IP base to cultivate plant-based vaccines. The management expects that the proprietary facility design and automated growing technology will position the company as a leader in the agricultural industry, allowing it to make much-needed agri-tech renovations.
Final Thoughts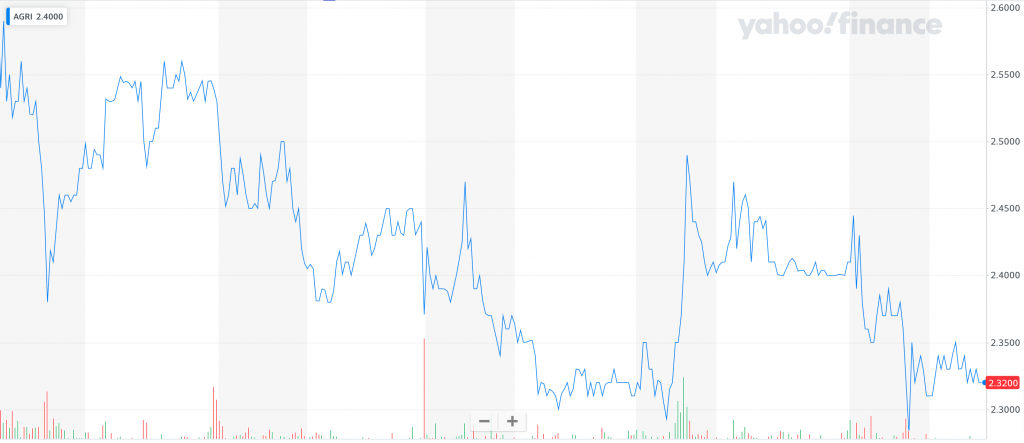 There is little doubt that AgriFORCE is a bargain at the current valuations. The company's public offering took place at $5 per share and the stock is currently trading at around $2.28. AgriFORCE expects to launch its first product, which will include several specialized baking flours, in 2022. The management believes that they have a transformative opportunity to generate over a billion-dollar business with all-natural products in the flours, bakery, and snack categories, along with dairy alternatives, nutrition and performance bars, high-performance drinks, and other categories. The company's technology to optimize crop production looks to go leaps and bounds ahead of the recent agriculture industry standards. Overall, we would like to reiterate that the company could be an excellent agri-tech investment opportunity for small-cap investors.
---
Disclaimer
No Positions
Disclaimer
This website is a wholly owned subsidiary of SCD Media, LLC, herein referred to as Smallcaps Daily. Our publications are a commercial advertisement and are for general information purposes ONLY. We are engaged in the business of marketing and advertising companies for monetary compensation. We may receive compensation for this article on a PPC basis as an affiliate. Never invest in any stock featured on our site or emails unless you can afford to lose your entire investment. The disclaimer is to be read and fully understood before using our services, joining our site or our email/blog list as well as any social networking platforms we may use. PLEASE NOTE WELL: Smallcaps Daily and its employees are not a Registered Investment Advisor, Broker Dealer or a member of any association for other research providers in any jurisdiction whatsoever.Release of Liability: Through use of this website viewing or using you agree to hold Smallcaps Daily, its operators owners and employees harmless and to completely release them from any and all liability due to any and all loss (monetary or otherwise), damage (monetary or otherwise), or injury (monetary or otherwise) that you may incur. The information contained herein is based on sources which we believe to be reliable but is not guaranteed by us as being accurate and does not purport to be a complete statement or summary of the available data. Smallcaps Daily encourages readers and investors to supplement the information in these reports with independent research and other professional advice. All information on featured companies is provided by the companies profiled, or is available from public sources and Smallcaps Daily makes no representations, warranties or guarantees as to the accuracy or completeness of the disclosure by the profiled companies. None of the materials or advertisements herein constitute offers or solicitations to purchase or sell securities of the companies profiled herein and any decision to invest in any such company or other financial decisions should not be made based upon the information provided herein. Instead Smallcaps Daily strongly urges you conduct a complete and independent investigation of the respective companies and consideration of all pertinent risks. Readers are advised to review SEC periodic reports: Forms 10-Q, 10K, Form 8-K, insider reports, Forms 3, 4, 5 Schedule 13D. Smallcaps Daily is compliant with the Can Spam Act of 2003. Salesparq, LLC does not offer such advice or analysis, and Smallcaps Daily further urges you to consult your own independent tax, business, financial and investment advisors. Investing in micro-cap and growth securities is highly speculative and carries and extremely high degree of risk. It is possible that an investors investment may be lost or impaired due to the speculative nature of the companies profiled. The Private Securities Litigation Reform Act of 1995 provides investors a safe harbor in regard to forward-looking statements. Any statements that express or involve discussions with respect to predictions, expectations, beliefs, plans, projections, objectives, goals, assumptions or future events or performance are not statements of historical fact may be forward looking statements. Forward looking statements are based on expectations, estimates, and projections at the time the statements are made that involve a number of risks and uncertainties which could cause actual results or events to differ materially from those presently anticipated. Forward looking statements in this action may be identified through use of words such as projects, foresee, expects, will, anticipates, estimates, believes, understands, or that by statements indicating certain actions & quote; may, could, or might occur. Understand there is no guarantee past performance will be indicative of future results.In preparing this publication, Smallcaps Daily, has relied upon information supplied by its customers, publicly available information and press releases which it believes to be reliable; however, such reliability cannot be guaranteed. Investors should not rely on the information contained in this website. Rather, investors should use the information contained in this website as a starting point for doing additional independent research on the featured companies. Smallcaps Daily has not been compensated for this article. The advertisements in this website are believed to be reliable, however, Smallcaps Daily and its owners, affiliates, subsidiaries, officers, directors, representatives and agents disclaim any liability as to the completeness or accuracy of the information contained in any advertisement and for any omissions of materials facts from such advertisement. Smallcaps Daily is not responsible for any claims made by the companies advertised herein, nor is Smallcaps Daily responsible for any other promotional firm, its program or its structure. Smallcaps Daily is not affiliated with any exchange, electronic quotation system, the Securities Exchange Commission or FINRA.