Featured
Amesite (AMST): The Small Cap Company Dedicated to Reskilling the Workforce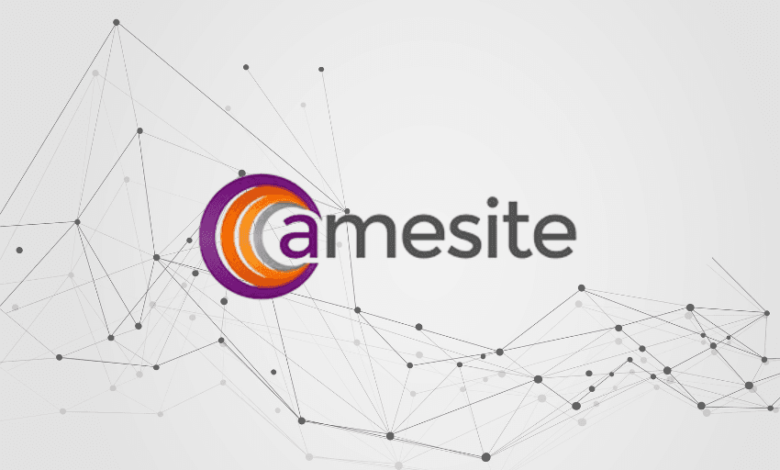 The technological advancement that's happened within the last two decades is nothing short of revolutionary. Today, you can get approved for a loan through an AI algorithm, shop for and buy a car completely online, and companies are beginning to build reusable rockets designed to transport humans to new planets. And while this innovation is great and presents incredible investment opportunities, there is a little known opportunity that is at the root of all this technological change.
In order for new tech to progress and successfully integrate into society there needs to be qualified professionals and employees who understand how the technology works. According to the LinkedIn Workplace Learning Report, 25% of LinkedIn members' skills for the same job changed by 25% within the last six years. Clearly, companies throughout the economy are beginning to leverage new technology, and as a result, require their employees to have a more diverse set of skills. Based on this reality of employees needing new skills to do their job, 46% of organizations have identified upskilling and reskilling current employees to be a major focus moving forward.
The effectiveness of organizations focusing on upskilling employees is immense. Research has shown that companies who commit to upskilling their workforce have built lasting competitive advantages, retain employees more than competitors, cut unnecessary costs, and successfully build the skills needed for their organization to be successful in a new technology-driven world. All told, the coming technological revolution will require immense upskilling for employees today. And a company that has built out the revolutionary digital infrastructure and platform to benefit from and accelerate this trend, is Amesite (AMST).
For those who need a refresher, Amesite is a company dedicated towards the upskilling/reskilling movement. More specifically, they're an artificial intelligence-driven platform and course designer that rapidly provides customized, high performance and scalable online products for businesses, universities, non-profits and government agencies. The company helps academic institutions and businesses improve the learning experience as their technology partner, delivering a disruptive technology-driven AI-focused learning platform.
Amesite has been busy as the trends such as upskilling, work-from-home, and many others have provided significant tailwinds for this fast-growing company.
Amesite Offers Real World Value
Proof of Amesite's business model lies in their recent success with EWIE Group of Companies (EGC). EGC , a group that provides manufacturing, products, and supply chain solutions (and manages 3.25 million parts equating to millions of dollars in inventory at 243 factories worldwide), relied on Amesite to create a scalable training solution for their international workforce.
More specifically, EGC came to Amesite with the challenge of having to train nearly 1,000 employees across the globe and needed to integrate their solution with other enterprise software. Old, outdated LMSs were unable to do this.
Enter Amesite. To streamline EGC's training, Amesite quickly launched their core, white label product – the Learning Community Environment® (LCESM) solution, which consolidated EGC's training onto one platform and significantly reducing the complexity of their current processes. This solution allowed EGC t o onboard over 50 courses in just 4 days and successfully led to average employee scores reaching 91% against a target of 70% for passing
"Amesite's technology relieves administrative headaches and ultimately allows us to do our jobs well. The intuitive dashboards and powerful analytics tools make managing and upskilling teams all over the world simple," said Kasey Braun, Training and Quality Manager at EGC.
In short, Amesite deployed a customized learning ecosystem to meet EGC's needs exactly, allowing them to train a global base of employees in 10 countries, quickly and efficiently. The transition from EGC's old system to Amesite's new one was seamless, and more importantly, dramatically improved the quality and engagement of their training program.
Amesite's Platform of the Future
EGC is a repeatable win, globally. Nearly every organization has unique training needs, and requires a platform that is flexible, agile and can integrate with their technology infrastructure. The quality of the experience matters, and Amesite's unique focus on using technology to create an effective "last mile" of delivery moved EGC's training platform from a cookie cutter program to one that produced outstanding learning outcomes. Increased engagement results in improved training of employees on new processes and technology that are vital to the survival of a business.
Amesite's AI-powered platform is completely customizable and offers unique learning opportunities to the institutions they work with, ensuring the proper materials are presented in the most efficient manner, and customized to reach the intended audience.
The versatility of their platform becomes apparent when looking at their diverse current customer base and partnerships. Amesite consistently works with various private enterprises who need to ensure current employees are educated in leading practices, academic institutions rely on Amesite to provide the infrastructure for professional education and upskilling opportunities, and non-profits use Amesite to expand their impact and generate revenue.
Amesite works directly with their customers to build out the courses they need, and can provide technical, introductory, and general courses, as well as use a customer's own content to create in-depth customized courses. Once the course is designed, Amesite's AI provides in-depth analytics, tailors the content for the user, and allows for continuous improvement moving forward.
All this, has allowed the company to build a one-of-a-kind AI-powered ecosystem that is easy to use and operate flawlessly regardless of which industry a customer specializes in. They have successfully built out the tech to support the upskilling movement and are operating within a massive market opportunity.
Significant Total Addressable Market
To say Amesite has a large addressable market would be an understatement. We've highlighted their sizeable market opportunity before, and we feel like it's worth revisiting today. More specifically, the company has valued the corporate training market at $332 billion (which is estimated to reach an impressive $487 billion by 2030), the higher education market at $77 billion, and the foundations/non-profit market at $19.4 billion. This provides an incredible opportunity for the company to capitalize on and should provide the avenue for hyper revenue growth as the company continues to build out their platforms capabilities and moves into new markets.
The beauty of Amesite's platform is their ability to realize revenue from a single customer in numerous ways. More specifically, the company charges an initial setup fee, a course creation fee, maintenance fee, and lastly a user fee. This business model allows Amesite to bring substantial cash flow from each new customer, as well as recurring revenue from ongoing maintenance fees. All this leads to an extremely sticky platform that makes it very difficult for customers to leave, as well as an ecosystem that encourages users to spend more over time.
Thoughts on Valuation
As we mentioned above Amesite has been very busy, as they position themselves at the center of the upskilling and continuing education trend. According to YCharts, the image below shows that since September of 2020 the company has grown their revenue by over 1000%, however their PS ratio has declined by almost 100%. Amesite has been hit hard from the recent high inflationary environment, as well as the reality of a rising interest rate economy. However, Amesite has shown their platform will continue to grow despite what the broader economy is doing, as their most recent quarterly results showed a respectable 4% revenue increase year-over-year.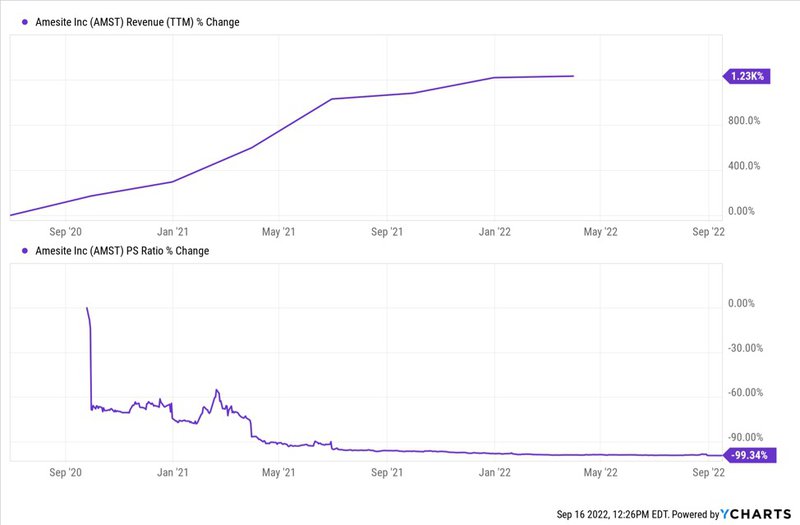 Further, this next chart shows Amesite increased their cash position to over $10 million and has taken on zero debt as of late. This figure currently sits at around $8.5 million. Still, the company is in a strong financial position, and although they have yet to become profitable the company is prioritizing growth and development over their bottom line. As Amesite penetrates new markets and existing customers continue to spend on their platform, it should provide the scalability for Amesite to become profitable down the road.
All this leads to the reality that Amesite is presenting an attractive valuation at a market cap of roughly $9.33 million. The company is showing they can operate regardless of what happens to the broader economy and has a revolutionary platform which helps customers build competitive advantages through improving the skills of their workforce. And with no debt, and a cash balance that exceeds their market cap Amesite is showing signs of being significantly undervalued at current prices.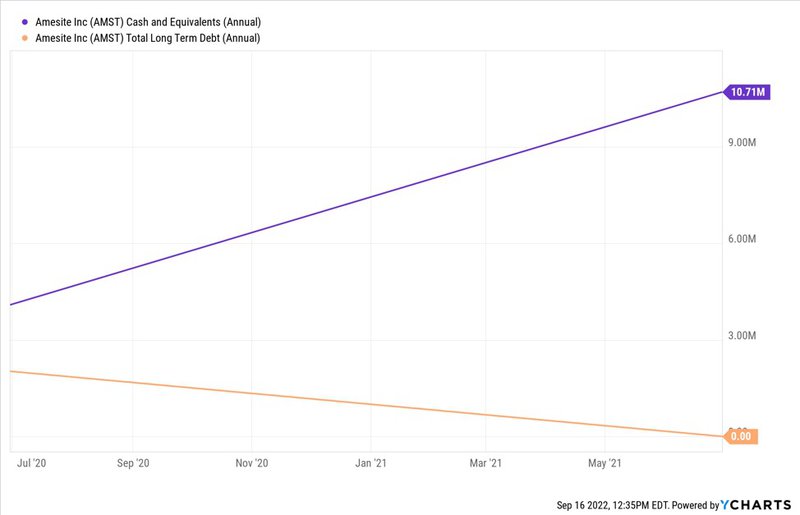 Final Thoughts
In order for a stock to return multi-bagger returns a few things need to happen. First, this company must operate in a large and growing addressable market. Next, they need to have a unique product or service that is hard to replicate and encourages customers to spend more over time. And finally, the valuation of the company needs to present the possibility for share price appreciation. Based on the recent Form 4 filing, insiders can clearly see this on the horizon.
Amesite, with their AI-driven learning ecosystem currently check all three of these boxes and has the potential to deliver outsized returns as they continue to penetrate the reskilling/upskilling market. Their platform is completely customizable and scalable, providing an easy-to-implement solution for organizations across any industry. The upskilling revolution is already happening, and Amesite has the technology to facilitate this revolution. The company is substantially undervalued when looking at their growth prospects, cash position, and low debt levels. And for these reasons is well positioned to become a major player within the eLearning, upskilling market.
Disclaimer
This website is a wholly owned subsidiary of Salesparq, LLC, herein referred to as Salesparq, LLC. Our publications are a commercial advertisement and are for general information purposes ONLY. We are engaged in the business of marketing and advertising companies for monetary compensation. We may receive compensation for this article on a PPC basis as an affiliate. Never invest in any stock featured on our site or emails unless you can afford to lose your entire investment. The disclaimer is to be read and fully understood before using our services, joining our site or our email/blog list as well as any social networking platforms we may use.PLEASE NOTE WELL: Salesparq, LLC and its employees are not a Registered Investment Advisor, Broker Dealer or a member of any association for other research providers in any jurisdiction whatsoever.Release of Liability: Through use of this website viewing or using you agree to hold Salesparq, LLC, its operators owners and employees harmless and to completely release them from any and all liability due to any and all loss (monetary or otherwise), damage (monetary or otherwise), or injury (monetary or otherwise) that you may incur. The information contained herein is based on sources which we believe to be reliable but is not guaranteed by us as being accurate and does not purport to be a complete statement or summary of the available data. Salesparq, LLC encourages readers and investors to supplement the information in these reports with independent research and other professional advice. All information on featured companies is provided by the companies profiled, or is available from public sources and Salesparq, LLC makes no representations, warranties or guarantees as to the accuracy or completeness of the disclosure by the profiled companies. None of the materials or advertisements herein constitute offers or solicitations to purchase or sell securities of the companies profiled herein and any decision to invest in any such company or other financial decisions should not be made based upon the information provided herein. Instead Salesparq, LLC strongly urges you conduct a complete and independent investigation of the respective companies and consideration of all pertinent risks. Readers are advised to review SEC periodic reports: Forms 10-Q, 10K, Form 8-K, insider reports, Forms 3, 4, 5 Schedule 13D. Salesparq, LLC is compliant with the Can Spam Act of 2003. Salesparq, LLC does not offer such advice or analysis, and Salesparq, LLC further urges you to consult your own independent tax, business, financial and investment advisors. Investing in micro-cap and growth securities is highly speculative and carries and extremely high degree of risk. It is possible that an investors investment may be lost or impaired due to the speculative nature of the companies profiled. The Private Securities Litigation Reform Act of 1995 provides investors a safe harbor in regard to forward-looking statements. Any statements that express or involve discussions with respect to predictions, expectations, beliefs, plans, projections, objectives, goals, assumptions or future events or performance are not statements of historical fact may be forward looking statements. Forward looking statements are based on expectations, estimates, and projections at the time the statements are made that involve a number of risks and uncertainties which could cause actual results or events to differ materially from those presently anticipated. Forward looking statements in this action may be identified through use of words such as projects, foresee, expects, will, anticipates, estimates, believes, understands, or that by statements indicating certain actions & quote; may, could, or might occur. Understand there is no guarantee past performance will be indicative of future results.In preparing this publication, Salesparq, LLC has relied upon information supplied by its customers, publicly available information and press releases which it believes to be reliable; however, such reliability cannot be guaranteed. Investors should not rely on the information contained in this website. Rather, investors should use the information contained in this website as a starting point for doing additional independent research on the featured companies. Salesparq, LLC has not been compensated for this article. The advertisements in this website are believed to be reliable, however, Salesparq, LLC and its owners, affiliates, subsidiaries, officers, directors, representatives and agents disclaim any liability as to the completeness or accuracy of the information contained in any advertisement and for any omissions of materials facts from such advertisement. Salesparq, LLC is not responsible for any claims made by the companies advertised herein, nor is Salesparq, LLC responsible for any other promotional firm, its program or its structure. Salesparq, LLC is not affiliated with any exchange, electronic quotation system, the Securities Exchange Commission or FINRA.