Featured
Applied UV: This Air and Surface Disinfection Technology Player Is Truly Upping Its Game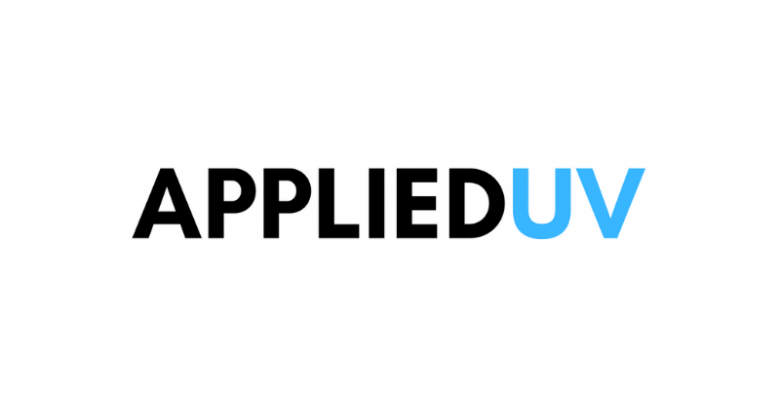 We have previously covered the disinfection technology player, Applied UV (NASDAQ: AUVI) in the past. It has been a truly remarkable story starting off as a small cap IPO in September of 2020 which was the result of the combination of a high-end hospitality furnishings company that was developing a surface disinfection technology. The company grew its hospitality business, establishing its presence in some of the largest hotel chains in North America. After acquiring in early 2021 the patented Airocide air disinfection technology developed for NASA, they successfully installed the systems at both the Boston Red Sox and Jet Blue stadiums, becoming the official air purification partner of the Boston Red Sox. Applied UV has continued on its upward journey and has announced a series of interesting developments of late which we think warrant another look to evaluate for those investors considering the stock from a long-term perspective.
Applied UV – A Quick Recap Of The Business
The core business of Applied UV is the development and acquisition of technologies and intellectual property addressing infection prevention in the healthcare, hospitality, commercial, and residential markets. The company is well-versed in both surface disinfection and air purification and is evaluating entry into other markets including water purification. The company developed the patented SteriLumen Disinfecting System for drain and surface applications in various verticals including healthcare and hospitality and operates through two primary segments, SteriLumen and MunnWorks. SteriLumen is focused on the commercialization of the patented disinfecting system that uses UVC's power to destroy pathogens safely, thoroughly, and automatically throughout healthcare facilities and MunnWorks is focused on providing high-end fixtures such as mirrors to the hospitality market. In the healthcare market, HAIs create a $28 billion to $45 billion burden on the healthcare system and upwards of two million Americans contract an HAI annually. With nearly 90,000 HAI-related deaths each year, numerous initiatives around reducing and ultimately preventing HAIs have been enacted. It is important to note that HAIs are not solely limited to acute care hospitals. Patients are also at risk at ASCs, dialysis facilities, and long-term care facilities. Across all facility types, studies have demonstrated that the most dangerous breeding ground for pathogens is the drain, sink, and surrounding areas. Evaluations have measured significant growth of common bacteria within drainage systems accompanied by rapid spread from one sink to another. Eliminating the growth of pathogens in a frequently utilized location could potentially provide a significant reduction of HAIs. The company is headquartered in Mount Vernon, New York.
Heavily mutated Omicron variant puts scientists on alert
Researchers in South Africa are racing to track the rise of a new variant of the SARS-CoV-2 coronavirus that causes COVID-19. The variant harbours a large number of the mutations found in other variants, including Delta, and it seems to be spreading quickly across South Africa. On November 26th, the World Health Organization designated the strain, known as B.1.1.529, as a variant of concern and named it Omicron. The variant stood out because it contains more than 30 changes to the spike protein — the SARS-CoV-2 protein that recognizes host cells and is the main target of the body's immune responses. Many of the changes have been found in variants such as Delta and Alpha, and are linked to heightened infectivity and the ability to evade infection-blocking antibodies. Much has been learned about COVID that we did not know 18 months ago, but it is an airborne pathogen and Airocide has been clinically proven to kill COVID and is one of the few and perhaps only FDA listed Class II Medical devices that can make that claim. With the variant spreading and borders closing, demand for safe and effective air disinfection solutions should have a long runway of growth.
The KES and Scientific Air Acquisitions
Applied UV recently announced that it had closed on the acquisition of Kennesaw, Georgia-based KES Science & Technology, Inc., including all of the rights to produce and sell all of its patented, air disinfection and purification tools, for $4.3 million in cash and 300,000 common shares of Applied UV stock. The acquisition of KES is complementary to Applied UV's first acquisition, Akida Holdings LLC, the manufacturer of the patented Airocide System, air disinfection technologies. Following shortly after the KES acquisition, the company closed on the acquisition of Scientific Air Management. Scientific Air's systems have supported major health care facilities throughout the country in meeting their increased demand for efficient and safe air purification including HAIs. The combination of all of these patented technologies under the SteriLumen brand is expected to strengthen its presence in major markets such as healthcare, food distribution and post-harvest. In addition to the strengthening of its product portfolio, these two acquisitions significantly enhance the company's financial profile, adding approximately $10-14 million in current annualized revenues while being immediately accretive to our earnings per share. In the words of Q Saeed, CEO of Applied UV, "the KES acquisition is a great opportunity to simultaneously improve the company's financial profile while driving even greater value for customers and shareholders. Using the high-quality product offerings of KES, Applied UV will be able to ensure their successful entry into the food distribution sector and the post-harvest markets. Overall, Applied UV is delighted to welcome the KES teamand looks forward to accelerating the commercialization of the Airocide platform and advancing its goal of bringing best-of-breed technology-enabled solutions to businesses and consumers."
Other Significant Developments
Applied UV has been working on demonstrating the effectiveness of its disinfection technologies across many difficult-to-destroy pathogens. As per recent laboratory test outcomes, the company's patented SteriLumen Lumicide Ribbon, which uses UVC LEDs in numerous strategies for disease control in and around high-traffic areas such as sinks and restrooms, has demonstrated it can kill the developing multi-drug resistant fungus, Candida auris. Candida auris is an emerging fungus that poses a serious global health risk which is known to enter the body via the skin and infects the bloodstream, central nervous system, and several internal organs. It has been identified as multidrug-resistant, and has been identified by the CDC (Centers for Disease Control and Prevention) as one of the most substantial contagious diseases in the world today. Applied UV's patented system is known to destroy this virus in approximately 15 minutes, faster than most other systems in the world. Given this level of success in surface disinfection as well as air purification through Airocide, the company is able to provide end-to-end disinfection solutions to multiple industries, particularly the hospitality and healthcare sectors. Interestingly, the management is also preparing to launch a consumer offering which is also extremely effective and can be used to destroy pathogens like C. auris and SARS-CoV-2. We think this is a particularly compelling offering in today's environment.
Strong Financial Results
Applied UV recently delivered exceptionally good results for the third quarter of 2021. Its numbers after taking into account the acquisitions of Akida, KES, and Scientific Air Management, are truly exciting. In Q3, Applied UV's net sales increased by 127.6% to $3,551,564, up from $1,560,633 in the third quarter of 2020. Due to ongoing logistics and transportation issues in many regions, the company experienced order fulfillment delays in the second quarter. Many of the delayed orders were shipped to customers in the third quarter, while others are expected to ship in the fourth quarter. On the other hand, the company faced a net loss of 1,080,805 in 2021, up from $890,559 in a similar quarter of the previous year. The net loss in 2021 was primarily due to an increase in selling and general expenses to improve future operations and expand the company's disinfection segment. However, their net loss improved by more than 49% in Q3 of 2021 compared to the Q2 of 2021. The management continued its commercialization strategy, announcing installations at a U.S. military facility, museums, hospitals, wineries, and schools as heightened infection prevention protocols become standard practice. To sum up, the management believes that their financial foundation has been strengthened in the third quarter and they are well-positioned to continue their planned investments in their business, maintain their focus on top-line growth and margin improvements, and pave the way towards a more profitable future.
Final Thoughts

Despite the strong financial results, we see the Applied UV stock continuing to move sideways which is possibly due to the lack of awareness of the market with respect to the company's growth potential combined with a diminution of concern around COVID-19. The recent emergence of a new coronavirus variant should make it clear to investors that the need for air disinfection is here to stay. We think additional validation of the explosive market potential of air disinfection technology was illustrated this past Friday with the IPO of AeroClean Technology (NASDAQ: AERC) which has a few employees, no revenue for the first six months of 2021 and a device that solely uses UV lighting to clean air. Currently, there is a MASSIVE valuation gap between the two companies with AUVI at approximately $50 million market cap versus AERC with a whopping $1.62 billion. With the new technology portfolio and the aggressive expansion tactics of the management, the company is likely to expand revenues at a rapid pace and be required with a much higher valuation. It is only a matter of time before Applied UV's stock goes back into double-digits. To sum up, we are highly bullish about this disinfection technology player in the long term.
---
Disclaimer
No positions
Disclaimer
This website is a wholly owned subsidiary of Salesparq, LLC, herein referred to as Salesparq, LLC. Our publications are a commercial advertisement and are for general information purposes ONLY. We are engaged in the business of marketing and advertising companies for monetary compensation. We may receive compensation for this article on a PPC basis as an affiliate. Never invest in any stock featured on our site or emails unless you can afford to lose your entire investment. The disclaimer is to be read and fully understood before using our services, joining our site or our email/blog list as well as any social networking platforms we may use.PLEASE NOTE WELL: Salesparq, LLC and its employees are not a Registered Investment Advisor, Broker Dealer or a member of any association for other research providers in any jurisdiction whatsoever.Release of Liability: Through use of this website viewing or using you agree to hold Salesparq, LLC, its operators owners and employees harmless and to completely release them from any and all liability due to any and all loss (monetary or otherwise), damage (monetary or otherwise), or injury (monetary or otherwise) that you may incur. The information contained herein is based on sources which we believe to be reliable but is not guaranteed by us as being accurate and does not purport to be a complete statement or summary of the available data. Salesparq, LLC encourages readers and investors to supplement the information in these reports with independent research and other professional advice. All information on featured companies is provided by the companies profiled, or is available from public sources and Salesparq, LLC makes no representations, warranties or guarantees as to the accuracy or completeness of the disclosure by the profiled companies. None of the materials or advertisements herein constitute offers or solicitations to purchase or sell securities of the companies profiled herein and any decision to invest in any such company or other financial decisions should not be made based upon the information provided herein. Instead Salesparq, LLC strongly urges you conduct a complete and independent investigation of the respective companies and consideration of all pertinent risks. Readers are advised to review SEC periodic reports: Forms 10-Q, 10K, Form 8-K, insider reports, Forms 3, 4, 5 Schedule 13D. Salesparq, LLC is compliant with the Can Spam Act of 2003. Salesparq, LLC does not offer such advice or analysis, and Salesparq, LLC further urges you to consult your own independent tax, business, financial and investment advisors. Investing in micro-cap and growth securities is highly speculative and carries and extremely high degree of risk. It is possible that an investors investment may be lost or impaired due to the speculative nature of the companies profiled. The Private Securities Litigation Reform Act of 1995 provides investors a safe harbor in regard to forward-looking statements. Any statements that express or involve discussions with respect to predictions, expectations, beliefs, plans, projections, objectives, goals, assumptions or future events or performance are not statements of historical fact may be forward looking statements. Forward looking statements are based on expectations, estimates, and projections at the time the statements are made that involve a number of risks and uncertainties which could cause actual results or events to differ materially from those presently anticipated. Forward looking statements in this action may be identified through use of words such as projects, foresee, expects, will, anticipates, estimates, believes, understands, or that by statements indicating certain actions & quote; may, could, or might occur. Understand there is no guarantee past performance will be indicative of future results.In preparing this publication, Salesparq, LLC has relied upon information supplied by its customers, publicly available information and press releases which it believes to be reliable; however, such reliability cannot be guaranteed. Investors should not rely on the information contained in this website. Rather, investors should use the information contained in this website as a starting point for doing additional independent research on the featured companies. Salesparq, LLC has not been compensated for this article. The advertisements in this website are believed to be reliable, however, Salesparq, LLC and its owners, affiliates, subsidiaries, officers, directors, representatives and agents disclaim any liability as to the completeness or accuracy of the information contained in any advertisement and for any omissions of materials facts from such advertisement. Salesparq, LLC is not responsible for any claims made by the companies advertised herein, nor is Salesparq, LLC responsible for any other promotional firm, its program or its structure. Salesparq, LLC is not affiliated with any exchange, electronic quotation system, the Securities Exchange Commission or FINRA.