News
Avantor Named Best Bioprocessing Supplier in Cell and Gene Therapy at the Biopharma Excellence Awards India Edition The award recognizes Avantor's outstanding efforts to support the expansion of life-altering innovative cell and gene therapies to treat complex diseases. Avantor is focused on making valuable contributions to cell and gene therapy production and offers expertise, technology capabilities and commitment to providing solutions. Recently, Avantor was also accorded the Best Bioprocessing Company in Chromatography at the Asia-Pacific Bioprocessing Excellence Awards (ABEA) 2023 held in Singapore.
Ganesh Bade, Head Biopharma India Middle East and Africa (IMEA) at Avantor, said, "Cell and gene therapy is considered a game-changer for the biopharma industry. But the real effort lies in supplying this life altering solution at a reasonable cost to those in need. With high purity production chemicals, sterile fluid transfer systems, cell culture components and excipient technologies, Avantor is advancing the scalability and manufacturability of viral vector production to cell and gene therapies."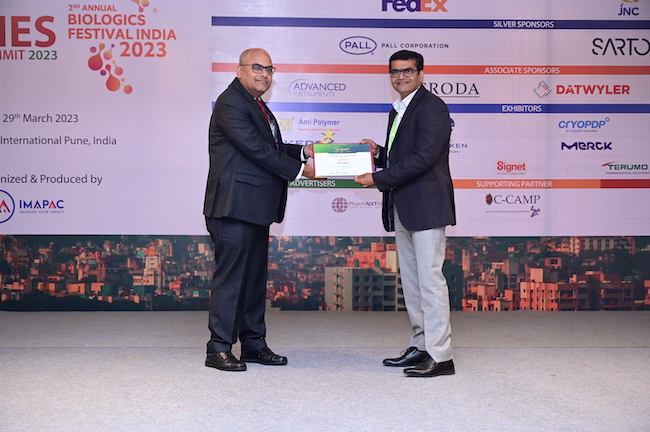 "One of the most revolutionary modalities rising in the biopharmaceutical sector is cell and gene therapies. Avantor offers a comprehensive range of bioprocessing solutions such as media and supplements, single-use technologies, and custom development services to help accelerate the development and commercialization of cell and gene therapies," said Amit Sehgal, Managing Director, Avantor India. "With this award, we are renewing our commitment to make cell and gene therapy successful and supply it with greater efficacy and reduced risk."
Avantor provides compliant materials in scalable formats and single-use solutions for viral vector, CAR-T and gene therapies manufacturing, that have the potential to help reduce contamination risk, improve resource efficiency and reduce labor and energy costs. As part of its regulatory support services, Avantor also helps customers navigate the complex regulatory landscape of cell and gene therapy development and commercialization.
The Best Bioprocessing Supplier in Chromatography award recognizes Avantor's ongoing efforts to provide innovative chromatography solutions that enable biopharmaceutical manufacturers to optimize processes and enhance product quality. With over four decades of experience in bioprocessing, Avantor is committed to addressing the complex challenges of downstream chromatography by providing a comprehensive range of equipment, products and services.
About Avantor
Avantor®, a Fortune 500 company, is a leading global provider of mission-critical products and services to customers in the biopharma, healthcare, education & government, and advanced technologies & applied materials industries. Our portfolio is used in virtually every stage of the most important research, development and production activities in the industries we serve. Our global footprint enables us to serve more than 300,000 customer locations and gives us extensive access to research laboratories and scientists in more than 180 countries. We set science in motion to create a better world. For more information, visit avantorsciences.com and find us on LinkedIn, Twitter and Facebook.
About Bioprocessing Excellence Awards (ABEA) India Edition 2023
The Biopharma Excellence Awards (BEA) India 2023 seeks to recognize exceptional biologics and vaccine experts, organizations and technologies that facilitate vaccine R&D and biologics manufacturing excellence at enhanced speed, reduced cost and superior quality. The BEA India Edition 2023 applauds extraordinary leaders & trendsetters of today and inspires the innovators of tomorrow.
Regional Media Contact:
Christina Koh
Director, Communications – AMEA
Avantor
M: +65 9720 0169
Christina.Koh@avantorsciences.com