Featured
Buyout Rumors Swirl: Is BlackBerry Poised For A Blockbuster Deal?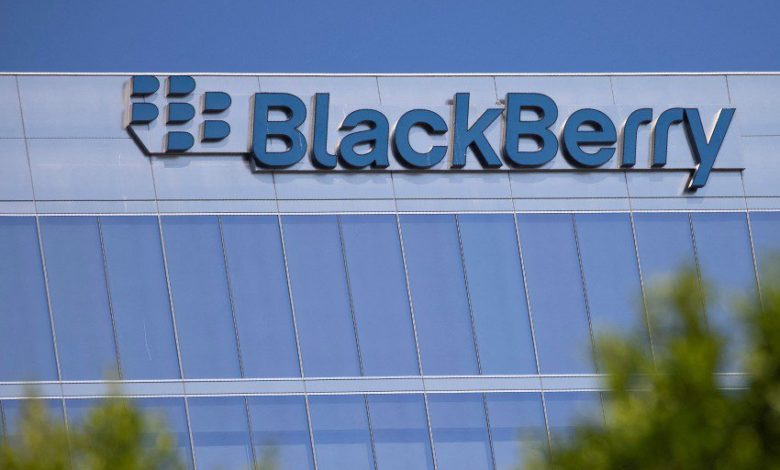 In a turn of events that's sending ripples throughout the tech and finance sectors, BlackBerry Ltd (NASDAQ:BB), once a titan in the world of business smartphones, has reportedly caught the attention of private equity powerhouse Veritas Capital. The buzz around Wall Street is palpable: a possible acquisition of BlackBerry is in the works. With its U.S-listed shares skyrocketing upon the news, and closing at a comfortable $5.23, BlackBerry currently boasts a market capitalization of $3.1 billion. While the exact details of Veritas' offer remain shrouded in mystery, insiders have confirmed that the equity firm is gunning for the entire company. But that's not all – BlackBerry, ever the belle of the M&A ball, is purportedly courting other potential suitors as well. Let us have a closer look and see if the company can end up getting acquired or not.
BlackBerry's Business Overview
BlackBerry Limited, a global leader in providing intelligent security software and services to enterprises and governments, operates in three core segments: Cybersecurity, IoT, and Licensing and Other. Among its extensive product suite, BlackBerry offers CylancePROTECT for endpoint protection and mobile threat defense; CylanceOPTICS for endpoint detection and response; CylanceGUARD for managed detection and response; and CylanceGATEWAY, which brings AI-enhanced zero-trust network access. It also offers CylancePERSONA, focusing on user and entity behavior analytics, and BlackBerry unified endpoint management that serves as the backbone for its secure communications platform. Additional products include BlackBerry Dynamics for secure mobile application development, BlackBerry Workspaces solutions, BlackBerry SecuSUITE for multi-OS voice and text messaging, and BlackBerry AtHoc and BlackBerry Alert for secure and networked critical event management. They further delve into the automotive sector with BlackBerry QNX, providing real-time operating systems, development tools, and professional services. BlackBerry Certicom offers cryptography and key management, while BlackBerry Radar specializes in asset monitoring. Their recent addition, BlackBerry IVY, serves as an intelligent vehicle data platform. Beyond these offerings, the company has a foot in patent licensing and collects legacy service access fees.
Expanding XDR Capabilities for Holistic Cybersecurity
In recent times, the global embrace of remote work has far exceeded initial cybersecurity predictions, leading to amplified risks. BlackBerry, recognizing these challenges, has decided to extend its cybersecurity arsenal by refining its extended detection and response (XDR) platform. This move brings BlackBerry into strategic collaborations with other industry forerunners such as Mimecast, Okta, Stellar Cyber, XM Cyber, and more. What differentiates BlackBerry's cloud-based XDR is its distinctive amalgamation of security modules that collaboratively thwart, discern, and tackle threats. Constructed as a cloud-native centralized platform, it ingeniously bridges previously isolated tools, creating a comprehensive security framework. By gathering data from diverse attack surfaces, from mobile devices to cloud systems, and integrating this into a unified cloud-native data reservoir, BlackBerry's XDR offers unparalleled insights. This platform draws inspiration from BlackBerry's renowned endpoint detection and response (EDR) mechanisms, further augmenting them to cover the full threat spectrum. Employing threat models aligned to MITRE ATT&CK TTP and leveraging AI-powered behavioral analysis, the XDR ensures timely prevention and detection of both recognized and emerging threats. By merging disparate security signals, it offers an overarching perspective on threat vectors, presenting them in a coherent event investigation format. The integration of these new partners is expected to enhance the clarity and comprehensiveness of the security overview provided to clients.
BlackBerry's Vision: Pioneering Security in Connectivity
BlackBerry has adeptly positioned itself at the nexus of burgeoning markets, all set to capitalize on the surging demand for enhanced connectivity and security. Their flagship enterprise solution, the Spark suite, seamlessly blends endpoint management and protection, setting new industry benchmarks. BlackBerry's QNX software is revolutionizing the automotive sector, driving infotainment systems, supporting advanced driver-assistance frameworks, and regulating electronic control units. While the company enjoys a formidable reputation in highly regulated sectors like finance, healthcare, and government, its aspirations aren't limited. BlackBerry is continually broadening its horizons, targeting a diverse business demographic. Following a slew of acquisitions during CEO Chen's transformative era, the company's trajectory is now anchored in organic growth, supported by strategic investments in operations. The automotive domain, especially the realm of connected and autonomous vehicles, is identified as a goldmine of growth opportunities. With the QNX software at the forefront of automotive advancements and a promising alliance with Amazon for the IVY platform, BlackBerry's future in the connected vehicle landscape looks luminous.
Cylance GATEWAY: Revolutionizing Zero-Trust Network Access
BlackBerry's unveiling of the Cylance GATEWAY, a ZTNA (zero-trust network access) solution offered as a service, exemplifies their commitment to reshaping modern business connectivity. Designed to bestow businesses with an intricate synthesis of device telemetry and continuous authentication, this solution promises access only to authenticated, known entities. Its compatibility with other BlackBerry products, namely Cylance PERSONA and Cylance PROTECT, equips it to address a vast spectrum of security needs. The COVID-19 pandemic shattered conventional network security paradigms. In its wake, enterprises needed an agile yet robust solution for employees dispersed beyond office confines. Cylance GATEWAY answers this call, ensuring not just seamless access but also bolstered defense against an evolving digital threat landscape. With its ability to protect users, their devices, identities, networks, and applications, BlackBerry's innovation promises peace of mind to businesses. Touted as a solution to real-world challenges faced by IT and security leaders, its capabilities range from securing device-to-application access across varied networks to leveraging Cylance AI for risk mitigation and zero-day phishing detection.
Key Takeaways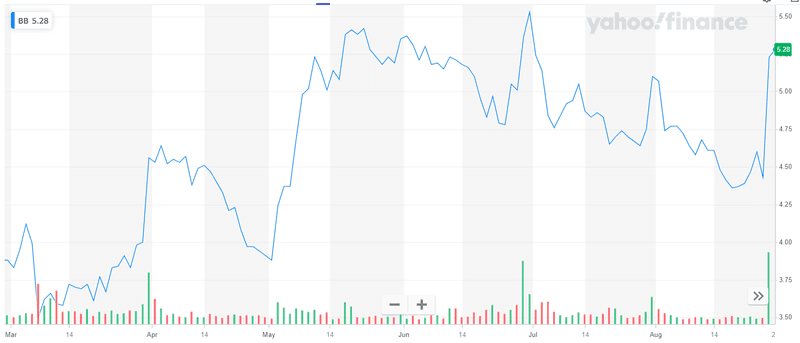 Source: Yahoo Finance
We can see a clear spike in BlackBerry's stock price in the above chart. It is worth mentioning that the recenet development follows BlackBerry's announcement in May that they were weighing up strategic options, which might include disentangling one or more of their business arms. Over the years, despite halting smartphone production and exploring sales of their legacy mobile patents, the company has been steadily reinventing itself. Today, it stands as a purveyor of top-tier car software and cybersecurity solutions. With its dual focus on cybersecurity software and Internet-of-Things products, and Veritas Capital's keen interest in government-centric tech tools and services, the stars might just be aligning for an M&A spectacle. We believe that the company could end up becoming an interesting investment bet for M&A arbitrageurs.
Disclaimer
This website is a wholly owned subsidiary of SCD Media, LLC, herein referred to as Smallcaps Daily. Our publications are a commercial advertisement and are for general information purposes ONLY. We are engaged in the business of marketing and advertising companies for monetary compensation. We may receive compensation for this article on a PPC basis as an affiliate. Never invest in any stock featured on our site or emails unless you can afford to lose your entire investment. The disclaimer is to be read and fully understood before using our services, joining our site or our email/blog list as well as any social networking platforms we may use. PLEASE NOTE WELL: Smallcaps Daily and its employees are not a Registered Investment Advisor, Broker Dealer or a member of any association for other research providers in any jurisdiction whatsoever.Release of Liability: Through use of this website viewing or using you agree to hold Smallcaps Daily, its operators owners and employees harmless and to completely release them from any and all liability due to any and all loss (monetary or otherwise), damage (monetary or otherwise), or injury (monetary or otherwise) that you may incur. The information contained herein is based on sources which we believe to be reliable but is not guaranteed by us as being accurate and does not purport to be a complete statement or summary of the available data. Smallcaps Daily encourages readers and investors to supplement the information in these reports with independent research and other professional advice. All information on featured companies is provided by the companies profiled, or is available from public sources and Smallcaps Daily makes no representations, warranties or guarantees as to the accuracy or completeness of the disclosure by the profiled companies. None of the materials or advertisements herein constitute offers or solicitations to purchase or sell securities of the companies profiled herein and any decision to invest in any such company or other financial decisions should not be made based upon the information provided herein. Instead Smallcaps Daily strongly urges you conduct a complete and independent investigation of the respective companies and consideration of all pertinent risks. Readers are advised to review SEC periodic reports: Forms 10-Q, 10K, Form 8-K, insider reports, Forms 3, 4, 5 Schedule 13D. Smallcaps Daily is compliant with the Can Spam Act of 2003. Salesparq, LLC does not offer such advice or analysis, and Smallcaps Daily further urges you to consult your own independent tax, business, financial and investment advisors. Investing in micro-cap and growth securities is highly speculative and carries and extremely high degree of risk. It is possible that an investors investment may be lost or impaired due to the speculative nature of the companies profiled. The Private Securities Litigation Reform Act of 1995 provides investors a safe harbor in regard to forward-looking statements. Any statements that express or involve discussions with respect to predictions, expectations, beliefs, plans, projections, objectives, goals, assumptions or future events or performance are not statements of historical fact may be forward looking statements. Forward looking statements are based on expectations, estimates, and projections at the time the statements are made that involve a number of risks and uncertainties which could cause actual results or events to differ materially from those presently anticipated. Forward looking statements in this action may be identified through use of words such as projects, foresee, expects, will, anticipates, estimates, believes, understands, or that by statements indicating certain actions & quote; may, could, or might occur. Understand there is no guarantee past performance will be indicative of future results.In preparing this publication, Smallcaps Daily, has relied upon information supplied by its customers, publicly available information and press releases which it believes to be reliable; however, such reliability cannot be guaranteed. Investors should not rely on the information contained in this website. Rather, investors should use the information contained in this website as a starting point for doing additional independent research on the featured companies. Smallcaps Daily has not been compensated for this article. The advertisements in this website are believed to be reliable, however, Smallcaps Daily and its owners, affiliates, subsidiaries, officers, directors, representatives and agents disclaim any liability as to the completeness or accuracy of the information contained in any advertisement and for any omissions of materials facts from such advertisement. Smallcaps Daily is not responsible for any claims made by the companies advertised herein, nor is Smallcaps Daily responsible for any other promotional firm, its program or its structure. Smallcaps Daily is not affiliated with any exchange, electronic quotation system, the Securities Exchange Commission or FINRA.