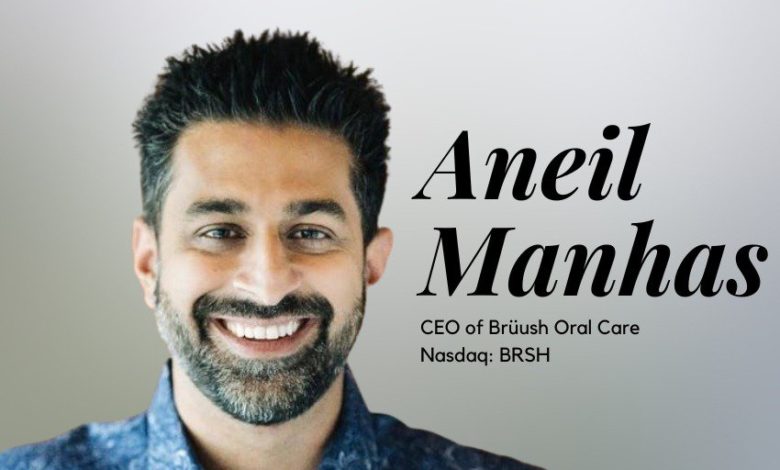 Brüush Oral Care, Inc. (NASDAQ: BRSH) is an exciting oral care-based subscription service offering sleekly designed electric toothbrushes at a competitive price. The company has grown to 38,000 subscribers and has plans to expand its products into "owning the bathroom", making it an exciting company to keep your eye on.
The Brüush comes in a sleek, black box while the electric brush itself is so aesthetically designed you'd think you were opening a new, top-of-the-line accessory versus an oral care product. The design speaks well to their target audience, Gen Z and Millennials, who often go for products that not only work well but look good while doing so.
BRSH has had an exciting year for growth and the company has big plans to continue to spread awareness of the brand as well as expand into retail in the near future. With a successful celebrity partnership with Kevin Hart, the company is breaking out of the mold of drab, sterile, oral care products. Instead, they appeal to everyone with teeth and deliver a bold product that speaks for itself.
Continuing reading for the full interview with Brüush CEO, Aneil Manhas…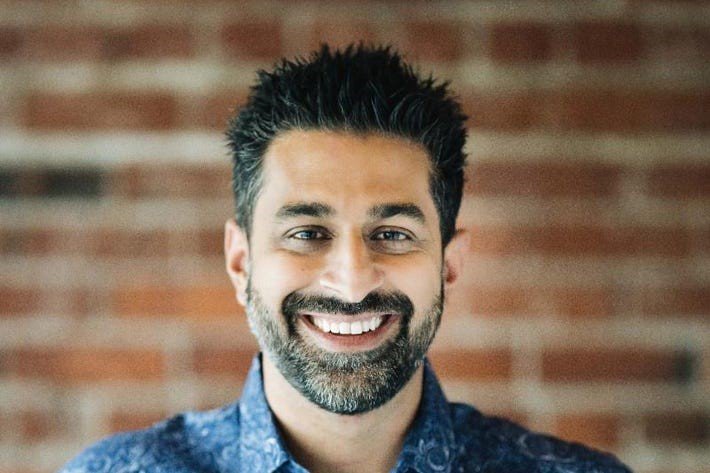 Aneil Manhas, CEO of Brüush Oral Care
Aneil Manhas, the founder of Brüush, has served as CEO since inception in 2018. Mr. Manhas has a career spanning over 15 years working in the financial services industry and in CEO positions of his previous companies. Recently, he was CEO of Surface 604 from 2015 until 2019, an electric bike company that he founded and grew to be one of North America's leading e-bike brands. During the same period, he was also President and CEO of GVA Brands from 2014 until 2019, a company he purchased and transformed into Canada's leader in entry-level powersports.
Mr. Manhas previously worked at Credit Suisse in Los Angeles, California for two years as an Investment Banker before joining Onex Corporation in Toronto, Ontario as a member of the investment team for five years, evaluating and executing large private equity transactions across multiple industries.
Mr. Manhas holds an Honors Business Administration (HBA) from the Richard Ivey School of Business at the University of Western Ontario.
FULL INTERVIEW: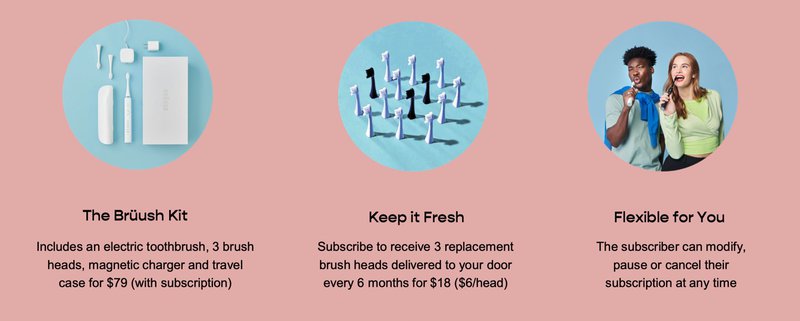 Thank you for taking the time to answer my questions about Brüush. Will you briefly describe the company for our readers who may be unfamiliar?
We're a subscription-based oral care company that launched in 2018. What sparked my original idea for Brüush was my interest in the Dollar Shave Club and Harry's, both subscription-based razor head businesses and the success that they had disrupting that space.
When I looked at the electric toothbrush category, I thought the problem was similar in the sense that the electric toothbrush heads, like the razor heads, were very expensive, and the buying experience was very poor. In both instances, you have to get an attendant to unlock the case and figure out what head fits your unit. Do you need soft bristles? Extra soft bristles? Really just a very annoying buying experience. So, I was just very surprised at that point that nobody had taken a model that had worked so well to disrupt the razor industry and applied it to the electric toothbrush industry.
As I dove in deeper, I was also very surprised with the lack of take up of the electric toothbrush in the market. Dental professionals generally agree that brushing electric is superior to brushing manual, but despite the fact, the majority of North Americans still use a manual brush.
Why do you think that is?
I believe the lack of take up is for a few reasons. I think, first and foremost, is price. Electric toothbrushes are expensive with the high-end models retailing for over $200. Also, for a lot of people, brushing manual is just the norm and you're breaking the norm with electric. Electric toothbrushes are also a little bit more cumbersome on the countertop with the charger. Manual brushes historically have been easier and more portable, since they're smaller. So, I believe there's a few different factors, but I think the biggest one is price point.
Going back to when we talked about Harry's, it seems that subscription-based services are becoming increasingly more popular. Can you just speak to the market potential of your specific subscription service?
One thing that's nice about a product like ours is our broader market potential is really everybody with teeth and we're now at over 38,000 subscribers. If you look at our 38,000 subscribers, over 70% of them are in that 28- to 45-year-old category. So, Gen Z and Millennials, and that's really the group that we're going after. I would say our target customer is really that Gen Z and Millennial individual that's currently using a manual brush, which I think is an important distinction. Do we have subscribers that have switched from a Phillips Sonicare or an Oral B to a Brüush? Naturally. But for the vast majority of our subscribers, the Brüush is their first electric toothbrush and that's really the market we're going after. Trying to convince the customer that there's never been a more opportune time to switch to electric.
Speaking to the success rate, I read that 90% of your users are giving it a five-star rating and you have a less than 1% return rate, which is incredible. In your opinion, what else sets Bruce apart from the competition?
I would really break our value proposition up into three parts.
Firstly, you're getting a top-of-the-line electric toothbrush that'd be akin to the highest end Philips Sonicare and Oral B models that retail for over $200, for just $79. So, the value in terms of the offering is very strong.
Number two, you're getting the convenience of the subscription. We send three brush heads to your door every six months for $18, which equates to $6 per head. So, again, cost savings relative to the Phillips and Oral B counterparts, as well as the convenience aspect of avoiding those needless store trips. We also send email reminders every two months to change your brush head to keep the subscriber on a regular cadence, because oftentimes people forget to regularly change their brush head. Six months have passed by and they're using the same old brush head.
Number three is design. When I looked at the competition, I thought it all kind of looked the same, what I considered as "medical device" like. We wanted to design a sleek electric toothbrush, a device that our customers would be proud to have on the countertop. We paid a lot of attention to detail, not just to the unit itself, but also to the packaging. Our unboxing experience is very Apple-like and creates a very shareable moment on social media. We've gotten the benefit of a lot of people sharing that unboxing moment on Instagram, which is great for us in terms of building awareness.
You mentioned you have an updated 38,000 subscribers, congratulations! As you look forward what is the company's strategy for further growth?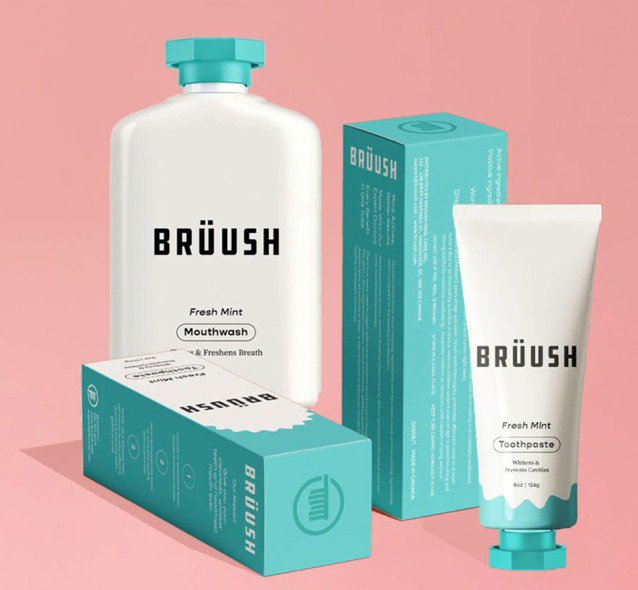 We want to continue to scale our e-commerce business first and foremost. But when I look at the near-term horizon, one thing we're very excited about is the launch of our new products. We have four new products: toothpaste, mouthwash, dental floss, and a whitening pen launching in the second quarter, as well as an electric toothbrush designed for kids towards the end of the year.
With the new products be part of the subscription service as an add on?
So, at this point right now, our subscription service is just brush heads. Once we launch these new products, we'll go from selling a toothbrush with a brush head subscription to selling an oral care bundle where someone could say, I want X number of brush heads along with toothpaste, dental floss, etc. Basically, the subscriber will have a lot of flexibility to create their own oral care bundle. The four product categories that we are launching – toothpaste, mouthwash, dental floss and a whitening pen combined consist of over 95% of the consumable oral care market.
What challenges is BRSH facing, if any?
We have a terrific product and this is apparent with our 90% five-star review rate and low less than 2% return rate. As such, our biggest challenge unquestionably is awareness. I know every time we add a consumer, that person is going to be an advocate of the brand. We saw an amazing number of current subscribers of our 38,000 current subscriber base, purchase an additional toothbrush or a second or a third as a gift this Christmas. That's one thing we were really excited to see. They're loving their electric toothbrush and are now purchasing additional products for friends and family as gifts. I know that every time we add a subscriber, we are adding a person that's going to become an advocate of the brand. Our biggest challenge is just awareness and adding more subscribers to keep the momentum building.
What is your perspective on the total addressable market for Brüush's products and services now and in the future?
Well, I think with our current electric toothbrush market, our product and the consumables, our addressable market is really everybody. I think what's important to note is that our kind of long-term goal is to "own the bathroom". We've started off with oral care and with the addition of the new products we will have the oral care market well covered. So, now we are looking to expand into other bathroom categories. There's a lot of different options in that regard and we are evaluating what product categories we want to give into next.
Before we wrap up, is there anything you wish to highlight for our investors reading?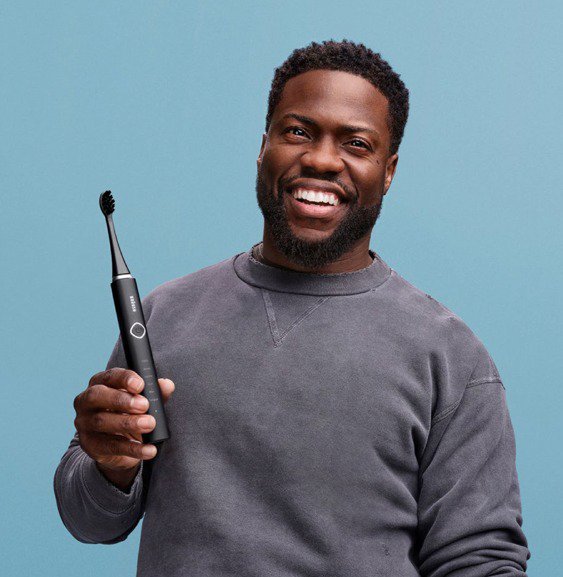 Yes, we have a partnership with Kevin Hart which has gone really well. But I think what that partnership really does is speak to is the brand. That's what we're really focused on building a brand that relates to our Millennial and Gen Z target market. We're very proud of the brand we've created so far. If you look at our brand, we utilize bright colors and bold expressions, and Kevin fits very well into that. We're really trying to add some life into oral care, which has typically been a dull and boring category.
Is there any other information you want to share with our investors reading so they know the opportunity at hand?
When it comes to growth drivers, first and foremost, we're focused on scaling the ecommerce business and also to start launching our new products in the second quarter. Another area that we're focused on to drive growth is expansion our distribution footprint. Up until this point, over 95% of our sales have been through ecommerce, and in 2023, we're looking to shift to an omnichannel approach by adding a retail element and some dental partnerships. Additionally, we currently sell our products in North America (Canada and the US), which are probably the most competitive markets for oral care. Later in the year, we're going to look at potentially expanding into some new geographic areas.
Thank you so much for your time.
Disclaimer
This website is a wholly owned subsidiary of SCD Media, LLC, herein referred to as Smallcaps Daily. Our publications are a commercial advertisement and are for general information purposes ONLY. We are engaged in the business of marketing and advertising companies for monetary compensation. We may receive compensation for this article on a PPC basis as an affiliate. Never invest in any stock featured on our site or emails unless you can afford to lose your entire investment. The disclaimer is to be read and fully understood before using our services, joining our site or our email/blog list as well as any social networking platforms we may use. PLEASE NOTE WELL: Smallcaps Daily and its employees are not a Registered Investment Advisor, Broker Dealer or a member of any association for other research providers in any jurisdiction whatsoever.Release of Liability: Through use of this website viewing or using you agree to hold Smallcaps Daily, its operators owners and employees harmless and to completely release them from any and all liability due to any and all loss (monetary or otherwise), damage (monetary or otherwise), or injury (monetary or otherwise) that you may incur. The information contained herein is based on sources which we believe to be reliable but is not guaranteed by us as being accurate and does not purport to be a complete statement or summary of the available data. Smallcaps Daily encourages readers and investors to supplement the information in these reports with independent research and other professional advice. All information on featured companies is provided by the companies profiled, or is available from public sources and Smallcaps Daily makes no representations, warranties or guarantees as to the accuracy or completeness of the disclosure by the profiled companies. None of the materials or advertisements herein constitute offers or solicitations to purchase or sell securities of the companies profiled herein and any decision to invest in any such company or other financial decisions should not be made based upon the information provided herein. Instead Smallcaps Daily strongly urges you conduct a complete and independent investigation of the respective companies and consideration of all pertinent risks. Readers are advised to review SEC periodic reports: Forms 10-Q, 10K, Form 8-K, insider reports, Forms 3, 4, 5 Schedule 13D. Smallcaps Daily is compliant with the Can Spam Act of 2003. Salesparq, LLC does not offer such advice or analysis, and Smallcaps Daily further urges you to consult your own independent tax, business, financial and investment advisors. Investing in micro-cap and growth securities is highly speculative and carries and extremely high degree of risk. It is possible that an investors investment may be lost or impaired due to the speculative nature of the companies profiled. The Private Securities Litigation Reform Act of 1995 provides investors a safe harbor in regard to forward-looking statements. Any statements that express or involve discussions with respect to predictions, expectations, beliefs, plans, projections, objectives, goals, assumptions or future events or performance are not statements of historical fact may be forward looking statements. Forward looking statements are based on expectations, estimates, and projections at the time the statements are made that involve a number of risks and uncertainties which could cause actual results or events to differ materially from those presently anticipated. Forward looking statements in this action may be identified through use of words such as projects, foresee, expects, will, anticipates, estimates, believes, understands, or that by statements indicating certain actions & quote; may, could, or might occur. Understand there is no guarantee past performance will be indicative of future results.In preparing this publication, Smallcaps Daily, has relied upon information supplied by its customers, publicly available information and press releases which it believes to be reliable; however, such reliability cannot be guaranteed. Investors should not rely on the information contained in this website. Rather, investors should use the information contained in this website as a starting point for doing additional independent research on the featured companies. Smallcaps Daily has not been compensated for this article. The advertisements in this website are believed to be reliable, however, Smallcaps Daily and its owners, affiliates, subsidiaries, officers, directors, representatives and agents disclaim any liability as to the completeness or accuracy of the information contained in any advertisement and for any omissions of materials facts from such advertisement. Smallcaps Daily is not responsible for any claims made by the companies advertised herein, nor is Smallcaps Daily responsible for any other promotional firm, its program or its structure. Smallcaps Daily is not affiliated with any exchange, electronic quotation system, the Securities Exchange Commission or FINRA.