Featured
Champion Gaming Group: The Hottest SportsTech Small-Cap In The Market Today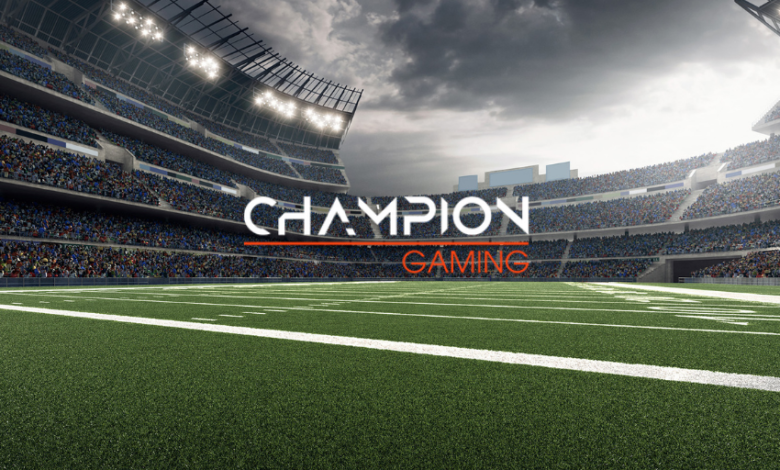 The statistical approach towards sports involving an extensive use of data analytics for decision making, popularized by the Brad Pitt-starrer, Moneyball, has spread far and wide across the world of sports. Today, all kinds of sports lovers, whether it is speculators or even fantasy gamers for that matter, are on the lookout for analyzing sports data in order to help them gain an edge in their betting or gaming activities. Our small cap pick for the day is a low-cost, subscription-based, data analytics provider for sports enthusiasts and sports speculators with a high-quality, proprietary algorithm to support their bets and fantasy sports decisions – Champion Gaming Group Inc (TSXV: WAGR)
Company Overview
Champion Gaming is a sports content, data and analytics company that provides predictive and prescriptive analytical models and win probability applications and statistics in the sports industry for teams, media, fans and bettors. The sports analytical and data solutions currently offered by Champion to its customers include a fully customized probability engine, interactive sports matchup models, spread and over/under distributions and sports statistics and historical data statistics. Existing digital properties include EdjSports.com, Football Outsiders, EdjVarsity. The Company is headquartered in Toronto, Ontario.
Further information on Champion Gaming can be found at https://www.championgaming.com. Ongoing financial and disclosure documents can be found on SEDAR at www.sedar.com.
Robust Business Model
As of today, Champion Gaming has a combination of a B2B as well as a B2C approach. Its B2B model works through a combination of advertising, sponsorships, consulting, and licensing and accounts for most of its revenues today. It is looking to expand its B2C subscriptions which could be a true game changer. The company uses a freemium model for its consumers i.e., bettors and fantasy sports enthusiasts where a minor monthly subscription fee gets them access to a wide range of its data analytics tools and all the content on the platform. Champion Gaming already had more than 250,000 monthly active users (MAUs) on Football Outsiders, Champion's leading football statistics and analytics site and the "Home of DVOA", during its peak this last NFL season, of which around 4,500 are paid subscribers. The company is pushing for more than 1 million MAUs across its sites in the coming years. The company plans to develop an affiliate program in the future, where it can earn money by referring new customers to sportsbooks. Moreover, Champion is also looking to expand beyond EdjSports' NFL roots in order to thrive. To expand beyond EdjSports' NFL roots, the company recently formed a strategic alliance with Inpredictable, a sports analytics website that specializes in the NBA and WNBA, which builds on its existing partnership with Massey Ratings. With football and basketball analytics slowly becoming available on its interface, the next big move would be to expand to other global sports such as hockey and soccer.
Compelling Growth Strategy
Champion Gaming intends to create a data and media service to assist sports bettors in developing strategies, evaluating experts, and placing more informed bets. The group's first move was to acquire EdjSports, the parent company of Football Outsiders, a popular analytics platform, which was completed in conjunction with the private placement. Its current finances are expected to go toward the reverse merger, the EdjSports acquisition, and future business needs. The company is using a pick-and-shovel approach to a rapidly growing business in North America. The rapid expansion of legalized sports betting in U.S. states and Canadian provinces has created billions of dollars in opportunity, and not just for consumer-facing operators. Champion Gaming is working hard towards the development of win probability models for horse racing, soccer, and tennis. It is also collaborating with SharpRank, a company that assesses touts and media experts' sports betting predictions. In addition, the company wants to expand its media operations. The company also wants to develop video, both for its subscribers and to license in Europe and Asia, because content has become a critical currency for nearly everyone in the sports betting ecosystem.
Large Addressable Market
Globally, there are approximately 5 billion sports fans, and legalization in core markets is accelerating. This implies a particularly large addressable market for Champion Gaming. The company has been built by a group led by former HBO Sports president Ken Hershman and operates a subscription service that will focus on data, analytics, and video content. As for the U.S. market, legal sports betting has expanded way beyond Nevada with many states having legalized sports betting since the Supreme Court elevated federal restrictions on the betting industry's growth in 2018. Moreover, as betting becomes more popular, the lines that once separated gambling from sports media and professional sports leagues are blurring. Sports bettors have turned to digital platforms as their preferred method of wagering and there is an increased reliance on platforms like Champion Gaming that provide the analytics to support betting decisions. The online sports betting market is expected to grow to $39 billion in annual revenue by 2033, up from less than $1 billion today, according to Goldman Sachs Group Inc. Interestingly, the Covid-19 lockdowns gave a huge boost to the sports betting market. The same logic goes for the fantasy gaming market which is another massive, multi-billion dollar market where enthusiasts rely heavily on analytics data. Thus, there is little doubt that Champion Gaming caters to a very large market of sports enthusiasts and has immense scope for growth.
Final Thoughts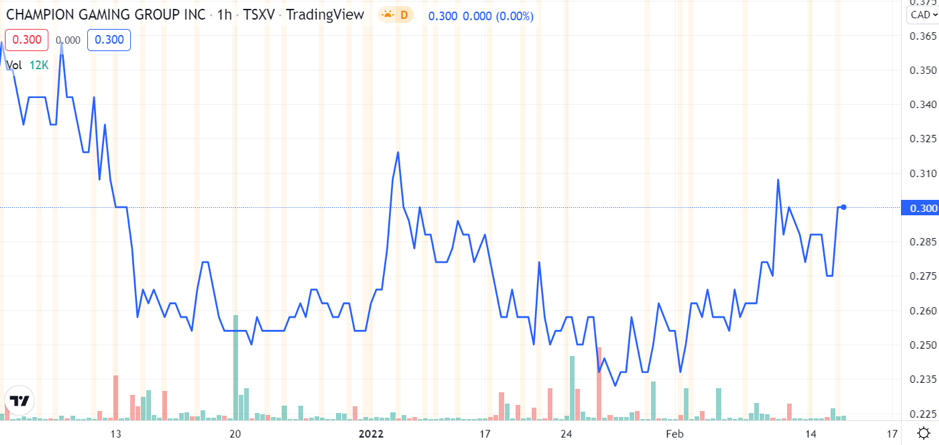 Champion Gaming is currently trading at hardly 30 cents a share and the market is heavily undervaluing its future revenue generation potential. Historically, Wall Street has always attached a heavy premium to companies with subscription-based models and the fact that Champion's business model, which relies on annual and monthly subscriptions to generate predictable revenues is bound to escalate its valuation. Moreover, it hedges the B2C business risks with additional revenues anticipated from licensing, sponsorships, advertising, and revenue sharing with sportsbook affiliates. It is worth highlighting that EdjSports, Champion's flagship asset, generated approx. US $1.5 million in revenue across its offerings in 2021. With almost 40% of the population of the United States having access to online sports betting and a large number of people engaging in fantasy gaming, we expect Champion Gaming to expand its user base at a phenomenal pace. Overall, the company appears to be an excellent investment within the sports-tech domain.
---
Disclaimer
No Positions. Please read our full disclaimer found here.
Disclaimer
This website is a wholly owned subsidiary of Salesparq, LLC, herein referred to as Salesparq, LLC. Our publications are a commercial advertisement and are for general information purposes ONLY. We are engaged in the business of marketing and advertising companies for monetary compensation. We may receive compensation for this article on a PPC basis as an affiliate. Never invest in any stock featured on our site or emails unless you can afford to lose your entire investment. The disclaimer is to be read and fully understood before using our services, joining our site or our email/blog list as well as any social networking platforms we may use.PLEASE NOTE WELL: Salesparq, LLC and its employees are not a Registered Investment Advisor, Broker Dealer or a member of any association for other research providers in any jurisdiction whatsoever.Release of Liability: Through use of this website viewing or using you agree to hold Salesparq, LLC, its operators owners and employees harmless and to completely release them from any and all liability due to any and all loss (monetary or otherwise), damage (monetary or otherwise), or injury (monetary or otherwise) that you may incur. The information contained herein is based on sources which we believe to be reliable but is not guaranteed by us as being accurate and does not purport to be a complete statement or summary of the available data. Salesparq, LLC encourages readers and investors to supplement the information in these reports with independent research and other professional advice. All information on featured companies is provided by the companies profiled, or is available from public sources and Salesparq, LLC makes no representations, warranties or guarantees as to the accuracy or completeness of the disclosure by the profiled companies. None of the materials or advertisements herein constitute offers or solicitations to purchase or sell securities of the companies profiled herein and any decision to invest in any such company or other financial decisions should not be made based upon the information provided herein. Instead Salesparq, LLC strongly urges you conduct a complete and independent investigation of the respective companies and consideration of all pertinent risks. Readers are advised to review SEC periodic reports: Forms 10-Q, 10K, Form 8-K, insider reports, Forms 3, 4, 5 Schedule 13D. Salesparq, LLC is compliant with the Can Spam Act of 2003. Salesparq, LLC does not offer such advice or analysis, and Salesparq, LLC further urges you to consult your own independent tax, business, financial and investment advisors. Investing in micro-cap and growth securities is highly speculative and carries and extremely high degree of risk. It is possible that an investors investment may be lost or impaired due to the speculative nature of the companies profiled. The Private Securities Litigation Reform Act of 1995 provides investors a safe harbor in regard to forward-looking statements. Any statements that express or involve discussions with respect to predictions, expectations, beliefs, plans, projections, objectives, goals, assumptions or future events or performance are not statements of historical fact may be forward looking statements. Forward looking statements are based on expectations, estimates, and projections at the time the statements are made that involve a number of risks and uncertainties which could cause actual results or events to differ materially from those presently anticipated. Forward looking statements in this action may be identified through use of words such as projects, foresee, expects, will, anticipates, estimates, believes, understands, or that by statements indicating certain actions & quote; may, could, or might occur. Understand there is no guarantee past performance will be indicative of future results.In preparing this publication, Salesparq, LLC has relied upon information supplied by its customers, publicly available information and press releases which it believes to be reliable; however, such reliability cannot be guaranteed. Investors should not rely on the information contained in this website. Rather, investors should use the information contained in this website as a starting point for doing additional independent research on the featured companies. Salesparq, LLC has not been compensated for this article. The advertisements in this website are believed to be reliable, however, Salesparq, LLC and its owners, affiliates, subsidiaries, officers, directors, representatives and agents disclaim any liability as to the completeness or accuracy of the information contained in any advertisement and for any omissions of materials facts from such advertisement. Salesparq, LLC is not responsible for any claims made by the companies advertised herein, nor is Salesparq, LLC responsible for any other promotional firm, its program or its structure. Salesparq, LLC is not affiliated with any exchange, electronic quotation system, the Securities Exchange Commission or FINRA.