Featured
Charge Enterprises: Seizing the EV Charging Revolution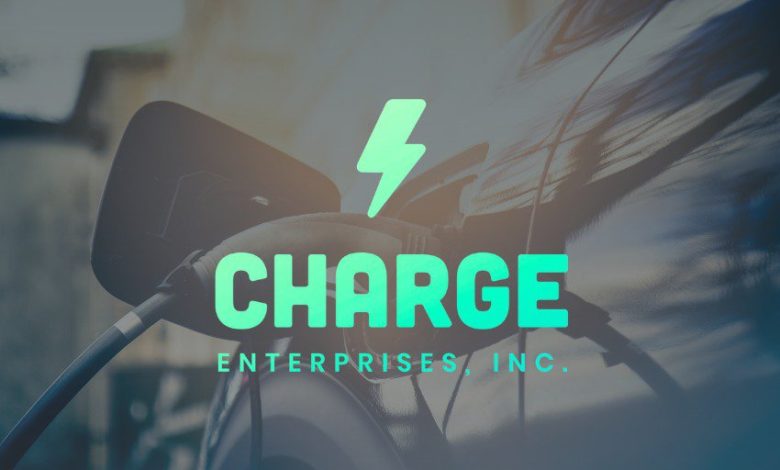 The adoption of Electric Vehicles (EVs) is experiencing a rapid increase as global consumers' interest in buying EVs has reached a staggering 52%, as reported by the latest EY Mobility Consumer Index. This rise in interest can be attributed to several factors, including concerns about climate change, a focus on sustainability, the escalating cost of gasoline, and the influential Advanced Clean Cars II rule introduced by California. According to this rule, by 2035, all new cars and light trucks sold in California must be zero-emission vehicles, including plug-in hybrid electric vehicles. The United States has already witnessed significant sales of over 3.7 million plug-in hybrid and battery electric vehicles since 2010, and this number is projected to surge in the future as more consumers opt for EVs when purchasing automobiles.
These growing trends present an exciting opportunity for innovative companies like Charge Enterprises, Inc. (NASDAQ: CRGE), a leader in the EV infrastructure sector, to seize upon. Since our previous coverage of the company, Charge has achieved multiple exciting milestones, further establishing itself as a must-watch in the booming EV charging revolution.
About the Company
Charge Enterprises, Inc. is an electrical, broadband, and EV charging infrastructure company that offers comprehensive project management services to its clients. The company operates in two segments: Infrastructure, which primarily focuses on EV charging, broadband, wireless, and electrical contracting services; and Telecommunications, which provides the connection of voice calls, Short Message Services (SMS), and data to global carriers. With a vision to lead the way in enabling the next phase of transportation and connectivity, Charge Enterprises aims to build, design, and operate seamless infrastructure for electric vehicles, fostering a future where transportation is clean, efficient, and connected. The company strives to empower individuals, communities, and businesses to thrive in a more sustainable world. Its strategic approach involves cultivating repeat customers and generating recurring revenue, starting with the nation's approximately 18,000 franchised auto dealers, where investments in the EV charging revolution are currently taking place.
The Strategy
Charge's multi-phased strategy presents an exciting opportunity for readers at SmallCaps Daily. By targeting the nation's approximately 18,000 franchised auto dealerships, which are at the forefront of the EV charging revolution, the company aims to position itself as a trailblazer within a rapidly booming market. Focusing initially on the largest automotive Original Equipment Manufacturers (OEMs), their dealers, and their fleets, Charge plans to strategically capture a significant portion of these retail dealerships. This is an advantageous approach as it establishes a strong presence in these high-traffic locations. This can lead to Charge cultivating a robust dealer ecosystem, leading to repeat customers and recurring revenue, ensuring stability for the company. Beyond this, the acquisition of strategic infrastructure entities further strengthens the overall strategy. By acquiring entities with established assets, cash flow, skilled teams, and industry knowledge, Charge can enhance its buildout of the EV infrastructure strategy. This strategic move not only accelerates the company's expansion but also mitigates risks associated with infrastructure development, as it leverages existing resources and expertise.
As the adoption of electric vehicles continues to rise around the globe, the demand for reliable and accessible EV charging infrastructure surges with it. By positioning itself as a leader within this evolving market, Charge is in the optimal position to capture a large customer base, creating value for investors as the company expands its operations and further cementing itself as a key player in the EV infrastructure world.
Recent Milestones
Charge recently reported financial results for Q1 2023 with revenues reaching $193.5 million, showing a growth rate of 19% compared to the first quarter of 2022. The Infrastructure and Telecommunications segments experienced significant growth at rates of 40% and 16%, respectively. Gross profit for the quarter rose to $6.7 million, a 9% increase from the same period in the previous year.
Andrew Fox, the Founder, Chairman, and CEO of Charge Enterprises, highlighted the company's achievements during the first quarter. He mentioned record backlog orders of approximately $107 million and progress towards the company's goal of engagement with 1,000 major market dealerships, indicating robust growth opportunities for Charge in the coming year. Fox emphasized the supportive environment for EV charging infrastructure, driven by political, economic, and technological factors that are accelerating EV adoption. Charge is well-positioned to execute its infrastructure plans and support the transition to EVs.
A recent exciting milestone had Charge Enterprises and an industry partner collaborate to deliver turnkey EV charging infrastructure solutions. Charge will handle installation, maintenance, and monitoring for the partner's customers. Together, the companies aim to provide customized software solutions, including "Charging as a Service" (CaaS), to automotive OEMs, retail, commercial, and fleet EV companies. The collaboration further showcases Charge as a trusted advisor in the highly competitive industry, offering comprehensive EV charging solutions.
Addressable Market
The global EV market is experiencing significant growth, with sales projected to reach $823.75 billion by 2030. This growth is driven by three key factors: increasing consumer adoption of EVs, government investments in the EV market, and manufacturers' policies focusing on EV production. Consumer demand for environmentally friendly transportation has led to a steady rise in EV sales.
Governments worldwide are providing funding to support EV market development, aiming for 50% of all car sales to be electric by 2030. The Bipartisan Infrastructure Law in the U.S. has allocated significant investments, including $10 billion for clean transportation and over $7 billion for EV battery components and materials. Additionally, $2.5 billion of a total $7.5 billion investment is being deployed to establish a nationwide EV charging network. Leading car manufacturers are also embracing EVs, with General Motors investing $35 billion in EVs and autonomous vehicles by 2025 and planning to install 40,000 charging stations at its dealerships. Ford Motor Company has increased its planned investment to $50 billion for EV production by 2026, with a commitment to have half of its new vehicles electric by 2030.
As the EV market expands, the EV charging infrastructure market is projected to reach $121.09 billion by 2030, growing at a CAGR of 25.5%. Charge Enterprises aims to position itself as a leading infrastructure provider in this growing market
Final Thoughts
Charge Enterprises is a leader in making the journey to electrification simple and we find is well equipped to capture the highest and most profitable spend in the EV Charging value chain. With its focus on in-demand EV charging infrastructure and strategic partnerships, the company is well-positioned to capitalize on the growing demand for reliable and accessible EV charging solutions. The company's recent financial performance, multi-phased strategy initially targeting franchised auto dealerships, and commitment to customer-centric services make it a must-watch company within the EV revolution for readers at SmallCaps Daily. With a clear vision for growth and a track record of success, we think Charge Enterprises is already a key player in the bustling EV market and is a must-watch to have on your list.
Disclaimer
This website is a wholly owned subsidiary of SCD Media, LLC, herein referred to as Smallcaps Daily. Our publications are a commercial advertisement and are for general information purposes ONLY. We are engaged in the business of marketing and advertising companies for monetary compensation. We may receive compensation for this article on a PPC basis as an affiliate. Never invest in any stock featured on our site or emails unless you can afford to lose your entire investment. The disclaimer is to be read and fully understood before using our services, joining our site or our email/blog list as well as any social networking platforms we may use. PLEASE NOTE WELL: Smallcaps Daily and its employees are not a Registered Investment Advisor, Broker Dealer or a member of any association for other research providers in any jurisdiction whatsoever.Release of Liability: Through use of this website viewing or using you agree to hold Smallcaps Daily, its operators owners and employees harmless and to completely release them from any and all liability due to any and all loss (monetary or otherwise), damage (monetary or otherwise), or injury (monetary or otherwise) that you may incur. The information contained herein is based on sources which we believe to be reliable but is not guaranteed by us as being accurate and does not purport to be a complete statement or summary of the available data. Smallcaps Daily encourages readers and investors to supplement the information in these reports with independent research and other professional advice. All information on featured companies is provided by the companies profiled, or is available from public sources and Smallcaps Daily makes no representations, warranties or guarantees as to the accuracy or completeness of the disclosure by the profiled companies. None of the materials or advertisements herein constitute offers or solicitations to purchase or sell securities of the companies profiled herein and any decision to invest in any such company or other financial decisions should not be made based upon the information provided herein. Instead Smallcaps Daily strongly urges you conduct a complete and independent investigation of the respective companies and consideration of all pertinent risks. Readers are advised to review SEC periodic reports: Forms 10-Q, 10K, Form 8-K, insider reports, Forms 3, 4, 5 Schedule 13D. Smallcaps Daily is compliant with the Can Spam Act of 2003. Salesparq, LLC does not offer such advice or analysis, and Smallcaps Daily further urges you to consult your own independent tax, business, financial and investment advisors. Investing in micro-cap and growth securities is highly speculative and carries and extremely high degree of risk. It is possible that an investors investment may be lost or impaired due to the speculative nature of the companies profiled. The Private Securities Litigation Reform Act of 1995 provides investors a safe harbor in regard to forward-looking statements. Any statements that express or involve discussions with respect to predictions, expectations, beliefs, plans, projections, objectives, goals, assumptions or future events or performance are not statements of historical fact may be forward looking statements. Forward looking statements are based on expectations, estimates, and projections at the time the statements are made that involve a number of risks and uncertainties which could cause actual results or events to differ materially from those presently anticipated. Forward looking statements in this action may be identified through use of words such as projects, foresee, expects, will, anticipates, estimates, believes, understands, or that by statements indicating certain actions & quote; may, could, or might occur. Understand there is no guarantee past performance will be indicative of future results.In preparing this publication, Smallcaps Daily, has relied upon information supplied by its customers, publicly available information and press releases which it believes to be reliable; however, such reliability cannot be guaranteed. Investors should not rely on the information contained in this website. Rather, investors should use the information contained in this website as a starting point for doing additional independent research on the featured companies. Smallcaps Daily has not been compensated for this article. The advertisements in this website are believed to be reliable, however, Smallcaps Daily and its owners, affiliates, subsidiaries, officers, directors, representatives and agents disclaim any liability as to the completeness or accuracy of the information contained in any advertisement and for any omissions of materials facts from such advertisement. Smallcaps Daily is not responsible for any claims made by the companies advertised herein, nor is Smallcaps Daily responsible for any other promotional firm, its program or its structure. Smallcaps Daily is not affiliated with any exchange, electronic quotation system, the Securities Exchange Commission or FINRA.