News
CMUV Bancorp Announces 2023 3rd Quarter Financial Results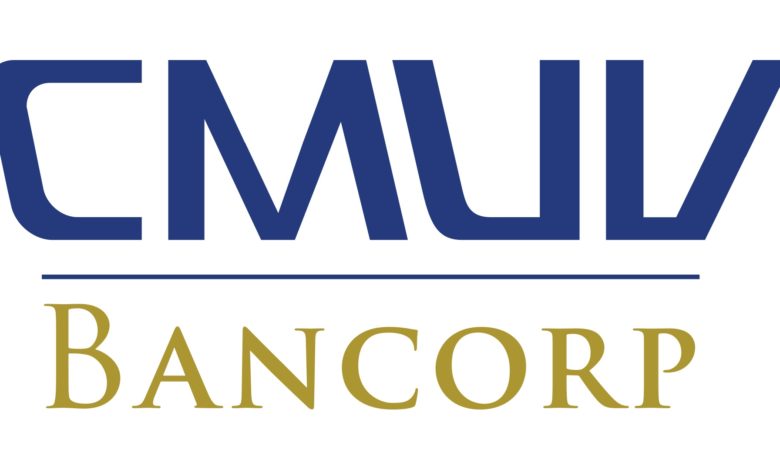 EL CENTRO, CA –

(NewMediaWire) – October 20, 2023 – CMUV Bancorp, the holding company for Community Valley Bank (CVB), is pleased to announce unaudited 3rd Quarter results as of September 30, 2023. During the 3rd quarter, net income totaled $991,000, which brought year-to-date net income to $2,873,863 through the first nine months of the year. Net income for 3rd quarter equaled $0.54 per share. Also, at the end of 3Q 2023, total assets were $294.5 MM, total deposits were $258 MM, and gross loans were at $222 MM.
We ended the third quarter 2023 with a Community Bank Leverage Capital ratio of 11.24%, which puts the Bank well above the ratio required to be considered a well-capitalized bank. The new regulatory metric for the reserve on loans, Allowance for Credit Losses (ACL), was $2,447,223, or 1.20% of total loans, excluding guaranteed portion of loans. In addition, non-accrual loans remain very low at 0.75%. Both the Board and Management believe the ACL is fully funded at this time.
The September 30, 2023 book value of the common stock was $15.79 per share (diluted), while the common stock (CMUV) was trading at $14.50 as of the same date. ROAA through the third quarter of 2023 was 1.31%, while ROAE came in at 11.74%.
Shareholder Financial Summary
 
 
For Quarter End September 30, 2023
 
 
 
 
 
 
 
 
 
 
 

Sept 30 , 2023

Sept 30 , 2022

 

ASSETS

 
 
 
 
Cash & Cash Equivalents
$
52,443,464
 
$
49,282,886
 
 
 
Total Investments
 
7,436,640
 
$
6,563,192
 
 
 
Gross Loans
 
222,266,223
 
$
211,049,790
 
 
 
ACL
 
(2,447,223
)
 
(2,357,659
)
 
 
 
 Total Earning Assets
$
279,699,104
 
$
264,538,209
 
 
 
 
 
 
 
 
 
Other Assets
 
14,776,313
 
$
12,127,821
 
 
 
 
 
 
 
 
 

TOTAL ASSETS

$

294,475,417

 

$

276,666,030

 
 
 
 
 
 
 
 

LIABILITIES

 
 
 
 
Deposits
$
258,001,925
 
$
237,660,261
 
 
 
Total Borrowings & Debt Obligations
 
2,057,776
 
$
4,053,510
 
 
 
Other Liabilities
 
757,385
 
$
2,278,903
 
 
 
 
TOTAL LIABILITIES
$
260,817,087
 
$
243,992,675
 
 
 
 
 
 
 
 

SHAREHOLDER CAPITAL/EQUITY

 
 
 
 
Total Stock, Equity, Retained Earnings
$
31,784,467
 
$
29,557,558
 
 
 
Net Income
$
2,873,863
 
$
3,115,797
 
 
 
 
TOTAL EQUITY/CAPITAL
$
34,658,330
 
$
32,673,355
 
 
 
 
 
 
 
 
 

TOTAL LIBILITIES & CAPITAL/EQUITY

$

295,475,417

 

$

276,666,030

 
 
 
 
 
 
 
 
 
 
 
 
 
 
 
 
 

Sept 30 , 2023

Sept 30 , 2022

 

STATEMENT OF INCOME AND EXPENSE

 
 
 
 
Total Interest Income
$
11,580,565
 
$
8,697,679
 
 
 
Total Interest Expense
 
(2,886,304
)
 
(616,505
)
 
 
 
NET INTEREST INCOME
$
8,694,261
 
$
8,081,175
 
 
 
 
 
 
 
 
 
Total Other Non-Interest Income
$
589,905
 
$
977,092
 
 
 
Total Non-Interest Expenses
$
(5,263,502
)
$
(4,684,186
)
 
 
Provision for Loan Loss
 
(45,600
)
 
–
 
 
 
 
 
 
 
 
 
 
INCOME BEFORE TAXES
$
3,975,064
 
$
4,374,081
 
 
 
 
 
 
 
 
 
Income Tax Expense
$
(1,101,201
)
$
(1,258,284
)
 
 
 
 
 
 
 

NET INCOME

$
2,873,863
 
$
3,115,796
 
 
 
 
 
 
 
 
 
 
 
 
 
 

FINANCIAL RATIOS

 
 
 
 
Return on Average Assets (ROAA)
 
1.31
%
 
1.45
%
 
 
Return on Average Equity (ROAE)
 
11.74
%
 
13.90
%
 
 
Earnings Per Share (Basic) – Quarterly Earnings
$
0.54
 
$
0.56
 
 
 
Earnings Per Share (Basic) – YTD
$
1.57
 
$
1.68
 
 
 
Total Shares (Outstanding/Exercised)
 
1,830,647
 
 
1,859,481
 
 
 
Book Value (CVB – Bank)
$
18.93
 
$
17.57
 
 
 
Book Value (CMUV – Holding Company)
$
15.79
 
$
14.31
 
 
 
 
 
 
 
 
Contact: Jon A. Edney, President/CEO
Phone (760) 352-1889, mediarelations@yourcvb.com
View the original release on www.newmediawire.com