News
Coronavirus update: Republican governors are dropping resistance to face masks as infections soar and hospital beds fill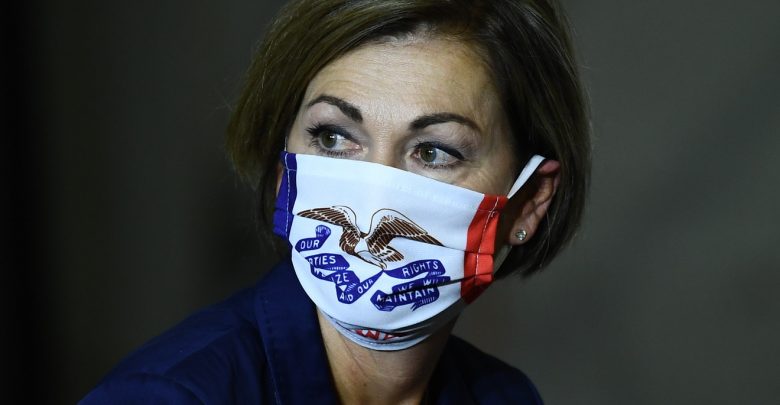 The global tally for the coronavirus illness COVID-19 rose above 55 million on Tuesday, and the U.S. tally climbed above 11.2 million, with rising infections and shortages of hospital beds leading some Republican governors to drop their resistance to face masks and issue mandates.
Iowa Gov. Kim Reynolds announced late Monday that Iowans would be required to wear face masks indoors starting Tuesday if they cannot socially distance. Iowa has seen cases and hospitalizations almost double in the last two weeks.
"If Iowans don't buy into this, we'll lose," she said. "Businesses will close once again, more schools will be forced to go online, and our health-care system will fail."
That move comes after North Dakota Gov. Doug Burgum on Friday ordered residents to wear masks indoors and outdoors if they can't socially distance, after shying away from a mandate for months. North Dakota has the worst per capita new-infection rate in the entire country, according to a New York Times tracker.
West Virginia Gov. Jim Justice ordered residents of that state to wear masks indoors on Saturday. California Gov. Gavin Newsom, a Democrat, said he's "pulling the emergency brake" on the Golden State's reopening and implementing fresh restrictions to combat rising cases.
Michigan, Washington, New Jersey, New Mexico, Oregon and the cities of New York and Chicago have all announced restrictions on movement that will come into force this week.
The moves come as a new Axios-Ipsos poll found a growing number of Americans — and more Republicans — are becoming more tuned in to the risks of outdoor activities and of gathering in large numbers. More than 52% of Republicans polled said they now view in-person gatherings as risky, up from 40% in late October.
Don't miss: South Dakota emergency-room nurse says some patients insist COVID-19 isn't real even as they're dying from it
"Our survey has consistently found that Republicans are less concerned about the coronavirus, by almost any measure," the authors of the poll wrote. "But Republicans and Independents are beginning to come around on the risk of indoor dining and socializing, and that's what's driving the overall increase in risk perception."
See now: Is it safe to have Thanksgiving with family? Here are the latest CDC guidelines on holiday gatherings
The U.S. added 166,581 cases on Monday, the Times tracker shows, and at least 796 people died. The U.S. has averaged 155,442 cases a day for the past week, an 82% jump from two weeks ago.
There are currently a record 73,014 COVID-19 patients in U.S. hospitals, according to the COVID Tracking Project, smashing the record of 69,993 set just a day ago. That's up 95% from a month ago.
"A vaccine is important. It's of little use until you're vaccinated. So how do we get over 300 million Americans vaccinated? What's the game plan? It's a huge, huge, huge undertaking to get it done. If we have to wait until Jan. 20 to start that planning, it puts us behind — over a month, month and a half."
"
— President-elect Joe Biden

President-elect Joe Biden said more Americans lives are at risk if incumbent President Donald Trump does not clear the path for a smooth transition of power.
"More people may die if we don't coordinate," Biden said at a news conference in Wilmington, Delaware. Biden also warned of a "very dark winter" if the virus continues to race across the U.S. and disrupt its economy.
But the most pressing issue is the cooperation needed now to ensure the U.S. is ready to distribute a COVID-19 vaccine efficiently as soon as one is available, said Biden. In the past week, two vaccine candidates, one developed by Pfizer Inc.
PFE, +2.25% and partner BioNTech SE BNTX, -3.13%, and one from Moderna Inc. MRNA, -5.72%,
have been reported to show high levels of efficacy in early analyses of data from clinical trials that has yet to be peer reviewed.
See:Walmart CEO, chair of Business Roundtable, congratulates President-elect Biden during earnings call
That has boosted expectations a vaccine will be ready by year-end.
"A vaccine is important. It's of little use until you're vaccinated. So how do we get over 300 million Americans vaccinated?" Biden asked. "What's the game plan? It's a huge, huge, huge undertaking to get it done."
"If we have to wait until Jan. 20 to start that planning, it puts us behind — over a month, month and a half," Biden said. "And so it's important that it be done, that there is cooperation. Now. Now, or as rapidly as we can get that done."
World Health Organization director for service delivery and safety, Edward Kelley, cautioned that there is still much work to be done and lives to save before a vaccine is ready.
Last week, we had 60,000 deaths, we had 4 million new cases. We will have more of those weeks before the vaccine is out there," Kelley said at a news briefing.
Retail sales rose 0.3% last month, the government said Tuesday, matching the forecast of economists polled by MarketWatch. Although it was the sixth advance in a row, it was also the smallest gain since the economy reopened in May.
If auto dealers and gasoline stations are excluded, sales climbed a lackluster 0.2% in October. Auto and gas receipts can swing sharply from month to month and distort underlying trends in the retail sales.
Industrial production rose 1.1% in October, the Federal Reserve reported Tuesday. The gain was in line with Wall Street expectations, according to a survey by MarketWatch. Production in September was revised to a 0.4% drop from the initial estimate of a 0.6% decline.
Despite the gain, production is still 5.6% below pre-pandemic levels.
After rising a slight 0.1% in September, manufacturing increased a solid 1% last month. But key sectors lagged. Output of motor vehicles and parts slipped 0.1% after a 3% fall in the prior month.
Utility output rose 3.9% in October. Output of mines fell 0.6%, pulled down by a drop in oil production. Capacity utilization increased 0.8 percentage point in October to 72.8%.
Separately, the construction industry's outlook improved again in November, according to research from a trade group. The National Association of Home Builders' monthly confidence index rose five points to a reading of 90 in November, a record high, the trade group said Tuesday. It is the fourth consecutive month that the index has hit a new record high.
Index readings over 50 are a sign of improving confidence. Back in April and May, he index dropped below 50 as concerns related to the pandemic mounted.