Featured
Correlate Energy Corp: A Small Cap Stock Poised for Explosive Growth in the Clean Energy Revolution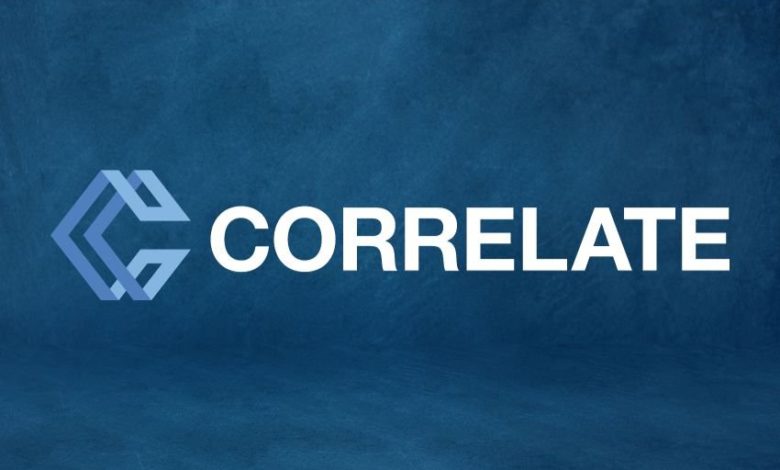 The trillion-dollar energy landscape is in a constant state of evolution, where massive financial gains often trail the transformative shifts in how we power our world. The United States currently stands on the brink of an immense transformation, moving towards a future where decentralized electrical energy generation takes the lead. This trend is fueling an upswing in electricity production with no signs of slowing down. What drives this trend is financial viability, environmental concerns, a desire for sustainable investments, and ongoing governmental support. In the midst of this, a singular company stands out, uniquely positioned to seize the opportunities of this multi-trillion-dollar macro energy shift, and our small-cap pick of the day, Correlate Energy Corp (OTCQB: CIPI). Let's explore Correlate Energy's strategic vision, the immense potential of the clean energy market, and why CIPI is an attractive and compelling choice for investors.
About Correlate Energy
Correlate Energy Corp., along with its subsidiaries, operates as a tech-driven, vertically integrated platform dedicated to delivering distributed clean and resilient energy solutions across North America. Their core focus is on real estate assets that, despite their intricate energy needs, lack the essential time, expertise, or capital to incorporate tech-driven and sustainable upgrades. The company offers property owners and real estate investment trusts (REITs) seamless software-aided access to a wide array of energy professionals and solution sets, covering the entire spectrum from engineering and finance to project management and execution.
By harmonizing state-of-the-art technology with both on-demand and in-house experts, Correlate curates tailored programs that drastically reduce a client's energy consumption, costs, and carbon emissions, thereby enhancing net operating income. Furthermore, Correlate is venturing into microgrid infrastructure, aiming to cater to regions where centralized electrical systems fall short due to grid restrictions, financial constraints, or protracted utility delivery durations.
Growth Strategy and Financials
Correlate Energy primarily makes money through programs with third parties, using its unique platform and in-house capabilities for development and fulfillment. There are different ways they generate revenue, such as selling developed projects providing energy services for ongoing cash flows, and anticipating future revenue linked to grid services. Alongside these revenue streams, Correlate is proactive in acquiring other companies to enhance their project pipeline, improve execution capabilities, and boost their profits.
Although Correlate is focusing on acquiring regional leaders in both Commercial and Residential solar, they are also actively acquiring specific software firms that can help in project development, financing, supply chain management, to meet regional needs. In recent years, the company has witnessed a remarkable surge in revenue, boasting an impressive increase of over 30% year-over-year. This upward swing isn't just limited to revenue; Correlate Energy has achieved substantial cost savings in energy expenditures for its clientele, averaging around 25%. This showcases the company's operational efficiency and its ability to provide economically viable solutions in the competitive clean energy sector. Furthermore, Correlate Energy's unique approach has seen a rapid rise in project installations, with an impressive 50% uptick in completed projects in the last fiscal quarter alone. This surge in project execution emphasizes the company's potential for exponential growth and its strategic positioning to capture a significant share of the burgeoning decentralized clean energy market.
The Clean Energy Market Potential
The transition towards clean, sustainable energy is no longer idealized; it's a global necessity. With climate change concerns growing, nations and industries are constantly striving to adopt cleaner alternatives. In the United States alone, the energy industry is witnessing a massive shift. Solar photovoltaic (PV) power, for instance, recently emerged as the dominant source, accounting for more than 50% of the new generating capacity. This market penetration is incredible, considering it was less than 5% not long ago. The immense energy consumption by over 6 million commercial buildings in the US, a staggering $2 trillion annually, further highlights the vastness of the market and the urgency for sustainable solutions.
Amid this opportunity presents a growing problem: wastage of nearly 30% of energy consumption. Inefficiencies causing this wastage equate to a massive $600 billion and contribute to a significant portion of the nation's greenhouse gas emissions. The shift towards renewable energy, especially solar, is fueled not only by environmental concerns but also by the US government's carbon reduction goals. The government aims to slash emissions by 50-52% by 2030 and achieve a net-zero economy by 2050.Within the booming global renewable energy market, CIPI is strategically positioned to seize a significant share. As the market is projected to soar to USD 3.6 trillion by 2030 with a strong CAGR of 16.9%, CIPI's focus on decentralized clean energy solutions aligns perfectly with this trajectory, positioning the company as a key player poised for substantial growth and market influence.
Why Investors Should Keep a Close Eye
Investing in the clean energy sector isn't just about contributing to a greener planet; it's about harnessing the immense financial potential this industry holds. Correlate Energy stands as a prime example of a small-cap company with exponential growth potential in a trillion-dollar industry. With a vision rooted in sustainability and innovation, coupled with a robust growth strategy, Correlate Energy is primed for significant expansion. Investors looking for an opportunity to ride the wave of clean energy transformation while also seeking promising financial returns should keep a close eye on CIPI.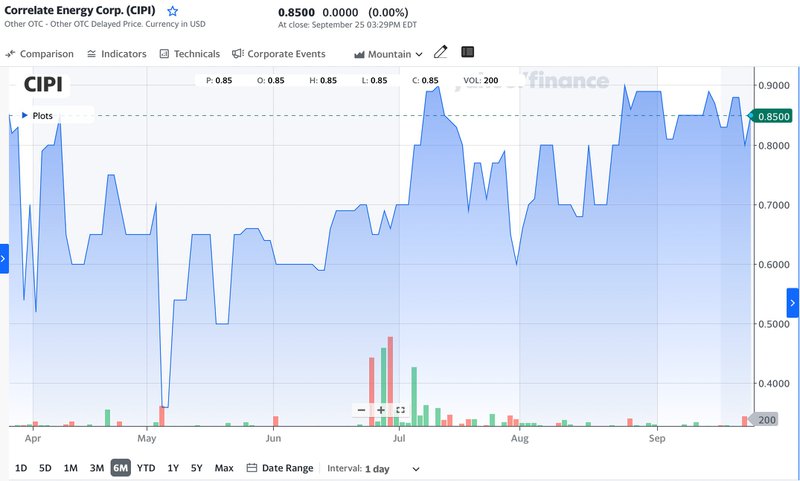 Final Thoughts
Correlate Energy Corp (OTCQB: CIPI) emerges as a must-watch player in the trillion-dollar realm of clean and renewable energy. As the world's attention shifts towards decentralized energy solutions, Correlate stands as a leader ready to navigate this pivotal shift. Their three-pronged strategy, involving financing, development, and acquisition, places them firmly at the forefront of the sustainable energy movement. Readers at SmallCaps Daily looking to ride the wave of the renewable energy surge should keep a close eye on Correlate Energy Corp. With a strategic vision aligned with both financial growth and environmental responsibility, Correlate promises not only returns but also a positive contribution to a cleaner, greener future.
Disclaimer
This website is a wholly owned subsidiary of SCD Media, LLC, herein referred to as Smallcaps Daily. Our publications are a commercial advertisement and are for general information purposes ONLY. We are engaged in the business of marketing and advertising companies for monetary compensation. We may receive compensation for this article on a PPC basis as an affiliate. Never invest in any stock featured on our site or emails unless you can afford to lose your entire investment. The disclaimer is to be read and fully understood before using our services, joining our site or our email/blog list as well as any social networking platforms we may use. PLEASE NOTE WELL: Smallcaps Daily and its employees are not a Registered Investment Advisor, Broker Dealer or a member of any association for other research providers in any jurisdiction whatsoever.Release of Liability: Through use of this website viewing or using you agree to hold Smallcaps Daily, its operators owners and employees harmless and to completely release them from any and all liability due to any and all loss (monetary or otherwise), damage (monetary or otherwise), or injury (monetary or otherwise) that you may incur. The information contained herein is based on sources which we believe to be reliable but is not guaranteed by us as being accurate and does not purport to be a complete statement or summary of the available data. Smallcaps Daily encourages readers and investors to supplement the information in these reports with independent research and other professional advice. All information on featured companies is provided by the companies profiled, or is available from public sources and Smallcaps Daily makes no representations, warranties or guarantees as to the accuracy or completeness of the disclosure by the profiled companies. None of the materials or advertisements herein constitute offers or solicitations to purchase or sell securities of the companies profiled herein and any decision to invest in any such company or other financial decisions should not be made based upon the information provided herein. Instead Smallcaps Daily strongly urges you conduct a complete and independent investigation of the respective companies and consideration of all pertinent risks. Readers are advised to review SEC periodic reports: Forms 10-Q, 10K, Form 8-K, insider reports, Forms 3, 4, 5 Schedule 13D. Smallcaps Daily is compliant with the Can Spam Act of 2003. Salesparq, LLC does not offer such advice or analysis, and Smallcaps Daily further urges you to consult your own independent tax, business, financial and investment advisors. Investing in micro-cap and growth securities is highly speculative and carries and extremely high degree of risk. It is possible that an investors investment may be lost or impaired due to the speculative nature of the companies profiled. The Private Securities Litigation Reform Act of 1995 provides investors a safe harbor in regard to forward-looking statements. Any statements that express or involve discussions with respect to predictions, expectations, beliefs, plans, projections, objectives, goals, assumptions or future events or performance are not statements of historical fact may be forward looking statements. Forward looking statements are based on expectations, estimates, and projections at the time the statements are made that involve a number of risks and uncertainties which could cause actual results or events to differ materially from those presently anticipated. Forward looking statements in this action may be identified through use of words such as projects, foresee, expects, will, anticipates, estimates, believes, understands, or that by statements indicating certain actions & quote; may, could, or might occur. Understand there is no guarantee past performance will be indicative of future results.In preparing this publication, Smallcaps Daily, has relied upon information supplied by its customers, publicly available information and press releases which it believes to be reliable; however, such reliability cannot be guaranteed. Investors should not rely on the information contained in this website. Rather, investors should use the information contained in this website as a starting point for doing additional independent research on the featured companies. Smallcaps Daily has not been compensated for this article. The advertisements in this website are believed to be reliable, however, Smallcaps Daily and its owners, affiliates, subsidiaries, officers, directors, representatives and agents disclaim any liability as to the completeness or accuracy of the information contained in any advertisement and for any omissions of materials facts from such advertisement. Smallcaps Daily is not responsible for any claims made by the companies advertised herein, nor is Smallcaps Daily responsible for any other promotional firm, its program or its structure. Smallcaps Daily is not affiliated with any exchange, electronic quotation system, the Securities Exchange Commission or FINRA.