Featured
Exclusive Interview with Sharps Technology CEO Robert Hayes: Pioneering Drug Delivery Solutions in Healthcare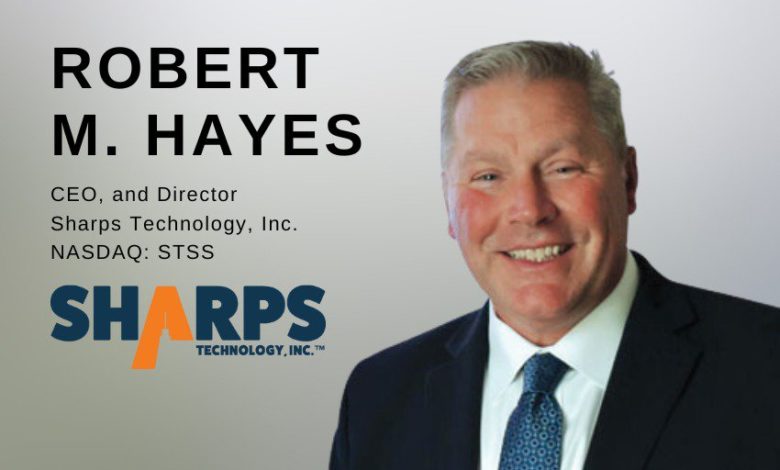 Robert Hayes, Sharps CEO and Director, leverages a 25-year career in the healthcare, medical device, and pharmaceutical manufacturing industry. Before joining Sharps, he served as Senior Director of Product Management and Innovation with Gerresheimer Pharmaceutical Glass. Hayes led commercial sales and strategic partnerships with top global healthcare companies from 2010 until 2021.
Full Interview:
Thank you for taking the time to answer my questions about Sharps Technology Inc. (NASDAQ: STSS and STSSW). For our readers who may be unfamiliar, will you briefly describe the Company and its focus?
Sharps was founded privately in 2017 with a vision to develop innovative drug delivery technology andcompleted an IPO in 2022, and the company has developed specialized syringe system products for pharmaceutical and healthcare markets. The most differentiated aspects of Sharps are the focus on commercializing smart safety syringe technology and specialty copolymer-based prefillable syringe systems for the healthcare industry. Another strength of our story is the partnership with Nephron Pharmaceuticals, a US leader in contract manufacturing and 503B outsourcing, including the supply of critical drug products on the FDA drug shortage list.
The company is working aggressively towards advancing products from research and development to commercial sales, with a focus on launching smart safety syringe products in the 2nd half of 2023 and the copolymer-based prefillable syringe systems in the first quarter of 2024. Today, the company has an operational manufacturing facility in Hungary and is also ramping up operations at Nephron's specialty manufacturing facility, InjectEZ, which is one of the only fully dedicated, specialized co-polymer pre-filled syringe manufacturing plants in North America. Sharps has developed a pipeline of innovative disposable and prefillable products for the healthcare industry that include unique smart safety features, reuse prevention, ultra-low waste systems, and co-polymer designs.
Can you provide an overview of Sharps Technology's mission and vision in the medical device and pharmaceutical packaging industry, emphasizing the partnership with Nephron Pharmaceuticals?
Sharps signed a transformative partnership with Nephron Pharmaceuticals in 2022 to advance commercial operations of its copolymer prefillable syringe systems for the healthcare industry. The agreement is focused on four key components: Co-Manufacturing, Pharmaceutical Services, Distribution & Sales, and Manufacturing Expansion. The partnership has advanced significantly and we continue to collaborate on best practices and create high-value drug delivery systems for advanced applications in the pharmaceutical industry.
Our mission is to be a leader in the copolymer prefillable syringe segment as the pharmaceutical industry shifts toward using these applications. The collaboration with Nephron Pharmaceuticals is the next step toward providing novel drug delivery solutions to the market.
I read STSS was named the "Top Safety Syringe Manufacturer in 2023" by Med Tech Outlook, What differentiates Sharps' products in the co-polymer prefillable syringe segment of the healthcare market?
COC (cyclic olefin copolymer) based prefilled syringes address many of the historic deficiencies that glass-based syringes had previously. At present, COC syringes are comparable to glass in terms of barrier quality, long term drug stability, and imperviousness to oxygen and water vapor contamination. They can exceed glass syringes in breakage rates, drug shelf life, cold chain storage, and cost to manufacture.
Sharps' product pipeline and market strategy will include a broad range of sizes, silicon free systems that address contamination issues for the healthcare market, dual chamber systems that improve drug shelf life while reducing unnecessary packaging, and customized solutions for systems that serve the growing autoinjector segment.
A focus area of development is the offering of non-siliconized systems. The siliconization of the syringe barrel has always been an important aspect of producing sterile, prefilled glass syringes with proper plunger glide. But eliminating silicone is becoming a top concern within the pharmaceutical industry because many ophthalmic treatments and advanced biologics require silicone free delivery.
With prefillable syringes being the commercial focus for future growth, can you highlight the market?
The prefillable syringe market is a niche sub-industry within the healthcare sector that is growing faster than GDP at a 4x multiple of GDP. The US market has seen significant growth over the past few years, driven by reducing hospital errors and administration injuries, increased use of biologics and biosimilars that require injection over parenteral administration, and need for more efficient drug delivery system. Injectables were 37% of global drug delivery market in 2017 and increased to 44% by 2021 and before COVID vaccines further increased syringe demand.
Prefillable syringe capacity is at a premium, due to the global lack of capacity, increasing demand and technical challenges in production. Specifically, prefillable COC syringe demand growth is outstripping industry capacity. Additionally, these products are increasingly being used in the delivery of biologic drugs, biosimilars and in the development of new formulations of existing drugs. Larger molecules are increasingly complex and require exceptional delivery mechanisms.
Sharps has a wholly-owned, operational manufacturing plant in Hungary, what operations are occurring there?
Sharps purchased the Hungary facility in the summer of 2022 and commenced manufacturing Securegard, the company's first-generation vial-draw safety syringe product, in December of 2022. The company invested in infrastructure and equipment upgrades to support both the distribution and sales agreement with Nephron Pharmaceuticals, and its plans to enter into customer agreements in Europe in 2023.
Products produced by Sharps at the Hungary facility comply with all applicable FDA, WHO, and ISO requirements and have been awarded the European Union's CE Mark. The plant is vertically integrated in that it has the capability to manufacture the syringe components by injection molding, assemble the devices in an ISO clean room environment on automated lines or by manual assembly if required, and to sterilize the products on-site through the Ethylene Oxide (EtO) sterilization process. Having this last stage of the syringe manufacturing process in house is unique in the industry and gives Sharps an advantage in supporting shortened lead times, as compared to the more common third-party syringe sterilization. The plant has manufacturing capacity to supply more than 50 million units today and the facility could be expanded to produce 250 million units or more over the next couple of years.
Through the partnership with Nephron Pharmaceuticals in November of 2022, how do you plan to launch manufacturing in the U.S. and drive growth in the copolymer-based prefillable syringe system market?
In preparation for the commercialization of the Company's next-generation polymer-based prefilled syringe systems, Sharps has plans to commercialize introductory products in the first quarter of 2024. This work will be the first efforts to support the co-manufacturing agreement between Sharps and Nephron at the prefilled syringe Inject-EZ operation in Columbia, South Carolina. Products will include 5ml, 10ml and 50ml configurations designed to support the 503B programs at Nephron as well as the demand from other drug fill-finish companies.
Sharps' specialty products will be manufactured in the U.S. at InjectEZ in Columbia, South Carolina. This is a significant milestone for Sharps to have the ability to have manufacturing capacity in the U.S. and Europe, which will allow the Company produce copolymer prefilled syringes for the first time to support our growth.
Is there any other information you wish to share with our investors reading so we can highlight the opportunity of STSS?
Sharps is at a pivotal time in the Company's history and we are committed to launching our specialty line of copolymer syringe products at InjectEZ in the first quarter of 2024. Our partnership with Nephron is strong and growing, and I look forward to updating the investment community as we advance.
Thank you for your time.
Disclaimer
This website is a wholly owned subsidiary of SCD Media, LLC, herein referred to as Smallcaps Daily. Our publications are a commercial advertisement and are for general information purposes ONLY. We are engaged in the business of marketing and advertising companies for monetary compensation. We may receive compensation for this article on a PPC basis as an affiliate. Never invest in any stock featured on our site or emails unless you can afford to lose your entire investment. The disclaimer is to be read and fully understood before using our services, joining our site or our email/blog list as well as any social networking platforms we may use. PLEASE NOTE WELL: Smallcaps Daily and its employees are not a Registered Investment Advisor, Broker Dealer or a member of any association for other research providers in any jurisdiction whatsoever.Release of Liability: Through use of this website viewing or using you agree to hold Smallcaps Daily, its operators owners and employees harmless and to completely release them from any and all liability due to any and all loss (monetary or otherwise), damage (monetary or otherwise), or injury (monetary or otherwise) that you may incur. The information contained herein is based on sources which we believe to be reliable but is not guaranteed by us as being accurate and does not purport to be a complete statement or summary of the available data. Smallcaps Daily encourages readers and investors to supplement the information in these reports with independent research and other professional advice. All information on featured companies is provided by the companies profiled, or is available from public sources and Smallcaps Daily makes no representations, warranties or guarantees as to the accuracy or completeness of the disclosure by the profiled companies. None of the materials or advertisements herein constitute offers or solicitations to purchase or sell securities of the companies profiled herein and any decision to invest in any such company or other financial decisions should not be made based upon the information provided herein. Instead Smallcaps Daily strongly urges you conduct a complete and independent investigation of the respective companies and consideration of all pertinent risks. Readers are advised to review SEC periodic reports: Forms 10-Q, 10K, Form 8-K, insider reports, Forms 3, 4, 5 Schedule 13D. Smallcaps Daily is compliant with the Can Spam Act of 2003. Salesparq, LLC does not offer such advice or analysis, and Smallcaps Daily further urges you to consult your own independent tax, business, financial and investment advisors. Investing in micro-cap and growth securities is highly speculative and carries and extremely high degree of risk. It is possible that an investors investment may be lost or impaired due to the speculative nature of the companies profiled. The Private Securities Litigation Reform Act of 1995 provides investors a safe harbor in regard to forward-looking statements. Any statements that express or involve discussions with respect to predictions, expectations, beliefs, plans, projections, objectives, goals, assumptions or future events or performance are not statements of historical fact may be forward looking statements. Forward looking statements are based on expectations, estimates, and projections at the time the statements are made that involve a number of risks and uncertainties which could cause actual results or events to differ materially from those presently anticipated. Forward looking statements in this action may be identified through use of words such as projects, foresee, expects, will, anticipates, estimates, believes, understands, or that by statements indicating certain actions & quote; may, could, or might occur. Understand there is no guarantee past performance will be indicative of future results.In preparing this publication, Smallcaps Daily, has relied upon information supplied by its customers, publicly available information and press releases which it believes to be reliable; however, such reliability cannot be guaranteed. Investors should not rely on the information contained in this website. Rather, investors should use the information contained in this website as a starting point for doing additional independent research on the featured companies. Smallcaps Daily has not been compensated for this article. The advertisements in this website are believed to be reliable, however, Smallcaps Daily and its owners, affiliates, subsidiaries, officers, directors, representatives and agents disclaim any liability as to the completeness or accuracy of the information contained in any advertisement and for any omissions of materials facts from such advertisement. Smallcaps Daily is not responsible for any claims made by the companies advertised herein, nor is Smallcaps Daily responsible for any other promotional firm, its program or its structure. Smallcaps Daily is not affiliated with any exchange, electronic quotation system, the Securities Exchange Commission or FINRA.