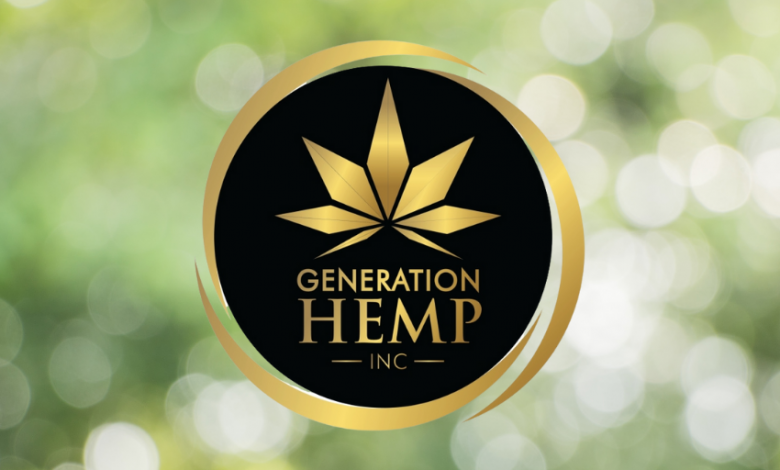 The industrial hemp and CBD markets are growing at double-digit rates with an expected growth of more than 20% annually as forecasted by most industry research houses. Increased liberalization of Government policies in favor of hemp coupled with its huge industry application are two of the most important factors responsible for this market growth. However, there is a limitation for American investors to penetrate this market as there are very few pure-play industrial hemp companies listed on American exchanges. Today, we are looking to cover one such midstream player that is on the move and could become a big name in the industrial hemp industry in the years to come – Generation Hemp (OTCQB:GENH).
Company Overview
Generation Hemp, Inc. is a midstream hemp company that is operating through an acquisition-oriented strategy in order to penetrate the hemp and CBD product market. The company uses its state of the art technology to dry, wash, disinfect, and store hemp after harvesting from the field. It offers the highest quality of hemp material to its client base and is gradually building strong relationships across the industry as well as the hemp value chain. Furthermore, the company owns as well as leases real estate to cannabis companies located in the greater Denver area of Colorado. They have also taken an aggressive, boots-on-the-ground approach, to analyze this overall new industry and perform due diligence on specific businesses. The management has traveled throughout the U.S., using a hands-on vetting process to meet with target companies and have in-person discussions on operating business activities, historical financial reviews, and projections. The company has its headquarters in Dallas/Fort Worth, Texas and has operations in Hopkinsville, Kentucky and Denver, Colorado.
Strong Market Position
Generation Hemp is well-positioned as a listed pure-play hemp player to graduate to a major U.S. exchange. The company is currently capitalizing on the industrial hemp market which is currently growing outside of the CBD-based products. However, as the technologies for other hemp-derived products like textiles and bioplastics become more efficient as well as cost-effective, the non-CBD products for hemp will show catalytic growth. Generation Hemp is positioning to become a leader in the recent hemp landscape in the United States due to the massive biomass material it controls at its facilities. Moreover, consumers are continuing to discover various benefits of hemp-derived products by exploring cannabinoids that make a difference in their everyday lives.
The company also helps other existing hemp companies that require access to capital in order to strengthen their business. In order to become a vertically integrated company, Generation Hemp is building a seed to sale powerhouse through acquisitions of and joint ventures with companies that have carved out a niche in the hemp space through their own vision, mission, perseverance, and hard work. The management expects that these acquisitions and collaborations will continue to boost the company's operations, business dealings, and production.
International Hemp Market
Generation Hemp operates in the industrial hemp market which has heavy application across multiple industries which is why many governments all over the world have started legalizing and regulating its production. Some examples of the industrial uses of hemp are its ability to help bioplastics disintegrate, its applications in hemp insulation resulting ensuring maximum human health safety, its applications in car parts like door panels, airplane parts, concrete, and most importantly, in construction where hemp hurds can be used to create fibreboards for building activity. It is worth highlighting that one acre of hemp can replace 4.1 acres of trees for paper production.
This is why the overall hemp market is continuing to expand as a number of states have started to capitalize on commercial hemp programs since hemp is a nationally approved plant product today. This rapid growth in the hemp industry has led to several companies launching numerous businesses in different parts of the value chain. According to the data presented in Generation Hemp's corporate presentation, the hemp-derived CBD sales in the U.S. are expected to increase by $11.3 billion or more within 2024. Generation Hemp's management is in talks with major textile brands like Levi's (NYSE:LEVI) and Patagonia who are working to improve the quality of cotton blendhemp, to the point where it can be nearly half of a cotton blend for nearly every apparel and a complete hemp fiber material for several products. The management of Levi's expects that in the next five years, they will be able to create a 100% cottoned-hemp garment that will give a cottony feel to the customers and companies like Generation Hemp control this vast quantity of biomass material through its farm network located in the southeastern U.S. According to some industry sources, Federal agricultural officials are dropping the requirement that all THC testing on hemp crops must be done at laboratories registered with the United States Drug Enforcement Administration.
Seasoned Management Team
Generation Hemp is formed of a legacy team led by industry veteran, Gary C. Evans who is the chairman and CEO and largest shareholder of this company. Evans has intense knowledge in the energy and banking sector as he was also a founder and CEO of Magnum Hunter Resources, Inc., an upstream oil and gas producer and Eureka Hunter Holdings, LLC, a midstream gas gathering firm. This is his fourth public company in his career. Since 2019, Evans has begun immersing himself in hemp and gained extensive knowledge about hemp and the value it could add here in the United States. With an enormous experience and a passionate and talented management team, Evans decided to enter into the hemp space by launching a new company. Along with his team, Evans has tirelessly met with various investors, businessmen, and government officials to become conscious, educated, and supportive about hemp. He is ably supported by Melissa Pagen (Senior Vice President, Corporate Development; over 19 years of work experience), Rob Sanders (Advisory Director; veteran growth hacker with over 2 decades of experience), and Watt Stephens (Vice President, Corporate Development; banking and financing expert), and Jack Sibley. Overall, the team appears to be well-equipped to generate excellent growth opportunities for Generation Hemp in the future.
Final Thoughts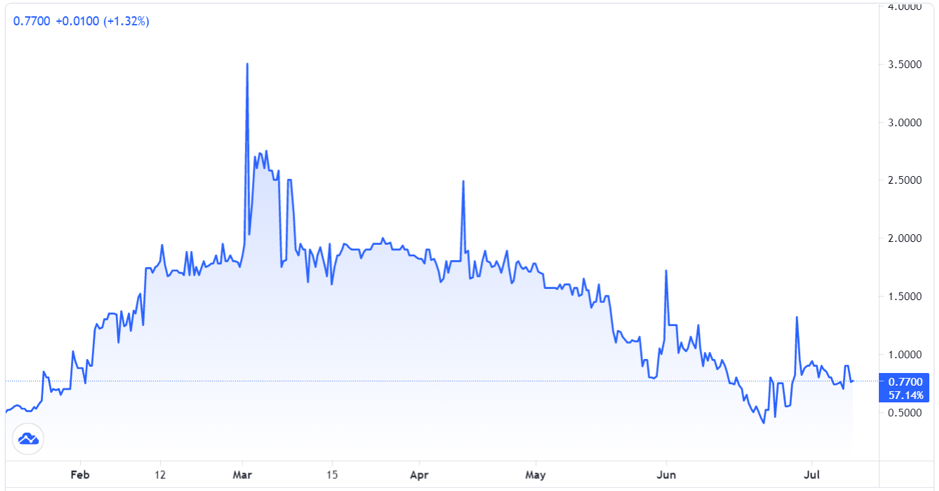 As we can see in the above chart, Generation Hemp is a typical, volatile microcap stock with long phases of surging followed by heavy profit taking. It is hard to go through a valuation exercise for the company as its value lies more in the future potential of its offerings rather than its current financial performance.  You should note though, that since Evans took over the company at the end of calendar year 2019, the share price is up 12 times.  Also worth highlighting is that the company has quadrupled its revenues in the trailing twelve month period as compared to the 2020 revenue, which means it is gaining definite business momentum. The team is also exploring the COOP opportunities in specific regions with business groups that have established a good relationship and contact opportunities with hemp farmers. Several additional acquisitions within both the midstream and downstream sectors of the hemp space are presently being evaluated. Overall, we believe that Generation Hemp has excellent growth potential and could be a worthy investment for our readers at SmallCapsDaily, especially at this entry price.