Featured
Generation Hemp is an Industrial Hemp Application Play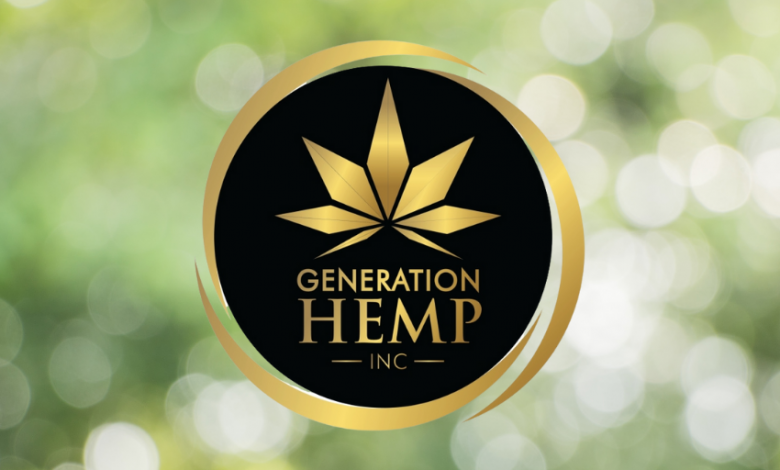 Industrial hemp was once a dominant crop in America, before being outlawed many decades ago. Being one of the oldest domesticated plants, it has a long history dating back to the Neolithic age of China. In 1937, production started to go downhill as this misunderstood crop started to become associated with cannabis. The last official crop was grown in Wisconsin in 1958, and in 1970, it officially became a prohibited substance under the Controlled Substance Act (CSA).
After the better part of 50 years, hemp is finally ready to make a comeback and is doing so at lightning speed. The Farm Bill passed in 2018 federally legalized hemp and hemp derivatives, opening the market to private companies, with 47 of 50 states already rolling out wide scale programs to take advantage of a plant that can be used in over 25,000 different industrial products.
In 2019 (one year after legalization in America) the global hemp market was valued at $5 billion, and is projected to have a CAGR of 34%, reaching $36 billion by 2024. This makes the hemp industry one of the fastest growing businesses in the US and is creating an incredible opportunity for investors to partake in an explosive growth story.
Company Overview
Generation Hemp (GENH) is building an empire across the entire supply chain through a long list of acquisitions and joint ventures, focusing on companies that have established themselves as industry leaders, within their respective segment of this new industry. This company recognizes the potential cannabinoids have for strong revenue and profitability, but more than that, believes that industrial products utilizing hemp will have the greatest impact on markets and the lives of consumers, as this industry has the power to change everyday people's lives for the better. There is a vast number of applications outside of the cannabis industry, such as bioplastics, construction materials, or even applications in buildings, and specialized parts for automobiles and airplanes.
Through extensive research and hours of networking within the industry, the management team of GENH came to realize the difficulties and inefficiencies of the hemp market. Each point along the supply chain worked within their own silo, rarely sharing information, or working together to increase efficiencies and bring costs down. Generation Hemp is using the strong market tailwinds, years of business acumen, and relationships they have formed over past years to manage the production of hemp and its applications all the way from the farm to local retailers.
Acquisition of Leading Hemp Distributor
The most promising power move to-date for Generation Hemp has been the acquisition of Halcyon Thruput, renamed GENH Halcyon Acquisition, who acts as a mid-stream company or "middleman" working with both the farmers and growers, as well as the extraction labs. Multiple Toll Processing Agreements through this acquisition have also added a 48,000 sq ft processing facility, four drying machines, and $1.4 Million of net profit to Generation Hemp's income statement. The warehouse facility is located in southwest Kentucky, a central hub within the US hemp farming industry.
The byproducts from hemp drying/processing operations led to the company's first step toward aligning itself with the sustainability movement. Instead of disposing of millions of pounds of the wood hurd that is useless to farmers who are growing for cannabinoids, Generation Hemp equipped its facility to mill this woody hemp hurd to produce animal bedding. According to studies and consumer testimony, milled hemp hurd is one of the best materials for animal bedding. Since hemp was only recently made legal in the U.S., hemp animal bedding has always been imported, more expensive, and not consistently available to consumers. Generation Hemp launched its animal bedding line at the end of September, under the brand Rowdy Rooster. The company is already working on its next product line for this milled hemp hurd.
This deal needs to be highlighted for what it really is, a flawless execution of the company's growth strategy. GENH Halcyon, being in the middle of the supply chain has given Generation Hemp the access to invaluable data into both the upward and downward segments of the supply chain, helping to conduct further analysis and build relationships with other companies potentially worth approaching. This deal has also provided reliable cash flow as Halcyon sees consistent demand for its services due to minimal competition and will continue to have a considerable positive impact on Generation Hemp's future financial position.
The company's buy and build growth strategy is well on its way and will look to continue by moving up and down the supply chain for additional synergistic acquisitions. This segment of the industry sets the foundation for the quality of hemp products to be manufactured down the road. Generation Hemp is currently conducting due diligence on multiple extraction labs, testing labs, and pet CBD companies, along with additional applications for its vast inventory of hemp hurd and fiber byproducts.
Management Team Capitalizing on the Booming Cannabis Industry
The most exciting area for growth in the hemp industry is undeniably the budding CBD and cannabis industry. Some analysts are forecasting the CBD market to reach $55 billion by 2028 (it is currently worth $3.6 billion), and with the total cannabidiol content being only 0.0075% (75mg/kg) in most yields seed providers, farmers, extraction plants, and retail shops will all struggle to keep up with the incomprehensible levels of demand to come.
Once regulatory guidelines are clear, whether through the FDA/USDA or Congress, Generation Hemp is setting themselves up to be the unanimous winner within this space, by continuing to expand their operations on both sides of the supply chain. Their business model will allow them strong pricing power, scalability as demand increases and the flexibility to react quickly to market trends.
This business model is only as good as the team executing it, and Generation Hemp is bringing a team well-seasoned in building companies from the ground up. CEO and Chairman of the Board Gary Evans has raised over $7.5 billion of capital for his businesses throughout his entrepreneurial career, most famously known for selling a company he started with his own $1,000 for $2.2 billion years later. And with strong relationships amongst some of the biggest investment banking firms in the hemp industry, he is more than qualified to bring tremendous future value to shareholders.
Competitor Analysis
Two companies who are looking to quickly expand within the hemp market are Good Hemp (GHMP) and Hemp Naturals (HPMM). Good Hemp is focusing on developing and marketing hemp-based products such as ready-to-drink hemp infused flavoured water. With a market cap of over $30 million and only 4.80% year-over-year revenue growth this company has effectively stalled out on their growth trajectory which could spell trouble with a relatively small cash position.
Hemp Naturals is an early-stage company focusing on researching, developing, acquiring, and selling products made from industrial hemp. The company currently has 25 retail outlets it sells a variety of hemp-based products from. With a micro-cap status of only $7.08 thousand, Hemp Naturals still must prove they have a sustainable business model, and with zero growth, low cash and over $1 million in debt this company is struggling to scale effectively.
| | | | |
| --- | --- | --- | --- |
| | GENH | GHMP | HPMM |
| Market Cap | $87.27 million | $30.21 million | $7.08 K |
| Quarterly (yoy) Rev Growth | 198.30% | 4.80% | 0% |
| Cash Position | $1.26 million | $547.21 K | $200.34 K |
In comparison, Generation Hemp with eye-popping year-over-year growth of 198.80%, a strong cash position and a market cap that pales in comparison to the total market size is proving to be one of the few companies within the hemp industry successfully executing on their growth strategy. As the company continues to form new joint ventures, partnerships and complete acquisitions, it will provide the catalysts needed for these metrics to jump exponentially.
Key Takeaway
For years hemp has had a dark shadow cast over its future potential in the form of government regulation, but with the passage of recent legalization, this shadow is being replaced with a forecast of brighter days ahead. The applications of hemp continue to expand, with the biggest growth potential lying in the highly lucrative CBD and cannabis industry. Generation Hemp's strategy of controlling the supply chain top to bottom will allow for massive scalability and accommodation for the high demand undoubtedly coming in the near future. With a market cap under $100 Million and a huge total addressable market, this company is showing all the signs of being undervalued when compared to the past success of its management team's execution on announced plans, and future expected growth opportunities in a brand new industry.
---
Legal Disclaimer
No Positions.
Disclaimer
This website is a wholly owned subsidiary of Salesparq, LLC, herein referred to as Salesparq, LLC. Our publications are a commercial advertisement and are for general information purposes ONLY. We are engaged in the business of marketing and advertising companies for monetary compensation. We may receive compensation for this article on a PPC basis as an affiliate. Never invest in any stock featured on our site or emails unless you can afford to lose your entire investment. The disclaimer is to be read and fully understood before using our services, joining our site or our email/blog list as well as any social networking platforms we may use.PLEASE NOTE WELL: Salesparq, LLC and its employees are not a Registered Investment Advisor, Broker Dealer or a member of any association for other research providers in any jurisdiction whatsoever.Release of Liability: Through use of this website viewing or using you agree to hold Salesparq, LLC, its operators owners and employees harmless and to completely release them from any and all liability due to any and all loss (monetary or otherwise), damage (monetary or otherwise), or injury (monetary or otherwise) that you may incur. The information contained herein is based on sources which we believe to be reliable but is not guaranteed by us as being accurate and does not purport to be a complete statement or summary of the available data. Salesparq, LLC encourages readers and investors to supplement the information in these reports with independent research and other professional advice. All information on featured companies is provided by the companies profiled, or is available from public sources and Salesparq, LLC makes no representations, warranties or guarantees as to the accuracy or completeness of the disclosure by the profiled companies. None of the materials or advertisements herein constitute offers or solicitations to purchase or sell securities of the companies profiled herein and any decision to invest in any such company or other financial decisions should not be made based upon the information provided herein. Instead Salesparq, LLC strongly urges you conduct a complete and independent investigation of the respective companies and consideration of all pertinent risks. Readers are advised to review SEC periodic reports: Forms 10-Q, 10K, Form 8-K, insider reports, Forms 3, 4, 5 Schedule 13D. Salesparq, LLC is compliant with the Can Spam Act of 2003. Salesparq, LLC does not offer such advice or analysis, and Salesparq, LLC further urges you to consult your own independent tax, business, financial and investment advisors. Investing in micro-cap and growth securities is highly speculative and carries and extremely high degree of risk. It is possible that an investors investment may be lost or impaired due to the speculative nature of the companies profiled. The Private Securities Litigation Reform Act of 1995 provides investors a safe harbor in regard to forward-looking statements. Any statements that express or involve discussions with respect to predictions, expectations, beliefs, plans, projections, objectives, goals, assumptions or future events or performance are not statements of historical fact may be forward looking statements. Forward looking statements are based on expectations, estimates, and projections at the time the statements are made that involve a number of risks and uncertainties which could cause actual results or events to differ materially from those presently anticipated. Forward looking statements in this action may be identified through use of words such as projects, foresee, expects, will, anticipates, estimates, believes, understands, or that by statements indicating certain actions & quote; may, could, or might occur. Understand there is no guarantee past performance will be indicative of future results.In preparing this publication, Salesparq, LLC has relied upon information supplied by its customers, publicly available information and press releases which it believes to be reliable; however, such reliability cannot be guaranteed. Investors should not rely on the information contained in this website. Rather, investors should use the information contained in this website as a starting point for doing additional independent research on the featured companies. Salesparq, LLC has not been compensated for this article. The advertisements in this website are believed to be reliable, however, Salesparq, LLC and its owners, affiliates, subsidiaries, officers, directors, representatives and agents disclaim any liability as to the completeness or accuracy of the information contained in any advertisement and for any omissions of materials facts from such advertisement. Salesparq, LLC is not responsible for any claims made by the companies advertised herein, nor is Salesparq, LLC responsible for any other promotional firm, its program or its structure. Salesparq, LLC is not affiliated with any exchange, electronic quotation system, the Securities Exchange Commission or FINRA.