Featured
Grove Inc.: Not Just Another CBD Player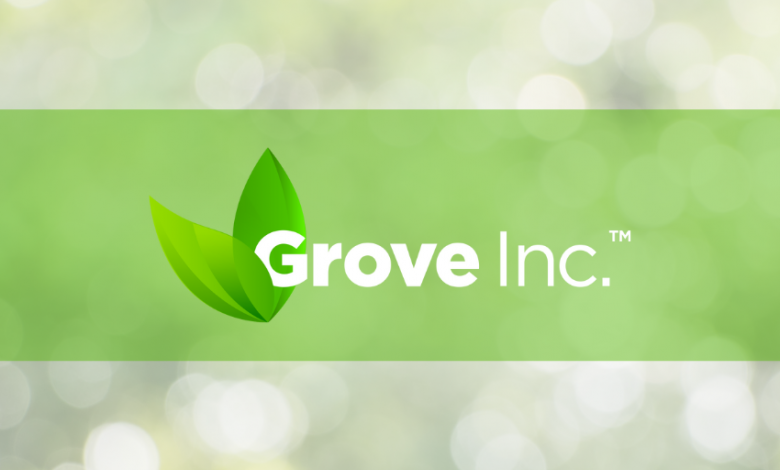 High-quality companies within the hemp manufacturing space are a good investment opportunity at the moment given its increasing utilization across industries. Today, hemp is used for textiles, auto-parts, paper, cosmetics, biofuel, animal food, health supplements, and many other industries. However, there are very few companies within this space that have complete control over the value chain and even fewer players that have a highly diversified product line with a direct-to-consumer approach. Our small cap pick for the day is one such recently listed player who is in an excellent position to benefit from the growth in the hemp industry as well as the CBD market – Grove Inc (NASDAQ:GRVI).
Company Overview
Grove, Inc. is redefining the way hemp products, as well as plant-based vitamins, are produced, bought, and sold. It focuses on developing, producing, marketing, and selling raw hemp materials, white label products, as well as end customer products containing the industrial hemp plant extract, or Cannabidiol (CBD). They sell their product to a number of consumer markets, including the beauty care, pet care, botanical, and functional food sectors. Their expert team of organic chemists, food scientists, and mixologists have helped the company become a pioneer in the wellness industry with their highly advanced manufacturing as well as a production facility. The company has an excellent R&D team that works tirelessly to provide consumers with high-quality offerings and believe in a customer-centric approach. From stringent testing of each product to setting the price, Grove believes in plant-based wellness for everyone and has curated its product line to benefit the requirements of each customer. The company conducts its business operations through its wholly owned subsidiaries, including Steam Distribution, LLC, a California Ltd. liability company; Havz, LLC, d/b/a Steam Wholesale, a California ltd. Liability company, and more. It is currently headquartered in Henderson, Nevada.
Multi-Tier Approach
While most companies in the hemp domain lack vertical Integration, Grove has made it the backbone of their business model. They have invested in automated, low-cost manufacturing in order to increase the facilities and reduce the costs. The company manufactured automated production equipment and automated packaging equipment. The three major problems of the hemp industry are pricing, quality, and turnaround time. However, Grove has enhanced their service by providing consumers trusted options. The company offers an extensive product line and a two-day turnaround as well as verified third-party lab tests to ensure customer satisfaction. They have priced their products competitively while keeping the margins high. Through their trade show, CBDio, one of the largest hemp conventions, Grove has built their connections quickly, gaining industry attention from the major brands such that the company now manufactures for more than fifty companies. Grove has become one of the most reliable manufacturers as they provide their products directly to the consumer without the intervention of any middlemen. Their state-of-the-art facility has also allowed the company to offer the most competitive pricing, turn around products quicker, and consistently come out with new product lines.
The Plant-Based Vitamin Gummy Brand Launch
Grove's management is keen on demonstrating to the markets the fact that it goes far beyond a traditional CBD player. The company recently announced the launch of its new product line, Qubes which falls within the plant-based market for gummy vitamins. Through this launch, Grove will be catering to a $5.9 billion global gummy market according to Reportlinker data, a market expected to grow at a CAGR of 12.5% until 2025. It is worth highlighting that the company is already offering products from apple cider vinegar, acai, turmeric, and an upcoming algae oil supplement that is expected to act as a plant-based alternative to fish oil for daily Omega-3 intake. Grove has a strong Direct-to-Consumer marketing strategy which should fuel the growth of this Qubes product line. It has its own unique selling point as it is completely free from preservatives, chemicals, corn syrup, allergens, soy, dairy, wheat, salicylates, artificial ingredients, artificial sweeteners, flavors, and colors. The revenues from Qubes should be boosting Grove's top-line in the coming quarters.
The Vitamedica Acquisition
Grove is reshaping the way hemp is obtained, produced, and sold. The company has recently announced that they are entering into the nutraceutical space with a non-binding agreement of intent to acquire Vitamedica, a leading online supplier of supplements for surgery and post-surgery recovery, beauty and skincare, and health & wellness. Vitamedica has over 25 years of experience in research and development. The companies plan to negotiate a definitive binding agreement in good faith over the next thirty days and carry out the due diligence process which means that once the deal is announced, it could lead to a massive runup in Grove's price.
The potential transaction could combine the company's innovation in production as well as automated, low-cost manufacturing with the wide-ranging product line of Vitamedica, which many healthcare specialists have recommended to serve over a million patients. With this letter of intent, Grove has taken direct aim at the vitamin and nutraceutical market to identify the health and wellness needs of every customer. Vitamedica actively sells its products to patients as well as surgeons and doctors who offer products to its patients, creating a full circle distribution channel with common people and the medical field. It is expected that Grove could potentially gain from the years of experience Vitamedica has formulating healthcare products, while Vitamedica could potentially gain immediate exposure to the extensive distribution network Grove has developed. The acquisition looks to be highly synergistic in nature and could provide a big boost to Grove's stock price.
Final Thoughts
Grove's public issue involved the sale of 2.2 million shares at $5 per share in order to raise $11 million for the company. The company had a highly successful listing on the NASDAQ last month and the initial runup on the stock was truly phenomenal with the price going around the $8.5 mark before profit taking came into the picture. The stock continues to trade at a 10% premium over its listing price which implies a price-to-sales ratio of 6.04. This has definite scope for expansion given the fact that Grove's addressable market is huge and also that Grove is actually a profitable company with a return on equity as high as 16.27%. If the management goes through with the Vitamedica acquisition and continues to deliver strong results, the stock could easily go into double digits in a short span of time. One big positive about Grove is that the company is looking to establish itself as a leader with in-house manufacturing as well as production of its own products. It continues to increase its capacity with investment in the automation industry and seeks to take advantage of a developing universal trend to re-energize the fabrication of industrial hemp and vitamins as well as to nurture its numerous health and wellness uses for customers. Overall, we believe that Grove could be a true home run in the long-term and is an excellent opportunity for our readers at SmallCapsDaily.