Featured
HeartCore Enterprises: Changing The Face Of The Enterprise Content Management & Process Mining Industries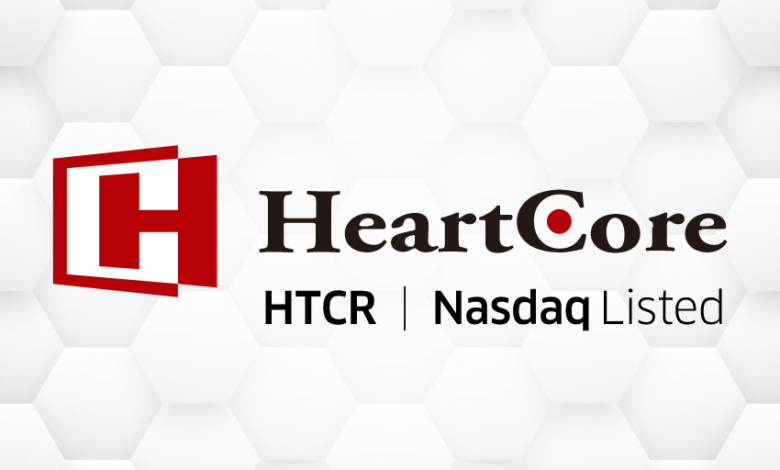 With cloud-based applications ushering in a new era of IT complexity, enterprises across the globe are flocking towards digital transformation. More and more companies are creating a strong online presence and are taking an extra step in terms of technological adoption i.e., automation. They are using various technologies such as process mining in order to achieve one key goal – automation for improved productivity and the optimization of business processes. Our small cap pick for the day is a software company within the space of digitization as well as automation, through its cutting-edge solutions and is now expanding from the Japanese market and spreading its wings across the globe – HeartCore Enterprises (NASDAQ:HTCR).
Company Overview
HeartCore Enterprises Inc. is a high-tech software development company based in Tokyo, Japan. Its customer experience management platform consists of marketing, sales, service, and content management systems, as well as other tools that allow businesses to attract and engage clients throughout the customer journey. It also includes all of the features needed for successful digital marketing, such as delivering personalized customer experiences, facilitating data-driven campaign measurements, etc. The company has two primary business units in Japan and the United States – its Content Management System (CMS), a 12-year-old operating company that manages website content, and its Digital Transformation (DX) solutions that offers process mining, task mining, and robotic process automation to customers to help them accelerate their digital transformation. The company was founded in 2009 and operates as a profitable entity today.
Content Management Offering
In order to meet customers' needs, businesses must manage a large amount of content, collaborate with other types of business processes, and build infrastructure. Companies require a content management system that allows them to easily integrate a wide range of features into their websites, such as content creation, analysis, search capability, and access controls, as well as deliver and receive content at the optimal time in response to market changes. WordPress is the current market leader in this domain followed by many other offerings like Wix, HubSpot Website Builder, Zyro, and so on. However, one of the biggest challenges with all of these systems is the weak level of security and the high chances of websites being hacked. HeartCore's CMS and customer experience management (CXM) system addresses this key point while providing superior features. It offers an enterprise-class CMS with capabilities not restricted to general websites alone but going much further with features in e-commerce, smartphones, smartphone apps, social networking, and digital signage. With features such as static site to dynamic site conversion, compliance to multiple devices, connection to social network service sites, multiple sites and global site administration, connection to CRM, EC and big data, additionally SEO LPO marketing function to boost sales and improve site security, HeartCore has built a fantastic end-to-end solution in this space. Its integration with external systems, advanced in-site search, and multi-language support is the reason why HeartCore's solution is being rapidly adopted. Nearly 800 businesses in Japan have adopted this CMS offering and the company is expanding its client base rapidly.
The Process Mining Business & The Apromore Collaboration
Process mining is a technology that gathers mountains of data in enterprise data banks to identify and present end-to-end processes that the company uses to complete tasks. It is one of the key industries where HeartCore operates. The objective of process mining is to display the process details, its variants and recommendations for optimizing and improving it and it is commonly used for automation purposes to improve customer and employee experiences. HeartCore has a massive market in this domain as many Japanese companies focused on leadership and performance are embarking on digitization initiatives and are looking for tools and data to digitize, automate, and transform business processes. HeartCore's offerings are helping these enterprises accelerate digital transformation. A classic example of a recent deal that the company completed in this space was an exclusive reseller agreement with Apromore, the leading open-source process mining technology developer for the Japanese market. HeartCore is the exclusive distributor of the Apromore Enterprise Edition process mining device in Japan. After combining the solution with its own expertise, HeartCore is helping Japanese businesses to examine critical business operations in systems like SAP, Oracle, ServiceNow, and Dynamics365 in an objective and transparent manner. The company is looking to shorten time-to-value by accelerating process discovery, increasing accuracy, and lowering the risk of change for its clientele and incorporating process mining into the operations management practices of as many Japanese companies as possible to create an influential platform for gaining business advantages from digital transformation efforts.
Growth Strategy
With fresh funds available to expand the business, HeartCore Enterprises is now looking to grow its customer base, by adding more global businesses to its customer base, investing in major markets, and expanding its CXM platform to enhance its customer experience management and digital transformation business. Their CXM platform operates in a large and underserved market. Existing point application vendors are particularly underserved by mid-market businesses, which frequently lack the resources to implement complex solutions. The platform enables mid-market companies to quickly adapt and implement a successful inbound marketing, sales, customer service, and content management strategy that will help them expand and grow. In order to grow their business, management also intends to continue to use their inbound go-to-market strategy, freemium pricing strategy, and its network of solutions partners. Furthermore, the company intends to boost revenue from existing customers by expanding their use of HeartCore's CXM Platform by upselling additional offerings and features, adding additional users, and cross-selling their marketing, sales, service, and content management products to existing customers via touchless or low-touch in-product purchases. Their scalable pricing model enables them to capture more spending as their customers grow, increase the number of customers and prospects managed on their CXM Platform, and provide additional functionality available through higher price tiers and add-ons. This allows the company to increase the lifetime value of their customer relationships significantly.
Final Thoughts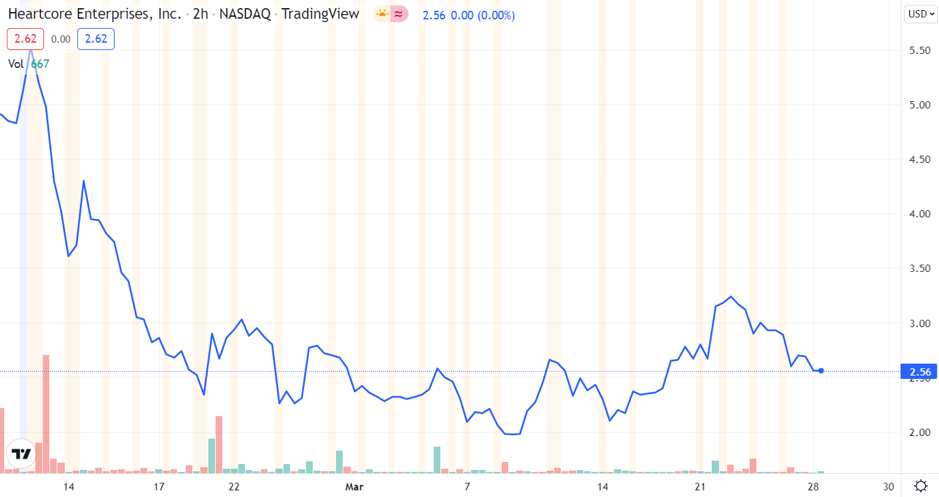 Since its NASDAQ listing earlier in the year at around $5 per share, the company's stock price has nearly halved and it is currently trading at $3.25. From a valuation standpoint, it is definitely cheaper than its software peers. The company has generated close to $10.8 million in revenues in the trailing 12-month period and its current market capitalization is below $50 million which means that its price-to-sales multiple is below 5x. Most profitable software peers, even after the heavy level of discounting post the expected interest rate hikes, are trading well above the 7x mark which means a minimum 50% jump in HeartCore's value on pure multiple expansion. With its growing market share in both content management as well as process mining, we believe that HeartCore is a fantastic long-term software pick for our readers at SmallCapsDaily.
Disclaimer
This website is a wholly owned subsidiary of Salesparq, LLC, herein referred to as Salesparq, LLC. Our publications are a commercial advertisement and are for general information purposes ONLY. We are engaged in the business of marketing and advertising companies for monetary compensation. We may receive compensation for this article on a PPC basis as an affiliate. Never invest in any stock featured on our site or emails unless you can afford to lose your entire investment. The disclaimer is to be read and fully understood before using our services, joining our site or our email/blog list as well as any social networking platforms we may use.PLEASE NOTE WELL: Salesparq, LLC and its employees are not a Registered Investment Advisor, Broker Dealer or a member of any association for other research providers in any jurisdiction whatsoever.Release of Liability: Through use of this website viewing or using you agree to hold Salesparq, LLC, its operators owners and employees harmless and to completely release them from any and all liability due to any and all loss (monetary or otherwise), damage (monetary or otherwise), or injury (monetary or otherwise) that you may incur. The information contained herein is based on sources which we believe to be reliable but is not guaranteed by us as being accurate and does not purport to be a complete statement or summary of the available data. Salesparq, LLC encourages readers and investors to supplement the information in these reports with independent research and other professional advice. All information on featured companies is provided by the companies profiled, or is available from public sources and Salesparq, LLC makes no representations, warranties or guarantees as to the accuracy or completeness of the disclosure by the profiled companies. None of the materials or advertisements herein constitute offers or solicitations to purchase or sell securities of the companies profiled herein and any decision to invest in any such company or other financial decisions should not be made based upon the information provided herein. Instead Salesparq, LLC strongly urges you conduct a complete and independent investigation of the respective companies and consideration of all pertinent risks. Readers are advised to review SEC periodic reports: Forms 10-Q, 10K, Form 8-K, insider reports, Forms 3, 4, 5 Schedule 13D. Salesparq, LLC is compliant with the Can Spam Act of 2003. Salesparq, LLC does not offer such advice or analysis, and Salesparq, LLC further urges you to consult your own independent tax, business, financial and investment advisors. Investing in micro-cap and growth securities is highly speculative and carries and extremely high degree of risk. It is possible that an investors investment may be lost or impaired due to the speculative nature of the companies profiled. The Private Securities Litigation Reform Act of 1995 provides investors a safe harbor in regard to forward-looking statements. Any statements that express or involve discussions with respect to predictions, expectations, beliefs, plans, projections, objectives, goals, assumptions or future events or performance are not statements of historical fact may be forward looking statements. Forward looking statements are based on expectations, estimates, and projections at the time the statements are made that involve a number of risks and uncertainties which could cause actual results or events to differ materially from those presently anticipated. Forward looking statements in this action may be identified through use of words such as projects, foresee, expects, will, anticipates, estimates, believes, understands, or that by statements indicating certain actions & quote; may, could, or might occur. Understand there is no guarantee past performance will be indicative of future results.In preparing this publication, Salesparq, LLC has relied upon information supplied by its customers, publicly available information and press releases which it believes to be reliable; however, such reliability cannot be guaranteed. Investors should not rely on the information contained in this website. Rather, investors should use the information contained in this website as a starting point for doing additional independent research on the featured companies. Salesparq, LLC has not been compensated for this article. The advertisements in this website are believed to be reliable, however, Salesparq, LLC and its owners, affiliates, subsidiaries, officers, directors, representatives and agents disclaim any liability as to the completeness or accuracy of the information contained in any advertisement and for any omissions of materials facts from such advertisement. Salesparq, LLC is not responsible for any claims made by the companies advertised herein, nor is Salesparq, LLC responsible for any other promotional firm, its program or its structure. Salesparq, LLC is not affiliated with any exchange, electronic quotation system, the Securities Exchange Commission or FINRA.