News
HKTDC Takes Hong Kong to Bangkok – The Hong Kong Trade Development Council (HKTDC) is taking its Think Business, Think Hong Kong (TBTHK) signature promotion event to Bangkok next week. The event will showcase Hong Kong as a resilient innovation hub where businesses from around the world can seize opportunities. TBTHK will run on 13-14 July at Centara Grand and Bangkok Convention Centre at CentralWorld, where the Hong Kong and Thai business communities will explore partnership opportunities through exhibition, seminars and networking activities.

Mr Ronald Ho, Regional Director, South East Asia and South Asia of the HKTDC said at the press luncheon, "Association of Southeast Asian Nations (ASEAN) has a long history of close economic ties with Hong Kong and is the city's second-largest trading partner in merchandise trade. The TBTHK in Bangkok will highlight Hong Kong's offerings in ASEAN, as well as provide additional impetus for promoting regional trade and investment partnerships and creating opportunities through regional economic and supply chain integration."
"Our main goal is to promote Hong Kong's strengths in merchandises and services and introduce the city's latest developments, demonstrating to the Thai business community that Hong Kong is the premier international business hub in Asia, as well as an investment and business platform for Thai enterprises to maximise China opportunities. Simultaneously, we will showcase how the Thai, mainland and Hong Kong business communities can collaborate to create mutually beneficial business opportunities and maintain long-standing close business and trade ties."
"These opportunities are made possible by strong, visionary planning by governments, as well as free trade agreements such as FTAs and Regional Comprehensive Economic Partnership (RCEP), that provide a framework for regional cooperation." Ronald added.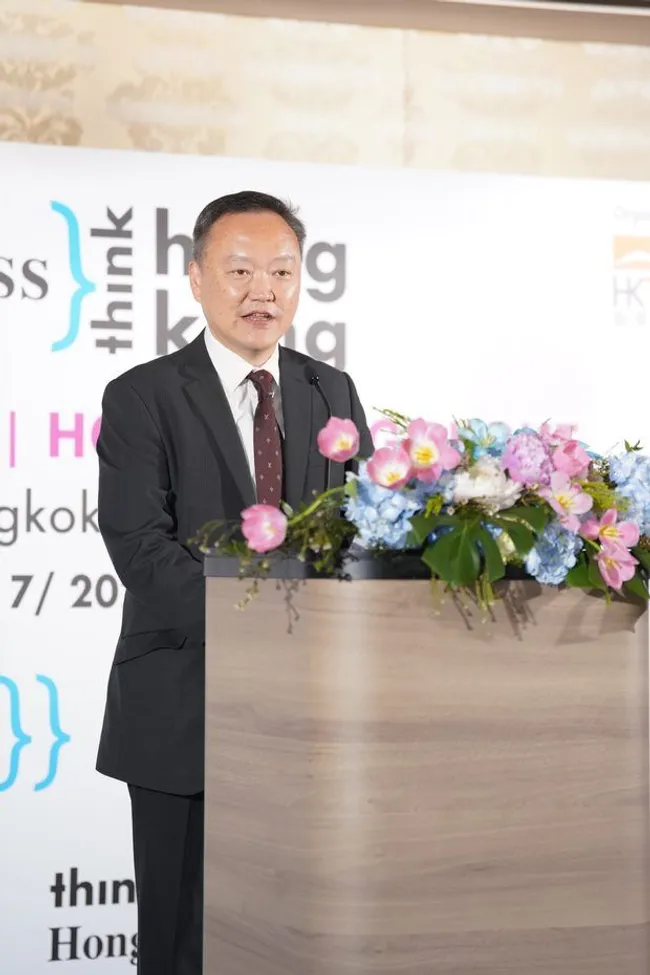 Hong Kong is at the geographic heart of Asia and serves as an international financial centre with distinct advantages such as providing trusted legal, financial, investment and tax systems, producing high quality, innovative and creative products and services for trade, and serving as the pre-eminent access point to explore and develop business links and markets with Mainland China, the ASEAN and beyond.
The city is a bridge between the mainland and the world. Its role as a two-way platform for the flow of capital, goods, information and people is as important as ever. Development plans such as the Belt and Road Initiative and Guangdong-Hong Kong-Macao Greater Bay Area (GBA) Development Plan create new prospects, expanding Hong Kong's role as a hub for finance, trade, logistics and cultural exchange. Hong Kong is the ideal partner for Thai companies seeking to tap the vast opportunities from the GBA and international markets.
This year, this signature promotion event will be a holistic platform where the Thai trade community can learn about Hong Kong's role as an ideal gateway for them to tap into mainland and international markets. Building on the strong trade ties between Hong Kong and Thailand, a Trade Expo showcasing high-quality and innovative products from more than 100 Hong Kong exhibitors, including Chow Tai Fook, Green Common, B.Duck, Vita Green, Memorigin, Smart City consortium and more. This would help Hong Kong companies introduce high-quality products to the regional market, while Thai companies may identify potential business partners and supply chains for business collaborations.
During today's press luncheon, a wide range of Hong Kong's innovative and creative quality products ranging from fashion & lifestyle, home & gifts, sustainable & green sectors were showcased to Thai media as a trade expo preview.
Featured products include the following:
– Kapture's tote bags, which combine BioNTex(TM) antiviral tech and upcycled fabric from garment production;
– Iconic Camel flasks, which have championed vacuum technology since 1940's;
– Temporis watches – designed for stylish youngsters, these high-quality timepieces boast K1 crystals instead of tempered glass. This is a major upgrade in comparison to other wristwatches in this price category;
– Romago watches – this luxury Swiss watch brand originated its business in deluxe custom-made timepieces or collectors. Nowadays the brand is focusing on timepieces with sleek designs using unique materials and new manufacturing technologies refining the traditional diving watches.
– Derangedsign, a dynamic design studio based in Hong Kong will showcase its Coexistence set which includes two trays designed as sculptures in landscape shapes. Ideal for serving fruits, candy, nuts and jewellery, these trays have received many international awards and accolades;
– B.Duck, the main IP-ed brand of Hong Kong's famous product design company, Semk Products Ltd. will present its legendary duck-shaped lamps.
In addition to the Trade Expo, a Trade Talks series solidifying Hong Kong's competitive advantage as a trading hub will be held during the event period. Experts from renowned retail groups, associations and innovative companies will gather at the Trade Talks to shed lights on a plethora of hot topics, such as Innovating the Future of Retail, Maximising Business Opportunities through Licensing, Re-shaping E-commerce and Embracing Sustainability & ESG.
A giveaway session on the second day of the event (14 July) will offer prizes including smart phones, Tourbillion, tablets and more. Participants may have a chance to win air tickets during the event period. In addition, there will be a captivating photo booth featuring Hong Kong's iconic buildings set in the venue with a TBTHK branded Tuk Tuk, providing an immersive experience and promoting Hong Kong's authentic culture and iconic scenery to Thai community.
Website
– Think Business, Think Hong Kong: https://www.thinkbusinessthinkhk.com/bangkok2023/en
– Photo download: https://rb.gy/4cdvr
About HKTDC
The Hong Kong Trade Development Council (HKTDC) is a statutory body established in 1966 to promote, assist and develop Hong Kong's trade. With 50 offices globally, including 13 in Mainland China, the HKTDC promotes Hong Kong as a two-way global investment and business hub. The HKTDC organises international exhibitions, conferences and business missions to create business opportunities for companies, particularly small and medium-sized enterprises (SMEs), in the mainland and international markets. The HKTDC also provides up-to-date market insights and product information via research reports and digital news channels. For more information, please visit: www.hktdc.com/aboutus. Follow us on Twitter @hktdc and LinkedIn
Media enquiries
For enquiries please contact:
Midas Communications International Co., Ltd.
Nawaporn Rojarayanont, Tel: 097-250-1603, Email: nawaporn@midas-pr.com
Wanrawee Kongkraphan, Tel: 088-887-9718, Email: namtarn@midas-pr.com
HKTDC's Communications & Public Affairs Department:
Janet Chan, Tel: +852 2584 4369, Email: janet.ch.chan@hktdc.org
Agnes Wat, Tel: +852 2584 4554, Email: agnes.ky.wat@hktdc.org