Featured
Interview: BriaCell CEO William Williams, MD.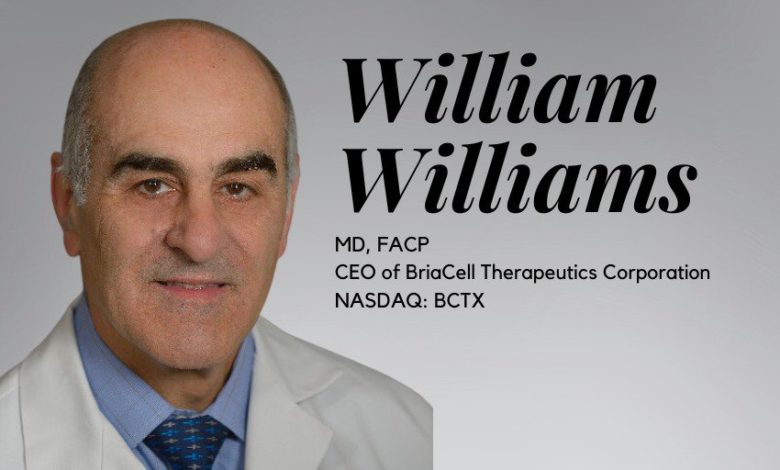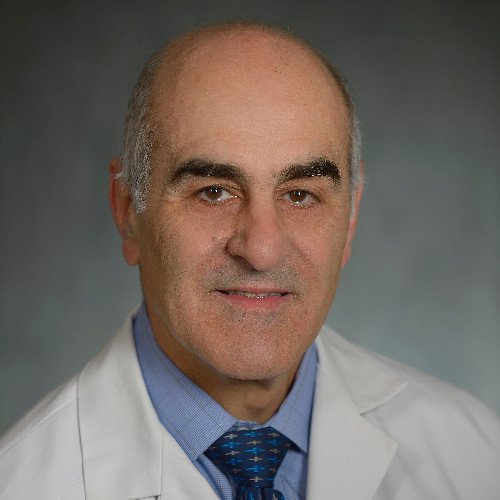 William V. Williams, MD, FACP
President & Chief Executive Officer
Dr. Williams is a seasoned biopharmaceutical executive with over 35 years of industry and academic expertise, including significant clinical management in multinational pharmaceutical companies. Dr. Williams has served as BriaCell's President & CEO since Oct 2016. Previously, Dr. Williams was appointed as VP of Exploratory Development at Incyte Corporation during 2005 – 2016. He facilitated entry of over 20 compounds into the clinic, including approvals for ruxolitinib (Jakafi) and baricitinib (Olumiant).As VP of Clinical Pharmacology and Experimental Medicine at GlaxoSmithKline, Dr. Williams evaluated numerous molecules in clinical studies in various therapeutic areas. He was involved in new or supplemental drug authorizations for a number of oncology drugs including Bexxar (lymphoma), Hycamtin (ovarian cancer), and Navelbine (non-small cell lung cancer) as well as ibandronate (Boniva) for osteoporosis.As Head of Rheumatology Research at the University of Pennsylvania, he ran a major research program in receptor biology, collaborated with David B. Weiner, PhD to develop DNA vaccines and was able to bring novel DNA vaccines into the clinic for the treatment of cutaneous T cell lymphoma.Dr. Williams earned his BSc. in Chemistry and Biotechnology from MIT and Medical Doctorate from Tufts University School of Medicine. He has worked in the molecular immunology laboratory of Mark I. Greene, MD, PhD, FRCP, at the University of Pennsylvania, developed novel methods of bioactive peptide design, and collaborated in the study of the activation of the p185/Human epidermal growth factor receptor 2 (HER2) receptor. HER-2 is a protein which is known to promote the growth of cancer cells. Dr. Williams is the named author at over 130 peer reviewed publications, over 15 patents and numerous Investigational New Drugs (INDs) and NDAs.
Full Interview:
Thank you for taking the time to answer my questions about BriaCell Therapeutics Corp. Will you briefly describe the company and its focus for our readers who may be unfamiliar?
We are developing targeted cellular immunotherapies for breast cancer initially, then other cancers. Our lead clinical candidate is about to commence its pivotal registration clinical trial under Fast Track designation by the FDA in advanced metastatic breast cancer where we have seen some remarkable responses in patients who have failed all other therapies. Our therapy appears to be very well tolerated and we believe has a positive impact on survival and quality of life in these very advanced patients.
Can you explain the science behind BriaCell Therapeutics' innovative and targeted immunotherapies for cancer?
BriaCell's approach is to use cancer cell lines that have features of immune cells to stimulate an immune response against the cancer. Our cells are grown then irradiated so that they cannot grow further.. We can then ship the frozen cells overnight to the clinical sites and for patient treatment the next day. The treatment is by injection into the skin of the upper back and the thighs with injection cycles every three weeks.
What makes BriaCell Therapeutics' approach to managing cancer potentially more effective than existing treatments or competitors in the market?
Our approach has several advantages over other existing treatments and treatments in development. Many treatments for advanced about breast cancer involve the use of chemotherapy which can be very debilitating for the patient. Or therapy appears to have very few side effects in our clinical trials so far – really just minor irritation at the injection sites. Other immunological approaches work by "releasing the brakes" on the immune system and cause autoimmune disease in some patients. Our therapy is a targeted approach tailored to inducing an immune response but just against the cancer. Our therapy also appears to have activity in very late stage patients who have failed all other therapies. These are the patients who are most difficult to treat. The fact that we're seeing positive results in these very sick women indicates that our therapy is very effective and likely to work in earlier stage patients once we move up into earlier lines of therapy. We are also able to combine our therapy with other therapies that have complementary mechanisms of action including other immune therapies and other targeted therapies for cancer.
I saw that BCTX announced its closing of a $4 Million strategic investment by Prevail Partners. Will you talk about this exciting milestone and how it will positively impact the Company and its goals?
We are very excited about our partnership with Prevail Infoworks and Prevail Partners. Prevail Infoworks is our contract research organization (CRO) and will be coordinating our pivotal registration study. This is the study that should get final marketing approval for our drug if the study is positive. Prevail has seen our data and is familiar with our program and pivotal study design. Prevail Partners, the arms-length investment division, made a $4 million strategic investment into BriaCell at a 20% premium to the share price. This indicates their confidence 1) in the prospects of our study being positive 2) In the potential of our therapy to have a huge impact in patients with advanced breast cancer and 3) in their ability to successfully recruit and run the study and turn the data around for submission to the FDA according to our agressive timelines. Overall, this is a huge vote of confidence in the BriaCell technology, our pivotal study design, and in the capabilities of Prevail Infoworks.
Are there any other exciting milestones you can share with our readers about BriaCell?
BriaCell has an ongoing phase II study of our lead candidate, Bria-IMT, in patients with advanced breast cancer. As this is a open label study we will continue to release data add various scientific meetings throughout the year. As we have already agreed with the FDA that overall patient survival will be the endpoint of our pivotal study, updates to the overall survival data from the phase II study will continue to be a good indicator of our chances of success in the pivotal. The late stage patient population we're targeting typically has a life expectancy of 6 to 10 months based on what we've seen in the literature. So far our average survival has been over 13 months. We will be continuing to update these estimates as the study goes on. Also this year we should have our off the shelf personalized immunotherapy cell lines entering the clinic. We believe that these novel therapies have the potential to transform the whole approach to cancer treatment. We will be very excited to get these studies under way starting in breast cancer but then potentially also including other cancers such as prostate cancer, lung cancer, and Melanoma.
What challenges, if any, is BCTX currently facing?
This has been a very difficult time for the biotechnology sector. We are fortunate that our stock price has held up quite nicely and has in fact increased compared to two years ago. We are also fortunate that we have close to $30 million in the bank which should be enough to advance most of the way through our pivotal study as well as to introduce our off the shelf personalized immunotherapy cell lines into the clinic. Since our pivotal study will be in combination with an immune checkpoint inhibitor (which several large pharmaceutical companies have), we are exploring various collaboration and partnership options. Our conversations with these large pharmaceutical companies may guide us towards the checkpoint inhibitor we will ultimately combine with.
What is the company's financial position and how does it plan to allocate capital in order to maximize returns for investors while also ensuring long-term growth and stability?
The company currently has close to $30 million in the bank. We will be focusing on our pivotal registration study which is the main driver of the valuation of our company. We feel that driving this study forward and continuing our ongoing phase II study in advanced breast cancer is our highest priority to generate value-driving clinical data.
What is your perspective on the total addressable market for BCTX's therapies?
Currently over 40,000 women die each year from advanced breast cancer. Our estimate of the addressable market for our lead candidate, Bria-IMT™, is approximately 170,000 women in the US alone. As our pivotal study will also be conducted in Canada and the European Union, those markets also should be readily accessed by our therapy once it gets approved.
Is there any other information you wish to share with our investors reading so we can highlight the opportunity of the company?
BriaCell has a very experienced management team. Altogether there have been 19 drug approvals by the CEO and CMO alone. This experienced team is dedicated to bringing these novel therapies forward for the patients who need them the most. In addition, the CEO and chairman of the board have invested significant capital into the company since they became involved, approximately $6 million in aggregate. This highlights their dedication to BriaCell's mission and their confidence in the prospects for this therapy .
Thank you for your time.
Disclaimer
This website is a wholly owned subsidiary of SCD Media, LLC, herein referred to as Smallcaps Daily. Our publications are a commercial advertisement and are for general information purposes ONLY. We are engaged in the business of marketing and advertising companies for monetary compensation. We may receive compensation for this article on a PPC basis as an affiliate. Never invest in any stock featured on our site or emails unless you can afford to lose your entire investment. The disclaimer is to be read and fully understood before using our services, joining our site or our email/blog list as well as any social networking platforms we may use. PLEASE NOTE WELL: Smallcaps Daily and its employees are not a Registered Investment Advisor, Broker Dealer or a member of any association for other research providers in any jurisdiction whatsoever.Release of Liability: Through use of this website viewing or using you agree to hold Smallcaps Daily, its operators owners and employees harmless and to completely release them from any and all liability due to any and all loss (monetary or otherwise), damage (monetary or otherwise), or injury (monetary or otherwise) that you may incur. The information contained herein is based on sources which we believe to be reliable but is not guaranteed by us as being accurate and does not purport to be a complete statement or summary of the available data. Smallcaps Daily encourages readers and investors to supplement the information in these reports with independent research and other professional advice. All information on featured companies is provided by the companies profiled, or is available from public sources and Smallcaps Daily makes no representations, warranties or guarantees as to the accuracy or completeness of the disclosure by the profiled companies. None of the materials or advertisements herein constitute offers or solicitations to purchase or sell securities of the companies profiled herein and any decision to invest in any such company or other financial decisions should not be made based upon the information provided herein. Instead Smallcaps Daily strongly urges you conduct a complete and independent investigation of the respective companies and consideration of all pertinent risks. Readers are advised to review SEC periodic reports: Forms 10-Q, 10K, Form 8-K, insider reports, Forms 3, 4, 5 Schedule 13D. Smallcaps Daily is compliant with the Can Spam Act of 2003. Salesparq, LLC does not offer such advice or analysis, and Smallcaps Daily further urges you to consult your own independent tax, business, financial and investment advisors. Investing in micro-cap and growth securities is highly speculative and carries and extremely high degree of risk. It is possible that an investors investment may be lost or impaired due to the speculative nature of the companies profiled. The Private Securities Litigation Reform Act of 1995 provides investors a safe harbor in regard to forward-looking statements. Any statements that express or involve discussions with respect to predictions, expectations, beliefs, plans, projections, objectives, goals, assumptions or future events or performance are not statements of historical fact may be forward looking statements. Forward looking statements are based on expectations, estimates, and projections at the time the statements are made that involve a number of risks and uncertainties which could cause actual results or events to differ materially from those presently anticipated. Forward looking statements in this action may be identified through use of words such as projects, foresee, expects, will, anticipates, estimates, believes, understands, or that by statements indicating certain actions & quote; may, could, or might occur. Understand there is no guarantee past performance will be indicative of future results.In preparing this publication, Smallcaps Daily, has relied upon information supplied by its customers, publicly available information and press releases which it believes to be reliable; however, such reliability cannot be guaranteed. Investors should not rely on the information contained in this website. Rather, investors should use the information contained in this website as a starting point for doing additional independent research on the featured companies. Smallcaps Daily has not been compensated for this article. The advertisements in this website are believed to be reliable, however, Smallcaps Daily and its owners, affiliates, subsidiaries, officers, directors, representatives and agents disclaim any liability as to the completeness or accuracy of the information contained in any advertisement and for any omissions of materials facts from such advertisement. Smallcaps Daily is not responsible for any claims made by the companies advertised herein, nor is Smallcaps Daily responsible for any other promotional firm, its program or its structure. Smallcaps Daily is not affiliated with any exchange, electronic quotation system, the Securities Exchange Commission or FINRA.