Featured
Interview with Trio Petroleum Corp. CEO, Frank Ingriselli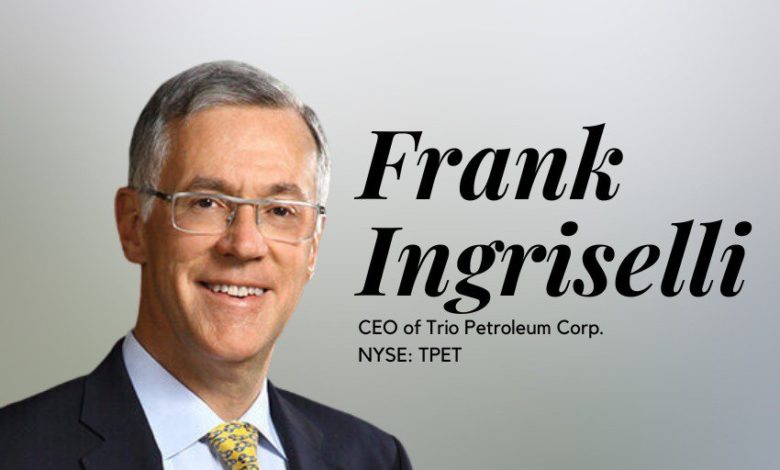 Frank Ingriselli is a seasoned leader and entrepreneur with wide-ranging oil exploration and production experience spanning more than 44 years in the international energy industry. He is currently the President of Indonesia Energy Corporation (NYSE: INDO), engaged in the exploration, development, and production of strategic, high-growth energy projects in Indonesia.
Frank is the former founder, Chairman and CEO of PEDEVCO Corp. (NYSE: PED), which acquires and develops energy assets in the US, and is the former founder, Chairman and CEO of Pacific Asia Petroleum, Inc., a NYSE previously publicly traded energy company with operations in Africa and China.
Earlier in his career, he spent 23 years at Texaco, Inc. in senior executive positions involving E&P, merger and acquisition activities, pipeline operations, and corporate development, including serving as President of Texaco International Operations and President of Texaco Technology Ventures where he was responsible for over several billion dollars of investments. Frank currently sits on the Board of NXT Energy Solutions Inc. (TSX:SFD), sits on the Board of Trustees of the Eurasia Foundation, and is the founder and CEO of Brightening Lives Foundation Inc., a public charitable foundation. He graduated from Boston University with a B.S. in business administration, earned an M.B.A. from New York University, and a J.D. from Fordham University School of Law.
FULL INTERVIEW:
Thank you for taking the time to answer my questions about Trio Petroleum Corp. Can you briefly describe the company and its focus for our readers who may be unfamiliar?
Trio Petroleum just completed its IPO on the New York Stock Exchange (NYSE:TPET) 3 weeks ago and has focused on developing it's approximate 10,000 acre development & production asset in the heart of California's oil industry. We are surrounded by billion-barrel fields. Our team has been operating in this area for over 40 years and we have already made several discoveries on our asset and have produced form those wells. We are conventional wells and don't do fracking.
48 hours after the IPO, we announced that we signed up a drilling rig and are now drilling what we expect to be another producing well. If successful, it will be producing positive cash withing 60 days. Trio is fully permitted for its work in California. I am excited to get going as a public company. After 44 years in the industry (having served as President of Texaco International Operations), this is my 4th listing on the NYSE, post my Texaco days.
What specific strategic, high-growth energy projects is Trio currently pursuing and how do these projects fit into the company's long-term growth strategy?
We will be targeting the development/production plan we have for our 10,000-acre South Salinas Project. Discoveries already made there by our team and currently we are drilling our next well. An independent engineering/reserve firm has assigned 163 million barrels to our asset which will only grow as we start our continuous drilling program. Our SEC filings detail the enormous upside to our development plan where we have a potential $2 billion project discounted at 10%.
Will you talk about how TPET can positively impact California's energy market?
Trio can certainly positively impact California's energy market. California is the 6th largest producing oil state in the country yet the 2nd biggest consumer. California imports 70% of its oil mostly from the Middle East and Venezuela. We are conventional drilling with no fracking, with high-quality oil which hopefully will contribute to reducing California's imports of foreign oil.
What challenges, if any, is Trio Petroleum Corp. currently facing?
Probably the biggest challenge facing Trio Petroleum is securing financing fast enough so that we can accelerate our development plan which was detailed in our filings and in our engineering report has a present value of over $2 billion (discounted at 10%). The sooner we drill these wells the higher and quicker that value will be.
Are there any exciting milestones you can share with our readers about Trio Petroleum Corp.?
Certainly an exciting milestone is that within 48 hours of the IPO we signed a drilling rig contract and 10 days later the rig was mobilized and we started drilling well last week. We expect to hit total depth in less than 20 days, and if successful will be producing cash in 60 days. In addition, we're fully permitted in California to drill and to produce. We're also looking at significant production acquisitions that could also additionally add immediate cash flow to the company.
What is the outlook for oil and gas prices and demand in California and beyond, and how does Trio plan to adapt to changing market conditions?
With simple conventional wells, and at today's current oil price and based on our prior discoveries and production wells, we expect that at the current price of oil these wells will produce just shy of 100% rates of return. So, we drill a well for $3 million and will recover in net cash proceeds just shy of $3 million in only the first year. With that type of "cash-cow" wells and an aggressive development plan, no wonder our project is deemed to have an ultimate discounted value of over $2 billion.
What is the company's financial position and how does it plan to allocate capital in order to maximize returns for investors while also ensuring long-term growth and stability?
Our financial position is we have the cash from the IPO. We have no debt and we stared drilling. We are in the process of setting up a team to look at establishing a drilling fund so that we can accelerate our development plan to drill as many wells as possible and as early as possible so that we can economically and efficiently develop these high-value cash cow wells without any shareholder dilution.
What is your perspective on the total addressable market for Trio Petroleum Corp.?
In the state of California which imports 70% of its oil requirements, this provides an extraordinary opportunity to develop internal natural resources that are conventional and non-threatening to contribute to the state's thirst for oil. We're blessed that we're already permitted and our team has a 40-year unblemished history of producing cleanly and economically in this region.
Is there any other information you wish to share with our investors reading so we can highlight the opportunity of the company?
We certainly are excited to share the detailed independent engineering and reserve studies done on our asset, showing the enormous value of the development plan that we've already embarked on. That value is a $2 billion discounted net cash flow opportunity that we believe is financeable with significant rates of return and value. This is my 4thpublic company and I intend to do my best to grow shareholder value and deliver on our development plans. So, I encourage you to visit our website and look over our presentation and detailed development plans: www.trio-petroleum.com
Disclaimer
This website is a wholly owned subsidiary of SCD Media, LLC, herein referred to as Smallcaps Daily. Our publications are a commercial advertisement and are for general information purposes ONLY. We are engaged in the business of marketing and advertising companies for monetary compensation. We may receive compensation for this article on a PPC basis as an affiliate. Never invest in any stock featured on our site or emails unless you can afford to lose your entire investment. The disclaimer is to be read and fully understood before using our services, joining our site or our email/blog list as well as any social networking platforms we may use. PLEASE NOTE WELL: Smallcaps Daily and its employees are not a Registered Investment Advisor, Broker Dealer or a member of any association for other research providers in any jurisdiction whatsoever.Release of Liability: Through use of this website viewing or using you agree to hold Smallcaps Daily, its operators owners and employees harmless and to completely release them from any and all liability due to any and all loss (monetary or otherwise), damage (monetary or otherwise), or injury (monetary or otherwise) that you may incur. The information contained herein is based on sources which we believe to be reliable but is not guaranteed by us as being accurate and does not purport to be a complete statement or summary of the available data. Smallcaps Daily encourages readers and investors to supplement the information in these reports with independent research and other professional advice. All information on featured companies is provided by the companies profiled, or is available from public sources and Smallcaps Daily makes no representations, warranties or guarantees as to the accuracy or completeness of the disclosure by the profiled companies. None of the materials or advertisements herein constitute offers or solicitations to purchase or sell securities of the companies profiled herein and any decision to invest in any such company or other financial decisions should not be made based upon the information provided herein. Instead Smallcaps Daily strongly urges you conduct a complete and independent investigation of the respective companies and consideration of all pertinent risks. Readers are advised to review SEC periodic reports: Forms 10-Q, 10K, Form 8-K, insider reports, Forms 3, 4, 5 Schedule 13D. Smallcaps Daily is compliant with the Can Spam Act of 2003. Salesparq, LLC does not offer such advice or analysis, and Smallcaps Daily further urges you to consult your own independent tax, business, financial and investment advisors. Investing in micro-cap and growth securities is highly speculative and carries and extremely high degree of risk. It is possible that an investors investment may be lost or impaired due to the speculative nature of the companies profiled. The Private Securities Litigation Reform Act of 1995 provides investors a safe harbor in regard to forward-looking statements. Any statements that express or involve discussions with respect to predictions, expectations, beliefs, plans, projections, objectives, goals, assumptions or future events or performance are not statements of historical fact may be forward looking statements. Forward looking statements are based on expectations, estimates, and projections at the time the statements are made that involve a number of risks and uncertainties which could cause actual results or events to differ materially from those presently anticipated. Forward looking statements in this action may be identified through use of words such as projects, foresee, expects, will, anticipates, estimates, believes, understands, or that by statements indicating certain actions & quote; may, could, or might occur. Understand there is no guarantee past performance will be indicative of future results.In preparing this publication, Smallcaps Daily, has relied upon information supplied by its customers, publicly available information and press releases which it believes to be reliable; however, such reliability cannot be guaranteed. Investors should not rely on the information contained in this website. Rather, investors should use the information contained in this website as a starting point for doing additional independent research on the featured companies. Smallcaps Daily has not been compensated for this article. The advertisements in this website are believed to be reliable, however, Smallcaps Daily and its owners, affiliates, subsidiaries, officers, directors, representatives and agents disclaim any liability as to the completeness or accuracy of the information contained in any advertisement and for any omissions of materials facts from such advertisement. Smallcaps Daily is not responsible for any claims made by the companies advertised herein, nor is Smallcaps Daily responsible for any other promotional firm, its program or its structure. Smallcaps Daily is not affiliated with any exchange, electronic quotation system, the Securities Exchange Commission or FINRA.