Breaking
MariaDB plc: Runa Capital's Bold Move Sparks Interest Of M&A Arbitrageurs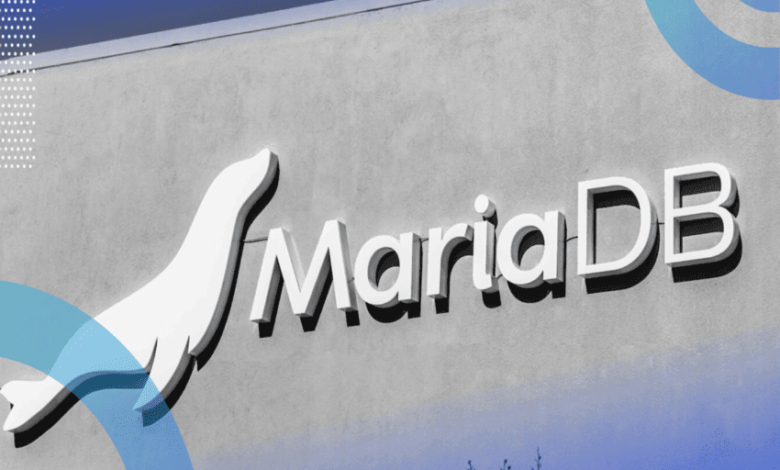 In an interesting turn of events, Runa Capital Fund II, L.P., a well-known investment entity, has set its sights on MariaDB plc (NYSE:MRDB), a prominent name in the database management industry. On September 15, 2023, Runa Capital made an all-cash proposal to acquire 100% of the issued share capital of MariaDB, offering a price of $0.56 per share. At the heart of this potential takeover bid is Runa Capital's belief that MariaDB is facing significant challenges as a public company. With MariaDB reporting consistent losses and struggling to achieve a substantial revenue scale, Runa Capital has expressed doubts about the company's ability to continue as a going concern. Let us have a closer look at MariaDB's business and recent performance and determine whether
What Does MariaDB Do?
MariaDB plc operates as a cloud database company with a global reach spanning North and South America, Europe, the Middle East, Africa, and the Asia Pacific regions. The company specializes in delivering comprehensive database solutions, encompassing a range of offerings such as the premium MariaDB Enterprise Server, designed as an enhanced version of the community server. Additionally, they provide MariaDB Xpand, a distributed structured query language (SQL) database tailored for transactional workloads, MariaDB ColumnStore, tailored for data warehousing needs, MariaDB MaxScale, focused on availability and load balancing, and MariaDB SkySQL, a database-as-a-service designed to support their products on public cloud platforms. Beyond these products, MariaDB extends its services to include consulting, training, remote database administration, and engineering architecture services, catering to a diverse clientele across various sectors including financial services, government, technology, retail, telecommunications, and transportation industries.
What Is The MariaDB's Growth Strategy?
MariaDB plc's management aims to leverage MariaDB's advanced technology and expand its market presence. The primary objectives are to drive growth by making their innovative technology not only robust but also appealing to clients and shareholders. Furthermore, strategic and financial reviews, led by the CFO and management team, are in progress, aiming for a more rapid path to profitability and creating a resilient business model.
The company is reporting heavy losses and cash burn but the management claims to be working on optimizing its cost structure, enhancing operational efficiency, and focusing investments on high-return opportunities. MariaDB's core business remains strong, and efforts are underway to align spending with industry peers. As a pivotal player in the database industry, MariaDB is at the heart of various applications, serving over 1 billion users through Linux distributions and contributing significantly to the relational database marketplace's evolution. With the database market projected to grow at a 10% CAGR, from $45 billion in 2021 to $77 billion by 2027, MariaDB sees a substantial opportunity.
Why Is MariaDB Expected To Continue Growing?
Despite its heavy losses, there is definitely something to look forward to in MariaDB's offering and the reason why it is expected to keep growing. MariaDB's database solutions provide flexibility in deployment, including private, hybrid, and public clouds, while enabling secure transactions and fast analytics on a single open-source system. Their databases offer up to 90% cost savings compared to proprietary alternatives. Looking forward, MariaDB plans to capitalize on emerging innovations in artificial intelligence and machine learning, expanding its market reach further. Its recent success was driven by winning new public sector clients, expanding through a partner ecosystem, and emphasizing profitability.
Transparency, cost-effectiveness, and security make MariaDB an attractive choice for public sector entities. The company's partnerships with hardware and software vendors enable efficient market expansion. Moreover, MariaDB aims to address the growing demands of the AI/ML database market, enhancing its database systems to support AI/ML-enabled applications. This strategic vision aligns with MariaDB's track record, open-source expertise, and substantial experience in AI/ML technology. In 2023, the company intends to seize opportunities, exercise expense discipline, and focus on controllable factors while advancing its position as a leading database solutions provider.
Final Thoughts – Is It An M&A Arbitrage Opportunity?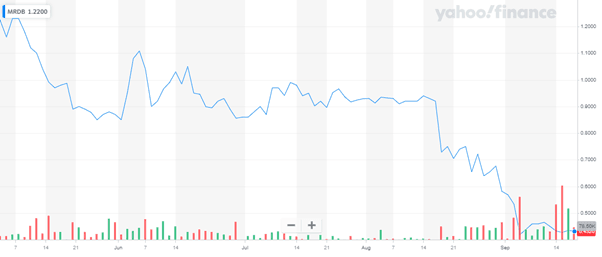 Source: Yahoo Finance
As we can see above, MariaDB's stock has continued to fall over the past few months though it did rally by more than 8% after the $0.56 offer. While its top-line growth has been impressive, its operating margin is deplorable at -101.4% for the trailing twelve-month period which means that the company is destroying shareholder value. Thus, Runa Capital's concerns about MariaDB being able to survive as a going concern are legit. To address MariaDB's cash flow issues, Runa has extended an olive branch in the form of a $5 million bridge loan, aimed at helping MariaDB navigate its impending default under its senior debt.
Runa's $0.56 offer is above the current stock price of MariaDB and offers a decent premium for M&A arbitrageurs. The offer can be tempting especially given the heavy losses and cash burn of the company and the impending default of its senior debt. There is a good chance that this deal might go through which is why it does look like a good opportunity for M&A arbitrageurs.