Featured
Mawson Infrastructure Group: The Carbon Neutral Cryptocurrency Mining Company Set to Dominate the Market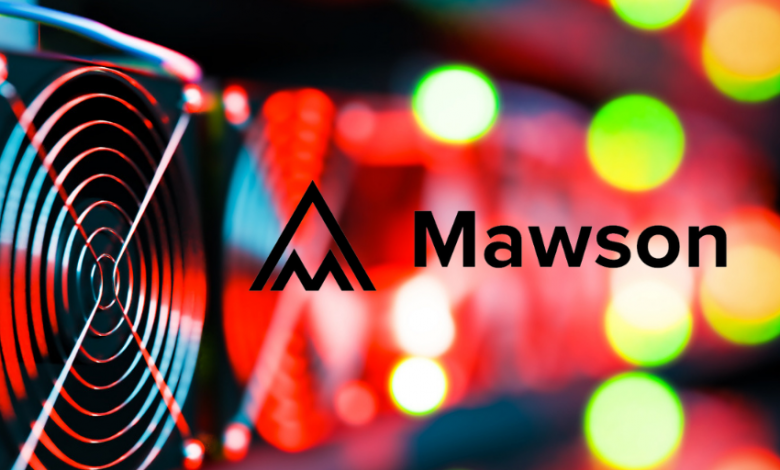 Investors who are looking for life-changing returns have started to focus their attention on cryptocurrencies, mainly because this industry has outpaced almost all other asset classes by an extremely wide margin despite being barely a decade old. As cryptocurrencies become more widely adopted and accepted in mainstream society, there is without a doubt more shareholder appreciation in store.
A sector that is becoming more important as the adoption of cryptos becomes more popular is the cryptocurrency mining industry. According to Verified Market Research, the global cryptocurrency mining machines market was valued at $11 billion in 2019 and will reach $21 billion by 2027. According to The BlockCrypto, in October 2021 Bitcoin Mining revenue was $1.72BN. Mining processes are becoming more complex day by day, creating the opportunity for companies who can remain operationally flexible while still deploying cutting edge technology, the chance to become the dominant player in the industry. An industry that is likely to experience double digit growth for the foreseeable future.
Company Profile
Mawson Infrastructure Group (Nasdaq: MIGI) is an industry leading digital infrastructure provider, specializing in cryptocurrency mining and other digital assets. The company is operating out of multiple locations that contain modular data centers with specially designed high-performance computing capabilities. The modular adaptability allows for Mawson to scale on demand as the value of digital assets increase. What is truly unique about Mawson's business model is choosing site facilities where there are stranded or underutilized energy assets that can support the high energy levels associated with digital asset mining. This strategy allows for the company to reduce their energy footprint while still maximizing computational power. Mawson is quickly becoming a major player within the cryptocurrency world and is making great strides towards their goal of bridging the gap between the fast-growing digital asset industry and traditional capital markets.
Currently, Mawson has 4 facilities across the U.S. and Australia, and at the end of November will have 0.8 ExaHash online, generating 4.7 BTC/day according to their latest investor presentation. The company has very ambitious goals for 2022 and beyond. The company is targeting to increase their hash rate to 5 ExaHash (equating to production of 28.5 BTC/day) and doing all this while keeping operations 100% carbon neutral. Mawson has been growing incredibly quickly, and if they are able to deliver on these goals it would position them as one of the top three cryptocurrency mining companies in the world.
Mawson Begins Expansion Journey with New Australian Based Facility
Mawson recently brought their first Australian facility online at the end of October and announced it will be powered by 100% renewable energy sources through partnering with Quinbrook Infrastructure Partners. Quinbrook Infrastructure Partners is a global green energy infrastructure fund, developing 17GW of green energy assets across their portfolio globally. This partnership is the first of its kind amongst the Nasdaq listed Bitcoin Miners. The facility will be in northern New South Wales, Australia and will be home to a next generation Modular Data Center specially designed for Australian environmental conditions.
The successful launch of Mawson's first facility in Australia puts the company at a strategic advantage and paves the way for additional facilities to become operational in the future. Mawson and Quinbrook have developed a comprehensive list of potential future renewable energy-based sites in which the two companies will be able to develop through joint partnerships.
Through Purchase of 4000 ASIC Bitcoin Miners, Mawson Prepares for Massive Growth on the Horizon
To facilitate the expansion into their new Australian based facility and to increase the capacity of existing facilities, Mawson has purchased 4000 new ASIC bitcoin miners. The order is split evenly between the MicroBT M30S and the Canaan Avalon A1166/124. The company plans on making all 4,000 machines operational by the end of Q4 2021. Mawson recently upgraded guidance from 3.00 Exahash to 3.35 Exahash by Q2 2022, and brought forward its 5 Exahash target to early Q1 2023. As per the company's Q3 investor presentation, 5 Exahash online is expected to produce approximately $623 million in annualized revenue, at an 80% gross margin.
This announcement further demonstrates to investors how serious Mawson is about becoming one of the top Bitcoin miners in the world and highlights the success of their "infrastructure first" strategy for the deployment and scaling of new and current facilities.
Mawson Announces Blowout Third Quarter Results and Purchases New Batch of Bitcoin Miners
Mawson's third quarter earnings were nothing short of amazing. The company saw revenue increase to $10.9 million, marking a 1100% increase from last year's Q3. Gross profit increased handsomely to $8.4 million (compared to $44,000 in 2020) and virtually every other financial metric saw an outstanding improvement when compared to previous results. Mawson not only reported record breaking revenue and gross profit, but they also announced to investors that they had purchased an additional 17,352 bitcoin miners, which will in part be used to outfit their newly announced, brand new 100MW facility located in Pennsylvania. This large increase in bitcoin miners, paired with multiple new facilities under way, means Mawson will effectively increase their hashing power to an impressive 3.35 Exahash by Q2 2022, a 400% increase from November 2021 levels. This represents a significant increase in the amount of hashing power available to Mawson for Bitcoin production. To put this in perspective, currently, all the bitcoin hashing power is around 150 EH/s. Mawson will manage roughly 2.2% of all bitcoin hashing power. At a spot price of 60k USD, by Q2 2022 Mawson could generate over $400 million in bitcoin rewards. That is a massive 4x revenue increase from current levels. This earnings report should signal two things two investors. First, Mawson's strategy of finding energy efficient facilities is paying off in a big way and is making a major difference to the company's bottom line. Second, Mawson is scaling up in a major way and is putting their operations on the fast track to quickly become one of the most efficient and largest bitcoin mining operations in the world. The company is going to have a busy 2022, and with no signs of slowing down anytime soon, Mawson is a clear winner and needs to be on your watchlist.
Final Thoughts

A common way to value bitcoin mining players is their enterprise value as a function of their next twelve-month (NTM) revenues as these companies continuously invest in adding capacity and have a reasonable view of the bitcoin that they are going to mine in a given year. Today, most major bitcoin miners are trading at an average multiple above 9x their forward revenues. Now, let us have a look at Mawson Infrastructure's valuation.
Based on one sell-side analyst report from August 20, 2021, Mawson is expected to generate revenues of approximately $180 million for fiscal year 2022. Mawson is trading at around 5x in terms of Enterprise Value/NTM Revenues which is below the average multiple of its peer group. Moreover, the company's low-cost mining infrastructure ensures a higher margin than most of these companies. There is an excellent chance that Mawson's valuation multiples will move higher as management executes on its plans and more investors become acquainted with the company. Rising bitcoin prices will also attract market attention towards the stock. Investing in bitcoin mining companies is often considered speculative given the volatility of bitcoin's pricing and network hash rate, the global semiconductor shortage, and other factors. Mawson's capacity expansion initiatives, low-cost mining infrastructure, and high margin of safety with respect to bitcoin price fluctuations makes the company a solid investment proposition for small cap investors.
Key Takeaway
The cryptocurrency industry as a whole has seen exponential returns for the last decade, creating an incredible level of wealth for investors who saw the potential early on. We believe the industry is in the early stages of its growth, with lots of upside still available to companies and investors. Mawson Infrastructure has positioned itself to be an industry leading, carbon neutral Bitcoin mining company. Mawson is currently sporting a market cap of approximately $800 million, with a strong cash position. Mawson has the balance sheet, infrastructure, and growth plans to not only attain but exceed their incredibly ambitious growth plans. Investors would be wise to keep Mawson at the top of their watchlists.
---
Disclaimer
No Positions.
Disclaimer
This website is a wholly owned subsidiary of Salesparq, LLC, herein referred to as Salesparq, LLC. Our publications are a commercial advertisement and are for general information purposes ONLY. We are engaged in the business of marketing and advertising companies for monetary compensation. We may receive compensation for this article on a PPC basis as an affiliate. Never invest in any stock featured on our site or emails unless you can afford to lose your entire investment. The disclaimer is to be read and fully understood before using our services, joining our site or our email/blog list as well as any social networking platforms we may use.PLEASE NOTE WELL: Salesparq, LLC and its employees are not a Registered Investment Advisor, Broker Dealer or a member of any association for other research providers in any jurisdiction whatsoever.Release of Liability: Through use of this website viewing or using you agree to hold Salesparq, LLC, its operators owners and employees harmless and to completely release them from any and all liability due to any and all loss (monetary or otherwise), damage (monetary or otherwise), or injury (monetary or otherwise) that you may incur. The information contained herein is based on sources which we believe to be reliable but is not guaranteed by us as being accurate and does not purport to be a complete statement or summary of the available data. Salesparq, LLC encourages readers and investors to supplement the information in these reports with independent research and other professional advice. All information on featured companies is provided by the companies profiled, or is available from public sources and Salesparq, LLC makes no representations, warranties or guarantees as to the accuracy or completeness of the disclosure by the profiled companies. None of the materials or advertisements herein constitute offers or solicitations to purchase or sell securities of the companies profiled herein and any decision to invest in any such company or other financial decisions should not be made based upon the information provided herein. Instead Salesparq, LLC strongly urges you conduct a complete and independent investigation of the respective companies and consideration of all pertinent risks. Readers are advised to review SEC periodic reports: Forms 10-Q, 10K, Form 8-K, insider reports, Forms 3, 4, 5 Schedule 13D. Salesparq, LLC is compliant with the Can Spam Act of 2003. Salesparq, LLC does not offer such advice or analysis, and Salesparq, LLC further urges you to consult your own independent tax, business, financial and investment advisors. Investing in micro-cap and growth securities is highly speculative and carries and extremely high degree of risk. It is possible that an investors investment may be lost or impaired due to the speculative nature of the companies profiled. The Private Securities Litigation Reform Act of 1995 provides investors a safe harbor in regard to forward-looking statements. Any statements that express or involve discussions with respect to predictions, expectations, beliefs, plans, projections, objectives, goals, assumptions or future events or performance are not statements of historical fact may be forward looking statements. Forward looking statements are based on expectations, estimates, and projections at the time the statements are made that involve a number of risks and uncertainties which could cause actual results or events to differ materially from those presently anticipated. Forward looking statements in this action may be identified through use of words such as projects, foresee, expects, will, anticipates, estimates, believes, understands, or that by statements indicating certain actions & quote; may, could, or might occur. Understand there is no guarantee past performance will be indicative of future results.In preparing this publication, Salesparq, LLC has relied upon information supplied by its customers, publicly available information and press releases which it believes to be reliable; however, such reliability cannot be guaranteed. Investors should not rely on the information contained in this website. Rather, investors should use the information contained in this website as a starting point for doing additional independent research on the featured companies. Salesparq, LLC has not been compensated for this article. The advertisements in this website are believed to be reliable, however, Salesparq, LLC and its owners, affiliates, subsidiaries, officers, directors, representatives and agents disclaim any liability as to the completeness or accuracy of the information contained in any advertisement and for any omissions of materials facts from such advertisement. Salesparq, LLC is not responsible for any claims made by the companies advertised herein, nor is Salesparq, LLC responsible for any other promotional firm, its program or its structure. Salesparq, LLC is not affiliated with any exchange, electronic quotation system, the Securities Exchange Commission or FINRA.