Featured
MTBC: A True Healthcare Technology Gem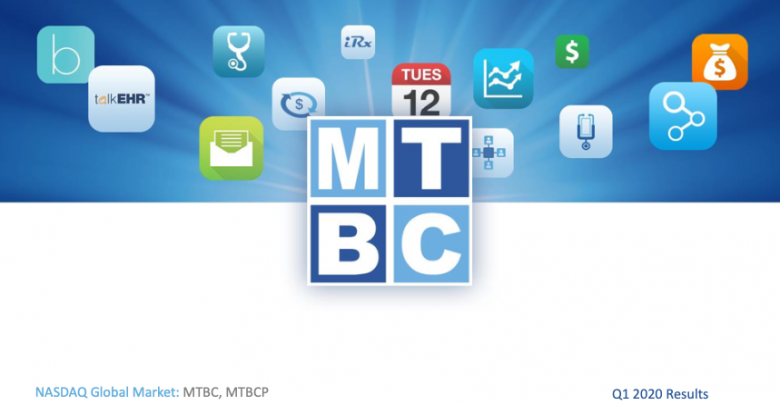 Healthcare technology as a domain has witnessed strong growth during the course of 2020 as a result of the Covid-19 pandemic. This growth has reflected not only in the top-lines of healthcare tech providers but also in the valuation multiples across the industry, which have expanded at a phenomenal rate, clearly indicating the rapidly improving investor perception with respect to this domain. As a matter of fact, some healthcare technology domains like telehealth have had stocks triple and quadruple in value and companies like Ontrak (NASDAQ:OTRK), Livongo (NASDAQ:LVGO), and Teladoc (NYSE:TDOC) are excellent examples of the same. With companies trading at such high valuations, it is hard for investors to find reasonably valued investment opportunities within the healthcare technology space. One such hidden gem which appears to have an excellent upside potential is MTBC Inc (NASDAQ:MTBC).
Company overview & product offerings
MTBC is a New Jersey-based healthcare technology player that provides a suite of web-based offerings and a string of related business services to healthcare providers in the U.S. The company's core offering is a software-as-a-service (SaaS) platform, which includes practice management software and a wide variety related tools that help facilitate the day-to-day business operations and workflows for healthcare practitioners. Its features include electronic health record to help practitioners reduce paperwork, revenue cycle management services, end-to-end medical billing, analytics, and so on.
MTBC offers other high-value healthcare solutions as well such as mobile health solutions, patient experience management solutions, business intelligence, telehealth, contactless check-in, and so on. It has a series of smaller offerings such as clearing house solutions, transcription, coding, indexing, and others that are often bundled with the others to maximize revenues through cross-selling. It is worth making a special mention of MTBC's telehealth application that allows healthcare providers to deliver their services to patients remotely as well. The goal of the company is to help the its healthcare clients achieve greater efficiency, streamline their workflows, increase revenues, ensure faster and better decision making while minimizing the time taken on administrative work.
Growth strategy
MTBC has had a track record of multiple acquisitions and is known to grow its top-line through rapid integration of the companies acquired. The company has been known to acquire other revenue cycle management companies and complementary businesses. One of its most recent acquisition was that of its competitor, CareCloud, which also provides the same offerings such as practice management, electronic health records, patient experience management, and so on. Some other prominent names acquired by MTBC include Orion Healthcorp in July 2018, Etransmedia in April 2019, and Meridian Medical Management, a former GE Healthcare (NYSE:GE) company in June 2020. The company operates in a highly fragmented market which is why it should continue to come across such market consolidation opportunities in the future. MTBC's organic growth has also been strong as it has established key partnerships with many healthcare organizations. Its customer acquisition has been relatively low-cost as the management has indicated that its sales and marketing expenses have been consistently below 4% of its top-line. The management are in the process of ramping up this expense which is why they are closing more deals during the course of the year. If the company is able to continue its current annualized growth of nearly 49%, its stock should definitely see a strong upside.
Addressable market
MTBC is essentially a B2B technology services provider and its offerings are addressed to healthcare facilities including physicians, nurses, nurse practitioners, physician assistants, and other clinical staff that render bills for their services. As per their recent corporate presentation, the company caters to more than 40,000 healthcare providers spread across each of the 50 American states with over 70 different specialities. Some of its clientele include big names like FOX Rehabilitation, the University of Virginia Health System, South Georgia Primary Care, RWJ Barnabas Health, Sanofi, and more. It is worth highlighting that MTBC operates in a highly lucrative healthcare information software market which is expected to grow by as much as $10.67 billion from 2020 to 2024 as per Technavio research data. With such strong expected growth in the macro, one can definitely be optimistic about MTBC being able to continue grabbing a large share of the market pie.
Why is MTBC undervalued?
The coronavirus pandemic has prompted healthcare practitioners to automate their processes in order to maximize their time availability for patients. The increasing adoption of technology for day-to-day processes has led to an increase in demand for MTBC's product which is why it has seen a sharp rise in its turnover this year with the company reporting a top-line of $31 million in the last quarter. This is almost half of its total turnover for 2019 and is a clear indication of what an immense boost its business has received from the recent acquisitions that the management was bold enough to carry out, despite the Covid-19 pandemic. However, MTBC's limited investor communication with respect to their plans for future growth is one key factor why it is trading at extremely low valuation multiples.
The company is currently trading at a price-to-book ratio of 1.38 and a price-to-sales ratio of hardly 1.56 which are very low for a software-as-a-service company with recurring revenues, particularly one that has touched a positive EBITDA. MTBC's revenue growth trajectory has been truly phenomenal as its annualized 3-year revenue growth rate is 49% and its earnings growth in the same period is 14.2% without accounting for non-recurring incomes. These numbers are truly impressive from a growth investment point of view.
Final thoughts
MTBC has a lot of factors going for it. The company has a large offshore team and a ready technology which not only makes the process of scaling up very easy but also ensures that the labor costs do not dwindle out of control. Its solutions help in handling the various complexities of value-based healthcare and ensure that practitioners spend maximum time with patients and not on administrative work which is a solid value addition. It caters to a large addressable market and has a promising growth strategy which is a combination of organic and inorganic growth. The company's current valuation is also very attractive and it is truly rare to find a health-tech gem like MTBC in the current market. Overall, I believe that it is an excellent investment proposition for long-term investors.
---
Disclosure
Except for the historic data introduced herein, issues mentioned in this coverage may contain forward-looking statements which might be topic to sure dangers and uncertainties that would trigger precise outcomes to differ materially from any future outcomes, efficiency or achievements expressed or implied by such statements. Salesparq, LLC which owns SmallcapsDaily.com, will not be registered with any monetary or securities regulatory authority and does not present nor claim to present funding recommendation or suggestions to readers of this article. Salesparq, LLC, which owns SmallcapsDaily.com, could also be compensated for its companies in the type of cash-based compensation for the businesses it writes about. For making particular investment choices, readers ought to do their own research. We have not been compensated for this article and We own zero shares of MTBC, Inc. We don't intend to purchase shares of MTBC, Inc. in the open market at any time. Please read our full disclaimer here: https://smallcapsdaily.com/disclaimer/