News
Museum to Host Asian Cultural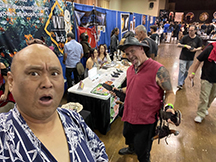 (NewMediaWire) – June 25, 2023 – Glendale, CA – The Martial Arts History Museum is proud to host "Dragonfest," the world's most popular martial arts expo, on August 5, 2023, at the Glendale Civic Auditorium in Glendale, CA. Nicknamed the "Comic-Con of the Martial Arts," Dragonfest is the biggest gathering of martial arts stars, celebrities, and icons in the martial arts industry. It is a charity event with 100 percent of the proceeds benefitting the museum in its quest to relocate to a larger facility.
Now in its 17th year, Dragonfest is an Asian cultural event featuring performances of Japanese, Thailand and Hawaiian artforms. Visitors will enjoy the amazing sounds from the Wagaku Collection and be entertained by Hawaiian dancing, Japanese Sumo and Thailand dancing.
Dragonfest features some of the most notable action film celebrities, including Cynthia Rothrock "Queen of the Martial Arts," Action star Don "the dragon" Wilson, film star Michael Jai White, Criminal Minds star Joe Mantegna, "Big Trouble in Little China" bad guy Gerald Okamura, and Chef Andre. Other stars include actor Peter Kwong, stunt coordinator James Lew, icon Doug Wong, kickboxing pioneer Benny "the jet" Urquidez, philanthropist Dr. Robert Goldman, Emmy nominated producer Art Camacho, champion Eric Lee, legend Tak Kubota, actress Karen Sheperd, Phil Morris, Vince Cecere, "the hammer" Fred Williamson and more.
From the "Karate Kid" and "Cobra Kai" series, fans have the opportunity to meet Ron Thomas, Darryl Vidal, Sean Kanan, and William Chris Ford.
Lining the event will be nearly 100 booths selling martial arts weapons, action movies, Filipino Kali sticks, martial arts equipment, fun toys, artwork, crafts, jewelry, etc.
"This is it. The biggest and most popular martial arts convention on the planet. Every major star in the field and every significant figure in martial arts history kindly gives of their time to support the museum by attending this event," says museum president and also head of Dragonfest, Michael Matsuda.
To celebrate the connection between martial arts and "Star Wars," the expo will be filled with Storm Troopers and characters from "Mandalorian." Since swords are part of the martial arts arsenal, a few blood-thirsty pirates will be strolling through the event.
Adults can partake in ten hands-on workshops with Benny Urquidez, Don Wilson, Vince Cecere, Robert Redfeather and more.
Dragonfest is part of the museum's push to raise $5 million to relocate to a new location. "This is our 24th year, and we need a larger facility. The shutdown due to covid has devastated all of us, especially the museum, and we need to recover. Dragonfest is part of that recovery. We encourage everyone who believes museums make a difference in our lives to donate to the museum," says Matsuda.
To encourage families, Dragonfest is FREE to all kids under 17 and active military with ID. "We want the whole family to be part of this event so we welcome young people with free entrance. This way, they can meet many of our pioneers. Plus, we have a game booth for kids to play," concludes Matsuda.
The event cost is $50 and at the door, "CASH ONLY." It is a one-day event on August 5, 2023, from 11 am to 6 pm. This is a charity event, so all ticket sales are tax-deductible. Parking is $6.
The expo is located at the Glendale Civic Auditorium, 1401 N. Verdugo Road, Glendale, CA 91208 (across from the college). 
To purchase your ticket online or for information on the event, visit Dragonfest.com.
For information about the Martial Arts History Museum or to make a donation, visit http://www.Mamuseum.com.