Featured
NanoViricides: Rapidly Advancing Towards Clinical Trials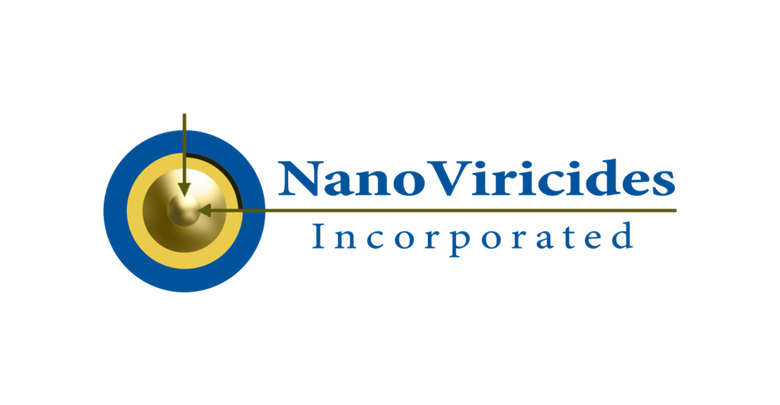 We recently passed the first anniversary of the COVID-19 on November 17 which was the day when the first case of the deadly coronavirus was discovered in the Wuhan province of China. The world continues to battle with the COVID-19 as it has already claimed more than 250,000 lives in the U.S. alone and over 1.3 million lives all over the world. The death toll is over and above the billions of dollars' worth of value depreciation in the global economy, the closure of thousands of businesses, and the loss of millions of jobs all over the world. As we continue our battle against the COVID-19, pharma and drug companies are in the race to find a treatment for the coronavirus to ensure that our social movements are no longer restricted or dependent on the use of surgical masks.
On the vaccine front, the clear frontrunners in the race are Russia's Sputnik V and Pfizer (NYSE:PFE) and BioNTech's vaccine candidate, both of which claim to have over a 90% effectiveness. However, vaccines are known to take a significant period of time before making the body immune to the coronavirus which is why it is important to have solid therapeutic treatments and drugs that can fight and destroy the coronavirus after it enters the human body. One of the top contenders in this drug development race is the Connecticut-based biopharma researcher, NanoViricides, Inc. (AMEX:NNVC).
The Technology Behind NV-CoV-1 – NanoViricides' Drug Candidate
NanoViricides has recently finalized its drug candidate for the COVID-19 that is expected to enter the clinical trials phase soon and it is called the NV-CoV-1. The company is currently in the process of filing the Investigational New Drug (IND) application with the U.S. Food and Drugs Authority (FDA) after completing its drug development process using its unique nanomedicine technology called nanoviricides. A nanoviricide is basically a biomimetic i.e. a substance designed to appear like the cell surface to the coronavirus. When the virus lands on the so-called nanoviricide, its technology binds the virus particle using its nanomicelle polymer that would fuse with the virus lipid envelope, harnessing the biophysical phenomenon called lipid-lipid mixing. This would be followed by direct attacks at multiple points on a virus particle, rendering it ineffective. In the case of the NV-CoV-1, its nanoviricide is expected to attack the extra-cellular virus, thereby blocking the virus re-infection cycle and protecting the patient from the recurrence of COVID-19 for a reasonable period of time. Over and above this, the NV-CoV-1 also seems to have the ability to block the intracellular replication cycle of the virus. This is expected to help cure the SARS-CoV-2 viral infection.
Potential Use With Gilead's Remdesivir
Remdesivir, the proprietary drug of renowned pharma giant, Gilead Sciences (NASDAQ:GILD) is easily the most consumed COVID-19 drug today and is in great demand across the globe. However, there is a strong possibility of enhancement of the effectiveness of remdesivir-based therapies and the NV-CoV-1 works wonderfully in that regard. The NV-CoV-1-R therapy, a combination of remdesivir and the NV-CoV-1, encapsulates remdesivir as the participating drug for blocking the viral replication cycle in order to protect it from metabolism in the body. This protection can be expected to lead to significant enhancement in the effectiveness of remdesivir by improving its concentration and its duration of action. In this way, the NOV-CoV-1 acts as a wonderful adjuvant for remdesivir and can also boost the immune response of the infected body through producing more antibodies to fight the coronavirus. Thus, the NanoViricides management believes that the NV-CoV-1-R therapy could be far more effective than remdesivir alone in fighting the coronavirus and their efforts are being directed towards receiving approval for this solution.
Strong Financial Position
Funding is one of the biggest challenges for research-oriented biotech and pharma companies, particularly those with limited or no significant revenue streams. However, the promise of future returns through upcoming clinical trials is definitely a strong driver for driving investments in such companies. NanoViricides' technology has shown a lot of promise which is why the company is flushed with funds. In its most recent 10Q filing, the management reported that it had approximately $22 million in the form of current assets i.e. cash, cash equivalents, and prepaid expenses whereas its liabilities were a meagre $1.86 million including a $1.1 million mortgage note and $0.76 in the form of other current liabilities. The company spent a little over $2 million in operating cash flows for the quarter which was as per its budget in the words of the management and has around $21 million of disposable funds which should be more than sufficient to last for at least 2 years and easily push its COVID-19 candidate past the IND application phase towards clinical trials. The reason for the strong financial position is NanoViricides' successful public offering in July 2020 where it managed to raise net proceeds of $10.4 million at an issue price of $7.3 per share, bolstering its cash position. With the current available funds, the management intends to pay off the mortgage note in full at its original maturity date in December 2020. It is also worth highlighting that NanoViricides is free from long-term debt as most of its fundraising so far has been through equity.
The Calvert Labs Engagement & Final Thoughts
NanoViricides was recently in the news for engaging renowned CRO (contract research organization), Calvert Labs for the purpose of performing the Safety Pharmacology studies on the NV-CoV-1. These studies are meant to ensure safety of the drug candidate before going ahead with the IND application. As of today, it can be said that its COVID-19 drug program is moving satisfactorily towards completion of IND-enabling studies and it is a matter of time before the NV-CoV-1 advances towards clinical trials.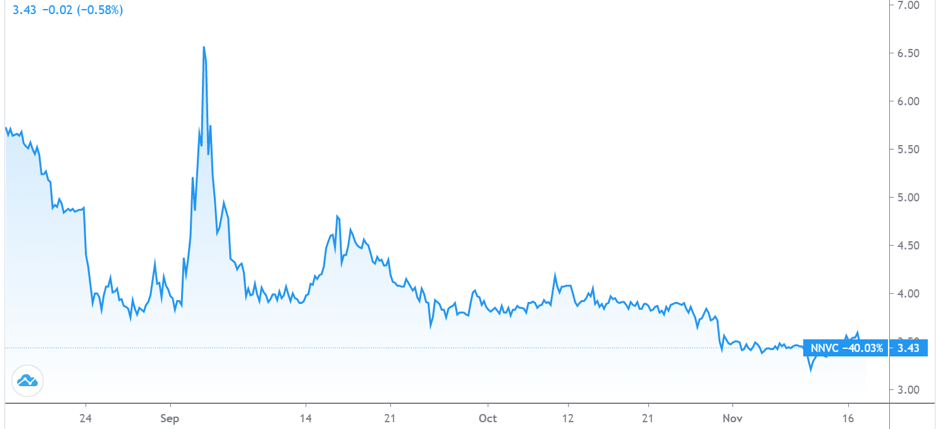 As we can see in the above chart, NanoViricides' stock price has nearly halved from its last public offering largely owing to the relatively slow progress of its drug candidate. It is worth highlighting that the NV-CoV-1 is a novel drug candidate and not a repurposed drug like remdesivir which is why its approval process is slightly lengthier, causing impatience among investors. However, it provides an excellent opportunity for bottom fishing. NanoViricides' price-to-book ratio of 1.43 is among the LOWEST in the biopharma industry despite the fact that it is only a matter of time before the company crosses the IND stage and enters the NV-CoV-1 into clinical trials. This could easily propel the stock into double digits. Overall, it is safe to say that NanoViricides is a promising biopharma investment opportunity at current levels.
---
Legal Disclaimer
Except for the historic data introduced herein, issues mentioned in this text comprise forward-looking statements which might be topic to sure dangers and uncertainties that would trigger precise outcomes to differ materially from any future outcomes, efficiency or achievements expressed or implied by such statements. Salesparq, LLC which owns SmallcapsDaily.com will not be registered with any monetary or securities regulatory authority and doesn't present nor claims to present funding recommendation or suggestions to readers of this launch. Salesparq, LLC, which owns SmallcapsDaily.com, could also be compensated for its companies in the type of cash-based compensation for the businesses it writes about. For making particular funding choices, readers ought to search their very own recommendation. Pursuant to an agreement between TraDigital IR and Salesparq, LLC, which owns SmallcapsDaily.com, has been retained for a interval from 11/1/2020 – 11/30/2020 to publicly disseminate details about Nanoviricides, Inc., together with on the Website, electronic mail and different media together with online and social media. We have been compensated ten thousand dollars for our services during this period. We own zero shares of Nanoviricides, Inc. We don't intend to purchase shares of Nanoviricides Inc. in the open market at any time. Please read our full disclaimer here: https://smallcapsdaily.com/disclaimer/
Disclaimer
This website is a wholly owned subsidiary of Salesparq, LLC, herein referred to as Salesparq, LLC. Our publications are a commercial advertisement and are for general information purposes ONLY. We are engaged in the business of marketing and advertising companies for monetary compensation. We may receive compensation for this article on a PPC basis as an affiliate. Never invest in any stock featured on our site or emails unless you can afford to lose your entire investment. The disclaimer is to be read and fully understood before using our services, joining our site or our email/blog list as well as any social networking platforms we may use.PLEASE NOTE WELL: Salesparq, LLC and its employees are not a Registered Investment Advisor, Broker Dealer or a member of any association for other research providers in any jurisdiction whatsoever.Release of Liability: Through use of this website viewing or using you agree to hold Salesparq, LLC, its operators owners and employees harmless and to completely release them from any and all liability due to any and all loss (monetary or otherwise), damage (monetary or otherwise), or injury (monetary or otherwise) that you may incur. The information contained herein is based on sources which we believe to be reliable but is not guaranteed by us as being accurate and does not purport to be a complete statement or summary of the available data. Salesparq, LLC encourages readers and investors to supplement the information in these reports with independent research and other professional advice. All information on featured companies is provided by the companies profiled, or is available from public sources and Salesparq, LLC makes no representations, warranties or guarantees as to the accuracy or completeness of the disclosure by the profiled companies. None of the materials or advertisements herein constitute offers or solicitations to purchase or sell securities of the companies profiled herein and any decision to invest in any such company or other financial decisions should not be made based upon the information provided herein. Instead Salesparq, LLC strongly urges you conduct a complete and independent investigation of the respective companies and consideration of all pertinent risks. Readers are advised to review SEC periodic reports: Forms 10-Q, 10K, Form 8-K, insider reports, Forms 3, 4, 5 Schedule 13D. Salesparq, LLC is compliant with the Can Spam Act of 2003. Salesparq, LLC does not offer such advice or analysis, and Salesparq, LLC further urges you to consult your own independent tax, business, financial and investment advisors. Investing in micro-cap and growth securities is highly speculative and carries and extremely high degree of risk. It is possible that an investors investment may be lost or impaired due to the speculative nature of the companies profiled. The Private Securities Litigation Reform Act of 1995 provides investors a safe harbor in regard to forward-looking statements. Any statements that express or involve discussions with respect to predictions, expectations, beliefs, plans, projections, objectives, goals, assumptions or future events or performance are not statements of historical fact may be forward looking statements. Forward looking statements are based on expectations, estimates, and projections at the time the statements are made that involve a number of risks and uncertainties which could cause actual results or events to differ materially from those presently anticipated. Forward looking statements in this action may be identified through use of words such as projects, foresee, expects, will, anticipates, estimates, believes, understands, or that by statements indicating certain actions & quote; may, could, or might occur. Understand there is no guarantee past performance will be indicative of future results.In preparing this publication, Salesparq, LLC has relied upon information supplied by its customers, publicly available information and press releases which it believes to be reliable; however, such reliability cannot be guaranteed. Investors should not rely on the information contained in this website. Rather, investors should use the information contained in this website as a starting point for doing additional independent research on the featured companies. Salesparq, LLC has not been compensated for this article. The advertisements in this website are believed to be reliable, however, Salesparq, LLC and its owners, affiliates, subsidiaries, officers, directors, representatives and agents disclaim any liability as to the completeness or accuracy of the information contained in any advertisement and for any omissions of materials facts from such advertisement. Salesparq, LLC is not responsible for any claims made by the companies advertised herein, nor is Salesparq, LLC responsible for any other promotional firm, its program or its structure. Salesparq, LLC is not affiliated with any exchange, electronic quotation system, the Securities Exchange Commission or FINRA.