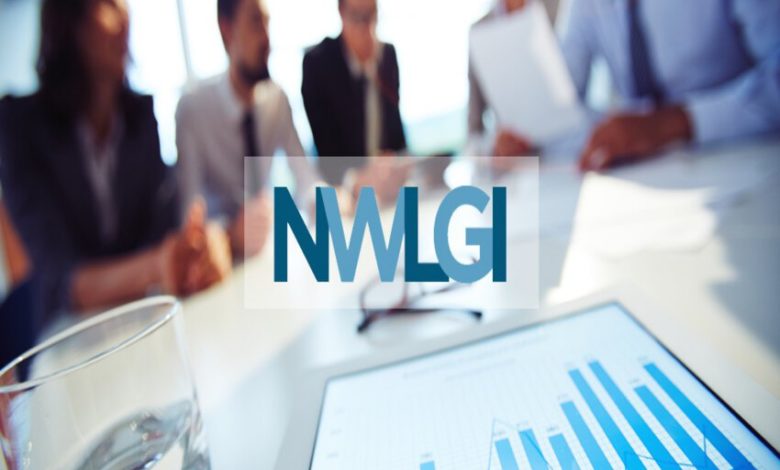 In an interesting turn of events, National Western Life Group, Inc. (NASDAQ:NWLI), a prominent player in the insurance industry, has agreed to get acquired by Prosperity Life Group through an all-cash merger agreement valued at a staggering $1.9 billion. The merger is set to bring together National Western and S. USA Life Insurance Company, Inc. (SUSA), an affiliate of Prosperity Life Group. This all-cash transaction has the potential to reshape the landscape of the insurance sector. However, this wasn't out of the blue as National Western Life Group's management had been hinting at a potential acquisition since a while. Let us take a closer look at the turn of events from the perspective of NWLI and evaluate the rationale behind the acquisition.
What Does National Western Life Group Do?
National Western Life Group, Inc. (NWLI), operating primarily through its subsidiary, National Western Life Insurance Company, functions as a publicly traded life insurance company. The company's operations are divided into several segments, including Domestic Life Insurance, International Life Insurance, Annuities, and ONL and Affiliates. National Western offers a range of life insurance products, encompassing universal life insurance, interest-sensitive whole life insurance, and traditional options like term insurance coverage. Additionally, the company provides annuity products such as flexible premium and single premium deferred annuities, equity-index annuities, and single premium immediate annuities. Beyond insurance, National Western engages in real estate and various investment activities. Its primary distribution channels involve collaborating with independent national marketing organizations.
How Did The Story Of NWLI's Potential Acquisition Begin?
NWLI announced in mid-May a strategic review, with Goldman Sachs hired as a financial advisor. This announcement subtly hinted at the possibility of a company sale, which could be a significant driver for the stock. The decision for a strategic review and potential sale was largely influenced by the internal dynamics within the controlling Moody family, who might be open to selling the business amid a family succession dispute and previous transactions like the sale of American National Group (ANAT) to Brookfield Reinsurance. Furthermore, the insurance and annuity sector has attracted substantial interest and investment from major private equity firms, indicating a robust market for potential acquisitions. These firms were seeking access to permanent capital through acquiring companies with long-term insurance contracts, and NWLI became an attractive target due to potential cost synergies and the strategic fit with these firms' existing portfolios. The strategic review process and the heightened acquisition interest in the insurance space ended up positioning NWLI as a valuable target, leading to stock appreciation in the following months.
Robust Book Value & Financial Position – Biggest Strengths Of NWLI
Despite macroeconomic headwinds, such as low-interest rates affecting investment yields, NWLI has displayed stable operational performance with a consistently growing book value over the years. The company has been managed conservatively, evidenced by its debt-free status and high risk-based capital ratio (717% as of 2022), making it a financially solid entity. With a book value significantly exceeding its market value, NWLI presents an intrinsic value that has not been fully recognized by the market. If the market adjusts its perception and valuation of the company, this could result in substantial upside for investors. The company's stable financial performance, substantial book value, and conservative management make it resilient and potentially undervalued, presenting an opportunity for value realization in the future, especially if strategic initiatives or acquisition proposals emerge that underscore the company's inherent value.
Final Thoughts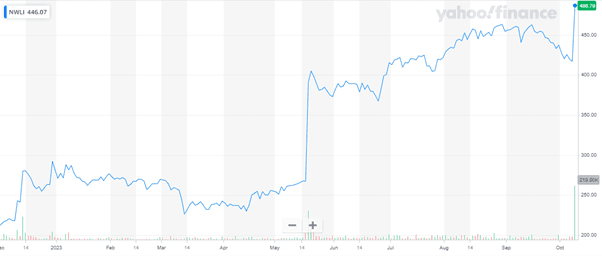 Source: Yahoo Finance
We see a visible spike in NWLI's stock price after the announcement of the acquisition taking it closer to the acquisition value of $500 per share. As per the acquisition agreement, each outstanding share of National Western common stock will be transformed into a handsome $500 cash payment upon the merger's closure. This astonishing figure represents an 87.1% premium over the stock's price back in May 2023. The resounding seal of approval for this merger comes from National Western's own board of directors, who voted unanimously in favor of the deal. The stock is trading below the $500 mark as the acquisition is subject to customary closing conditions, stockholder approval, antitrust clearance, and regulatory nods. This presents a small premium for M&A arbitrageurs as well as the acquisition is slated for completion in the first half of 2024. Overall, the NWLI acquisition presents a very interesting case study within the insurance sector.