News
NewMediaWire | Flagship Logistics and Supply Chain Event Attendees Will Develop a New Paradigm for Future-proofing Supply Chains: Diversification, Decarbonisation, Digitalisation
HONG KONG, –

(NewMediaWire) – November 6, 2023 – (ACN Newswire) – The Asian Logistics, Maritime and Aviation Conference (ALMAC) 2023, the annual flagship event for logistics and supply chain industry, jointly organised by the Hong Kong Trade Development Council (HKTDC) and Government of the Hong Kong Special Administrative Region (HKSAR), returns to the Hong Kong Convention and Exhibition Centre on 21 and 22 November. In his latest Policy Address, HKSAR Chief Executive John Lee proposed measures to strengthen Hong Kong's position as an international maritime centre and aviation hub.

This year's conference, themed Future-proofing Supply Chains: Diversification · Decarbonisation · Digitalisation, will focus on adopting diverse strategies to address global trade changes and uncertainties, promoting carbon reduction, facilitating sustainable development and globally showcasing Hong Kong's advantages. Digitalisation will also emerge as a key supply chain management trend and industry experts will share insights on accelerating business development through digital transformation.
Prominent industry leaders will gather at ALMAC, with representatives from industry giants such as CMA CGM, Dell, DHL, FedEx, UPS and JD Logistics.  They will share insights on five key thematic areas – 1) global trade outlook and supply chain trends, 2) supply chain diversification, 3) connectivity and collaboration driving trade development, 4) sustainability, and 5) innovation and technology.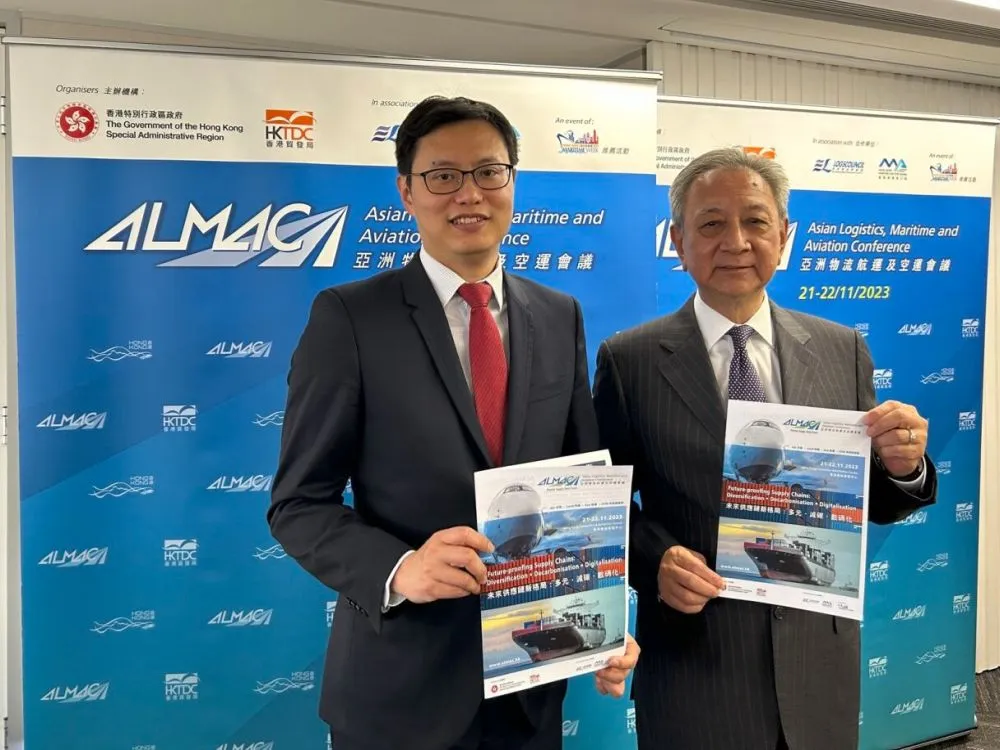 Dr Patrick Lau, Deputy Executive Director of the Hong Kong Trade Development Council (HKTDC), said: "With the Government's new Policy Address announcing a number of initiatives to promote Hong Kong's logistics industry by sea, land and air, and the launch of the Action Plan on Modern Logistics Development, the ALMAC is a timely event to help the industry explore new opportunities and develop co-operation.  This year's conference will be attended by a strong line-up of invited guests.  Fu Xuyin, Vice Minister of the Ministry of Transport of the People's Republic of China, will deliver a keynote address at the conference on the first day (21 November).  Many international giants in the logistics, shipping and air freight industries will discuss the latest hot topics and share their insights with the industry. Three new workshops will be staged, where industry practitioners will share practical tips on Environmental, Social and Governance (ESG), E-Commerce and Youth Empowerment to promote comprehensive development of the logistics industry."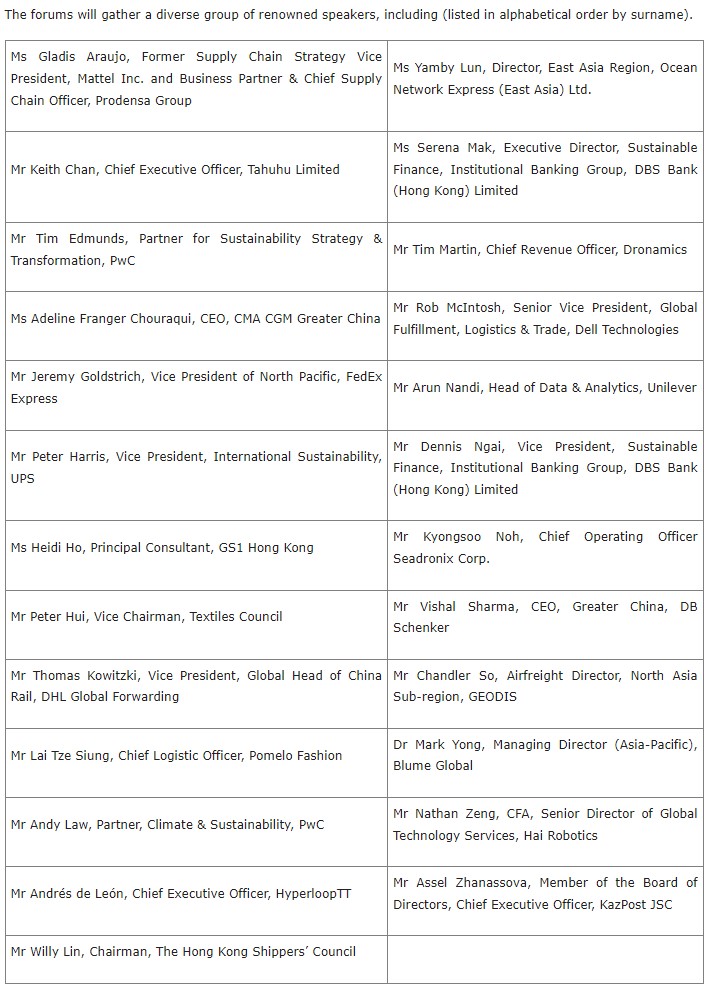 The Government's newly released Action Plan on Modern Logistics Development outlines five major directions for Hong Kong's logistics industry development – intelligence, modernisation, greening and sustainability, internationalisation and facilitation – with a view to realising long-term development of the industry and enhancing its competitiveness, helping companies grasp opportunities and enhance competitiveness and sustainable development.
Echoing the ALMAC 2023 theme, conference sessions will focus on business opportunities and development in these focal areas.
Driving business growth and strengthening regional collaboration
At the plenary session – Driving Global Economic Growth through Supply Chain Transformation – Rob McIntosh, Senior Vice President, Global Fulfillment, Logistics & Trade, Dell Technologies; Jeremy Goldstrich, Vice President of North Pacific Operations at FedEx; Gladis Araujo, Former Vice President of Global Supply Chain Strategy at Mattel and Business Partner & Chief Supply Chain Officer of Prodensa Group, and Phil Showering, Chief Supply Chain Officer at Ghassan Aboud Group and Chief Executive Officer at Gallega Global Logistics will discuss challenges and potential of global supply chains and how businesses can effectively drive growth and promote sustainable development through supply chain transformation and innovation in the current economic environment.
In the first Power Dialogue, Adeline Franger Chouraqui, CEO, CMA CGM Greater China; Thomas Kowitzki, Vice President, Global Head of China Rail, DHL Global Forwarding Vishal Sharma, CEO, Greater China, DB Schenker and Assel Zhanassova, Member of the Board of Directors, CEO, Kazpost will examine the strategies on leveraging regional trade and supply chain integration to seize the regional opportunities. The panelists will discuss the Regional Comprehensive Economic Partnership (RCEP) trade bloc, the Guangdong-Hong Kong-Macao Greater Bay Area (GBA), development of rail logistics and multimodal connectivity, and how to enhance logistics industry collaboration and connectivity in the region.
Promoting green logistics and carbon reduction strategies
Decarbonisation is a hot market topic and sustainable development is crucial for businesses to respond to global concerns and ensure long-term operational success.  In the Power Dialogue on the second day, Tim Edmunds, Partner for Sustainability Strategy & Transformation, PwC; Andrew Clennett, Co-founder and Chief Executive Officer, Hiringa Energy; David Benattar, Sustainability Lead, The Warehouse Group Limited; Peter Harris, Vice President, International Sustainability, UPS and Serena Mak, Executive Director, Sustainable Finance, Institutional Banking Group, DBS Bank (Hong Kong) Limited will explore challenges and opportunities in reducing supply chain carbon emissions, application of new energy and promoting a circular economy.
Digitalisation and technologies drive smart logistics development
Technological advances are rapidly transforming the logistics industry, fundamentally changing how businesses deploy logistics resources to digitally transform enterprises.  In the Logtech Forum, international technology company representatives such as Andrés de León, Chief Executive Officer, HyperloopTT; Tim Martin, Chief Revenue Officer, Dronamics; Kyongsoo Noh, Chief Operating Officer, Seadronix Corp; and Nathan Zeng, CFA, Senior Director of Global Technology Services, Hai Robotics will discuss revolutionary solutions and cutting-edge technologies driving the development of modern logistics and intelligent supply chains.  On the other hand, Arun Nandi, Head of Data & Analytics, Unilever, will share insights on applying generative AI to business processes and supply chain management, including demand forecasting, production, inventory management, warehouse operations and transport optimisation.  Understanding the potential of generative AI and how it can revolutionise modern supply chains will enable businesses to establish more efficient and flexible networks.
Shippers are important logistics industry stakeholders. Last year, shippers accounted for 35% of ALMAC participants and they are well-known brands from various industries such as fashion, sports, electronics, e-commerce and retail sectors. This year's Shippers' Forum will focus on E-commerce Logistics and Fulfillment. Lai Tze Siung, Chief Logistics Officer, Pomelo Fashion and MA Wei, General Manager of JD Logistics Express Business Hong Kong will discuss best practices in e-commerce logistics and distribution, including warehouse optimisation, last-mile delivery, supply chain traceability and visibility. These insights will help businesses streamline operations and maintain competitiveness in the sector.
Three new workshops provide practical tips and strategies
Three workshops will debut this year, providing practical tips and strategies for participants, covering regulatory developments, investment practices and practical techniques for measuring and reporting ESG and circular economy indicators; content strategies, marketing tactics, product distribution, user experience and customer service strategies in e-commerce; and youth empowerment to enhance relevant skills crucial for the industry.
ALMAC will also feature about 100 exhibitors, including the inaugural Logtech Salon showcasing robots, AI and data systems.  This exhibition aims to provide insights into technological developments and applications.
Members of the media wishing to interview speakers can email interview requests to molisalau@raconteur.hk or molisalau@raconteur.hk by 17 November 2023.  For the latest programme and speaker list, please visit: https://www.almac.hk/main/en/.
Photo download: https://bit.ly/40n0R1D
Media Enquiries
Please contact Impact Communications Company:
Molisa Lau, Tel: (852) 6187 7786, Email: molisalau@raconteur.hk
Betsy Tse, Tel: (852) 9a742 7338, Email: betsytse@raconteur.hk
HKTDC's Communications & Public Affairs Department:
Clayton Lauw, Tel: (852) 2584 4472, Email: clayton.y.lauw@hktdc.org
About HKTDC
The Hong Kong Trade Development Council (HKTDC) is a statutory body established in 1966 to promote, assist and develop Hong Kong's trade. With 50 offices globally, including 13 in Mainland China, the HKTDC promotes Hong Kong as a two-way global investment and business hub. The HKTDC organises international exhibitions, conferences and business missions to create business opportunities for companies, particularly small and medium-sized enterprises (SMEs), in the mainland and international markets. The HKTDC also provides up-to-date market insights and product information via research reports and digital news channels. For more information, please visit: www.hktdc.com/aboutus. Follow us on Twitter @hktdc and LinkedIn
View the original release on www.newmediawire.com