Featured
Nisun International: A Comprehensive Supply Chain Solutions Provider That Is Criminally Undervalued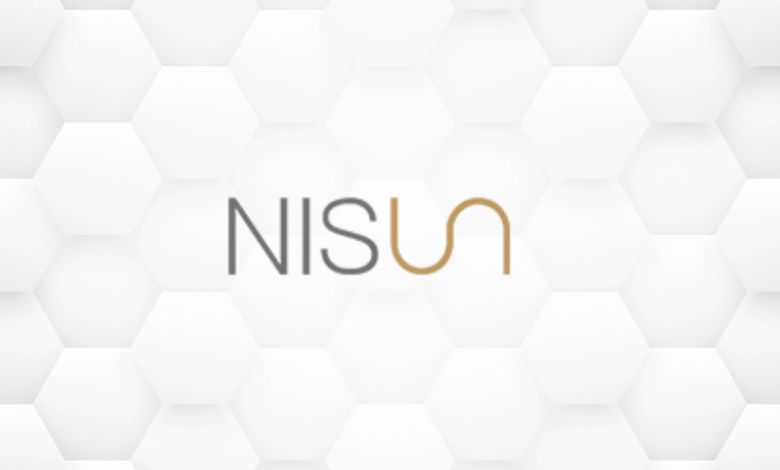 Many Nasdaq-listed Chinese stocks have been falling ever since the the Russian conflict with Ukraine given Beijings strong ties with Russia. The current interest rate hike by the Feds has not helped the situation much either. However, an opportunistic investor could see this as a wonderful scenario for bottom-fishing as there are plenty of fundamentally solid and fast-growing Chinese companies whose shares are available for dirt cheap valuations today. Our small-cap pick for the day is one such diversified supply chain management solutions provider that has quadrupled its revenues in a year and yet, continues to trade at a revenue multiple below 0.3 – Nisun International Enterprise Development Group Co., Ltd (NASDAQ:NISN).
Company Overview
Nisun International Enterprise Development Group is a conglomerate holding company that provides financing solutions as well as technology-driven integrated supply chain solutions to enterprises and financial institutions in the People's Republic of China and worldwide. The company provides professional solutions for technology supply chain management, asset routing, and digital transformation of technology and financial institutions. Through its closed-loop network built on fintech platforms, Nisun International also offers a range of technology-driven customized financing solutions to small and mid-sized enterprises (SMEs), as well as direct banking solutions to small and medium-sized commercial banks and other financial institutions in their distribution and management of direct banking and other financial products. The company has also formed strategic partnerships with Henan Wanbang International Agricultural Products Logistics Co., Ltd. and Yingkou Yongxiang Logistics Co., Ltd. to collaborate on agricultural-related businesses. The company was founded in 2005 and is headquartered in Shanghai.
Coal Supply Chain Operations
One of the key areas of operation for Nisun International is the coal supply chain industry which has a lot of room for growth and market opportunities. The company looks to strengthen and improve its management capabilities to enhance the coal supply chain's core value and credit quality, starting with current market conditions and industry-financed integration. For this reason, Fanlunke Supply Chain Management, a Nisun controlled affiliate, has collaborated with two leading companies, including Cangzhou China Railway Equipment Manufacturing Materials and Shanxi Guoxin Energy Corporation Shengda Coal, respectively. Nisun is using its core supply chain management capabilities to provide a variety of services to the coal supply chain's upstream and downstream enterprises, including transactional promotion, pricing analysis and determination, logistics guarantee, market guidance, payment settlement and financing. Moreover, they collaborated to develop supply chain services for the coal industry under the terms of this agreement.
Its collaboration partner, Cangzhou Railway has accumulated tremendous industry resources and information to help reduce operational enterprise costs and plays a key role in assisting Nisun in more efficiently supervising and controlling commerce, cargo, information, and capital flows as well as moving coal commodities and supply chain operational processes to improve management systems. Nisun's supply chain business capabilities in the coal sector will benefit greatly from this collaboration. Furthermore, Nisun and Shanxi will work together to improve and upgrade Shengda Coal's logistics and operational efficiency, leveraging Nisun's supply chain management capabilities and Shengda Coal's resources in the energy industry to optimize the supply chain services. Nisun and Shengda Coal collaborated to maximize financial gains. Also, Shengda Coal's large market share and peak shaving capabilities will allow Nisun to grow and expand its presence in the energy industry.
SME Financing Solutions
Nisun International offers SMEs in China technology-driven customized financing solutions systems to improve their financing channels and innovative solutions to unlock funding sources. Its three subsidiary companies, Vantec (Shanghai) Digital Technology Co., Ltd., Beijing Hengtai Pratt & Whitney Information Service Co., Ltd., and Shanghai Nami Financial Consulting Co., Ltd., are crucial to its SME financing solutions business. Underwriters and financial institutions can use Vantec's comprehensive financing solution services to help SME issuers issue debt securities on China's provincial and municipal financial asset exchanges or other designated markets, such as designing debt financial products and compiling products descriptions and other related consulting services. Beijing Hengtai Pratt & Whitney Information Service offers a comprehensive range of financing solutions, including due diligence, government registration, customer referral, investor education and maintenance, and other related services.
On the other hand, Shanghai Nami Financial Consulting connects SMEs with institutional and individual investors based on their financing needs. Nisun streamlines the supply chain finance process as a middleman and partner in procurement and distribution transactions, automates transaction payments and offers the best transaction terms to suppliers and buyers. In addition, the company offers cash flow solutions that assist businesses in releasing liquidity from their supply chains. Payment terms are ideal for suppliers because they can quickly obtain working capital at a lower cost. At the same time, their work with commodity buyers allows them to pay overtime, usually via a trade credit extension. Furthermore, the company's data processing and analytics capabilities assist industry players in optimizing transaction and financing decisions. It aids the development of small and medium-sized enterprises and other industry participants, reduces financing costs, and improves business efficiency, and is supported by cutting-edge technologies such as big data, AI, IoT, and blockchain.
Expansion Into The Agriculture Industry
Nisun aims to contribute to China's agricultural supply chain industry's digital transformation and modernization by participating in agricultural industry markets as a core business. The company also aspires to be a supporter, enabler, and leader of China's modern agricultural supply chain and industrial chain by collaborating with agricultural companies, benchmarking China's rural revitalization national strategy, and supporting agriculture, rural areas, and farmers. The management believes that the agricultural supply chain's business model will be reshaped as digital technology and agriculture merge. Nisun will investigate the logistics, capital flow, and information flow in the supply chain, leveraging the relationship between the core enterprise and the primary supply chain to increase credit capacity, prevent misinformation, and improve the industrial chain, assisting those with poor credit to obtain loans. The company also focuses on improving the domestic agricultural supply chain by closing gaps between production and sales and increasing efficiency. Moreover, they will continue to leverage their technological advantages to provide comprehensive coverage and dynamic circulation in the agricultural supply chain, as well as high-quality and effective supply chain management solutions to current and prospective clients.
The company announced that Fintech Supply Chain Management Co., Ltd, a subsidiary of Fintech Digital Technology Co., Ltd and a controlled affiliate of Nisun International, collaborated with two companies – Haikou Jinlvguo Fruit Production & Marketing Cooperative and Zhengzhou Changjiu Vegetables Co., Ltd respectively. At first, they signed a supply chain cooperative agreement with Haikou Jinlvguo Fruit Production & Marketing Cooperative, a professional cooperative economic organization for farmers operating under the Qiongshan City Supply and Marketing Cooperative Association. According to the agreement, Nisun will help Haikou connect with reliable sales channels upstream of the supply chain, increasing Jinlvguo's sales volume and market share. Nisun will use its digital technologies to integrate modern logistics and financial technology into the agricultural supply chain as part of this collaboration. As a result, Nisun will act as a link between core businesses and the market, assisting in developing a comprehensive platform in the agricultural supply chain for sharing upstream and downstream data on product-market supply and demand, transactions, prices, and other data. After that, they collaborated with Zhengzhou Changjiu Vegetables Co., Ltd. to provide Changjiu with meat, vegetable, and fruit product procurement and other services, allowing the company to expand its scale while improving quality and efficiency. The annual transaction volume under the agreement is expected to be 12,000 tonnes. Later, the company also acquired a majority equity interest in Youjiatian, an agricultural supply chain management firm. There is little doubt that Nisun sees a lot of growth in the agriculture supply chain domain.
Final Thoughts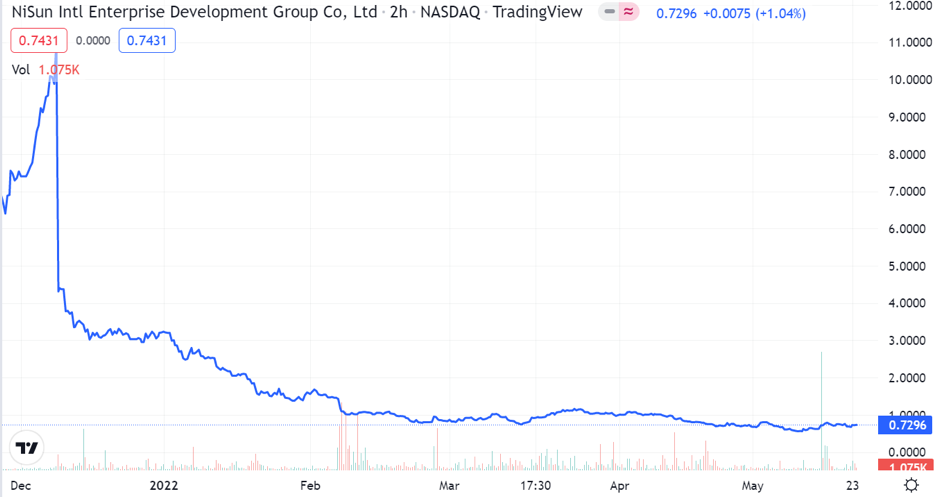 As we can see in the above chart, Nisun's stock has taken a beating like many high-growth stocks after the interest rate hike coupled with the selloff of Chinese stocks. The company is currently trading at a price-to-sales ratio that is ridiculously low at barely 0.24. This price crash does not reflect one of the glaring realities of Nisun International – the fact that the company's turnover QUADRUPLED in the past year from $42.19 million in 2020 to over $160 million in 2021. It is also worth mentioning that the company's supply chain offerings go far beyond coal and agriculture and also extend to the fast-growing e-commerce industry. The company continues to explore new ways to optimize transportation structures to reduce enterprise logistics costs and promote the development of the entire domestic trade container logistics industry. Overall, we believe that there is immense upside potential in Nisun International and we believe that the stock has multi-bagger potential in the long run for small-cap investors.
Disclaimer
This website is a wholly owned subsidiary of Salesparq, LLC, herein referred to as Salesparq, LLC. Our publications are a commercial advertisement and are for general information purposes ONLY. We are engaged in the business of marketing and advertising companies for monetary compensation. We may receive compensation for this article on a PPC basis as an affiliate. Never invest in any stock featured on our site or emails unless you can afford to lose your entire investment. The disclaimer is to be read and fully understood before using our services, joining our site or our email/blog list as well as any social networking platforms we may use.PLEASE NOTE WELL: Salesparq, LLC and its employees are not a Registered Investment Advisor, Broker Dealer or a member of any association for other research providers in any jurisdiction whatsoever.Release of Liability: Through use of this website viewing or using you agree to hold Salesparq, LLC, its operators owners and employees harmless and to completely release them from any and all liability due to any and all loss (monetary or otherwise), damage (monetary or otherwise), or injury (monetary or otherwise) that you may incur. The information contained herein is based on sources which we believe to be reliable but is not guaranteed by us as being accurate and does not purport to be a complete statement or summary of the available data. Salesparq, LLC encourages readers and investors to supplement the information in these reports with independent research and other professional advice. All information on featured companies is provided by the companies profiled, or is available from public sources and Salesparq, LLC makes no representations, warranties or guarantees as to the accuracy or completeness of the disclosure by the profiled companies. None of the materials or advertisements herein constitute offers or solicitations to purchase or sell securities of the companies profiled herein and any decision to invest in any such company or other financial decisions should not be made based upon the information provided herein. Instead Salesparq, LLC strongly urges you conduct a complete and independent investigation of the respective companies and consideration of all pertinent risks. Readers are advised to review SEC periodic reports: Forms 10-Q, 10K, Form 8-K, insider reports, Forms 3, 4, 5 Schedule 13D. Salesparq, LLC is compliant with the Can Spam Act of 2003. Salesparq, LLC does not offer such advice or analysis, and Salesparq, LLC further urges you to consult your own independent tax, business, financial and investment advisors. Investing in micro-cap and growth securities is highly speculative and carries and extremely high degree of risk. It is possible that an investors investment may be lost or impaired due to the speculative nature of the companies profiled. The Private Securities Litigation Reform Act of 1995 provides investors a safe harbor in regard to forward-looking statements. Any statements that express or involve discussions with respect to predictions, expectations, beliefs, plans, projections, objectives, goals, assumptions or future events or performance are not statements of historical fact may be forward looking statements. Forward looking statements are based on expectations, estimates, and projections at the time the statements are made that involve a number of risks and uncertainties which could cause actual results or events to differ materially from those presently anticipated. Forward looking statements in this action may be identified through use of words such as projects, foresee, expects, will, anticipates, estimates, believes, understands, or that by statements indicating certain actions & quote; may, could, or might occur. Understand there is no guarantee past performance will be indicative of future results.In preparing this publication, Salesparq, LLC has relied upon information supplied by its customers, publicly available information and press releases which it believes to be reliable; however, such reliability cannot be guaranteed. Investors should not rely on the information contained in this website. Rather, investors should use the information contained in this website as a starting point for doing additional independent research on the featured companies. Salesparq, LLC has not been compensated for this article. The advertisements in this website are believed to be reliable, however, Salesparq, LLC and its owners, affiliates, subsidiaries, officers, directors, representatives and agents disclaim any liability as to the completeness or accuracy of the information contained in any advertisement and for any omissions of materials facts from such advertisement. Salesparq, LLC is not responsible for any claims made by the companies advertised herein, nor is Salesparq, LLC responsible for any other promotional firm, its program or its structure. Salesparq, LLC is not affiliated with any exchange, electronic quotation system, the Securities Exchange Commission or FINRA.