Featured
Market Movers
Nuvve Holding Corp: V2G Technology Player Could Become Your Portfolio's Green Powerhouse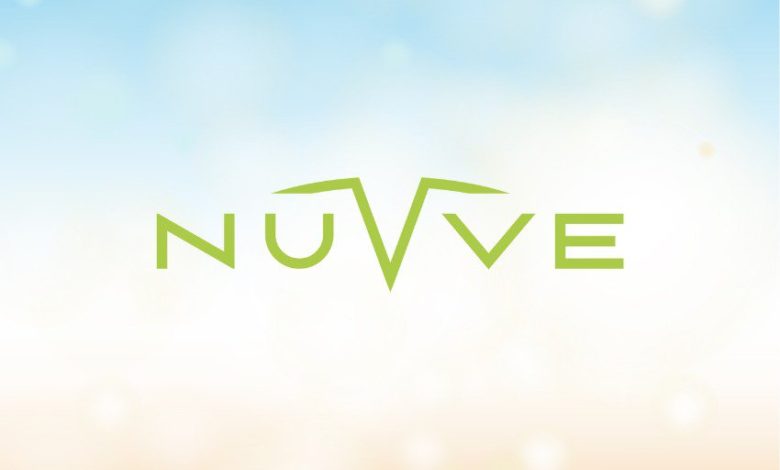 As vehicle electrification continues to accelerate across the automotive industry, companies that capitalize upon the new challenges of our electric automotive future represent a significant value creation opportunity for investors. One company, Nuvve Holding Corp (NASDAQ: NVVE), stands out as a leader in the eco-conscious investment space, driving the future of transportation with its trailblazing vehicle-to-grid technology.
V2G technology, which enables electric vehicles (EVs) to draw and feed-back electricity from and into the grid, is not just about charging and driving EVs, but turning them into contributors to our energy ecosystem. As a leader in this rapidly evolving space, Nuvve's focus goes beyond participation in the green market – their mission is to reshape the EV charging landscape. The company's innovative platform not only boosts the usage of EVs, but also presents EVs as key contributors to energy systems. Let's have a closer look at this fast-growing software company and evaluate its strong potential as an investment opportunity for readers at SmallCaps Daily.
Nuvve – Business Overview
Nuvve's revolutionary V2G technology has gained attention in several key markets including the United States, United Kingdom, Denmark and Japan, where the company has quickly become a leader at the forefront of energy innovation amid rapidly accelerating vehicle electrification.
At the core of Nuvve's offerings is the proprietary Grid Integrated Vehicle (GIVe) software platform. GIVe's innovative technology transforms electric vehicle batteries into dual-purpose assets—energy-storing reservoirs that feed unused electricity back to the grid and combine to form a virtual power plant (VPP). This network acts as a shared energy resource, selling that extra stored energy in batteries to utilities and lowering peak energy demand in buildings. Nuvve's technology works with EV batteries and can also be applied to stationary batteries. One of Nuvve's strategic goals is to apply its software technology in such a way that it ensures energy cost equity for those who need it, and an attractive business case for those who demand it. With its smart battery aggregation, Nuvve is pushing technology boundaries, offering cost savings and environmental benefits, and reshaping the energy landscape one step at a time.
What Sets Nuvve Apart:
Nuvve distinguishes itself as a software-centric company, not requiring significant capital expenditures and avoiding the extensive capital investment associated with many other green tech firms that must manufacture charging stations and vehicles.
Nuvve finds itself in the category of companies associated with SPACs featuring high capital expenditures, substantial debt, and unsustainable business models. DesNuvve's V2G Technology has gone through the highs and lows of expectations on the Technology Hype Curve and is now ready to move into the next phase, the Slope of Enlightenment. This is where the combination of Nuvve's advanced V2G Technology and a strong business case positions it for scalable success.pite facing significant short interest, Nuvve's limited float shares and compelling fundamental growth position it for a potential short squeeze as it demonstrates strong fundamental growth and sustainable operations.
V2G Technology: Revolutionizing EV Energy Management
Nuvve's innovative GIVe software platform bridges the gap between electric vehicles and the power grid through V2G technology.
So – what exactly is V2G?
V2G allows electric vehicles to act as distributed energy resources (DERs) by letting them both charge and release energy from their batteries.
The stored energy in EV batteries can then be used to increase grid capacity and provide essential services that enhance grid stability and prevent power outages.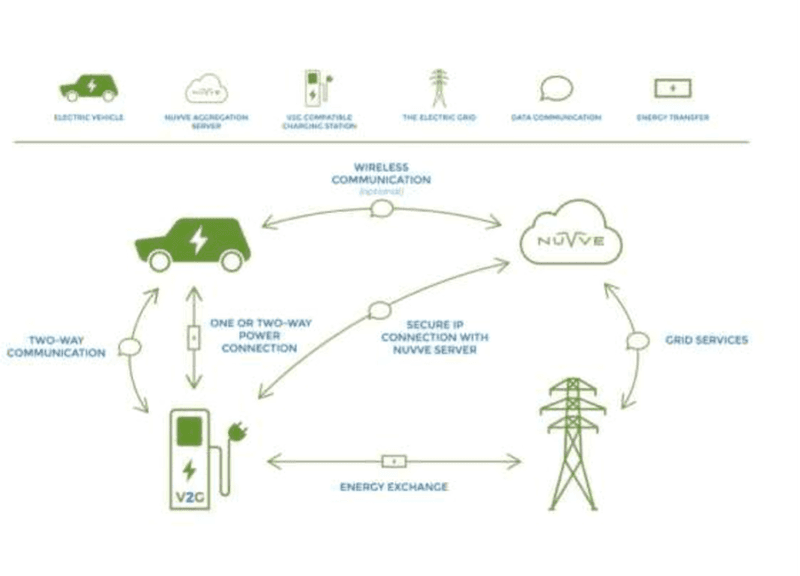 Nuvve's software platform is a key part of making V2G technology work well and be economically attractive for users, by:
· Enhancing grid stability and serving as a vital link in connecting the broader energy ecosystem;
· Supporting the adoption of EVs, making them more accessible to the public; and
· Contributing to lowering the overall cost of EV ownership, making clean transportation more affordable and attractive.
Nuvve's Strategic Path Forward
Nuvve's market strategy is rooted in three key tenets:
Selling directly to customers;
Partnering with other companies around the world; and
Ensuring its V2G tech is applied in such a way that customers make and save money.
Nuvve's V2G Technology Business Case is Powerful
Nuvve generates revenue through three primary channels: Fleet-as-a-Service, charging station hardware sales, and grid services revenue. Fleet-as-a-Service offers a comprehensive electrification solution for a recurring monthly fee, while charging station hardware sales are comprised of white-labeled and proprietary equipment integrated with Nuvve's software. Additionally, Nuvve earns recurring revenue from grid services agreements with customers and utilities, allowing them to participate in energy market optimization.
Case Study: Nuvve K-12
Nuvve is progressing the integration of its software technology with a wide range of vehicles that run on electricity, from light to heavy-duty fleet – including school buses. Nuvve's dedicated "Nuvve K-12" business offers charging services for V2G school buses. For school districts looking to electrify their fleets, Nuvve K-12 is the "Easy Button" – it provides a complete V2G fleet solution, including grant facilitation, project management, chargers, installation, negotiations with utilities, financing options and most importantly incremental revenues and cost savings only available for Nuvve customers through its proprietary V2G enabling platform. Since launching this program in [TIMEFRAME], Nuvve has already partnered with nearly 100 school districts and completing over 400 school bus charging station installations.
Each of Nuvve's DC Fast Chargers has 60KW to 125KW, allowing Nuvve to quickly move megawatts of power back into the grid. In fact, merely 50 "class 8" electric school buses when aggregated into a VPP with Nuvve's GIVe Platform are the equivalent of one Empire State Building in terms of energy capacity – or the number of megawatts needed to power the Empire State Building (approximately 9MW). Many school bus fleets comprise hundreds or thousands of buses – Nuvve's "edge" is its ability to:
· Aggregate these buses into a VPP;
· Harness all this potential electric capacity with Nuvve's GIVe Platform to quickly respond to the grid's complex needs;
· Simultaneously ensure the buses are ready for their intended use as transportation assets; and
· Enable significant cost savings to Nuvve's customers.
Additional Growth Opportunities
Nuvve's software technology can also be applied to the fast growth stationery storage sector, which is accelerating across the globe. Today, Nuvve has stationery battery customers in North America, Europe and Japan.
Nuvve's integration of AI-assisted charge management, Astrea AI, enables its FleetBox Charge Management App to reduce charging costs and enhance customer experience by optimizing trip planning and scheduling predictions.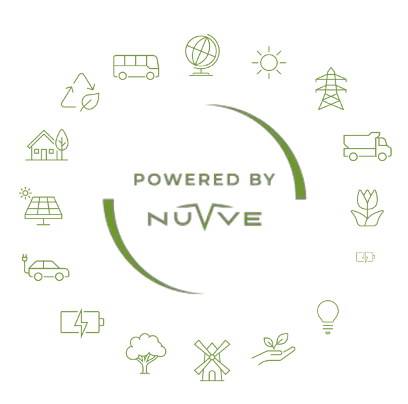 R&D Excellence and IP Dominance
Nuvve's unique strengths make it an attractive investment opportunity for investors. With a first mover advantage in the V2G sector, essential patents, and over 25 years of R&D experience, Nuvve has an unmatched foundation for innovation. The company's qualifications with multiple Transmission System Operators (TSOs) worldwide pave the way for further expansion and enhance the company's credibility in the industry.
Nuvve's patent portfolio was developed starting in 1996 by an academic unit at the University of Delaware – so even before Nuvve's formation in 2010, the company's technology received over a decade of development and tens of millions of dollars in project funding. Nuvve now owns all of UD's original V2G patents and has made significant strides in growing its portfolio. Between 2011 and 2017, the company was issued four core V2G patents in the U.S., with numerous U.S. patent applications currently pending. Outside the U.S., Nuvve has been issued an additional ten V2G patents – one of which was just issued for "Vehicle-to-Vehicle" applications. In the world of V2G patents, Nuvve's V2G patents stand alone in what they represent: Nuvve's intellectual property ("IP") combines thoughtful portfolio design with claims that are broad from every critical perspective: the charging station, the EV, the aggregation platform, and the grid. Principal unique features of these patents are aggregation, bi-directionality, and grid services.
Nuvve's extensive data and AI capabilities enable the company to make agile, well-informed decisions for future developments. With over a decade of experience in energy markets and collaborations with various prestigious industry players, Nuvve offers valuable insights. The company's financing options, including 100% financing through their joint venture Levo, which has $750 million in committed capital, provide financial strength for their growth and innovation efforts.
Key Milestones and Financial Achievements
Nuvve's total revenue recorded impressive growth, surging by 390% to reach $2.7 million in the third quarter of 2023 compared to $0.6 million in the same period of 2022. This revenue growth was driven by significant increases in both hardware sales and grid service revenues. Also, most recently in October of this year, Nuvve achieved a record number of charging stations deployments for a single month, providing charging services for an additional 38 electric school buses (or 1.42 megawatts of added capacity). This success followed its best-ever second quarter of 2023, indicating a strong and growing demand for their its DC Fast Chargers and GIVe Platform solutions.
Nuvve's financial health and operational efficiency have shown positive fundamental change as it successfully reduced its cash operating costs (excluding cost of sales) by more than $2.1 million to $22.1 million for the nine months ended September 30, 2023 compared to the same period last year. The company has also announced that is sees further improvements in operational efficiency in 2024, with cash operating costs (excluding costs of sales) coming down to $5m or lower per quarter, which represents a 32% reduction.
The increase in Nuvve's backlog to $5.6 million as of September 30, 2023, is impressive, compared to $4.2 million from the year ago period, demonstrating the strong and ongoing demand for Nuvve's products and services.
Nuvve is also differentiated from other green tech companies that have had trouble in the public markets based on two key aspects of its financials. First, as a software company, Nuvve has much smaller capital expenditure requirements than other players in the EV space that have been unable to meet the significant burdens of their high CapEx requirements. Secondly, Nuvve has no debt – ensuring it is operating from a position of financial strength without overhang.
Growth Potential and Market Opportunities
We have witnessed explosive growth in the electric vehicle segment and it shows few signs of abating, with approximately 550 million EVs expected to be on the road by 2040. This trend, if sustained, would lead to EVs representing over two-thirds of passenger vehicle sales globally by the same year. As EV adoption increases, it is projected that EVs will account for about 10% of total electricity demand in the United States and Europe by 2040. According to a report by Allied Market Research, the global market size for V2G is projected to hit $147.58 billion by 2032. [LJ1] This anticipated V2G market size surge reflects the reality that today's electric grid is not designed to handle the addition of so many EVs. A V2G Technology solution is vital to intelligently integrate electric vehicles with the grid. V2G is not only important but necessary to address the grid-related challenges that arise with the rapid expansion of EVs.
Nuvve's business is on an upward trajectory. Its strategic alignment with the $1.2 trillion Bipartisan Infrastructure Bill, which allocates $7.5 billion for electric vehicle chargers and $2.5 billion for electric buses, has the potential to further boost the company's financial prospects. Nuvve has already assisted 10 school districts secure a total of 61 EPA Clean School Bus Rebates amounting to $24.2 million. From this sum, $1.1 million has been allocated specifically for electric vehicle supply equipment (EVSE). The Inflation Reduction Act, which represents a $369 billion investment in clean energy over 10 years, offers the potential for financial gains through commercial EV credits, charging infrastructure tax credits, and funding for transportation electrification programs. These financial opportunities could strengthen Nuvve's position in the clean energy and sustainable transportation markets.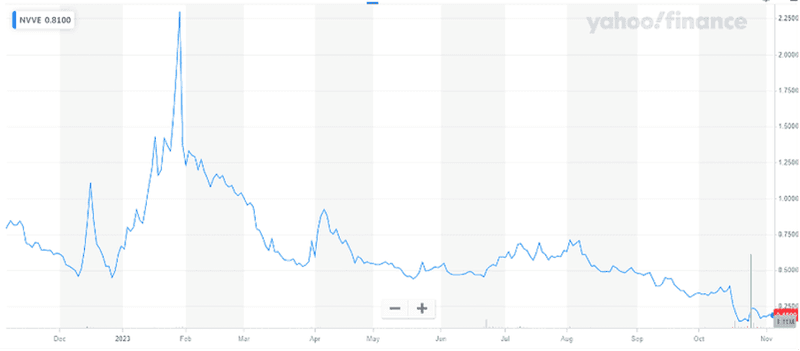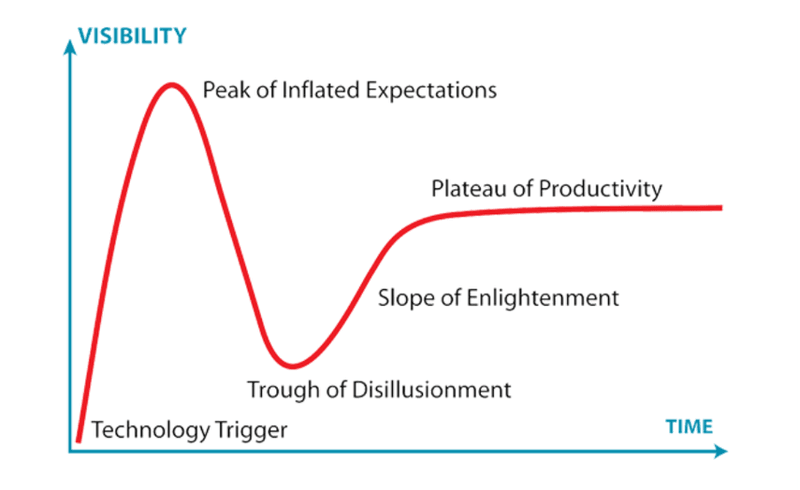 Final Thoughts
In the booming landscape of electric vehicles and stationery storage, Nuvve Holding Corp (NASDAQ: NVVE) emerges as a compelling investment opportunity for readers at SmallCaps Daily. With its patented technology and GIVe software platform, Nuvve stands out in the V2G sector for its innovative, one of a kind approach. It goes beyond typical EV charge management and is already admired (if not envied) globally for its grid-supportive technology, proven by extensive testing from international operators. Nuvve differentiates itself from others in the space with strategic advantages such as a defensible IP portfolio, inventive fleet management, and a top-tier VPP system. Rather than simply keeping up with the industry, Nuvve is asserting its leadership position and actively shaping the future of sustainable transportation.
Nuvve's V2G Technology has gone through the highs and lows of expectations on the Technology Hype Curve and is now ready to move into the next phase, the Slope of Enlightenment. This is where the combination of Nuvve's advanced V2G Technology and a strong business case positions it for scalable success.
Nuvve has quietly established its leadership position through true innovation in a field largely dominated by major players and aspirant followers. For investors, this represents an exciting opportunity to capitalize on the significant value creation potential of a proven leader in the lucrative field of green technology innovation.
Disclaimer
This website is a wholly owned subsidiary of SCD Media, LLC, herein referred to as Smallcaps Daily. Our publications are a commercial advertisement and are for general information purposes ONLY. We are engaged in the business of marketing and advertising companies for monetary compensation. We may receive compensation for this article on a PPC basis as an affiliate. Never invest in any stock featured on our site or emails unless you can afford to lose your entire investment. The disclaimer is to be read and fully understood before using our services, joining our site or our email/blog list as well as any social networking platforms we may use. PLEASE NOTE WELL: Smallcaps Daily and its employees are not a Registered Investment Advisor, Broker Dealer or a member of any association for other research providers in any jurisdiction whatsoever.Release of Liability: Through use of this website viewing or using you agree to hold Smallcaps Daily, its operators owners and employees harmless and to completely release them from any and all liability due to any and all loss (monetary or otherwise), damage (monetary or otherwise), or injury (monetary or otherwise) that you may incur. The information contained herein is based on sources which we believe to be reliable but is not guaranteed by us as being accurate and does not purport to be a complete statement or summary of the available data. Smallcaps Daily encourages readers and investors to supplement the information in these reports with independent research and other professional advice. All information on featured companies is provided by the companies profiled, or is available from public sources and Smallcaps Daily makes no representations, warranties or guarantees as to the accuracy or completeness of the disclosure by the profiled companies. None of the materials or advertisements herein constitute offers or solicitations to purchase or sell securities of the companies profiled herein and any decision to invest in any such company or other financial decisions should not be made based upon the information provided herein. Instead Smallcaps Daily strongly urges you conduct a complete and independent investigation of the respective companies and consideration of all pertinent risks. Readers are advised to review SEC periodic reports: Forms 10-Q, 10K, Form 8-K, insider reports, Forms 3, 4, 5 Schedule 13D. Smallcaps Daily is compliant with the Can Spam Act of 2003. Salesparq, LLC does not offer such advice or analysis, and Smallcaps Daily further urges you to consult your own independent tax, business, financial and investment advisors. Investing in micro-cap and growth securities is highly speculative and carries and extremely high degree of risk. It is possible that an investors investment may be lost or impaired due to the speculative nature of the companies profiled. The Private Securities Litigation Reform Act of 1995 provides investors a safe harbor in regard to forward-looking statements. Any statements that express or involve discussions with respect to predictions, expectations, beliefs, plans, projections, objectives, goals, assumptions or future events or performance are not statements of historical fact may be forward looking statements. Forward looking statements are based on expectations, estimates, and projections at the time the statements are made that involve a number of risks and uncertainties which could cause actual results or events to differ materially from those presently anticipated. Forward looking statements in this action may be identified through use of words such as projects, foresee, expects, will, anticipates, estimates, believes, understands, or that by statements indicating certain actions & quote; may, could, or might occur. Understand there is no guarantee past performance will be indicative of future results.In preparing this publication, Smallcaps Daily, has relied upon information supplied by its customers, publicly available information and press releases which it believes to be reliable; however, such reliability cannot be guaranteed. Investors should not rely on the information contained in this website. Rather, investors should use the information contained in this website as a starting point for doing additional independent research on the featured companies. Smallcaps Daily has not been compensated for this article. The advertisements in this website are believed to be reliable, however, Smallcaps Daily and its owners, affiliates, subsidiaries, officers, directors, representatives and agents disclaim any liability as to the completeness or accuracy of the information contained in any advertisement and for any omissions of materials facts from such advertisement. Smallcaps Daily is not responsible for any claims made by the companies advertised herein, nor is Smallcaps Daily responsible for any other promotional firm, its program or its structure. Smallcaps Daily is not affiliated with any exchange, electronic quotation system, the Securities Exchange Commission or FINRA.