Breaking
PFSweb: The Luxury Logistics Gem That Could Be A Game-Changer For GXO Logistics!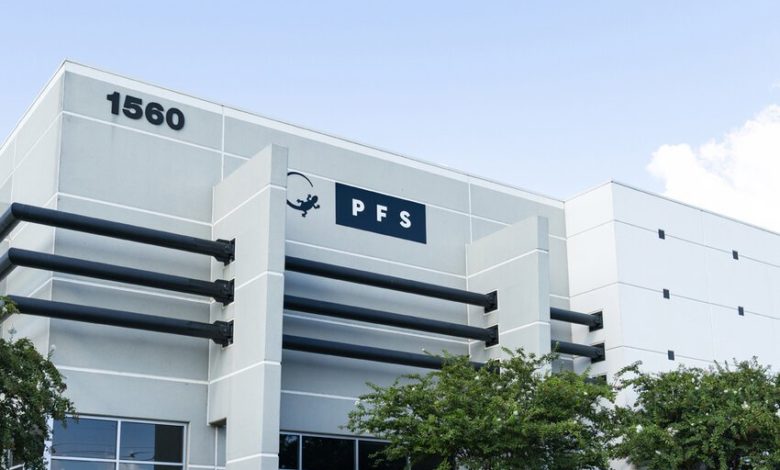 In the ever-evolving landscape of investment opportunities, M&A is one very important event that presents strong opportunities for investors. Identifying and investing in companies that are acquisition-worthy can often end up generating multi-bagger returns especially if the investment is in the small-cap domain. It is not always easy to identify such companies which is why a post-mortem analysis of M&A deals helps get a good perspective on what to look for, while filtering out stocks. GXO Logistics' (NYSE:GXO) recent acquisition of PFSweb (NASDAQ:PFSW) is a good case study that could give valuable insights into the mindset of the average acquirer. The acquisition of PFSweb by GXO Logistics is a strategic move marking its entry into the world of U.S. luxury brands, has brought PFSW into the spotlight. But, what makes PFSweb an acquisition-worthy proposition for GXO and could it have been identified by retail investors prior to the acquisition? Let us find out!
What Does PFSweb Do?
PFSweb, Inc. and its subsidiary companies operate as a comprehensive omni-channel commerce solutions provider, serving markets spanning the United States, Belgium, the United Kingdom, Canada, and India. The company's extensive array of services encompasses the entire order-to-cash cycle, encompassing distributed order orchestration and payment processing, efficient order fulfillment processes, and a dedicated contact center facility. The contact center services focus on delivering essential customer support functions, including order entry, returns authorization, product inquiries, and order tracking. Additionally, the company employs the iCommerce Agent application, enabling agents to perform various customer service tasks, such as order placement, order status inquiries, return management, upselling and cross-selling initiatives, issue escalations, and the collection of valuable customer feedback. PFSweb caters to a diverse client base spanning numerous industries, including health, skincare, fragrance, beauty products, cosmetics, fashion apparel, accessories, luxury goods, consumer packaged goods, collectible items, jewelry, housewares, computer and office products, among others.
Recent Financial Performance
In the first half of 2023, PFSweb, Inc. continued its growth trajectory with a focus on expanding its fulfillment platform and capitalizing on a strong sales pipeline. The company achieved a notable milestone by recording a 7% year-over-year increase in service fee revenue in the last quarter, signaling steady progress. Moreover, the service fee gross margin demonstrated improvement both sequentially and year-over-year, underlining the company's commitment to operational excellence.
From a sales perspective, the second quarter marked a historic moment for PFSweb, as it boasted the highest new bookings in its history. This achievement was propelled by new order fulfillment contracts and a growing portfolio of transportation management services. Notably, despite successfully converting sales opportunities into signed contracts during Q2, the company maintains a robust sales pipeline for the remainder of the year.
The second quarter's sales and demand patterns were primarily driven by the health and beauty sector, with additional traction gained from apparel and jewelry. Looking ahead, the company remains confident in the strength of its pipeline as it enters the second half of the year. Expectations of a strong Q3 are fueled by the anticipated closure of several incremental deals in time for the holiday peak season.
Other Green Flags Associated With PFSweb
PFSweb's resilience is particularly evident in its fulfillment activities among current clients and the consistent demand it addresses in its sales pipeline. The company's reputation as a trusted service provider for premier and luxury brands across core verticals is a key driver of this success. The ability to secure high-quality references from both current and former clients further bolsters its sales pipeline. In addition to robust growth, PFSweb has also been diligent in optimizing its operational and cost efficiencies. The restructuring efforts initiated earlier in the year have continued to yield positive results. This progress is complemented by the company's commitment to maintaining a healthy level of operating liquidity.
Final Thoughts – Why The High Premium For Acquiring PFSweb?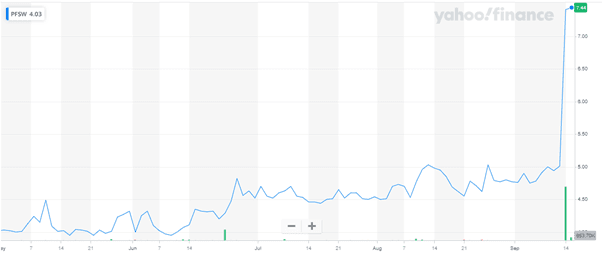 Source: Yahoo Finance
We see the big spike in PFSweb's stock price after the acquisition was announced. Antitrust concerns surrounding the $7.50 per share acquisition of PFSweb seem minimal, given the relatively smaller size of the business and the fragmented nature of the U.S. market. One might wonder what would be the reason for such a large premium paid by the acquirer. The answer lies in PFSweb's specialization in serving some of the most iconic luxury brands globally, primarily in the domains of beauty, jewelry, and collectibles. These brands include names like L'Oreal, Pandora, Shiseido, and Kendra Scott, making PFSweb a pivotal player in the luxury e-commerce supply chain.
However, from the standpoint of a market participant/ any standard retail investor, it was hard to pick out PFSweb especially given its slowing revenue growth trajectory and its negative operating margins with limited scope for recovery. A strategic acquisition was the only way this company could have generated any kind of return and that is exactly what happened.
GXO Logistics' assessment of PFSweb as a "jewel" acquired at an opportune valuation hints at the strategic significance of this purchase. As supply chains and logistics slowly recover from the disruptions caused by the COVID-19 pandemic, PFSweb is poised to benefit from the growing demand for efficient and timely product delivery and this could catalyze GXO's growth.