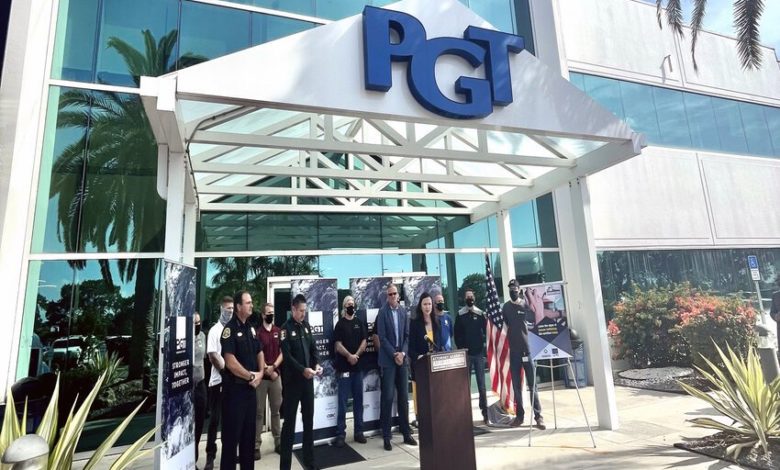 In a high-stakes corporate standoff that has the financial world buzzing, PGT Innovations, Inc. (NYSE:PGTI), a leading player in the door and window manufacturing industry, has made headlines by rejecting a jaw-dropping $1.9 billion takeover bid from Miter Brands, a direct competitor with the backing of industry giant Koch Industries. The repercussions of this bold move have reverberated through the market, sending PGT Innocations' stock soaring by an impressive 11% in after-hours trading. The dramatic twist in this unfolding saga occurred when PGT Innovations' board unanimously dismissed Miter's fully-financed offer of $33 per share, deeming it insufficient, according to sources cited by Reuters. Notably, this rejected bid represented a significant 26% premium over PGTI's closing price on the preceding Friday, accentuating the company's perceived value. It is being reported Miter Brands is reportedly contemplating a counteroffer of $36 per share, a move that could reshape the future of PGT Innovations. However, the uncertainty looms large, with no confirmation yet on whether Miter will persist in its pursuit of the door and window manufacturing giant. Let us have a closer look at PGT Innovations' operations and try to understand why the company is such a lucrative acquisition target.
What Does PGT Innovations Do?
PGT Innovations, Inc., and its subsidiary companies are renowned for their manufacturing and distribution of impact-resistant windows and doors, serving both domestic and international markets. The company specializes in crafting heavy-duty aluminum and vinyl frame windows, complete with laminated glass, designed to offer unparalleled protection against hurricane-force winds and wind-borne debris. Their product portfolio extends to non-impact resistant vinyl windows, equipped with insulating glass and multi-chambered frames, tailored to suit various climate zones. Furthermore, PGT Innovations provides customizable non-impact-resistant aluminum frame windows and doors, as well as non-glass vertical and horizontal sliding panels for porch enclosures, including vinyl-glazed aluminum-framed solutions ideal for sheltering screened-in porches from adverse weather conditions. Their comprehensive range also encompasses premium aluminum impact-resistant products, energy-efficient vinyl impact-resistant windows, commercial storefront window systems, entry doors, sliding glass doors, terrace doors, fixed windows, and various other architectural solutions. These products are marketed under well-known brand names such as PGT, CGI, WinDoor, Western Window Systems, NewSouth, Eco Window Systems, CGI Commercial, Anlin, and Martin. PGT Innovations primarily serves a broad customer base, including window distributors, building supply distributors, window replacement dealers, enclosure contractors, and garage door installation dealers.
Why Is PGT Innovations An Attractive Acquisition Target?
PGT Innovations has strategically positioned itself for growth. The consistent threat of hurricanes and tropical storms in regions served by PGT Innovations underscores the vital role of its products. This niche market, driven by natural disaster preparedness, provides a stable foundation for the company's future growth. Moreover, its growth prospects are further fueled by expanding markets. The demand for impact-resistant glass, a core product for the company, is projected to grow at a robust rate of 9.1% annually, reaching $31.3 billion by 2028. Simultaneously, the global window and doors market is expected to grow by 4.4% annually, reaching over $290 billion by 2028, driven by increased construction activities and renovations. Recent acquisitions, such as Martin Door Holdings, and the establishment of new showrooms in Texas indicate a proactive approach to expansion. Additionally, partnerships with industry leaders like Corning for Diamond Glass and the development of innovative products like thin triple insulated glass units signal a commitment to staying at the forefront of the market. This is the reason why the company is a particularly pertinent acquisition target for competitors like Miter Brands.
Market Recovery & Residential Trends
One major driver that will significantly impact PGT Innovations' stock in the coming years is the recovery of the housing market and prevailing residential trends. Despite economic uncertainty, the company managed to achieve sequential revenue growth of 2% in the second quarter, primarily driven by a 6% increase in the repair and remodeling (R&R) channels. The housing market, buoyed by new home construction activity, helped offset the challenges posed by the lock-in effect on existing home sales. As homeowners opt to stay in their homes longer due to lower fixed-rate mortgages, there is a positive impact on both R&R and new construction activities. Furthermore, with an increasing age of homes and high home equity levels, homeowners are more inclined to undertake long-term remodeling projects, driving demand for PGT Innovations' products. In the long term, demographic trends, including a growing adult population and substantial housing demand, are expected to support growth in new construction and R&R markets, providing a stable foundation for the company's continued expansion.
Acquisitions & Product Portfolio Diversification
PGT Innovations' strategic focus on acquisitions and the diversification of its product portfolio is remarkable. The recent acquisition of the remaining 25% ownership in ECO Enterprises LLC showcases the company's commitment to expansion and strengthening its supply chain. This acquisition has allowed PGT Innovations to leverage the glass capabilities of ECO to enhance its other brands. Additionally, the acquisition of Martin Garage Doors in 2022 has delivered strong sequential growth, with plans to capitalize on sales synergies across the Western region and NewSouth locations. PGT Innovations' dedication to introducing new products, such as the Western Series 7600 multi-slide door and Diamond Glass, positions the company to diversify its offerings and cater to evolving customer needs. These strategic moves enable PGT Innovations to maintain a balanced portfolio of growth in both new construction and R&R channels.
Operational Efficiency &Innovation
PGT Innovations' operational efficiency and innovation is a key growth driver for the company. The company's ability to maintain strong profitability, even in uncertain economic conditions, underscores its focus on controlling costs and delivering value to customers. Operational efficiencies and pricing actions have offset material and wage inflation, contributing to high margin performance. This innovative glass technology offers improved performance without increasing costs for customers. Furthermore, PGT Innovations plans to deliver its Thin triple insulated glass units to other window and door manufacturers in early 2024, catering to the demands of builders and customers. These initiatives in operational efficiency and innovation position the company for sustained growth and profitability in the years to come.
Final Thoughts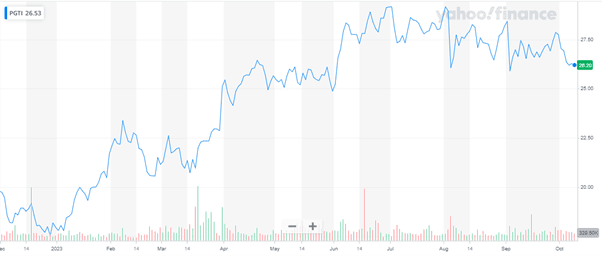 Source: Yahoo Finance
We can see PGT Innovations' stock price witnessing an upward trajectory over the past few months. Despite the recent spike, its valuation multiples are on the lower side. PGT Innovations is trading at an EV/ Revenue multiple of 1.36x and an EV/ EBITDA multiple of 8.88x which are both, on the lower side. The company may be facing its fair share of issues such as cash flow constraints and supply chain disruptions but we believe that PGT Innovations' long-term outlook remains promising. The company's geographic expansion, product innovations, and strategic acquisitions align with the expected growth in its industry and we believe that the company could be an interesting investment proposition for small-cap investors.