Featured
Presidio Property Trust: Chalks Up Another Win with Colorado Property Sale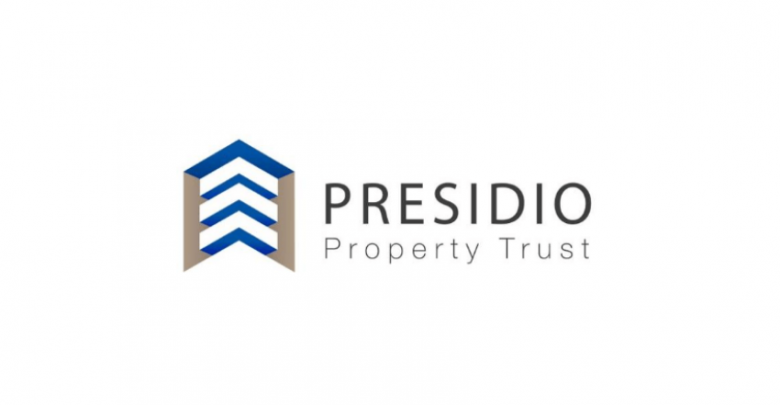 Real estate investment trusts (REITs) have proven to be an excellent investment tool for small-sized investments in the commercial and residential real estate markets that earn periodic dividends for the investor. These yield-focused investments often end up rewarding the investors with capital appreciation of the value of the REIT, especially if the investment timing is right and the REIT is undervalued. A classic example of a highly undervalued REIT with excellent upside potential for capital appreciation and yield is Presidio Property Trust (NASDAQ:SQFT).
Presidio's Target Markets & Growing Demand
Presidio looks to invest largely in commercial real estate which includes offices, industrial properties, strip malls, and retail properties and in emerging cities. Its average investment ticket size ranges between $10 million to $30 million which is below the average investment size for most of the larger REITs. In terms of geographies, Presidio is targeting the fast-growing cities which are experiencing strong growth in construction activity as well as real estate prices. Its target markets include cities like Salt Lake City, Minneapolis, Kansas City, Columbus, Denver, Colorado Springs, and others, which are all known to have a low cost of living, growing population, and the presence of large corporations to boost average income levels as well as the demand for commercial properties. With the COVID-19 backdrop, there is a strong trend of people moving from larger and more expensive cities like New York, Los Angeles, and Chicago, and moving towards these growing cities in the mid-west and sunbelt. The south-eastern part of the U.S. where Presidio has active investments has seen particularly strong growth in the real estate market. These are all big green flags in favor of this REIT.
Model Homes Business & Recent Update
Presidio's residential real estate market exposure is limited to its segment of model homes. These may be defined as single-family residential homes built to serve the purpose of marketing the construction project to customers. Presidio is known to purchase these model homes from construction companies at a discount of up to 10% versus the market value and lease it back to them on a triple net basis i.e., with the builder bearing the cost of maintenance, insurance and other related expenses. Under this structure, Presidio earns rent on the model homes from the construction companies as well as a solid profit on selling these homes in the market once the rest of the construction project is completed and sold out. Construction companies earn an upfront cash flow through this sale which is why they are happy to sell model homes to Presidio. The REITs model home portfolio is essentially concentrated in Florida and Texas. In their most recent update, the company announced the sale of 42 model homes for a consideration of $17 million as against a purchase price of $15.1 million i.e., a profit of $1.9 million. As per their official press release, the average sales price per sold home was approximately $400,000, and the average holding period was approximately 3 years. The management is witnessing a particularly solid boom in the Texas market as the single-family model homes it put up for sale created a new record low in terms of the average number of days on market. The rapid and easy sale of model homes for such a large profit is a very big plus pointing in the favor of Presidio.
Recent Commercial Sales Activity
In their recent update, the management announced the completion of the sale of one of their commercial buildings i.e., 1283 Kelly Johnson Boulevard in Colorado Springs, Colorado. One out of the four executive office buildings having an area of 15,220 was successfully sold by Presidio for a sum of $2.275 million as per their latest press release. Colorado Springs continues to be a growing market where Presidio has exposure to 3 additional such buildings and the above sale will help the company retire a significant amount of debt on their balance sheet. It will also help them prevent incurring the maintenance cost for the next set of tenants who would potentially have required a renovation of the property. It is worth highlighting that the geographical clustering of Presidio's commercial real estate portfolio helps the management minimize operating costs and leverage efficiencies by managing several properties using minimal overhead and staff.
Dividend Payouts & Final Thoughts
Presidio was in the news for declaring a $0.10 per share of dividend last month and this trend is expected to continue on a quarterly basis. When the company declared the dividend, its stock price was around $3.55 implying a quarterly yield of 2.86% but the stock has fallen to $2.89 now which means that a follow-up declaration of dividend would indicate an even higher yield. As it continues to lower its debt levels, it puts the company on even more solid footing. In summary, we believe that Presidio could prove to be a solid real estate play at current levels.
---
Disclosure
Except for the historic data introduced herein, issues mentioned in this text comprise forward-looking statements which might be topic to sure dangers and uncertainties that would trigger precise outcomes to differ materially from any future outcomes, efficiency or achievements expressed or implied by such statements. Salesparq, LLC which owns SmallcapsDaily.com will not be registered with any monetary or securities regulatory authority and does not present nor claim to present funding recommendation or suggestions to readers of this launch. Salesparq, LLC, which owns SmallcapsDaily.com, could also be compensated for its companies in the type of cash-based compensation for the businesses it writes about. For making particular investment choices, readers ought to do their own research. Pursuant to an agreement between TraDigital IR and Salesparq, LLC, which owns SmallcapsDaily.com, has been retained for a interval from 12/10/2020 – 12/31/2020 to publicly disseminate details about Presidio Property Trust, Inc., together with on the Website, electronic mail and different media together with online and social media. We have been compensated four thousand dollars for our services during this period. We own zero shares of Presidio Property Trust, Inc. We don't intend to purchase shares of Presidio Property Trust Inc. in the open market at any time. Please read our full disclaimer here: https://smallcapsdaily.com/disclaimer/