Featured
Reliance Global: The Insurance Small Cap You Need In Your Portfolio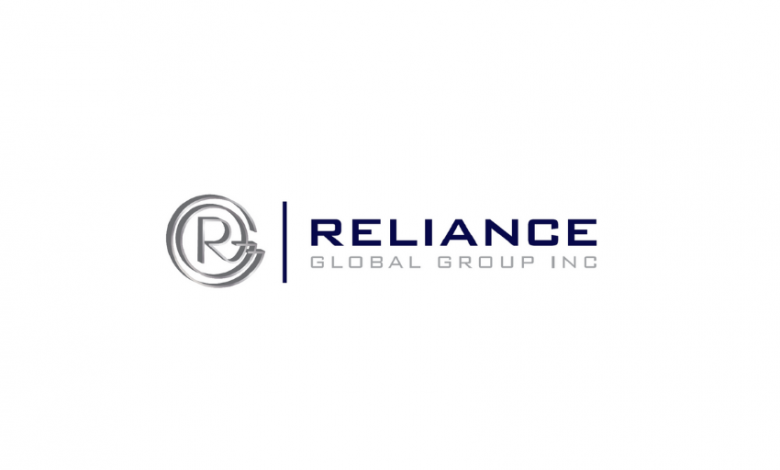 As small cap investors, we are always looking to invest in emerging technology stocks as a way of multiplying our capital in a short span of time. In addition to pure-play technology investments we look to invest in companies that operate in traditional sectors but are using technology to accelerate their growth strategy. The use of technology provides these companies a head-start over peers not just in terms of financial performance but also in terms of market perception. Our pick for the day is a company operating in the insurance sector that is disrupting the whole insurance agency ecosystem through its solid technological platform – Reliance Global Group, Inc. (NASDAQ: RELI).
Company Overview
Reliance Global is a New Jersey-based insurance-tech player that has been acquiring and managing wholesale and retail insurance agencies in the U.S. for many years. The company works on a commission-based model and deals in policies related to property and casualty, life insurance, health insurance, trucking and transportation insurance, and employee benefits insurance. Reliance goes beyond the mere aggregating of insurance agencies and has launched its own technology platform known as 5MinuteInsure.com to assist insurance buyers in their search for the most relevant policies by providing quotes and linking them to the nearest agents or affiliates for the company. Founded in 2013, Reliance Global has evolved to become a trusted name in the insurance agency business in the United States.
A Solid Combination of Technology & Acquisition-Led Growth
The focus of Reliance Global's business model has been the acquisition and aggregation of multiple insurance agencies across the U.S. and generating synergies among them. Having multiple agencies under their holding company also helps the company to leverage its technology platform. The company has generated approximately 7.07 million in trailing-twelve-month revenues which are expected to grow in the double-digits, possibly even at a triple-digit rate if it keeps up its acquisition pace. Reliance Global's history of acquiring growing and profitable brokerages includes Employee Benefits Solutions, U.S. Benefits Alliance, Commercial Coverage Solutions LLC, Southwestern Montana Insurance, Fortman Insurance Agency, Altruis Benefits Consultants, UIS Agency, and others. Most of these acquisitions were at very reasonable valuations. The company reaches out to its customers through agents of its acquired companies as well as its own 5minuteInsure.com platform. This platform not only provides competitive insurance quotes to customers in less than 5 minutes but also connects them to the closest agent of Reliance Global. This is possible through a solid base of artificial intelligence technology and advanced data mining capabilities. The combination of a widespread insurance agency network and the 5minuteInsure.com platform is expected to drive both online as well as offline insurance policy sales for the company.
Stable Macro With A Need For Technology Penetration
According to IBISWorld data, the U.S. insurance brokers and agencies market was valued at approximately $161 billion in 2020 although growth has been more or less stagnant over the years. The industry is an important component of the insurance ecosystem in the country as insurance agents, whether individual or corporate, act as a link between the prospective policyholders and the insurance companies during the insurance purchasing process. These agencies operate on a commission-based model and bear no risk associated with the insurance. The insurance industry is highly fragmented with approximately 423,478 agencies in the sector according to IBISWorld data. Also, the penetration of technology in the insurance purchasing process is very limited which is the market opportunity for companies like Reliance Global. Their platform helps clients identify the nearest agent relevant to their inquiry and also assists with recommending the most suitable insurance policy for their needs. Reliance Global's acquisition-focused strategy, which consolidates agencies, incorporates them into the company and generates strong synergies to complement their technology, is essential to its success.
Highly Experienced Management Team
One of the most positive defining attributes for Reliance Global is its highly experienced management team led by Chairman & CEO Ezra Beyman. Mr. Beyman brings over 3 decades of entrepreneurial experience including 15 years in the insurance industry. Mr. Beyman founded his first mortgage brokerage firm in 1985, which eventually became the third largest licensed mortgage brokerage in America by 2008. He is supported by Scott Korman, a Director for Reliance Global who has served in leadership roles for many manufacturing companies including Illumina Radiopharmaceuticals LLC, Red Mountain Medical Holdings, Inc., Welsh Farms Inc, and so on. The M&A specialist within the organization is Sheldon Brickman, who has over 25 years of experience in closing acquisitions, particularly in the insurance industry with an aggregate deal value of nearly $40 billion. Overall, Reliance Global's executive management team has a total of more than 100 years of combined experience and is well equipped to lead the organization to pinnacle of success in the insurance industry.
Key Takeaways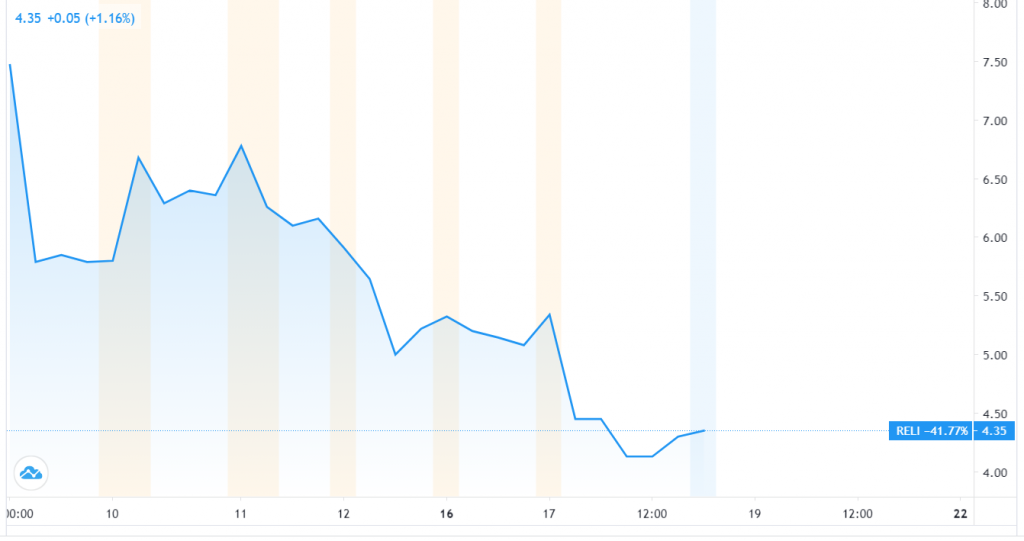 As we can see in the chart above the Reliance Global stock is trading at around $4.35. The company is deeply undervalued with an EV/Revenue ratio of approximately 8.4x for the trailing twelve month period, well below that of its biggest competitors. Reliance Global's closest competitors with similar business models include names like Goosehead Insurance and Lemonade Inc. Based on the trailing twelve month data, Goosehead Insurance is trading at an EV/Revenue of 32.4x whereas Lemonade Inc. is trading at an EV/Revenue of 31.1. Most of its peers are loss-generating and lack the kind of technological base that Reliance Global has, for which it should command a strong premium. Once the acquisition announced in September 2020 is completed, this will add 150 million in revenues immediately, with margin improvement via Reliance platform technology. After its up-listing to NASDAQ, the Reliance Global management is expected to establish a strong investor communication program to convey its future growth plans which should get factored into the stock price as well. To sum up, the company's experienced management team, strong technological platform, acquisition-led growth, and a highly undervalued stock make Reliance Global a very interesting investment opportunity at current levels.
---
Legal Disclaimer
Except for the historic data introduced herein, issues mentioned in this text comprise forward-looking statements which might be topic to sure dangers and uncertainties that would trigger precise outcomes to differ materially from any future outcomes, efficiency or achievements expressed or implied by such statements. This editorial is not investment advice. Salesparq, LLC which owns SmallcapsDaily.com will not be registered with any monetary or securities regulatory authority and doesn't present nor claims to present funding recommendation or suggestions to readers of this launch. Salesparq, LLC, which owns SmallcapsDaily.com, could also be compensated for its companies in the type of cash-based compensation for the businesses it writes about. For making particular funding choices, readers ought to search their very own recommendation. Pursuant to an agreement between Tradigital IR and Salesparq, LLC, which owns SmallcapsDaily.com, has been retained for a interval from 2/1/2021 – 2/28/2021 to publicly disseminate details about Reliance Global Group, Inc., together with on the Website, electronic mail and different media together with online and social media. We have been compensated fifteen thousand dollars for our services during this period. We own zero shares of Reliance Global Group, Inc. We don't intend to purchase shares of Reliance Global Group, Inc. in the open market at any time.