Featured
Sharps Technology: A Smart Safety FDA-Cleared Syringe Manufacturer with a Significant Partnership That Is Just The Boost You Need In Your Small-Cap Portfolio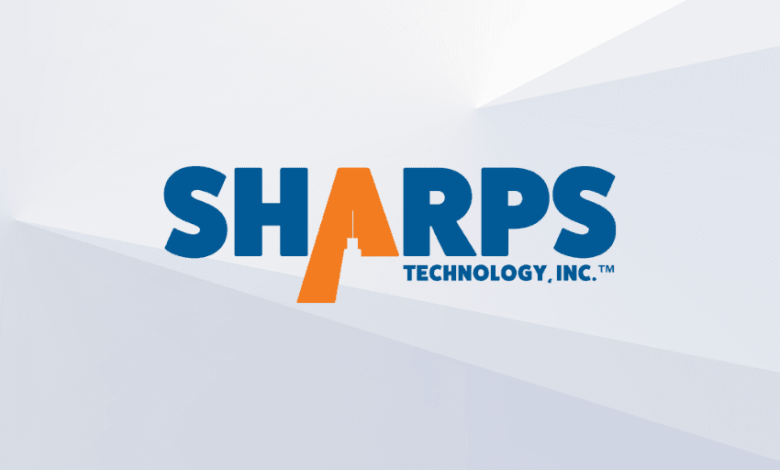 The Covid-19 pandemic led to a huge spike in the demand for many basic medical care products, one of which is the safety syringe. Given the increasing number of vaccinations and the rising global population, this is one product whose demand is expected to stay strong over multiple years. Many market research providers have increased their forecasts with respect to the expected market expansion of the safety syringe and the pre-filled syringe markets. Injectable product wastage is also a key problem that needs to be tackled in this industry. Today, we are going to cover an industry player whose unique technology in syringes maximizes the level of safety, while minimizing product wastage and addresses global concerns with respect to drug supply shortages with its robust technology. This is Sharps Technology Inc. (Nasdaq:STSS).
Company Overview
Sharps Technology Inc. is a medical technology company examining, designing, developing, manufacturing, distributing, and selling safety syringe products in both the U.S. and worldwide. Its initial offering into the US Market is the Sharps Securegard syringe., Securegard is an ultra-low waste syringe for injecting a wide variety of vaccines and drugs. This is the company's proven brand of smart safety syringes that reduces drug and vaccine waste, prevents needle reuse, and eliminates accidental needlestick injuries while maintaining the intuitive design of traditional syringes. With this syringe platform offering, as well as its other products in development, management is seeking to address global concerns through high-quality innovation while ensuring a safer future for healthcare professionals and people everywhere. Future drug delivery system advancements are Sharps Technology's primary focus for commercial growth, and the Company recently announced a transformative manufacturing and research partnership with Nephron Pharmaceuticals Corporation to advance solutions forward. The company was established in 2017 and has its headquarters in Melville, New York.
The Safegard Medical Acquisition in July of 2022 Adds Manufacturing Capabilities
In order to have a strong manufacturing base of safety syringes to cater to global demand, Sharps Technology recently acquired the syringe production plant of Safegard Medical in Hungary. The company's newly acquired ISO-certified, CE-Mark approved, and FDA-cleared facility is producing its proprietary Securegard syringes for the US Market in accordance with US regulatory criteria as well as WHO criteria. Sharps Technology had been given exclusive use of the facility for R&D prior to the acquisition's completion under the terms of the original purchase agreement, signed in June 2020. For pharmaceutical businesses looking to reduce vaccine or other drug therapy waste, the company's growing portfolio of low waste syringe products is a desirable option. The acquisition of their first production plant is a significant step in transitioning from an R&D-focused organization to revenue-generating commercial activities.
The WHO has warned Governments and healthcare organizations across the world with respect to a syringe-related shortage as well as potential compromise of syringe safety given the increasing number of routine vaccinations. This is bound to benefit new entrants like Sharps which have a unique technology of smart safety syringes that are made to prevent needle reuse, eliminate accidental needlestick injuries, and drastically reduce vaccine and drug waste. The management asserts that with this acquisition, they can produce and sell such high-quality syringes to meet the strong and expanding demand for smart safety syringes, a market expected to reach $14 billion globally by 2026. In terms of production, they intend to manufacture and deliver 100 million units of the 1 ml and larger volume syringe products over the next 24 months with the use of capital raised from the company's April 2022 IPO. The management revealed that they will expand their manufacturing footprint beginning in 2023 and increase capacity to 250 million units over the next several years.
Recent Partnership With Nephron Pharmaceuticals Corporation Provides Significant Commercial Opportunity
Sharps Technology may have not reported any revenues in its filings so far, however 2023 is expected to be a big year for the company. Sharps' management recently entered into a manufacturing and development partnership with Nephron Pharmaceuticals Corporation, a privately held healthcare company. The agreement includes a contract to co-manufacture specialty polymer pre-fillable syringes and other drug delivery systems for Nephron and Sharps customers, to provide technical guidance and support for manufacturing, to offer Sharps syringes to Nephron's 3,000+ customer base on their company portal, and to work with Nephron on specifically related new customer and new business ventures. Sharps is on track for a manufacturing and supply arrangement for the creation and production of high-value pre-fillable syringes that can be used by Nephron as well as other pharmaceutical and healthcare companies. By the third quarter of 2023, Sharps will start providing its pre-fillable syringes with specialized technology, compliant with industry standards, to these parties. In order to meet future industry and consumer demand for pre-fillable systems, as specified in the agreement, the company is also permitted to further expand its manufacturing capabilities in cooperation with Nephron. Furthermore, Sharps Technology and Nephron are looking to establish a Pharma Services Program in conjunction with the agreement, opening up new avenues for growth. These include creating and marketing new drug delivery systems, which Sharps will manufacture and sell to the pharmaceutical and healthcare markets. In accordance with the agreement, the company will also establish a supply program with Nephron through which it can use Nephron's third-party logistics suppliers to distribute and qualify products, and conduct clinical trials with Nephron's healthcare clients for all of the company's developed products. The good news for Sharps is that agreement is in effect for four years, and thus is a virtual guarantee that Sharps is going to start generating revenues from 2023 with its pre-fillable syringes.
Final Thoughts
As we can see in the above chart, Sharps Technology's stock price has had a more or less flat trajectory over the past 6 months. One of the key reasons for this is that the company has yet to start reporting its revenues. However, this is expected to change starting in Q1 2023 with the Nephron deal and with the revenue generation from the Hungarian facility. Since the demand side of the equation is extremely strong, the company would have no problem at all using 100% of this capacity which itself would imply a $20 million top-line. With a positive top-line, the company's market perception should improve significantly and we expect it to cross the $5 mark. Given its potential to become a multi-bagger for medium to long-term investors, we believe that the company is an excellent investment opportunity for our readers at SmallCapsDaily.
Disclaimer
This website is a wholly owned subsidiary of SCD Media, LLC, herein referred to as Smallcaps Daily. Our publications are a commercial advertisement and are for general information purposes ONLY. We are engaged in the business of marketing and advertising companies for monetary compensation. We may receive compensation for this article on a PPC basis as an affiliate. Never invest in any stock featured on our site or emails unless you can afford to lose your entire investment. The disclaimer is to be read and fully understood before using our services, joining our site or our email/blog list as well as any social networking platforms we may use. PLEASE NOTE WELL: Smallcaps Daily and its employees are not a Registered Investment Advisor, Broker Dealer or a member of any association for other research providers in any jurisdiction whatsoever.Release of Liability: Through use of this website viewing or using you agree to hold Smallcaps Daily, its operators owners and employees harmless and to completely release them from any and all liability due to any and all loss (monetary or otherwise), damage (monetary or otherwise), or injury (monetary or otherwise) that you may incur. The information contained herein is based on sources which we believe to be reliable but is not guaranteed by us as being accurate and does not purport to be a complete statement or summary of the available data. Smallcaps Daily encourages readers and investors to supplement the information in these reports with independent research and other professional advice. All information on featured companies is provided by the companies profiled, or is available from public sources and Smallcaps Daily makes no representations, warranties or guarantees as to the accuracy or completeness of the disclosure by the profiled companies. None of the materials or advertisements herein constitute offers or solicitations to purchase or sell securities of the companies profiled herein and any decision to invest in any such company or other financial decisions should not be made based upon the information provided herein. Instead Smallcaps Daily strongly urges you conduct a complete and independent investigation of the respective companies and consideration of all pertinent risks. Readers are advised to review SEC periodic reports: Forms 10-Q, 10K, Form 8-K, insider reports, Forms 3, 4, 5 Schedule 13D. Smallcaps Daily is compliant with the Can Spam Act of 2003. Salesparq, LLC does not offer such advice or analysis, and Smallcaps Daily further urges you to consult your own independent tax, business, financial and investment advisors. Investing in micro-cap and growth securities is highly speculative and carries and extremely high degree of risk. It is possible that an investors investment may be lost or impaired due to the speculative nature of the companies profiled. The Private Securities Litigation Reform Act of 1995 provides investors a safe harbor in regard to forward-looking statements. Any statements that express or involve discussions with respect to predictions, expectations, beliefs, plans, projections, objectives, goals, assumptions or future events or performance are not statements of historical fact may be forward looking statements. Forward looking statements are based on expectations, estimates, and projections at the time the statements are made that involve a number of risks and uncertainties which could cause actual results or events to differ materially from those presently anticipated. Forward looking statements in this action may be identified through use of words such as projects, foresee, expects, will, anticipates, estimates, believes, understands, or that by statements indicating certain actions & quote; may, could, or might occur. Understand there is no guarantee past performance will be indicative of future results.In preparing this publication, Smallcaps Daily, has relied upon information supplied by its customers, publicly available information and press releases which it believes to be reliable; however, such reliability cannot be guaranteed. Investors should not rely on the information contained in this website. Rather, investors should use the information contained in this website as a starting point for doing additional independent research on the featured companies. Smallcaps Daily has not been compensated for this article. The advertisements in this website are believed to be reliable, however, Smallcaps Daily and its owners, affiliates, subsidiaries, officers, directors, representatives and agents disclaim any liability as to the completeness or accuracy of the information contained in any advertisement and for any omissions of materials facts from such advertisement. Smallcaps Daily is not responsible for any claims made by the companies advertised herein, nor is Smallcaps Daily responsible for any other promotional firm, its program or its structure. Smallcaps Daily is not affiliated with any exchange, electronic quotation system, the Securities Exchange Commission or FINRA.