Featured
SKYX Platforms Corp: Creating A New Standard In Electrical Engineering & Smart Homes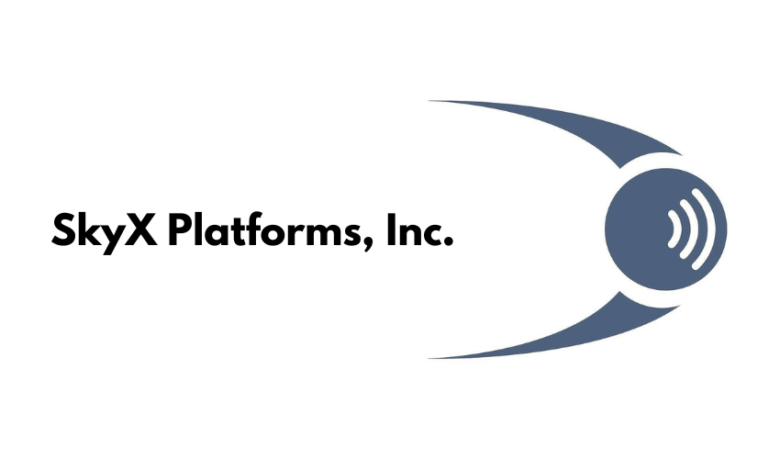 Up until now, the concept of smart homes today has been mostly considered a premium offering catering to high-income households. Because of this, it has been very difficult to see smart homes becoming a norm across the globe in the near future. Despite many players operating in this domain, the focus of this market remains on comfort and luxury rather than enhanced safety. Today, we are going to cover a company that is redefining the whole concept of a smart home to incorporate the highest element of safety in terms of the electrical fixture installation process and in doing so i creating a new standard that can be implemented not just in luxury housing but across every kind of home and commercial space in the world – SKYX Platforms Corp. (NASDAQ:SKYX). Its offerings start off from the most basic form of ceiling receptacles and extend to full-fledged smart home systems that could revolutionize the Smart-Home industry.
What Does Sky Technologies Do?
SKYX Platformsis a pioneer in the electrical engineering sector. The company is a storehouse of intellectual property with respect to smart gadgets, ceiling receptacles, and various forms of smart home devices. Its first-generation technologies allow the installation of light fixtures, ceiling fans, and other electrically wired products into the ceiling's electrical outlet box. It has developed a number of advanced smart platform technologies for residential use with over 15 approved patents and 60 patent applications. The company's offerings serve the purpose of enhancing both the safety and functionality of smart-home devices while also providing advantages in terms of time and cost saving, and simplicity in execution. Sky Technologies' second-generation technologies offer a platform to improve the safety and quality of life in homes and other buildings. The company has two global licensing and branding agreements with General Electric (NYSE:GE) allowing foruse of GE's logo and branding on its devices. Sky Technologies was founded in 2004 and has its headquarters in Pompano Beach, Florida.
Pathbreaking First-Generation Offerings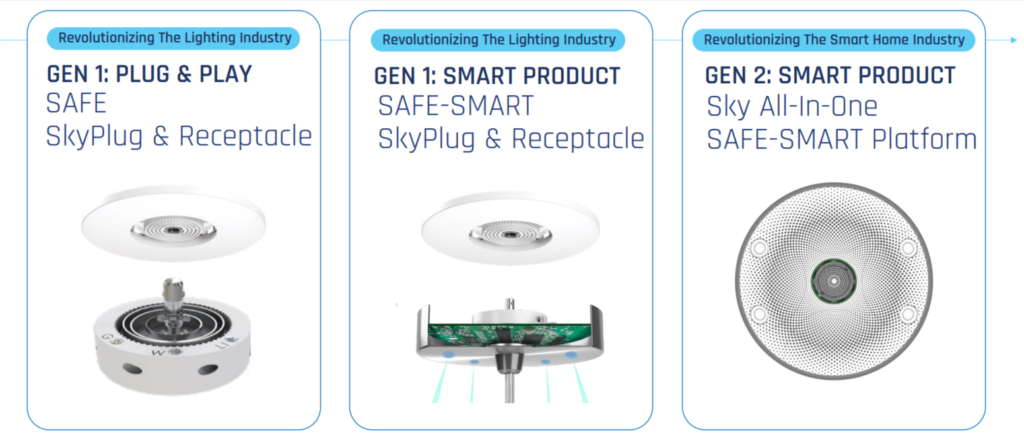 SKYX Platforms' first-generation offerings are a major first step in defining a whole new safety standard for the National Electric Code (NEC). Its main offering is the Sky Plug & Play ceiling receptacle that enables light fixtures, ceiling fans, and other electrically wired products to be installed safely and plugged into the ceiling with almost no risk of electric shocks or fires due to exposed or faulty wiring. The company has created a universal power-plug device that has a matching receptacle that is easily connected to the electrical outlet box on the ceiling, enabling a safe and quick, plug-and-play installation of light fixtures and ceiling fans in a matter of seconds. Its sheer simplicity eliminates the need to touch hazardous electrical wires while installing light fixtures, ceiling fans, and other hard wired electrical products. This offering has been voted into the NEC, making it the most significant code addition in nearly four decades. The management has taken a step forward after creating the basic receptacle and went on to add smart capabilities to this product. The smart features include control of light fixtures and ceiling fans by the SkyHome App, through W-Fi and voice control. The smart features include scheduling, energy savings eco mode, dimming, backup emergency lights, night lights, light color changing and more. Overall, the company has a feature-rich set of offerings in its first generation and they lay out a strong foundation for its most feature-rich offering i.e., the Smart Platform.
The Smart Platform
The Smart Platform is the highlight of the company's second-generation offerings. It is basically an open system that seamlessly combines unrelated safe and innovative capabilities into a single, spatially designed unit, whose functionality is managed by an all-in-one app, the SkyHome App. Because of the Smart Platform, the installation of various standalone devices and their integration into functional units will no longer be required. The all-in-one, safe-smart-advanced platform technology can be integrated with both old and new smart home features, gadgets, and systems. The advanced platform prototype is constructed and designed in such a way that it can support additional smart home features, acting as a gateway for safe and smart technologies into buildings and rooms and acting like a bridge that can support various types of software and wireless systems, electronic chips, and more. Besides, the Smart Platform's ceiling-mounted design considerably improves the performance of smart home products, including Wi-Fi and Bluetooth speed and range, sensor and alarm functionality. The product is very reasonably priced and with larger production orders, it could become an easily affordable offering for every home.
Large Addressable Market
The potential addressable market for SKYX Platformsis massive. Based on the American census data, there are approximately 140 million homes averaging 2300 sq. ft.. As per NEC data estimates, there is a traditional electrical outlet for every 34 square feet of area. This implies the presence of approximately 9.5 billion outlets in residential housing alone. Even if we assume that 1% of these outlets are changed every year on account of repairs and renovation where the homeowners opt for Sky Technologies' offerings, it would imply that the company is able to sell 95 million units in a year. This is already a multi-billion dollar opportunity. Now, let's look at new construction and the opportunity that lies therein. As per the estimates of the Sky Technologies management, close to 1.6 billion new residential square feet per year will need outlets which means another 47 million new receptacles are required each year (over and above the 95 million that we guesstimated above). Even if we assume that Sky Technologies caters to only 10 million of these new receptacles, it would imply a total unit sale of 105 million receptacles each year making it a potential multi-billion revenue opportuniyty for ther company over time (without even considering the Smart Platform revenues). The fact that SKYX Platforms has put in an immense effort with the NEC to make their offerings a safety standard across the industry, it is highly likely that it should be able to tap into this market and scale at a rapid pace over the next twelve to eighteen months..
Go-To-Market Strategy
SKYX Platforms offering is unique, time-saving, and has a strong element of safety. It offers an immense amount of value which justifies its price point of between $299 to $399. The possibility to increase that price point for consumers is also possible and the management is in the final phases of getting full regulatory support from the NEC. With this support, the company has the potential to scale rapidly as regulatory support itself will prompt construction companies and home renovators to develop a demand for their offerings. SKYX Platforms has started commercial manufacture and marketing in the first half of 2022 for the advanced products, the smart universal power plug, ceiling fans, and lighting products, and they intend to start manufacturing the Smart Sky Platform in the second half of 2022. In addition, the company is initiating orders through General Electric-approved factories to produce its safe, smart-connected SkyPlug products. The pre-sales are expected to start in the second part of 2022. Marketing is a key part of its go-to-market strategy as the management looks to educate the market about the safety aspects of the products as well as all associated hazardous incidents and property damage that its products can prevent, such as ladder falls, electric shock, fires, and most importantly, deaths. It will use third-party channels for sales and its core target market will be online clients, builders, rental properties, hotels, big box retailers, and OEM customers. Customers will be largely targeted through warehouse programs, large retailers, distributors, dealers, and direct sales through its website.
Final Thoughts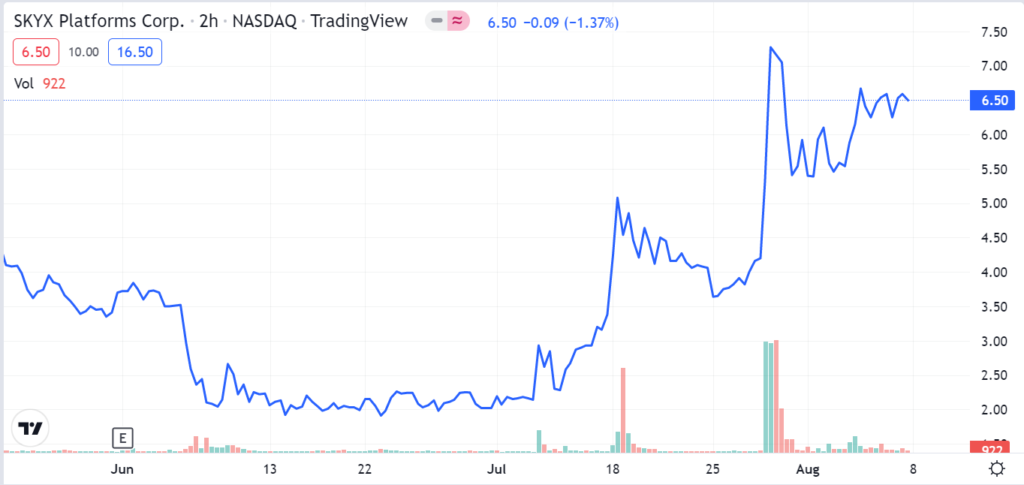 Source: TradingView We already see a recent strong upward trend in Sky Technologies' stock and we believe this momentum is likely to stay given the fact that the company is expected to start generating revenues in the latter part of 2022. It is important to highlight that SKYX Platforms has a highly experienced management team with many personnel from GE and the NEC and is being spearheaded by Rani Kohen, a true visionary in this sector. SKYX Platforms has the potential to expand its top-line not just through the sale of its offerings but also through licensing revenues with respect to its intellectual property, and the sale of country-specific rights in non-U.S. markets. Overall, we believe that the company is sitting on a multi-billion-dollar technology and its products could well become a global standard in the years to come. We are bullish on Sky Technologies and we believe that the company is a solid investment proposition for our readers at SmallCapsDaily.
---
Disclaimer
This website is a wholly owned subsidiary of Salesparq, LLC, herein referred to as Salesparq, LLC. Our publications are a commercial advertisement and are for general information purposes ONLY. We are engaged in the business of marketing and advertising companies for monetary compensation. We may receive compensation for this article on a PPC basis as an affiliate. Never invest in any stock featured on our site or emails unless you can afford to lose your entire investment. The disclaimer is to be read and fully understood before using our services, joining our site or our email/blog list as well as any social networking platforms we may use.PLEASE NOTE WELL: Salesparq, LLC and its employees are not a Registered Investment Advisor, Broker Dealer or a member of any association for other research providers in any jurisdiction whatsoever.Release of Liability: Through use of this website viewing or using you agree to hold Salesparq, LLC, its operators owners and employees harmless and to completely release them from any and all liability due to any and all loss (monetary or otherwise), damage (monetary or otherwise), or injury (monetary or otherwise) that you may incur. The information contained herein is based on sources which we believe to be reliable but is not guaranteed by us as being accurate and does not purport to be a complete statement or summary of the available data. Salesparq, LLC encourages readers and investors to supplement the information in these reports with independent research and other professional advice. All information on featured companies is provided by the companies profiled, or is available from public sources and Salesparq, LLC makes no representations, warranties or guarantees as to the accuracy or completeness of the disclosure by the profiled companies. None of the materials or advertisements herein constitute offers or solicitations to purchase or sell securities of the companies profiled herein and any decision to invest in any such company or other financial decisions should not be made based upon the information provided herein. Instead Salesparq, LLC strongly urges you conduct a complete and independent investigation of the respective companies and consideration of all pertinent risks. Readers are advised to review SEC periodic reports: Forms 10-Q, 10K, Form 8-K, insider reports, Forms 3, 4, 5 Schedule 13D. Salesparq, LLC is compliant with the Can Spam Act of 2003. Salesparq, LLC does not offer such advice or analysis, and Salesparq, LLC further urges you to consult your own independent tax, business, financial and investment advisors. Investing in micro-cap and growth securities is highly speculative and carries and extremely high degree of risk. It is possible that an investors investment may be lost or impaired due to the speculative nature of the companies profiled. The Private Securities Litigation Reform Act of 1995 provides investors a safe harbor in regard to forward-looking statements. Any statements that express or involve discussions with respect to predictions, expectations, beliefs, plans, projections, objectives, goals, assumptions or future events or performance are not statements of historical fact may be forward looking statements. Forward looking statements are based on expectations, estimates, and projections at the time the statements are made that involve a number of risks and uncertainties which could cause actual results or events to differ materially from those presently anticipated. Forward looking statements in this action may be identified through use of words such as projects, foresee, expects, will, anticipates, estimates, believes, understands, or that by statements indicating certain actions & quote; may, could, or might occur. Understand there is no guarantee past performance will be indicative of future results.In preparing this publication, Salesparq, LLC has relied upon information supplied by its customers, publicly available information and press releases which it believes to be reliable; however, such reliability cannot be guaranteed. Investors should not rely on the information contained in this website. Rather, investors should use the information contained in this website as a starting point for doing additional independent research on the featured companies. Salesparq, LLC has not been compensated for this article. The advertisements in this website are believed to be reliable, however, Salesparq, LLC and its owners, affiliates, subsidiaries, officers, directors, representatives and agents disclaim any liability as to the completeness or accuracy of the information contained in any advertisement and for any omissions of materials facts from such advertisement. Salesparq, LLC is not responsible for any claims made by the companies advertised herein, nor is Salesparq, LLC responsible for any other promotional firm, its program or its structure. Salesparq, LLC is not affiliated with any exchange, electronic quotation system, the Securities Exchange Commission or FINRA.