Featured
SmallCaps Daily Sits Down with Inspire Veterinary Partners, Inc. CEO, Kimball Carr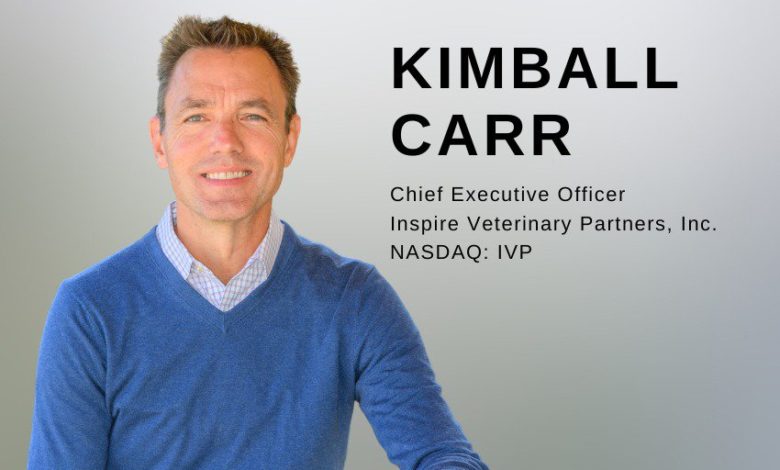 Kimball Carr – Chairman, President & CEO
In his varied 30 year career, Kimball has overseen delivery of more than $1B in revenue during his leadership tenures with companies like Starbucks Coffee, Mars Incorporated and Trupanion. As a passionate people developer and coach, he has enjoyed more than a decade working within the veterinary medicine sector, building cross-functional teams and helping to deliver standout year over year results. Kimball has presided over disaster recovery, built multi-year growth strategies, established talented leadership bench strength and overseen models for medical and operations business collaboration. Kimball continues to maintain strong relationships with leaders and decision makers across the veterinary medicine sector. Kimball is also the President of Ocean 35 and co-founder of Grom Coast, a surf and skateboarding lifestyle brand. Kimball lives in Virginia Beach with his wife, two teen-aged daughters and two canine children.
Full Interview:
Thank you for taking the time to answer my questions about Inspire Veterinary Partners. For our readers who may be unfamiliar, will you provide an overview of the Company and its mission in the veterinary industry?
Inspire is an owner of general practice veterinary clinics in the United States. The Company currently has fourteen veterinary hospitals across ten states. Inspire acquires practices, and, in many cases real estate, then works with teams on a long-term basis to improve and maintain hospital operations, grow revenues and maximize earnings.
Inspire was founded with the goal of building a vibrant veterinary organization that offers equity to members of the entire veterinary and support team – not just a select few. Having achieved the goal of becoming a publicly traded company, we are now in a better position to share in the wealth creation made possible by providing world-class care to pets in a work environment that values every person that contributes to it. For us, doing well by doing good is the goal.
How does Inspire Veterinary Partners set itself apart from other players in the veterinary market?
We seek to purchase veterinary hospitals and work closely with them post-purchase to support our mutual goals. As we carefully select hospitals to join our team, we have a 'buy, hold and grow' strategy which, in contrast to some organizations in our industry, means we intend to work alongside our hospital teams for the long term. This outlook also informs how we have structured Inspire. Because our funding and compensation models are unlike any other in veterinary medicine, we think and operate differently. Our team members share in our success.
Can you tell us more about the strategic acquisitions of veterinary hospitals and clinics that Inspire Veterinary Partners specializes in?
We initially acquired small animal companion hospitals which are focused on general practice as opposed to specialty or emergency hospitals. As we scale, we are now actively pursuing specialty and emergency hospitals and also mixed animal, including bovine and additional equine care, to add specialty care to our geographies. With over 28,000 veterinary hospitals in the United States and less than 30% of those consolidated, we believe significant upside potential exists and the addressable market for new acquisitions is large.
What sets IVP's approach to acquisitions apart from other buyers in the industry, and how does it impact the Company's success rate in finding undervalued businesses?
Our acquisition model includes some of the following characteristics that we believe support a successful outcome for all parties:
Stock option opportunities for all team members, not just those with select job titles.
Compensation packages on par or better than others in our industry.
A passionate focus on professional well-being which informs our schedules and generous paid time off structures.
Development and support in the form of experienced leadership and expert consultancy.
Equity in a growing organization without the potential burden of traditional practice ownership.
Could you elaborate on the growth strategy of acquiring 50 locations in the first five years and the steps you're taking to achieve this goal?
We plan to emphasize acquisitions of seasoned existing veterinary hospitals, but we have not ruled out the acquisition of newer practices.
To achieve this goal, we have a well-defined strategy that we are deploying to grow the number of hospitals by identifying states that have a favorable designated market area where the following combination of factors exists:
Strong pet counts
Favorable household income
Veterinary practice laws and regulations that are complementary to our business model.
The ability for management to work in all 50 states. This removes the need to only analyze and purchase targets close to a headquarters or 'home' market which results in far larger numbers of potential acquisition candidates than competitors who are only operating in certain regions.
Financially healthy hospitals which have stable teams, strong financials, and modest room for growth.
Smaller profit clinic locations which show room for growth based on our careful proprietary analysis, thereby representing an upside which allows us to buy at relatively low valuations and pursue well-articulated growth.
And, hospitals that were acquired or are targeted to be acquired strategically because they have attractive real estate holdings or other elements, which represent value opportunities to the Company.
What are the benefits of owning the real estate associated with approximately 80% of the acquired hospitals, and how does it impact IVP's long-term strategy?
In addition to the benefits that real estate assets bring to our balance sheet and value for our shareholders, there is enormous upside via the ability for Inspire to expand the physical plant or even completely reimagine a hospital workflow as we grow. Adding clinicians and providing the right physical flow or adding services to our existing locations is made easier by us owning our real estate and improving the existing spaces within which we work.
What challenges and opportunities do you see in the unconsolidated veterinary market, and how does Inspire Veterinary Partners plan to address them?
In 2020, veterinary care made up 30% of the $103 billon U.S. pet industry. In that same year there were 83.7 million pet dogs and 60 million pet cats in the United States, with 45% and 26% of households owning at least one of those species, respectively. From 2016 to 2020, there has been marked growth in both the pet population and in the number of households which own a pet and, therefore, the addressable population which requires care is expanding.
Due to the strong trends in year over year growth, we believe there is continued upside in the pet care industry and for owners of veterinary practices. With nearly 30,000 veterinary clinics in the United States and less than 30% of that figure having been consolidated under current multi-unit veterinary operators, we believe there is a large opportunity for acquisitions within the pet care space.
How does technology, such as the Pulse software, play a role in streamlining operations and improving efficiency within your network of hospitals?
While Inspire works closely with the clinics it acquires to not institute change for change sake, there are a few key areas in which the company standardizes procedures, including the use of one consistent practice management software (Pulse) across all of our locations. By using a cloud-based system, Inspire leadership has the ability to view patient records, case notes, schedules and other data from every one of our locations from anywhere in the world. Field leaders are then able to coach and guide hospitals, collaborate on growth plans, assist in medical record reviews, and have a set of key performance indicators which are consistent across the organization. Additionally, having one system provides a consistent set of processes which provide for learning across our portfolio and the ability for teams to share best practices aimed at growth and efficiency.
Could you provide insights into the Company's plans for diversification into other areas of the veterinary industry, such as pharmaceuticals, technology, data, and ancillary services?
While acquiring companion animal hospitals will remain a central element in Inspire's growth plans, we are watchful for other ancillary services and revenue verticals in which the company can enter. While assessing opportunities, the company remains mindful of our core competencies and we will seek ways to diversify which allow Inspire to add value, operate in the spaces in which we can be successful, and which do not divert necessary attention from our core business.
Can you share your thoughts on the recent non-binding letter of intent to acquire an animal hospital in Pennsylvania and your plans for further expansion in the Eastern U.S.?
We recently announced our agreement to acquire Valley Veterinary Service, Inc., an animal hospital located in Pennsylvania, and a first for Inspire in this state. As part of the transaction, Inspire has entered into a real estate asset purchase agreement with respect to certain real estate assets related to the acquired veterinary hospital.
We are very excited to complete the purchase of our first hospital in Pennsylvania and to partner with a remarkably committed and talented team who have been serving their community for years. The Valley team is expected to continue to operate the hospital and provide the same incredible care and service they have to so many clients and pets ,while IVP leverages our expertise and infrastructure to enable the team at Valley to continue to be their best. We believe there are many more opportunities like Valley Vet in Pennsylvania and throughout the eastern U.S. We look forward to sharing those opportunities as they develop with investors and shareholders.
Is there any other information you wish to share with our investors reading so we can highlight the opportunity of IVP?
Inspire is deeply committed to creating long-term, healthy partnerships with veterinarians and their clinics. Our goal is always to support what has already been established and use our resources only to grow and develop practices. By partnering with Inspire, independent veterinarian practices gain the benefits of economies of scale while maintaining the unique culture of their practice. We think we have very attractive and differentiated model in the vet space that will serve us well as we increasingly engage with veterinarian owners about their future.
With a revenue run rate today in excess of $20 million and 14 hospitals in 10 states, we believe there is a lot of growth potential ahead of us both organically and through acquisition. We are excited to execute our strategy and deliver enhanced value for our shareholders.
Thank you for your time.
Disclaimer
This website is a wholly owned subsidiary of SCD Media, LLC, herein referred to as Smallcaps Daily. Our publications are a commercial advertisement and are for general information purposes ONLY. We are engaged in the business of marketing and advertising companies for monetary compensation. We may receive compensation for this article on a PPC basis as an affiliate. Never invest in any stock featured on our site or emails unless you can afford to lose your entire investment. The disclaimer is to be read and fully understood before using our services, joining our site or our email/blog list as well as any social networking platforms we may use. PLEASE NOTE WELL: Smallcaps Daily and its employees are not a Registered Investment Advisor, Broker Dealer or a member of any association for other research providers in any jurisdiction whatsoever.Release of Liability: Through use of this website viewing or using you agree to hold Smallcaps Daily, its operators owners and employees harmless and to completely release them from any and all liability due to any and all loss (monetary or otherwise), damage (monetary or otherwise), or injury (monetary or otherwise) that you may incur. The information contained herein is based on sources which we believe to be reliable but is not guaranteed by us as being accurate and does not purport to be a complete statement or summary of the available data. Smallcaps Daily encourages readers and investors to supplement the information in these reports with independent research and other professional advice. All information on featured companies is provided by the companies profiled, or is available from public sources and Smallcaps Daily makes no representations, warranties or guarantees as to the accuracy or completeness of the disclosure by the profiled companies. None of the materials or advertisements herein constitute offers or solicitations to purchase or sell securities of the companies profiled herein and any decision to invest in any such company or other financial decisions should not be made based upon the information provided herein. Instead Smallcaps Daily strongly urges you conduct a complete and independent investigation of the respective companies and consideration of all pertinent risks. Readers are advised to review SEC periodic reports: Forms 10-Q, 10K, Form 8-K, insider reports, Forms 3, 4, 5 Schedule 13D. Smallcaps Daily is compliant with the Can Spam Act of 2003. Salesparq, LLC does not offer such advice or analysis, and Smallcaps Daily further urges you to consult your own independent tax, business, financial and investment advisors. Investing in micro-cap and growth securities is highly speculative and carries and extremely high degree of risk. It is possible that an investors investment may be lost or impaired due to the speculative nature of the companies profiled. The Private Securities Litigation Reform Act of 1995 provides investors a safe harbor in regard to forward-looking statements. Any statements that express or involve discussions with respect to predictions, expectations, beliefs, plans, projections, objectives, goals, assumptions or future events or performance are not statements of historical fact may be forward looking statements. Forward looking statements are based on expectations, estimates, and projections at the time the statements are made that involve a number of risks and uncertainties which could cause actual results or events to differ materially from those presently anticipated. Forward looking statements in this action may be identified through use of words such as projects, foresee, expects, will, anticipates, estimates, believes, understands, or that by statements indicating certain actions & quote; may, could, or might occur. Understand there is no guarantee past performance will be indicative of future results.In preparing this publication, Smallcaps Daily, has relied upon information supplied by its customers, publicly available information and press releases which it believes to be reliable; however, such reliability cannot be guaranteed. Investors should not rely on the information contained in this website. Rather, investors should use the information contained in this website as a starting point for doing additional independent research on the featured companies. Smallcaps Daily has not been compensated for this article. The advertisements in this website are believed to be reliable, however, Smallcaps Daily and its owners, affiliates, subsidiaries, officers, directors, representatives and agents disclaim any liability as to the completeness or accuracy of the information contained in any advertisement and for any omissions of materials facts from such advertisement. Smallcaps Daily is not responsible for any claims made by the companies advertised herein, nor is Smallcaps Daily responsible for any other promotional firm, its program or its structure. Smallcaps Daily is not affiliated with any exchange, electronic quotation system, the Securities Exchange Commission or FINRA.