Featured
SmallCaps Daily Sits Down with Jared Wolfson, CEO of Curiosity Ink Media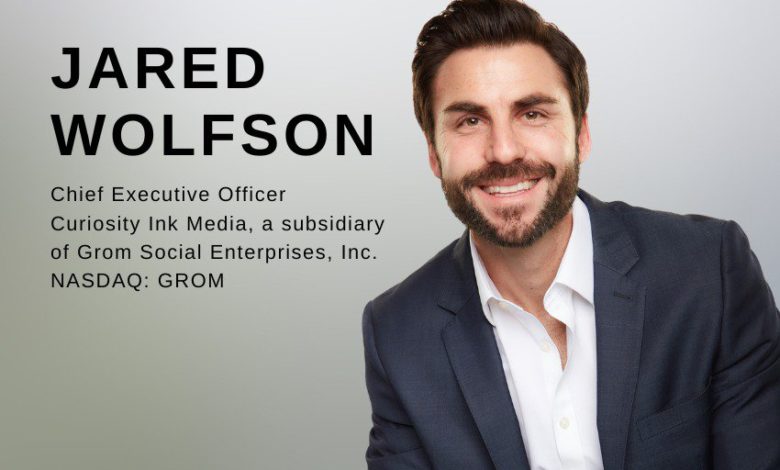 Jared Wolfson
Chief Executive Officer of Curiosity Ink Media
A Subsidiary of Grom Social.
As CEO of Curiosity Ink Media, Wolfson is responsible for leading key initiatives, including corporate vision, strategy and culture, partnerships and deal structuring, portfolio management, operations and finance, among others. A winning business development executive and marketing specialist in the Kids and Family industry for more than 20 years, he has built and managed numerous successful franchise properties, architected and driven multi-media marketing plans and initiatives powering record sales revenues. He also led development, production, and operational activities for studios, amassing hundreds of half-hours of entertainment content, in various formats and mediums.
Full Interview:
Thank you for taking the time to answer my questions about GROM Social Enterprises (NASDAQ: GROM). For our readers who may be unfamiliar, will you briefly describe the Company and its focus?
It's a pleasure, and thank you for taking the time to learn more about our business. GROM is a company comprised of a handful of strategic operating subsidiaries, including; Grom Social – a kid-safe social media platform for audiences under the age of 13. Curiosity Ink Media – a kids and family media & entertainment business that creates, develops, produces, distributes and manages a growing library of intellectual properties through feature films, linear & streaming series, digital & e-commerce platforms and publishing. Top Draw Animation – an award-winning, premium animation production studio that delivers 2D animation to clients and studio partners around the world, and Grom Educational Services – a division that provides web-filtering services for schools, government organizations and private businesses.
Grom Social Enterprises, as a company, is focused on being nimble and adaptable, while delivering content and services to an ever-expanding audience of children and families in a fragmented and constantly changing marketplace. One of the key and notable initiatives within the Curiosity Ink Media business unit, among many, is digital + e-commerce platform www.Santa.com, which is a one-stop hub that includes specially themed editorial, curated gift lists, decorating, entertaining and hosting tips, interactive games and content for kids, and a robust e-commerce marketplace that is positioned to relieve some of the stress around the holidays, and giving parents and families the opportunity to spend time making memories.
Can you go into more detail about Santa.com, where it stands now and how it has evolved?
It has evolved overtime but the original mission and vision for it still stands. Right now we are starting to put more of an emphasis into driving a social, digital presence for it outside of the platform itself in order to draw attention. We're currently at the beginning and the launch was very soft, testing out how things were going to work. We're now in a place where we've tested out the site, built in a whole marketplace of e-commerce opportunities, and built in opportunity for affiliate revenue streams to come out of it.
The site is focused on taking the stress out of the holidays and being a one-stop holiday hub for parents and organizers. They can come in and make Holiday memories, get information on decorating, hosting, entertaining, gifts, recipes, and more to create a Holiday experience. We have a "parents entry portal", which has tons of curated articles, gift lists, and gift guides. We also have the "kids entry portal", which is a digital interactive North Pole environment where we have an AI act as Santa Claus, games, an advent calendar, and a north pole that kids can explore. We also have the ability for kids to create their own gift lists or wish lists and send them to Santa Claus.
How does GROM set itself apart in the market of children-focused digital platforms and what unique features or services does this platform possess?
From a content creation and distribution perspective, GROM's companies produce entertainment programming that can be distributed on a variety of platforms, from streamers to cable networks and broadcasters, theatrical release, social and digital media outlets, apps, e-commerce platforms and more. or example, if we have a series that lands on Nickelodeon, we would also want to make sure it has a presence on YouTube and we'd want to make sure that presence was also on the social media platforms. This way we can pull people into that series from a variety of different places and not just one traditional studio approach or network broadcaster approach.
By thinking about who our audiences are, where they spend their time, how they behave, and why they consume what they do, it allows us to make creative choices in the development and production of our properties, as well as strategic choices in how we drive awareness, interest in and affinity for them.
Can you elaborate on GROM's growth strategy and how the recent $3 million public offering will contribute to achieving the Company's goals?
As a larger organization, GROM's growth plan focuses on building short, mid and long-term revenue streams through its well-diversified business units. While short-term revenue will continue to come from operating units that are providing immediate services, mid- and long-term revenue streams are planned to come from its ownership of kids and family entertainment IP that will benefit from the exploitation of content sales/distribution, ancillary licensing & merchandising, derivative productions and more. GROM is positioned for significant upward trajectory in multiple business sectors.
We are in partnership on a series called Hey, Fuzzy Yellow, which is currently in production. That series is planned to launch in Spring of 2025 has the potential to become a preschool entertainment franchise as well. That's an opportunity that can expand into a diverse amount of merchandise such as apparel and toys and licensing opportunities.
Will you go into detail how GROM drives revenue from its IP?
There are several different models, but for example, we either produce the show and then come back and sell it as an acquisition, or we go into a studio, such as Nickelodeon, and we develop a deal. From there we develop a contractual relationship to create a series together and then that series gets produced. Once that series is produced and airs, that's when it starts generating all kinds of revenue streams. One model, the acquisition model, immediately comes with a licensing fee and once we sell the show to them, they license the show and broadcast it for "x" amount of months in a certain manner. While we're doing that deal, we're also going around the world and looking at all the other broadcasts or outlets to be able to sell the show to so that we can drive not only revenue through that content, acquisition revenue, or distribution revenue, but also immediate awareness and eyeballs on the right platforms all around the world, because that drives that second tail of the consumer products and the licensing.
Will you speak on any opportunities GROM is focused on currently?
We're a licensing agent on a couple different brands, where others have IP, we can help them drive revenue on said IP. For example, Denver, the Last Dinosaur, a retro character animation property that launched 50 episodes of animation back in the late 80s, early 90s, and has not done much since. We've signed on as a licensing agent and we're licensing that property out in order to build it up again. Our goal is to then come back and launch a four quadrant feature film. We believe the nostalgia for the audience will be a huge driver and we also believe that the character based world of it is very relevant to a kid audience today.
We're also working with a toy company to license out their IP. They sell a collectible plush toy called Cats Versus Pickles that has millions of units sold. Our goal is to expand upon this by number one, developing a series to grow a franchise. Number two, forge deals to expand presence of this at a retail level. For example, we signed a deal with a company called Well Played Toys. The company does a whole range of plastic toys and some novelties and collectibles around what the plush is, and they've also already done a deal with a retailer. We're looking at driving anything related to the kids and family space out into the marketplace and generate additional streams of revenue.
The launch of Gromverse and the development of Grom Social for families are exciting ventures. How do you anticipate these new platforms will drive user acquisition and engagement, ultimately benefiting shareholder value?
With the way kids spend time on digital mobile devices, there is undeniable demand for both entertainment content, and the consumption of app-based social and gaming activities. Our Gromverse and Grom Social products are designed to deliver safe experiences for this kids and family audience. We know parents face difficult decisions in this space, and are committed to providing options that they can feel more comfortable allowing their kids to spend time on. GROM intends to build an engaged user base on the kid-safe Gromverse social platform, with significant revenue generating opportunities around audience-relevant advertising, parent-approved microtransactions and potential subscriptions models.
How do the recent production assignments secured by GROM's Top Draw Animation division, totaling over $6 million for 2023, align with the company's overall growth strategy?
Top Draw Animation is a production services studio that delivers incredible quality content with their top draw services. It's important we have a partner who understands our style, who can deliver quality, on-time and on-budget content. We really benefit from the synergistic approach with Top Draw.
We believe that Top Draw Animation (TDA) will continue to deliver significant topline and bottom-line revenue streams for the GROM organization. TDA has established a strong reputation as a premium animation production studio, and with its global network of clients and partners that have ongoing animation production needs, there continues to be a continuous pipeline of both existing and new productions coming through the door. As a company, TDA continues to invest in best-in-class facilities, talent and operations, driving for increased efficiencies and bolstered operational capacities, while supporting the delivery of on-time, on-budget and on-quality production work product. From a future projections-perspective, while we cannot advise on actual numbers, there are ongoing project bids and quotations that lead us to believe that TDA's revenue streams will continue to grow.
What can investors look forward to in terms of GROM's long-term strategic goals and the potential impact on the company's growth and shareholder value in the future?
We build IP that has the opportunity to grow and become something that's more than just one pillar of content. The content could start in television, then could become a book and then a feature film, which is our goal of these properties. Ultimately, if we do these things correctly, check all the boxes, and we drive things in the right manner, they become franchise properties. A franchise property is something that that has the opportunity to generate all kinds of revenue streams from different places. Which is the goal with our entire portfolio of content and for example, we have a feature film in production right now called Santa.com, which is a fourth quarter launch 2025 and this film has the opportunity to become a licensing juggernaut through the themes of holiday, adventure, elves and Santa Claus.
Investors can look forward to significant progress coming from GROM's multiple business operating units, which are planned to generate significant, ownable streams of revenue, as well as a portfolio of Kids & Family media IP that has meaningful long term value.
Is there any other information you wish to share with our investors reading so we can highlight the opportunity of GROM?
We greatly appreciate our investors and partners' support, as we focus on building a healthy business that drives meaningful value.
Thank you for your time.
Thank you!
Disclaimer
This website is a wholly owned subsidiary of SCD Media, LLC, herein referred to as Smallcaps Daily. Our publications are a commercial advertisement and are for general information purposes ONLY. We are engaged in the business of marketing and advertising companies for monetary compensation. We may receive compensation for this article on a PPC basis as an affiliate. Never invest in any stock featured on our site or emails unless you can afford to lose your entire investment. The disclaimer is to be read and fully understood before using our services, joining our site or our email/blog list as well as any social networking platforms we may use. PLEASE NOTE WELL: Smallcaps Daily and its employees are not a Registered Investment Advisor, Broker Dealer or a member of any association for other research providers in any jurisdiction whatsoever.Release of Liability: Through use of this website viewing or using you agree to hold Smallcaps Daily, its operators owners and employees harmless and to completely release them from any and all liability due to any and all loss (monetary or otherwise), damage (monetary or otherwise), or injury (monetary or otherwise) that you may incur. The information contained herein is based on sources which we believe to be reliable but is not guaranteed by us as being accurate and does not purport to be a complete statement or summary of the available data. Smallcaps Daily encourages readers and investors to supplement the information in these reports with independent research and other professional advice. All information on featured companies is provided by the companies profiled, or is available from public sources and Smallcaps Daily makes no representations, warranties or guarantees as to the accuracy or completeness of the disclosure by the profiled companies. None of the materials or advertisements herein constitute offers or solicitations to purchase or sell securities of the companies profiled herein and any decision to invest in any such company or other financial decisions should not be made based upon the information provided herein. Instead Smallcaps Daily strongly urges you conduct a complete and independent investigation of the respective companies and consideration of all pertinent risks. Readers are advised to review SEC periodic reports: Forms 10-Q, 10K, Form 8-K, insider reports, Forms 3, 4, 5 Schedule 13D. Smallcaps Daily is compliant with the Can Spam Act of 2003. Salesparq, LLC does not offer such advice or analysis, and Smallcaps Daily further urges you to consult your own independent tax, business, financial and investment advisors. Investing in micro-cap and growth securities is highly speculative and carries and extremely high degree of risk. It is possible that an investors investment may be lost or impaired due to the speculative nature of the companies profiled. The Private Securities Litigation Reform Act of 1995 provides investors a safe harbor in regard to forward-looking statements. Any statements that express or involve discussions with respect to predictions, expectations, beliefs, plans, projections, objectives, goals, assumptions or future events or performance are not statements of historical fact may be forward looking statements. Forward looking statements are based on expectations, estimates, and projections at the time the statements are made that involve a number of risks and uncertainties which could cause actual results or events to differ materially from those presently anticipated. Forward looking statements in this action may be identified through use of words such as projects, foresee, expects, will, anticipates, estimates, believes, understands, or that by statements indicating certain actions & quote; may, could, or might occur. Understand there is no guarantee past performance will be indicative of future results.In preparing this publication, Smallcaps Daily, has relied upon information supplied by its customers, publicly available information and press releases which it believes to be reliable; however, such reliability cannot be guaranteed. Investors should not rely on the information contained in this website. Rather, investors should use the information contained in this website as a starting point for doing additional independent research on the featured companies. Smallcaps Daily has not been compensated for this article. The advertisements in this website are believed to be reliable, however, Smallcaps Daily and its owners, affiliates, subsidiaries, officers, directors, representatives and agents disclaim any liability as to the completeness or accuracy of the information contained in any advertisement and for any omissions of materials facts from such advertisement. Smallcaps Daily is not responsible for any claims made by the companies advertised herein, nor is Smallcaps Daily responsible for any other promotional firm, its program or its structure. Smallcaps Daily is not affiliated with any exchange, electronic quotation system, the Securities Exchange Commission or FINRA.