Featured
Soligenix, Inc. CEO Sits Down with SmallCaps Daily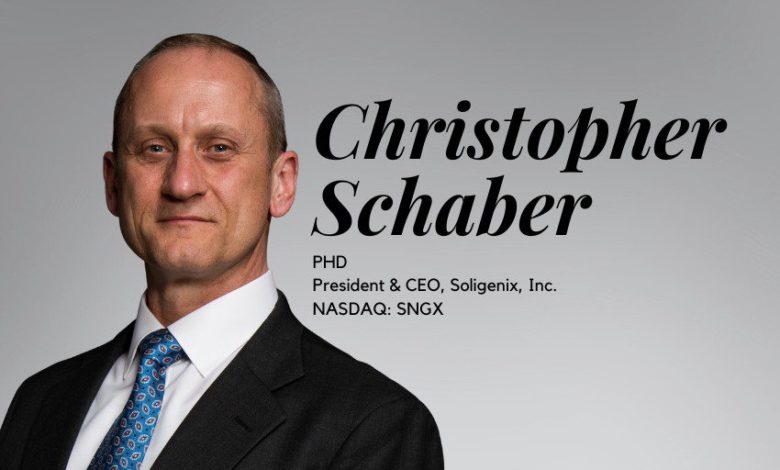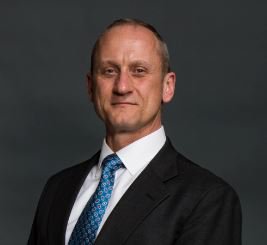 Christopher J. Schaber, PhD – Chairman, President and Chief Executive Officer
Christopher J. Schaber has over 30 years of experience in the pharmaceutical and biotechnology industry. Dr. Schaber has been our President and Chief Executive Officer and a director since August 2006. He was appointed Chairman of the Board on October 8, 2009. He also serves on the board of directors of the Biotechnology Council of New Jersey ("BioNJ") since January 2009 and the Alliance for Biosecurity since October 2014, and has been a member of the corporate councils of both the National Organization for Rare Diseases ("NORD") and the American Society for Blood and Marrow Transplantation ("ASBMT") since October 2009 and July 2009, respectively. Prior to joining Soligenix, Dr. Schaber served from 1998 to 2006 as Executive Vice President and Chief Operating Officer of Discovery Laboratories, Inc., where he was responsible for overall pipeline development and key areas of commercial operations, including regulatory affairs, quality control and assurance, manufacturing and distribution, pre-clinical and clinical research, and medical affairs, as well as coordination of commercial launch preparation activities. From 1996 to 1998, Dr. Schaber was a co-founder of Acute Therapeutics, Inc., and served as its Vice President of Regulatory Compliance and Drug Development. From 1994 to 1996, Dr. Schaber was employed by Ohmeda PPD, Inc., as Worldwide Director of Regulatory Affairs and Operations. From 1989 to 1994, Dr. Schaber held a variety of regulatory, development and operations positions with The Liposome Company, Inc., and Elkins-Sinn Inc., a division of Wyeth-Ayerst Laboratories. Dr. Schaber received his BA degree from Western Maryland College, his MS degree in Pharmaceutics from Temple University School of Pharmacy and his PhD degree in Pharmaceutical Sciences from the Union Graduate School.

Full Interview:
Thank you for taking the time to answer my questions about Soligenix, Inc. For our readers who may be unfamiliar, will you briefly describe the Company and its focus?
Soligenix, is a late clinical stage, publicly traded, Nasdaq listed company, focused on developing and commercializing drugs to treat rare diseases and areas of unmet medical need. Soligenix has two unique business segments: 1) a Specialized Biotherapeutics segment dedicated to the development of products in oncology and inflammation, such as cutaneous T-cell lymphoma or CTCL, and 2) a Public Health Solutions segment developing heat stable vaccines for emerging infectious diseases, like Ebola and in the area of biodefense to protect the World from potential bioterrorism, such as from lethal ricin attacks.
Could you discuss the recent positive results from the compatibility study of HyBryte in the treatment of cutaneous T cell lymphoma (CTCL)?
The HyBryte™ compatibility clinical study importantly established that any commercially viable light device capable of producing visible light of an appropriate and consistent wavelength (500 to 650 nm) was suitable for use with HyBryte™ (topical synthetic hypericin) and extended the pharmacokinetic (PK) profile by showing that only very minute quantities of the drug are systemically absorbed, which is important when treating a rare and chronic cancer with no cure, like CTCL. In addition to meeting these important objectives, the efficacy demonstrated in this study strongly substantiated the results of our successful Phase 3 FLASH (Fluorescent Light Activated Synthetic Hypericin) study. The treatment response data following 8 weeks of twice weekly HyBryte™ therapy reinforced the positive results demonstrated in the FLASH trial, despite the fact that patients in the compatibility study were specifically selected to have more extensive disease consistent with its potential commercial use. Overall, the findings from this study further supported HyBryte™ as a safe and effective treatment in CTCL, where essentially all of the current treatment options have significant safety issues associated with them.
I understand that the FDA has granted a Type A meeting to discuss the design of a second Phase 3 trial for HyBryte in the treatment of CTCL. Can you share any insights into the objectives and expectations for this trial, as well as the potential impact on the new drug application (NDA) filing?
In addition to the positive and statistically significant Phase 3 FLASH study now published in JAMA Dermatology, the FDA is requiring that a second, confirmatory study with a longer comparative treatment duration than what was conducted in the FLASH study in support of a NDA filing for HyBryte™ in CTCL. As you would imagine, I am limited in what I can say at this time as we do not have final agreement; however, what I can tell you is that we are actively engaged in discussions with the FDA on this study and hope to obtain agreement in the second half of the year on a feasible design that would be highly executable as quickly as possible. I will also note that many CTCL key opinion leaders, as well as patient advocacy and patients are excited to gain access to HyBryte™ following successful completion of the confirmatory study and approval of the NDA.
SNGX recently entered into an exclusive option agreement with Silk Road Therapeutics for a novel topical formulation of pentoxifylline (PTX) for the treatment of mucocutaneous ulcers in patients with Behçet's Disease (BD). Can you expand on the potential this milestone has as well as the potential market opportunity for BD treatment?
BD is a rare multisystem inflammatory vasculitis with no cure. It is characterized by debilitating recurrent ulcers in the mouth (95%), skin/genitalia (50%), and eye compartment (15%). Like CTCL, BD is an orphan disease and area of unmet medical need. There are approximately 18,000 people living with it in the U.S. and about 80,000 in Europe, however, there are as many as 1,000,000 people worldwide living with this painful and life altering disease. The option agreement with Silk Road grants the Company the right to acquire this novel muco-adherent topical formulation of Pentoxifylline or PTX which not only has the potential to fill a significant void in the current treatment armamentarium for BD, but adds to Soligenix robust rare disease pipeline with another later clinical stage asset. With the positive Phase 2 proof-of-concept (POC) study conducted by Silk Road that demonstrated accelerated oral ulcer healing and decreased pain compared to standard of care in patients with BD, we are actively working to complete the remaining diligence activities, including discussion with the FDA on the appropriate Phase 2/3 trial design to advance PTX in BD. We expect to have clarity on that design later this year. Assuming all our diligence continues to align with expectation, we would look to acquire the PTX asset and advance it into a Phase 2/3 study.
Are there any other notable milestones in Soligenix's pipeline or business segments that readers should be aware of? Are there any upcoming milestones that could have a significant impact?
There is! We are currently enrolling in a small Phase 2a study evaluating SGX302 (synthetic hypericin), which is the same active ingredient that is in HyBryte™, for the treatment of mild-to-moderate psoriasis. While psoriasis is an ongoing unmet medical need, it is quite a large indication with as many as 7.5 million people in the U.S. and 60-125 million people worldwide affected by this incurable disease. We expect to have preliminary results from this POC study before yearend. It is our goal to expand synthetic hypericin's development into different cutaneous T-cell diseases like psoriasis, as a component of our long-term strategy to enhance the value of this unique compound.
There are a number of other 2023 milestones we anticipate achieving across our Specialized Biotherapeutics and Public Health Solutions business segments. I would urge anyone interested in learning more to view the corporate presentation on the Soligenix website, where we have a slide that lists them.
What challenges is SNGX facing, if any, and how is the Company addressing these challenges?
One of the biggest challenges that any development stage biotech company faces is securing the necessary capital to continue to advance its pipeline. We were fortunate enough to have done that last month, having closed an $8.5 million financing to add to our existing cash balance and non-dilutive cash from our grant awards with the U.S. government. This gives us a current cash runway deep into 2024.
In terms of the Company's long-term strategy and vision, what are Soligenix's goals as you look forward?
The goals are consistent with the programs we have been discussing, that is, to advance HyBryte™ in CTCL, while also continuing to move forward with SGX302 in psoriasis and PTX in BD. While doing this, we also continue to remain vigilant to identify potential opportunities to increase shareholder value as quickly as possible, including, but not limited to, potential business partnerships and/or merger and acquisition.
What is your perspective on the total addressable market for SNGX now and in the future?
As detailed in our corporate presentation, we estimate the total addressable global market potential across both our business segments to be approximately $2 billion. When you look at our pipeline, current stock price and market cap, the potential upside is significant, in my opinion.
What is the company's financial position and how does it plan to allocate capital in order to maximize returns for investors while also ensuring long-term growth and stability?
As I stated earlier, the Company is currently in a good financial position and does not need to raise capital. In addition, we have a long history of continually evaluating other non- and/or less-dilutive ways to fund development programs in order to extend cash runway, such as pursuit of non-dilutive government grants and contracts from the FDA, the National Institute of Allergy and Infectious Diseases (NIAID), the Defense Threat Reduction Agency (DTRA) and the Biomedical Advanced Research and Development Authority (BARDA). Over the years, we have successfully brought in close to $80 million in non-dilutive funding to advance our pipeline and maintain stability.
Is there any other information you wish to share with our investors reading so we can highlight the opportunity of SNGX?
I believe we have covered a great deal. Thank you for the opportunity to highlight Soligenix's pipeline and potential value proposition. I hope the discussion today piqued the interest of potential investors to learn more about the important work the Company is doing to advance science and help patients. I would urge anyone wanting to learn more to visit our corporate website at www.soligenix.com. We have quite a bit of material available to assist you.
Thank you for your time.
Disclaimer
This website is a wholly owned subsidiary of SCD Media, LLC, herein referred to as Smallcaps Daily. Our publications are a commercial advertisement and are for general information purposes ONLY. We are engaged in the business of marketing and advertising companies for monetary compensation. We may receive compensation for this article on a PPC basis as an affiliate. Never invest in any stock featured on our site or emails unless you can afford to lose your entire investment. The disclaimer is to be read and fully understood before using our services, joining our site or our email/blog list as well as any social networking platforms we may use. PLEASE NOTE WELL: Smallcaps Daily and its employees are not a Registered Investment Advisor, Broker Dealer or a member of any association for other research providers in any jurisdiction whatsoever.Release of Liability: Through use of this website viewing or using you agree to hold Smallcaps Daily, its operators owners and employees harmless and to completely release them from any and all liability due to any and all loss (monetary or otherwise), damage (monetary or otherwise), or injury (monetary or otherwise) that you may incur. The information contained herein is based on sources which we believe to be reliable but is not guaranteed by us as being accurate and does not purport to be a complete statement or summary of the available data. Smallcaps Daily encourages readers and investors to supplement the information in these reports with independent research and other professional advice. All information on featured companies is provided by the companies profiled, or is available from public sources and Smallcaps Daily makes no representations, warranties or guarantees as to the accuracy or completeness of the disclosure by the profiled companies. None of the materials or advertisements herein constitute offers or solicitations to purchase or sell securities of the companies profiled herein and any decision to invest in any such company or other financial decisions should not be made based upon the information provided herein. Instead Smallcaps Daily strongly urges you conduct a complete and independent investigation of the respective companies and consideration of all pertinent risks. Readers are advised to review SEC periodic reports: Forms 10-Q, 10K, Form 8-K, insider reports, Forms 3, 4, 5 Schedule 13D. Smallcaps Daily is compliant with the Can Spam Act of 2003. Salesparq, LLC does not offer such advice or analysis, and Smallcaps Daily further urges you to consult your own independent tax, business, financial and investment advisors. Investing in micro-cap and growth securities is highly speculative and carries and extremely high degree of risk. It is possible that an investors investment may be lost or impaired due to the speculative nature of the companies profiled. The Private Securities Litigation Reform Act of 1995 provides investors a safe harbor in regard to forward-looking statements. Any statements that express or involve discussions with respect to predictions, expectations, beliefs, plans, projections, objectives, goals, assumptions or future events or performance are not statements of historical fact may be forward looking statements. Forward looking statements are based on expectations, estimates, and projections at the time the statements are made that involve a number of risks and uncertainties which could cause actual results or events to differ materially from those presently anticipated. Forward looking statements in this action may be identified through use of words such as projects, foresee, expects, will, anticipates, estimates, believes, understands, or that by statements indicating certain actions & quote; may, could, or might occur. Understand there is no guarantee past performance will be indicative of future results.In preparing this publication, Smallcaps Daily, has relied upon information supplied by its customers, publicly available information and press releases which it believes to be reliable; however, such reliability cannot be guaranteed. Investors should not rely on the information contained in this website. Rather, investors should use the information contained in this website as a starting point for doing additional independent research on the featured companies. Smallcaps Daily has not been compensated for this article. The advertisements in this website are believed to be reliable, however, Smallcaps Daily and its owners, affiliates, subsidiaries, officers, directors, representatives and agents disclaim any liability as to the completeness or accuracy of the information contained in any advertisement and for any omissions of materials facts from such advertisement. Smallcaps Daily is not responsible for any claims made by the companies advertised herein, nor is Smallcaps Daily responsible for any other promotional firm, its program or its structure. Smallcaps Daily is not affiliated with any exchange, electronic quotation system, the Securities Exchange Commission or FINRA.