Featured
Sunshine Biopharma: The Bright spot in Biopharma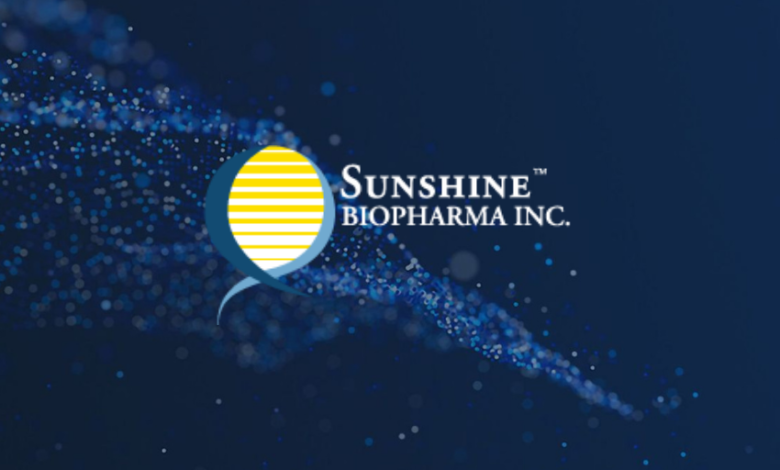 Biopharma companies focused on anti-viral research are back in the radar of growth investors after the rapid spread of the new form of the Omicron variant in Europe. With most countries' governments lifting restrictions, the waning immunity of the global population, and a highly contagious BA.2 Omicron subvariant, it appears as if the Covid-19 crisis is far from over. While there may be many different Covid-19 remedies available in the market, further research is critical to finding a potential drug candidate that is effective against all possible mutations of the coronavirus. Today, we are going to look at a development-stage biopharma company that has shown significant promise in this domain – Sunshine Biopharma (NASDAQ:SBFM). Apart from its solid anti-coronavirus research, the company is making strides in the area of anti-cancer research and has a strong ongoing revenue stream in the form of the sale of dietary supplement tablets. Let us take a closer look at its recent developments and evaluate its worth as a prospective investment opportunity.
Business overview
Sunshine Biopharma, Inc., founded in 2006 and is based in Pointe-Claire, Canada, is a biopharma company specializing in oncology and antiviral drug research, development, and commercialization. The company is working on two main candidates – the Adva-27a, a GEM-difluorinated C-glycoside by-product of Podophyllotoxin and SBFM-PL4, an anti-coronavirus treatment compound. Adva-27a is looking to treat several issues, including leukaemia, lymphoma, lung, brain, testicular, prostate, urinary bladder, colon, ovarian, liver, and other cancers. The drug also seeks to destroy multidrug resistant cancer cells such as pancreatic cancer, small-cell lung cancer, breast cancer, and uterine sarcoma cells. The company has also made significant progress on the SBFM-PL4 on the Covid-19 front. Apart from the research aspect, Sunshine Biopharma has a key revenue stream in the form of Essential 9, a dietary supplement tablet that it sells.
Covid-19 treatment
Sunshine Biopharma's journey with respect to research on the Covid-19 front commenced in early 2020 and it was able to file a patent application in the U.S. for a novel treatment against the coronavirus which is expected to be in tablet form and that can be taken home. Using this patented technology, their research team completed the synthesis of four different potential inhibitors of the coronavirus protease followed by the screening of each of these four compounds to finally identify its lead anti-Covid-19 drug candidate – the SBFM-PL4. The company is developing this candidate in collaboration with the University of Georgia. The management has also entered into a licence contract with the University of Georgia to develop two anti-coronavirus compounds in parallel with SBFM-PL4, its lead anti-coronavirus compound.
Among recent announcements, the management claimed that it had mapped the mutations discovered in Delta as well as other known variants of concern. The majority of the mutations were discovered in the Spike protein, with only a few in the genomic sequences encoding nsp3, a multi-domain protein including the PLpro enzyme. Surprisingly, no mutations were found in the domain that makes up the PLpro catalytic core. These findings suggest that Sunshine Biopharma's PLpro inhibitors, which are currently being developed at the University of Georgia, would be effective against all relevant variants of the Covid-19. Its effectiveness could possibly even be superior to that of the existing drugs available in the market such as Pfizer's (NYSE:PFE) Paxlovid and Merck's (NYSE:MRK) molnupiravir. Just last month, the Company signed another collaboration agreement, this time with the University of Arizona, aimed at advancing the development of three PLpro inhibitors discovered by researchers at the University of Arizona and University of Illinois Chicago. The Arizona collaboration will focus on determining the in vivo safety, pharmacokinetics, dose selection, and mice studies of these three molecules. The molecules showing best efficacy in infected mice will be advanced to human trials. While this research is also at the pre-IND stage like the others, we believe that it could also have immense potential.
Oncological Research
Sunshine Biopharma has a strong specialization in oncological research and is focused on Adva-27a, a GEM-difluorinated C-glycoside by-product of Podophyllotoxin that has been shown to be highly effective at killing multi-drug resistant cancer cells. This is their flagship anti-cancer compound since its inception. After completing the GMP manufacturing and formulation of a 2-kilogram quantity for injection, Adva-27a may enter Phase I clinical trials for pancreatic cancer and breast cancer. The inhibition of a key cell-cycle enzyme called Topoisomerase II is the mechanism by which Adva-27a can kill cancer cells. Adva-27a, unlike other antitumor drugs currently in use, can kill multidrug-resistant cancer cells. It is worth highlighting that Etoposide, another Topoisomerase II inhibitor that is commonly used, doesn't affect multidrug-resistant breast cancer cells, whereas Adva-27a does.
According to the preclinical studies, P-Glycoprotein, the enzyme that makes cancer cells resistant to anti-tumour drugs, doesn't affect Adva-27a which is what drives Sunshine Biopharma's optimism. Furthermore, both human microsome stability studies and pharmacokinetics data in rats show that Adva-27a has an excellent clearance time. The clearance of Adva-27a is independent of Cytochrome P450, a mechanism that produces fewer toxic intermediates. Management also disclosed that their clinical trials would be held at McGill University's Jewish General Hospital in Montreal, Canada. At all levels, FDA standards will be used in all aspects of the planned clinical trials in Canada. From the beginning to the end, the company estimates that it will take about 18 to 24 months. After Phase I clinical trials are completed, they will most likely be required to make Adva-27a available to patients under the compassionate-use guidelines. It is worth highlighting that Sunshine Biopharma is the sole and exclusive owner of this patent, as well as all other worldwide patents covering Adva-27a. It has also not granted any licenses or rights under these patents to any entity. This could be a huge potential upside in the future. Given its application in a domain like cancer research which has a significant overlap with big pharma, Sunshine could easily become an acquisition target
Science-Based Nutrition – The Core Revenue Stream
As we mentioned earlier, Sunshine Biopharma is one of the few research-oriented biopharma players with an active revenue stream and this comes from their science-based nutrition business line. The company's offering is a kind of a protein supplement. It is worth mentioning that proteins are made up of 20 different amino acids, 9 of which the human body cannot make. These include valine, threonine, histidine, isoleucine, methionine, leucine phenylalanine, lysine and tryptophan and have to be ingested through protein-rich foods. Their presence in the body is absolutely essential for energy, muscle repair, healthy digestion, regulating blood sugar levels, and generally maintaining an active and healthy lifestyle. Sunshine Biopharma looks to provide these amino acids through its product, the Essential 9 – a tablet that contains all of these elements in the exact, scientifically proven proportions. The product is vegan-certified and has a wide addressable market. The product is in high demand and could generate well over a million dollars in the coming year. These revenues act as an excellent cushion for the management to fund their research and there is definite growth potential on the Essential 9 front.
Key takeaways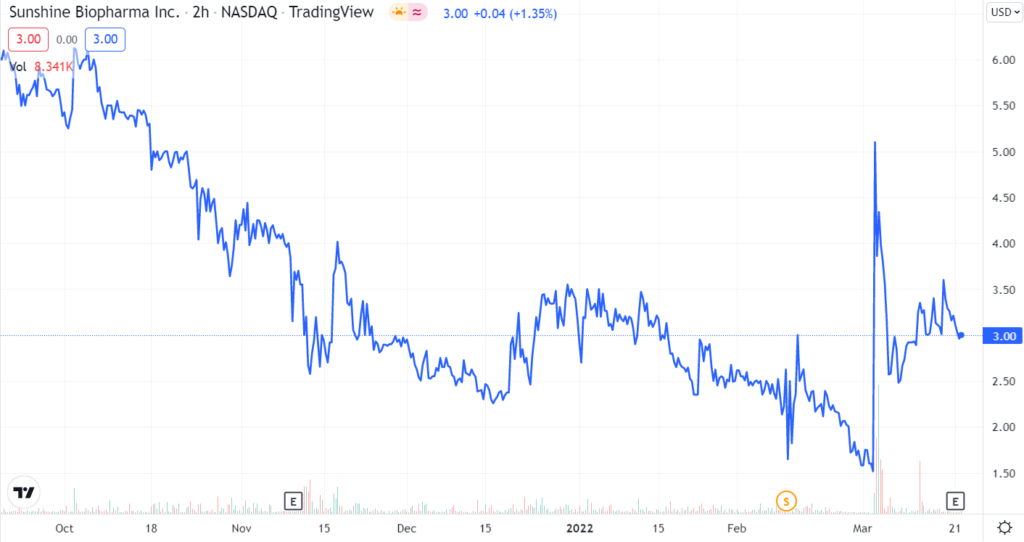 Sunshine Biopharma's up-listing to the Nasdaq has led to a definite increase in the volumes and there is a visible value unlocking as per the chart. Its Essential 9 offering has a lot of revenue potential and could easily generate over $1 million in 2022 and over $5 million in 2025 given its strong value proposition. The profits from this business can fund the company's anti-cancer and anti-viral research. On the research front as well, we anticipate tangible progress in Sunshine Biopharma's key research areas, particularly on the Covid-19 front. We foresee a strong potential with respect to the commercialization of its candidates, within the next two years. Overall, we believe that Sunshine Biopharma is an excellent investment prospect in the biopharma space given its ongoing revenue stream of science-based nutrition coupled with the solid anti-viral and anti-cancer drug research.
---
Disclaimer
This website is a wholly owned subsidiary of Salesparq, LLC, herein referred to as Salesparq, LLC. Our publications are a commercial advertisement and are for general information purposes ONLY. We are engaged in the business of marketing and advertising companies for monetary compensation. We may receive compensation for this article on a PPC basis as an affiliate. Never invest in any stock featured on our site or emails unless you can afford to lose your entire investment. The disclaimer is to be read and fully understood before using our services, joining our site or our email/blog list as well as any social networking platforms we may use.PLEASE NOTE WELL: Salesparq, LLC and its employees are not a Registered Investment Advisor, Broker Dealer or a member of any association for other research providers in any jurisdiction whatsoever.Release of Liability: Through use of this website viewing or using you agree to hold Salesparq, LLC, its operators owners and employees harmless and to completely release them from any and all liability due to any and all loss (monetary or otherwise), damage (monetary or otherwise), or injury (monetary or otherwise) that you may incur. The information contained herein is based on sources which we believe to be reliable but is not guaranteed by us as being accurate and does not purport to be a complete statement or summary of the available data. Salesparq, LLC encourages readers and investors to supplement the information in these reports with independent research and other professional advice. All information on featured companies is provided by the companies profiled, or is available from public sources and Salesparq, LLC makes no representations, warranties or guarantees as to the accuracy or completeness of the disclosure by the profiled companies. None of the materials or advertisements herein constitute offers or solicitations to purchase or sell securities of the companies profiled herein and any decision to invest in any such company or other financial decisions should not be made based upon the information provided herein. Instead Salesparq, LLC strongly urges you conduct a complete and independent investigation of the respective companies and consideration of all pertinent risks. Readers are advised to review SEC periodic reports: Forms 10-Q, 10K, Form 8-K, insider reports, Forms 3, 4, 5 Schedule 13D. Salesparq, LLC is compliant with the Can Spam Act of 2003. Salesparq, LLC does not offer such advice or analysis, and Salesparq, LLC further urges you to consult your own independent tax, business, financial and investment advisors. Investing in micro-cap and growth securities is highly speculative and carries and extremely high degree of risk. It is possible that an investors investment may be lost or impaired due to the speculative nature of the companies profiled. The Private Securities Litigation Reform Act of 1995 provides investors a safe harbor in regard to forward-looking statements. Any statements that express or involve discussions with respect to predictions, expectations, beliefs, plans, projections, objectives, goals, assumptions or future events or performance are not statements of historical fact may be forward looking statements. Forward looking statements are based on expectations, estimates, and projections at the time the statements are made that involve a number of risks and uncertainties which could cause actual results or events to differ materially from those presently anticipated. Forward looking statements in this action may be identified through use of words such as projects, foresee, expects, will, anticipates, estimates, believes, understands, or that by statements indicating certain actions & quote; may, could, or might occur. Understand there is no guarantee past performance will be indicative of future results.In preparing this publication, Salesparq, LLC has relied upon information supplied by its customers, publicly available information and press releases which it believes to be reliable; however, such reliability cannot be guaranteed. Investors should not rely on the information contained in this website. Rather, investors should use the information contained in this website as a starting point for doing additional independent research on the featured companies. Salesparq, LLC has not been compensated for this article. The advertisements in this website are believed to be reliable, however, Salesparq, LLC and its owners, affiliates, subsidiaries, officers, directors, representatives and agents disclaim any liability as to the completeness or accuracy of the information contained in any advertisement and for any omissions of materials facts from such advertisement. Salesparq, LLC is not responsible for any claims made by the companies advertised herein, nor is Salesparq, LLC responsible for any other promotional firm, its program or its structure. Salesparq, LLC is not affiliated with any exchange, electronic quotation system, the Securities Exchange Commission or FINRA.