Featured
The OLB Group: A True Fintech Rockstar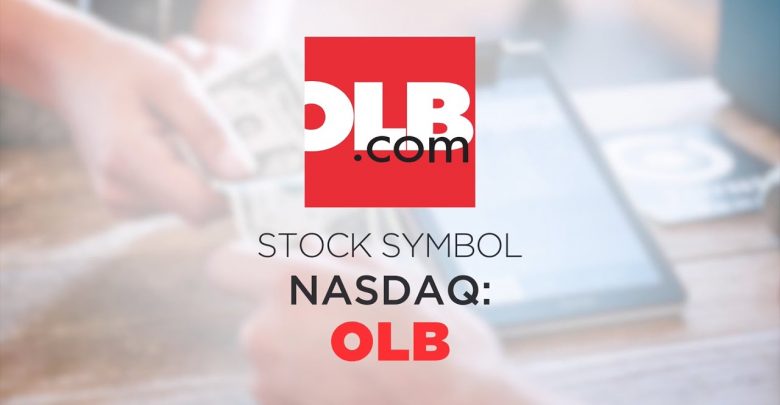 The OLB Group (NASDAQ:OLB) is a leading fintech company and a provider of multiple solutions such as payment processing, analytics, business management, crowdfunding, and so on. The cloud-based merchant services provider faced a slight reduction in its overall transactions in the early months of the pandemic but has already started showing signs of recovery. The revival of the U.S. SMBs (small and medium sized businesses) is expected to bring out the growing potential of OLB owing to its innovative approach and operations in a large market. In the recent period of disruption and uncertainty, the need for real-time data insights has become compelling for small businesses to survive and OLB is committed to providing these solutions to its huge merchant base. Moreover, with the rising trend of contactless transactions, the company has made enormous efforts in introducing new functions in its platforms in order to cater to the needs of changing environments. Therefore, OLB Group looks like a very compelling investment proposition at current levels.
Introduction of AI-based analytics for merchants
In April 2021, OLB Group announced its target of implementing Artificial Intelligence and Machine Learning analytics through the ShopFast dashboard, a point-of-sale solution within OLB's OmniSoft platform. This will enable the small and midsize merchants to have access to data-driven insights in order to effectively compete in today's economic conditions. Earlier, small organizations had an inherent advantage in maintaining a close bond with their customers but the changing environment and Covid-19 pandemic has dramatically shifted the ways of conducting business. OLB Group is focused on empowering these small and midsize merchants by providing them with efficient solutions thereby enabling them to achieve their business goals and digital transformation efforts.
The management believes that this extension of ShopFast can place merchants on a more competitive footing with larger retailers and help them build a response to changes such as supply chain shortages, resource availability, and customer propensities. Adopting cost-effective tools that help the merchants generate, analyze and act on data, will most certainly allow OLB Group to gain significant market share among the small and midsize retailers hence acting as huge upside potential for the top-line growth of the company. These new features are expected to be available to all ShopFast merchants in the third quarter of 2021 at zero additional cost. These new introductions should help not only keep the company's existing clientele happy but also help add more merchants to its customer base.
Other technological advancements
OLB Group provides a wide variety of payment processing solutions to SMBs through its three fully-owned subsidiaries, i.e., eVance Inc., Omnisoft.io Inc., and CrowdPay.us Inc. In March 2021, the company optimized its SecurePay payment gateway to support the processing of cryptocurrency purchases and the settlement of merchant funds. This enables merchants to receive cryptocurrency payments alongside traditional card-based or digital wallet payments without any equipment changes. Moreover, the company recently simplified contactless payments with the introduction of QR-code support on its OmniSoft cloud-based business management platform and SecurePay Payment Gateway. The importance of contactless consumer interactions has become paramount in the current business environment and OLB Group is committed to providing solutions that will enable merchants to satisfy customer preferences and maintain a competitive edge.
Apart from this, it is worth highlighting that EZ Sports Technologies has collaborated with OLB Group to prove integrated e-commerce offerings to three Class D minor league baseball teams operated by National Sports Services (NSS). The three NSS teams will deploy these innovations to sell and fulfill ticket orders electronically and at the box office, manage food and beverage concessions, and sell team merchandise both at the stadium and online. In summary, OLB Group continues to provide a holistic package of solutions thereby creating a finance ecosystem in itself for the small and midsized merchants.
Final thoughts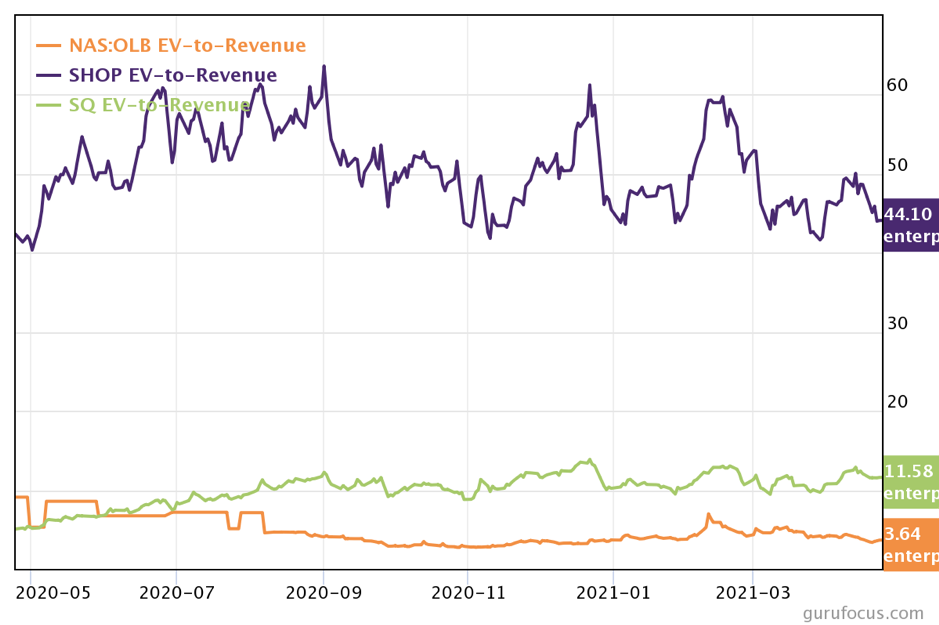 The above chart compares the enterprise-value-to-revenue multiple of The OLB Group with its larger competitors in the same domain- Shopify (NYSE:SHOP) and Square (NYSE:SQ). Despite the fact that OLB's entire payment ecosystem mode is similar to Square and its e-commerce solutions are within the same space as Shopify, it is trading at a significantly lower EV to Revenue multiple of 3.64. The stock is currently trading at around $5.17 and could easily go up to its 52-week high level of over $16. Given the fact that OLB operates in an equally large market, this indicates that the company has huge potential for multiple expansions given its recent technological advancements and robust portfolio of fintech services.
It is also worth highlighting that OLB witnessed strong e-commerce trends during the key holiday season and the management expects this momentum to continue in the coming quarters. Moreover, the company has improved its balance sheet volatility by becoming debt-free owing to the early loan payoff of $7.4 million in March 2021 thereby eliminating future interest payments. The company's target of implementing AI/MI tools to enhance merchant solutions is expected to be a key driver of growth behind the top and bottom line in the years to come. Overall, we believe that the OLB Group is poised for a robust 2021 ahead and has true multi-bagger potential as a stock.
---
Disclaimer
No Positions