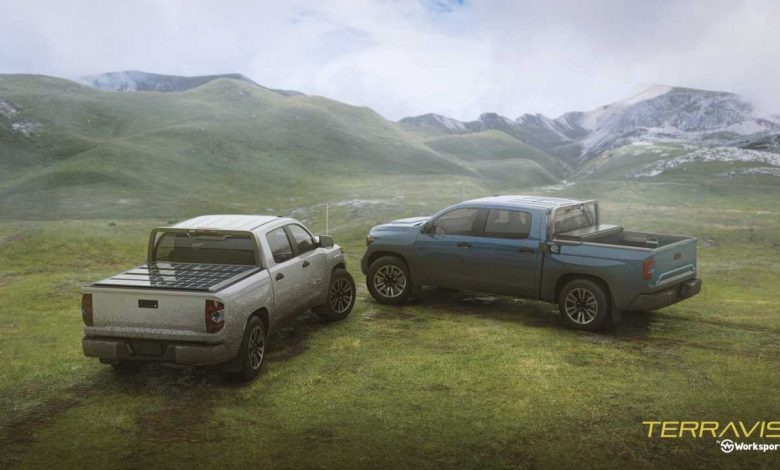 Few industries can match the valuation premium that is being commanded by companies operating in the electric vehicles (EV) space. Whether it is listed giants like Tesla (NYSE:TSLA) or even smaller sized private equity transactions within the EV domain, most companies have huge valuation multiples attached to them given the future prospects of the industry with the world expected to transition into this space in the coming years. There are a number of companies looking to provide innovative offerings within the EV charging space in order to address the issue of the global transition from ICE (internal combustion engine) based vehicles to EVs. Our small cap pick for the day is an incumbent from the tonneau covers industry for pickup trucks that has come up with some ground-breaking innovations with respect to the use of solar energy as well as something the company has recently referred to as a new "industries-disrtupting technology, termed 'NPEV'", possibly related, according to some sources, to   a network of EV charging stations with hydrogen as a source of energy.  Worksport Ltd. (NASDAQ:WKSP).
Company Overview
Worksport Ltd. serves private labels as well as original equipment manufacturers (OEM). The company offers a complete line of innovative products within the tonneau covers space and has recently made an entry into the EV market through its work on solar power technology.  Known as the TerraVis system, this technology features a mobile, solar-powered system that can store energy which can be used to fuel EVs among other products. Worksport is a real innovator in the automobile space in the truest sense of the term. The company is headquartered in Vaughan, Canada.
Worksport Tonneau Covers Pipeline
Worksport's product pipeline includes a combination of both, SC (soft covers) and TC (tough covers) tonneau covers. In 2011, Worksport introduced its first product, the SC3, which was fitted with a powder-coated lightweight aluminum frame and actual cam latches. After this invention, in 2012, it launched SC3pro to incorporate major product enhancements from SC3. The company included a Smart Latch System in SC3pro that allowed the operator to open the cover by pulling the release cable. In addition, the other lucrative offering of this company is the TC3, whose major selling point is that it provides a 14mm thick aluminum tri-cover panel. TC3 is fitted with the same frame as the SC3. The tonneau cover is widely used to enhance the average life of pickup trucks and premium convertible cars. It is a high-demand product, especially in the North American market where pickup truck use is high. The company's latest offering in this space, the SC4, is estimated to be launched in the third quarter of 2021, which is expected to be the first vinyl-wrapped tonneau truck cover to fold in four parts. This cover is expected to offer its users full bed access by being foldable upwards toward the truck's rear window. This is Worksport's standard business that is expected to ensure steady revenues and cash flows for the company as it innovates on the TerraVis front and the EV front.
The TerraVis Offering
Worksport is currently developing a two-component battery system called the TerraVis COR. This newly invented product consists of a solar tonneau cover and a portable core battery entirely designed to provide portable power for modern-day pickup trucks and enhance driving range to next-generation EV pickups by producing solar charge power. According to the management, the TerraVis system will provide a large amount of solar-generated power to deliver around 12-15 miles/day for the imminent crop of EV pickup trucks, typically a third of the average daily commute of most drivers in the US. Moreover, all of this comes free of emissions and at no cost beyond that of the system itself which is expected to be at less than 5% of the cost of the average pickup truck.
The company has announced that they are planning to launch the TerraVis COR Battery system by the end of 2021, which will allow power from the cover to be stored in modular battery boxes, storing 1.5 kWh of energy in approximately 4 batteries that can be kept and moved in the truck's bed, using the TerraVis mounting system. With an estimated sixty million pickups already on the road, the company is designing a mass-market version of TerraVis. They created this design for those vehicles that can serve as the major factor behind the company's growth.
Recently the management has announced that Worksport has completed the final design for TerraVis COR. Moreover, TerraVis COR has entered the production prototype phase, with the first pre-production prototype is expected to be prepared by the early quarter three of 2021. In May 2021, the company has also announced that Worksport has officially signed a lease agreement for its latest Canadian manufacturing facility. It has also established a tie-up with Ontario Tech University to have access to their world-class testing facility in order to complete the validation and fine-tuning for the pre-launch of TerraVis.
The Entry Into The EV Market
Worksport's latest set of innovations is expected to play a pivotal role in the transition of the average pickup truck user towards electric vehicles. The TerraVis offering will definitely go a long way in that regard. It has already gone ahead and established two OEM partnerships with the EV space. The first one is with Arizona-based Atlis Motor Vehicles and the second is with electric truck manufacturers Hercules Electric Vehicles. However, management does not stop there. It has gone ahead and registered trademark applications under the categories of fuel cells, charging stations for electric vehicles, uninterruptible power supplies and fueling of hydrogen gas for vehicles. In a recent press release, the company referenced a technology it calls "NPEV", which might eventually operate under a subsidiary named TerraVis Energy. The company appears to be aiming to produce EV charging solutions using hydrogen fuel cells. If so, the potential end user of such a clean technology go way beyond the EV market, and could include systems such as data centers, hospitals, emergency response. The mobile, not grid dependent nature of such a system opens a universe of potential revenue sources for Worksport.
Final Thoughts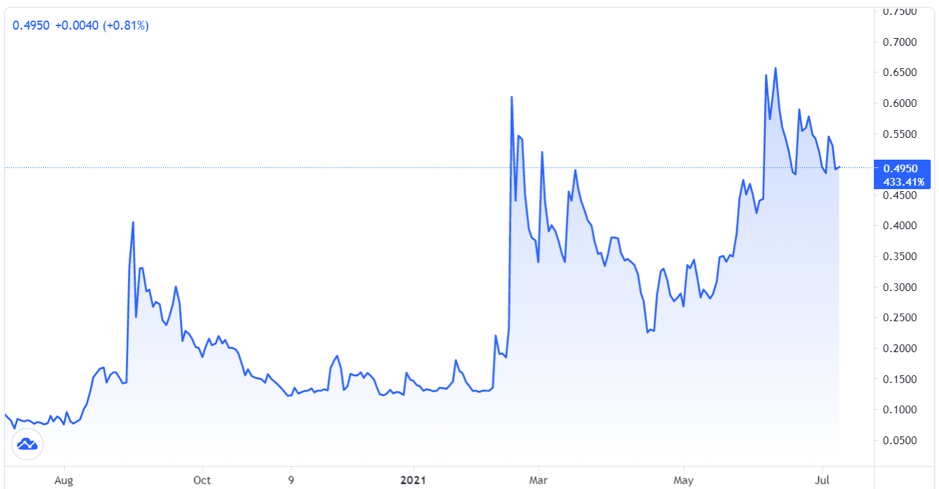 As we can see in the above chart, Worksport's stock price has spiked after the recent progress on the TerraVis front being revealed as well as the updates with respect to the entry into the EV charging market. It is hard to comment on the company's valuation despite the price rise as the addressable market is huge, not just for tonneau covers but also for TerraVis and EV charging. Even if Worksport is able to capture a minute fraction of this market, it could easily become a billion dollar enterprise. Its uplisting onto the NASDAQ is only going to add to the trading volume and push up the stock price as the positive sentiment around this innovator is very strong. Granted, the Reverse split and follow-on offering has brought the price down significantly, but for any new investor considering Worksport, this represents a huge discount for a company that has a massive upside. Overall, we believe that the company could be an excellent investment opportunity for the readers at SmallCapsDaily.
---
Disclaimer
No Positions
Disclaimer
This website is a wholly owned subsidiary of Salesparq, LLC, herein referred to as Salesparq, LLC. Our publications are a commercial advertisement and are for general information purposes ONLY. We are engaged in the business of marketing and advertising companies for monetary compensation. We may receive compensation for this article on a PPC basis as an affiliate. Never invest in any stock featured on our site or emails unless you can afford to lose your entire investment. The disclaimer is to be read and fully understood before using our services, joining our site or our email/blog list as well as any social networking platforms we may use.PLEASE NOTE WELL: Salesparq, LLC and its employees are not a Registered Investment Advisor, Broker Dealer or a member of any association for other research providers in any jurisdiction whatsoever.Release of Liability: Through use of this website viewing or using you agree to hold Salesparq, LLC, its operators owners and employees harmless and to completely release them from any and all liability due to any and all loss (monetary or otherwise), damage (monetary or otherwise), or injury (monetary or otherwise) that you may incur. The information contained herein is based on sources which we believe to be reliable but is not guaranteed by us as being accurate and does not purport to be a complete statement or summary of the available data. Salesparq, LLC encourages readers and investors to supplement the information in these reports with independent research and other professional advice. All information on featured companies is provided by the companies profiled, or is available from public sources and Salesparq, LLC makes no representations, warranties or guarantees as to the accuracy or completeness of the disclosure by the profiled companies. None of the materials or advertisements herein constitute offers or solicitations to purchase or sell securities of the companies profiled herein and any decision to invest in any such company or other financial decisions should not be made based upon the information provided herein. Instead Salesparq, LLC strongly urges you conduct a complete and independent investigation of the respective companies and consideration of all pertinent risks. Readers are advised to review SEC periodic reports: Forms 10-Q, 10K, Form 8-K, insider reports, Forms 3, 4, 5 Schedule 13D. Salesparq, LLC is compliant with the Can Spam Act of 2003. Salesparq, LLC does not offer such advice or analysis, and Salesparq, LLC further urges you to consult your own independent tax, business, financial and investment advisors. Investing in micro-cap and growth securities is highly speculative and carries and extremely high degree of risk. It is possible that an investors investment may be lost or impaired due to the speculative nature of the companies profiled. The Private Securities Litigation Reform Act of 1995 provides investors a safe harbor in regard to forward-looking statements. Any statements that express or involve discussions with respect to predictions, expectations, beliefs, plans, projections, objectives, goals, assumptions or future events or performance are not statements of historical fact may be forward looking statements. Forward looking statements are based on expectations, estimates, and projections at the time the statements are made that involve a number of risks and uncertainties which could cause actual results or events to differ materially from those presently anticipated. Forward looking statements in this action may be identified through use of words such as projects, foresee, expects, will, anticipates, estimates, believes, understands, or that by statements indicating certain actions & quote; may, could, or might occur. Understand there is no guarantee past performance will be indicative of future results.In preparing this publication, Salesparq, LLC has relied upon information supplied by its customers, publicly available information and press releases which it believes to be reliable; however, such reliability cannot be guaranteed. Investors should not rely on the information contained in this website. Rather, investors should use the information contained in this website as a starting point for doing additional independent research on the featured companies. Salesparq, LLC has not been compensated for this article. The advertisements in this website are believed to be reliable, however, Salesparq, LLC and its owners, affiliates, subsidiaries, officers, directors, representatives and agents disclaim any liability as to the completeness or accuracy of the information contained in any advertisement and for any omissions of materials facts from such advertisement. Salesparq, LLC is not responsible for any claims made by the companies advertised herein, nor is Salesparq, LLC responsible for any other promotional firm, its program or its structure. Salesparq, LLC is not affiliated with any exchange, electronic quotation system, the Securities Exchange Commission or FINRA.