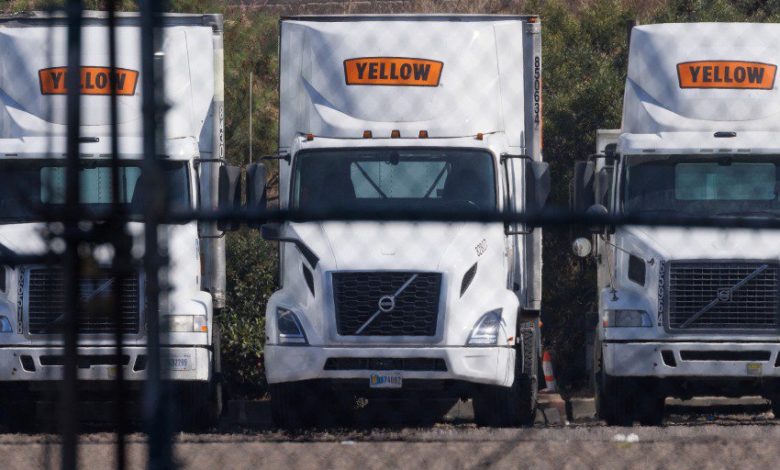 Renowned trucking company Yellow Corp (NASDAQ:YELL), with a near-century history, has recently announced its closure. The company was once prominent in the U.S. trucking landscape but has found itself plagued by debt from a series of mergers and consistent disagreements with the Teamsters union. However, despite declaring bankruptcy, Yellow's stock has unexpectedly witnessed its stock soar.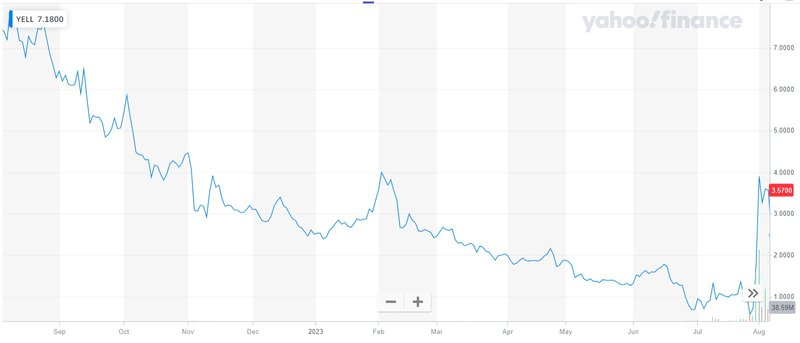 As we can see in the above chart, although the stock had plummeted to a mere $0.43 the prior week, it skyrocketed in subsequent sessions crossing the $2 mark. This was a result of an unexpected stake by MFN Partners. Now the big question here is: is it worth speculating on Yellow Corp given its latest meme stock status or is it too risky a play?
Yellow's Evolution & Expansion
Tracing its humble beginnings back to 1924, Yellow sprouted as a modest taxi and bus venture in Oklahoma City. The Yellow Cab Transit Company, aptly named for its fleet of yellow Ford Model-Ts and buses, primarily catered to local commuters. Yet, the company's trajectory changed dramatically post its 1951 bankruptcy. George Powell, a Kansas City banker, envisioned a larger dream for Yellow. Capitalizing on the inception of the Interstate Highway System, Powell transformed Yellow into a dominant long-haul operator. The following decades saw Yellow continuously expanding its footprint. Key acquisitions post interstate trucking deregulation in 1980 fortified its position, enabling the company to outlive many contemporaries. By 2003, Yellow's ambitions led to the acquisition of Roadway, another heavyweight in the LTL trucking realm. The merger aimed to enhance competitiveness against non-unionized rivals. However, decisions during these expansion phases sowed the seeds for future challenges.
Challenges, Mergers, and Missteps
Yellow's growth resulted in many complexities. The merger with Roadway, followed by another major acquisition of USF in 2005, was intended to streamline operations. However, instead of merging networks for maximum efficiency, Yellow only combined back-office functions, missing out on broader synergies. This decision would haunt them, especially when the 2008 recession hit, significantly reducing their business with major clients like Walmart. The adverse economic environment amplified the issues inherent in their operational model. Debts accrued from mergers, combined with the intricacies of managing multiple brands, persistently burdened the company. By 2014 and 2020, the specter of bankruptcy loomed again.
As the years rolled on, Yellow's performance metrics began to lag. Their revenue per shipment was substantially lower than competitors, a clear indicator of operational inefficiencies and potential mismanagement. Despite having an annual revenue near $5 billion since 2009, the company struggled to achieve consistent profits, signaling deep-rooted operational challenges.
The Final Straws
The challenges for Yellow were not solely historical. The recent global pandemic further strained the already beleaguered trucking giant. With the shutdown of factories and stores in 2020, the company, rebranded as YRC Worldwide, found itself grappling with debt payments. A controversial $700 million Covid rescue loan from the federal government provided temporary relief, given under the pretext of Yellow's crucial services to the Defense Department. However, even with this aid, internal tensions brewed.
The relationship between Yellow and the Teamsters union became increasingly tumultuous. As Yellow embarked on nationwide operational integration, disagreements with the Teamsters intensified. By June, Yellow was embroiled in a legal suit against the Teamsters and was lagging behind on pension fund payments. These internal conflicts, combined with dwindling cash reserves and mounting debts, led to a cascading effect, pushing Yellow to the brink.
MFN Partners' Unexpected Stake & Creditors Negotiations
Interestingly, the bleak landscape hasn't deterred Boston's MFN Partners, a hedge fund known for its significant stakes in competitors like XPO Inc. and RXO Inc. In the past month alone, MFN has shockingly acquired a 42.5% stake in Yellow Corporation. This substantial acquisition has been shrouded in mystery since the hedge fund remains tight-lipped regarding its motives, particularly in light of Yellow's precarious financial standing. Observers have questioned the logic behind such a move, especially when considering the shift of Yellow's customer volume to rival firms.
Further complicating matters is Apollo Global Management Inc.'s reported discussions about offering debtor-in-possession (DIP) financing to Yellow. This form of financing could potentially aid the company through its bankruptcy phase. However, such a move would only push more debt ahead of common shareholders, making the situation murkier for equity holders. Historical precedents, like the Luminus Management's misjudged gamble on the financially unstable offshore driller Valaris in 2019, serve as cautionary tales in such scenarios.
Potential Scenarios
Speculation is rife regarding MFN Partners' endgame. Some market participants believe that the hedge fund might be considering a takeover at Yellow's current $1.6 billion enterprise value. Others suggest potential capital infusion into the beleaguered firm. A subset even theorizes a deal involving XPO Inc., although the involvement of MFN Partners in such a transaction seems unnecessary. A wild theory also hints at MFN possibly attempting to emulate Ryan Cohen's surprise maneuver with shares of the floundering retailer, Bed, Bath & Beyond.
Final Thoughts: Is It Worth Trying To Monetize This Sinking Ship?
Despite MFN Partners' dramatic entry, the prospects for Yellow Corporation's common shareholders appear dim, especially with Apollo Global Management poised to offer super-senior DIP financing. With operations reportedly halted, any rationale for taking over the ailing firm and its colossal debt seems absent. Not to mention China imports sinking, and wholesale inventories rising sharply…investors might be well-advised to capitalize on the present rally, divest their positions, and look for greener pastures.
Disclaimer
This website is a wholly owned subsidiary of SCD Media, LLC, herein referred to as Smallcaps Daily. Our publications are a commercial advertisement and are for general information purposes ONLY. We are engaged in the business of marketing and advertising companies for monetary compensation. We may receive compensation for this article on a PPC basis as an affiliate. Never invest in any stock featured on our site or emails unless you can afford to lose your entire investment. The disclaimer is to be read and fully understood before using our services, joining our site or our email/blog list as well as any social networking platforms we may use. PLEASE NOTE WELL: Smallcaps Daily and its employees are not a Registered Investment Advisor, Broker Dealer or a member of any association for other research providers in any jurisdiction whatsoever.Release of Liability: Through use of this website viewing or using you agree to hold Smallcaps Daily, its operators owners and employees harmless and to completely release them from any and all liability due to any and all loss (monetary or otherwise), damage (monetary or otherwise), or injury (monetary or otherwise) that you may incur. The information contained herein is based on sources which we believe to be reliable but is not guaranteed by us as being accurate and does not purport to be a complete statement or summary of the available data. Smallcaps Daily encourages readers and investors to supplement the information in these reports with independent research and other professional advice. All information on featured companies is provided by the companies profiled, or is available from public sources and Smallcaps Daily makes no representations, warranties or guarantees as to the accuracy or completeness of the disclosure by the profiled companies. None of the materials or advertisements herein constitute offers or solicitations to purchase or sell securities of the companies profiled herein and any decision to invest in any such company or other financial decisions should not be made based upon the information provided herein. Instead Smallcaps Daily strongly urges you conduct a complete and independent investigation of the respective companies and consideration of all pertinent risks. Readers are advised to review SEC periodic reports: Forms 10-Q, 10K, Form 8-K, insider reports, Forms 3, 4, 5 Schedule 13D. Smallcaps Daily is compliant with the Can Spam Act of 2003. Salesparq, LLC does not offer such advice or analysis, and Smallcaps Daily further urges you to consult your own independent tax, business, financial and investment advisors. Investing in micro-cap and growth securities is highly speculative and carries and extremely high degree of risk. It is possible that an investors investment may be lost or impaired due to the speculative nature of the companies profiled. The Private Securities Litigation Reform Act of 1995 provides investors a safe harbor in regard to forward-looking statements. Any statements that express or involve discussions with respect to predictions, expectations, beliefs, plans, projections, objectives, goals, assumptions or future events or performance are not statements of historical fact may be forward looking statements. Forward looking statements are based on expectations, estimates, and projections at the time the statements are made that involve a number of risks and uncertainties which could cause actual results or events to differ materially from those presently anticipated. Forward looking statements in this action may be identified through use of words such as projects, foresee, expects, will, anticipates, estimates, believes, understands, or that by statements indicating certain actions & quote; may, could, or might occur. Understand there is no guarantee past performance will be indicative of future results.In preparing this publication, Smallcaps Daily, has relied upon information supplied by its customers, publicly available information and press releases which it believes to be reliable; however, such reliability cannot be guaranteed. Investors should not rely on the information contained in this website. Rather, investors should use the information contained in this website as a starting point for doing additional independent research on the featured companies. Smallcaps Daily has not been compensated for this article. The advertisements in this website are believed to be reliable, however, Smallcaps Daily and its owners, affiliates, subsidiaries, officers, directors, representatives and agents disclaim any liability as to the completeness or accuracy of the information contained in any advertisement and for any omissions of materials facts from such advertisement. Smallcaps Daily is not responsible for any claims made by the companies advertised herein, nor is Smallcaps Daily responsible for any other promotional firm, its program or its structure. Smallcaps Daily is not affiliated with any exchange, electronic quotation system, the Securities Exchange Commission or FINRA.