Breaking
Alteryx Inc. Up For Sale: What Value Can The Data Analytics Player Fetch From The Market?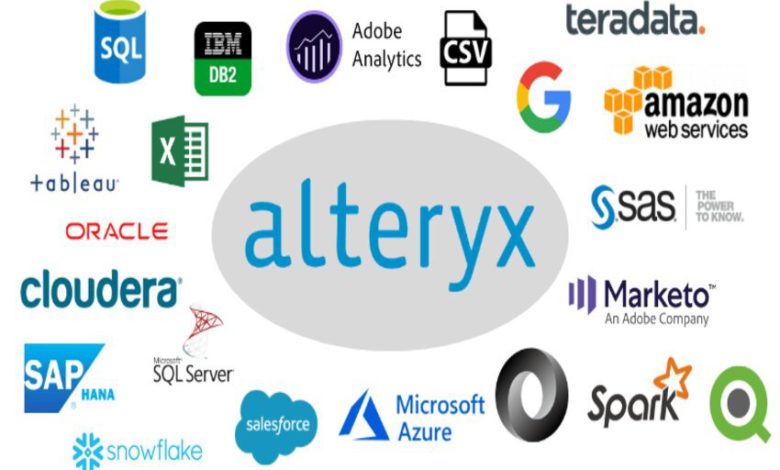 Alteryx Inc (NASDAQ:AYX), a renowned tech and data analytics player, has recently sent shockwaves through the investment world after news reports have indicated that its management is exploring a potential sale of the company. With more than 8,300 companies in its client roster, including giants like Coca-Cola, Vodafone, Walmart, and Ford, Alteryx has certainly made a mark in the data analytics sector. Its platform, designed to swiftly analyze and process data, has been a game-changer for businesses seeking to harness the power of data-driven decision-making. Thus, it is bound to have a number of interested buyers including private equity funds as well as tech giants. The reports indicate that Alteryx has collaborated with investment bank Qatalyst Partners in its discussions with potential acquirers. Let us have a closer look at the company's business and its position in the data analytics space in order to estimate the value it could generate in a buyout scenario.
What Does Alteryx Do?
Alteryx, Inc. is a global player in the analytic process automation industry, catering to a wide range of regions including Asia-Pacific, Europe, the Middle East, Africa, North America, and beyond. Their analytics platform empowers organizations to elevate their business outcomes and boost the efficiency of their business analysts, data scientists, citizen data scientists, and data engineers. This comprehensive platform encompasses several key components, such as Alteryx Designer, a versatile tool for data profiling, preparation, blending, and analytics; Alteryx Server, a server-based solution that facilitates scheduling, sharing, and execution of analytic processes and applications in a web-based environment; Alteryx Intelligence Suite, an innovative package offering automated modeling, optical character recognition, and natural language processing capabilities; and Alteryx Connect, a collaborative platform designed for data exploration and interaction. Furthermore, Alteryx's product portfolio extends to cloud-native offerings, including Alteryx Designer Cloud, a web-based iteration of the Alteryx Designer product; Alteryx Machine Learning, an automated machine learning solution that simplifies the creation, validation, iteration, and exploration of machine learning models; and Alteryx Auto Insights, an analytics solution engineered to automate insights for business users. Alteryx serves a wide array of industries, including retail, food services, consumer products, telecom and cable, media and entertainment, professional services, financial services, energy and utilities, public sector, manufacturing, travel and hospitality, healthcare, insurance, and technology.
Strong Position in Data Integration & Analytics
Alteryx has successfully carved a niche for itself in the crowded space of data integration and analytics software. This exceptional standing is primarily attributed to its capacity to aid businesses in efficiently amalgamating and visualizing data sourced from diverse platforms, be it flat files, sophisticated databases, application programming interfaces (APIs), or contemporary cloud applications. At the heart of this innovative enterprise is Alteryx's signature workflow designer, a game-changer that permits users to manage and disseminate data effortlessly, eliminating the need for intricate coding. Continuing with its tradition of pioneering, Alteryx has enriched its offerings with cutting-edge features like machine learning, spatial analysis, and auto insights. These enhancements facilitate users to harness the power of sophisticated analytics and data science, transforming raw data into actionable insights. Industries spanning retail, healthcare, finance, to name just a few, have greatly benefited from this, leveraging Alteryx's solutions for insight-driven problem-solving. Setting Alteryx apart from its peers is its unparalleled combination of scalability, adaptability, and user-friendliness. With a thriving clientele that boasts names like Coca-Cola, Starbucks, and Pfizer, and a staggering 96% customer retention rate, Alteryx's market prowess is unquestionably noteworthy. This success story is a blend of its impeccable brand image, strategic marketing, valuable referrals, and a well-established network of partners.
Recent Financial Performance & Strategic Initiatives
Alteryx achieved a notable milestone during this quarter with a 4% YoY increase in revenue, reaching $188 million. Additionally, despite a challenging economic climate, the non-GAAP operating loss was better than expected at $30 million. However, there were areas of concern, notably the annualized recurring revenue (ARR) falling slightly short of the guided range at $890 million, marking a 22% YoY increase. The primary focus remains on customer-centric innovation, with a spotlight on generative AI and cloud-connected experiences. Generative AI, under the brand AiDIN, has been introduced to accelerate and scale data analytics with proper governance and security. This technology is poised to transform how companies analyze data, adding value and insights across the enterprise. Cloud-connected experiences have taken a significant step forward with cloud execution for desktop, enabling users to publish workflows to the cloud, enhancing accessibility and efficiency.
International bookings in Europe and Asia showed promise, and the company continues to thrive in large enterprise organizations with a 48% Global 2000 penetration. In order to address recent challenges in sales execution, the management is implementing a higher level of engagement and diligence, particularly in North America. This includes scrutinizing deals more thoroughly and identifying higher probability win opportunities. The company's cloud strategy, supported by enterprise partners, is gaining traction, and its penetration within the Global 2000 continues to grow.
Final Thoughts – What Value Can Alteryx Fetch In A Buyout?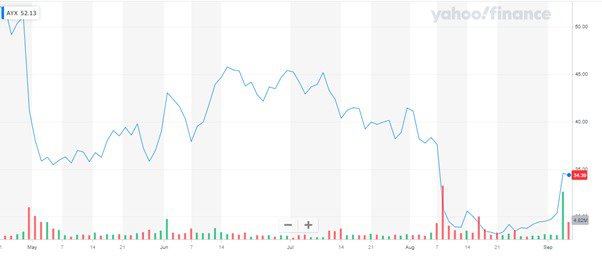 Source: Yahoo Finance
From the above chart, it is evident that in the face of firm competition from industry giants like Microsoft and Oracle, coupled with current setbacks in acquiring new business, Alteryx's valuation has taken a hit. The company's shares lost nearly half their value over the past year, making it an striking acquisition target. Insight Partners, an early investor with a 1.5% stake and board representation, has recused itself due to its interest as a potential acquirer. Meanwhile, Alteryx's Executive Chairman, Dean Stoecker, who holds substantial control, is considering the prospect of rolling his stake into any deal. Now, one must remember that Alteryx is a loss-making company and its current Enterprise Value/ Revenue multiple is as high as 6.63x which means the premium may not be significant. As per our estimates, we could reasonably expect a 20% premium and an acquisition price of around $42 which does imply an M&A arbitrage opportunity. However, it might be a risky one if the management is not open and flexible in terms of valuation. Overall, we believe that Alteryx presents an interesting albeit risky investment case for our readers.