Featured
Applied UV: Expanding Further into Food Security, a Billion Dollar Opportunity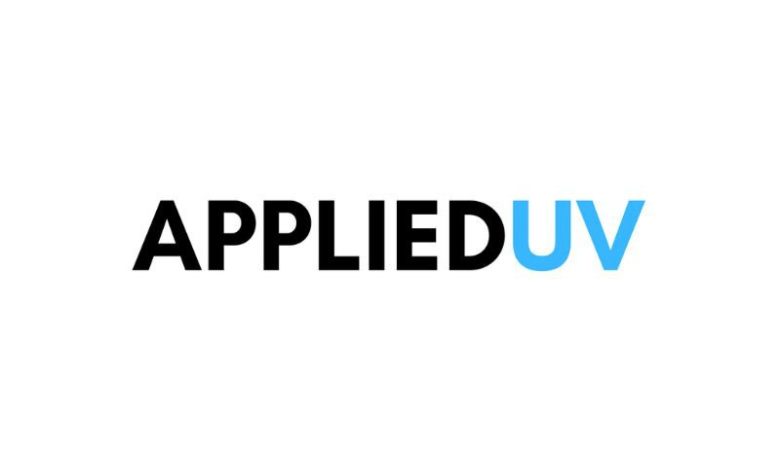 Applied UV Inc., (NASDAQ: AUVI) is an established leader in providing proprietary surface and air disinfection technology across multiple sectors. In fact, the company is one of the only research-backed, clinically-proven air and surface disinfection technology companies with international distribution and globally recognized end users with product co-developed for use by NASA. One of these sectors presents a significant global challenge that Applied UV is uniquely addressing: food security and post-harvest preservation. By utilizing its cutting-edge proprietary catalyst technology, the company's recent partnership with Canon .presents a massive opportunity for Applied UV to further assert its dominance in yet another billion-dollar market.
About the Company
Applied UV is a provider of proprietary surface and air disinfection technology, specializing in improving Indoor Air Quality (IAQ), LED smart building technology, and specialized furnishings for the hospitality and leisure industries. The company's diverse product offerings cater to clients globally in the commercial sector. With a focus on various industries such as food security and preservation, air quality, cannabis, education, wineries and healthcare, Applied UV has established itself as a reliable solution provider. The company has forged strategic manufacturing partnerships and alliances with reputable organizations including Canon Virginia Inc., Acuity Brands Lighting, Johnson Controls International, Siemens, and Grainger. Additionally, their global network of 89 dealers and distributors in 52 countries helps ensure widespread availability of their comprehensive product suite.
Food Security – A Growing Issue
Food waste and food safety are pressing global issues that cost the food industry hundreds of billions of dollars every year. Crop spoilage throughout the supply chain contributes to an estimated $400 billion loss annually, equating to approximately 30% of all harvested crops, as reported by the Chief Economist for Food and Agriculture at the United Nations. This alarming statistic has spurred an industry-wide call to action, prompting the exploration of innovative approaches to extend the shelf-life of food from harvest to table. Globally, the food industry faces an estimated $1 trillion cost due to food losses and waste each year. This figure encompasses not only the wasted food itself but also the extensive resources, labor, and energy invested in its production, processing, and transportation. Decomposing food in landfills emits methane, a potent greenhouse gas that contributes to climate change. Additionally, the resources utilized in food production, such as water, energy, and land, go to waste when food is discarded, exacerbating environmental pressures.
Beyond economic and environmental concerns, the consequences of food waste and spoilage extend to food security. With approximately 690 million people experiencing chronic hunger, reducing food loss and waste has become vital for achieving global food security. Minimizing waste and optimizing food utilization can ensure that more individuals have access to nutritious meals, addressing this critical issue.
A Massive Opportunity
Applied UV's subsidiary, SteriLumen, is renowned for its Airocide air purifiers, developed for NASA and dedicated to preserving Earth's environment. These air purifiers utilize proprietary Photocatalytic Oxidation UV light technology, far surpassing the effectiveness of HEPA filtration by completely destroying airborne viruses, including COVID, mold, odor, and various bacteria and pathogens. In the United States, alone, there is over $5 billion worth of food waste because of spoilage. With their proprietary technology, Applied UV is introducing a new technology that addresses the crucial issue of extending the shelf life of food, from harvest to table, through a process called photocatalytic oxidation. The aging of high-value fruits and vegetables, such as blueberries, melons, and bananas, is largely caused by ethylene in the air. The development of their proprietary catalyst, which effectively removes ethylene, has been scientifically validated and is already utilized in various facilities worldwide such as Whole Foods, Del Monte Foods, and Walmart.
By expanding their product line to handle supply chain concerns, Applied UV aims to cater not only to fixed applications like processors and distributors but also to transit applications. This expansion is crucial for the shipping industry, where refrigerated trucks and containers transport high-value perishables, and reducing ethylene in the air can significantly extend the shelf life of the produce. This breakthrough technology holds immense potential, not only in terms of reducing lost produce but also in addressing global food scarcity which has grown to be one of the most pressing concerns today.
Applied UV has forged a strategic partnership with Canon Virginia Inc., (a subsidiary of Canon, Japan) one of the world's largest technology manufacturers. Recognizing the importance of food security, Canon has allocated resources to partner with Applied UV in enhancing the efficiency and ease of use of their Airocide technology, while also exploring new applications. Together, they are developing next-generation products that leverage their combined engineering expertise, aiming to deliver best-in-class solutions for transit applications, including refrigerated trucks and containers.
Applied UV's partnership with Canon holds immense potential for the expansion and implementation of their Airocide Protect line, particularly in the transportation sector, which plays a crucial role in the supply chain. With approximately 30% of all harvested produce going to waste due to spoilage, the application of Applied UV's technology can help mitigate this loss and increase the yield of produce that reaches stores. This combination of extended shelf life, increased yields, and reduced transportation costs positions Applied UV as a significant player in combating food waste and enhancing food security.
The Markets
Due to rising food security issues, the food security technology market has grown impressively. In 2020, the market size was valued at $5 billion, and it is projected to reach nearly $8.6 billion by 2027, growing at a CAGR of 7.6%. The Post-harvest Treatment Market is projected to reach $2.7 billion by 2028. Global concerns of providing safe, nutritious, and sufficient food to support a growing population are key drivers for the expansion of these markets. As the population increases, farmers and the agricultural ecosystem face mounting pressure to adopt new technologies that can boost food production and provide increased shelf life. The adoption of innovative solutions and technologies plays a vital role in enhancing agricultural productivity and meeting the demand for healthy and nutritious food.
Final Thoughts
Applied UV is further establishing itself as a leader in the food security and post-harvest preservation markets, thanks to their unique proprietary catalyst, which is already implemented in facilities such as Del Monte, Whole Foods, Walmart and many others. The company's partnership with Canon opens up new avenues for financial growth and market penetration. The global issue of food waste and spoilage presents a very attractive opportunity for Applied UV. With billions of dollars lost annually in the industry, their innovative solutions have the potential to address this pressing problem. By extending the shelf life of perishable goods and reducing waste, Applied UV is not only poised to capture a significant market share but also to contribute positively to food security, environmental sustainability, and energy efficiency. With their unique technology, expanding market reach, and commitment to solving crucial challenges in the food industry, Applied UV is well-positioned to be a leading provider of solutions to the food security and preservation industry. Readers at SmallCaps Daily should recognize the exciting potential Applied UV has as they continue to revolutionize the industry and solidify their position as a key player in one of the most important industries.
Disclaimer
This website is a wholly owned subsidiary of SCD Media, LLC, herein referred to as Smallcaps Daily. Our publications are a commercial advertisement and are for general information purposes ONLY. We are engaged in the business of marketing and advertising companies for monetary compensation. We may receive compensation for this article on a PPC basis as an affiliate. Never invest in any stock featured on our site or emails unless you can afford to lose your entire investment. The disclaimer is to be read and fully understood before using our services, joining our site or our email/blog list as well as any social networking platforms we may use. PLEASE NOTE WELL: Smallcaps Daily and its employees are not a Registered Investment Advisor, Broker Dealer or a member of any association for other research providers in any jurisdiction whatsoever.Release of Liability: Through use of this website viewing or using you agree to hold Smallcaps Daily, its operators owners and employees harmless and to completely release them from any and all liability due to any and all loss (monetary or otherwise), damage (monetary or otherwise), or injury (monetary or otherwise) that you may incur. The information contained herein is based on sources which we believe to be reliable but is not guaranteed by us as being accurate and does not purport to be a complete statement or summary of the available data. Smallcaps Daily encourages readers and investors to supplement the information in these reports with independent research and other professional advice. All information on featured companies is provided by the companies profiled, or is available from public sources and Smallcaps Daily makes no representations, warranties or guarantees as to the accuracy or completeness of the disclosure by the profiled companies. None of the materials or advertisements herein constitute offers or solicitations to purchase or sell securities of the companies profiled herein and any decision to invest in any such company or other financial decisions should not be made based upon the information provided herein. Instead Smallcaps Daily strongly urges you conduct a complete and independent investigation of the respective companies and consideration of all pertinent risks. Readers are advised to review SEC periodic reports: Forms 10-Q, 10K, Form 8-K, insider reports, Forms 3, 4, 5 Schedule 13D. Smallcaps Daily is compliant with the Can Spam Act of 2003. Salesparq, LLC does not offer such advice or analysis, and Smallcaps Daily further urges you to consult your own independent tax, business, financial and investment advisors. Investing in micro-cap and growth securities is highly speculative and carries and extremely high degree of risk. It is possible that an investors investment may be lost or impaired due to the speculative nature of the companies profiled. The Private Securities Litigation Reform Act of 1995 provides investors a safe harbor in regard to forward-looking statements. Any statements that express or involve discussions with respect to predictions, expectations, beliefs, plans, projections, objectives, goals, assumptions or future events or performance are not statements of historical fact may be forward looking statements. Forward looking statements are based on expectations, estimates, and projections at the time the statements are made that involve a number of risks and uncertainties which could cause actual results or events to differ materially from those presently anticipated. Forward looking statements in this action may be identified through use of words such as projects, foresee, expects, will, anticipates, estimates, believes, understands, or that by statements indicating certain actions & quote; may, could, or might occur. Understand there is no guarantee past performance will be indicative of future results.In preparing this publication, Smallcaps Daily, has relied upon information supplied by its customers, publicly available information and press releases which it believes to be reliable; however, such reliability cannot be guaranteed. Investors should not rely on the information contained in this website. Rather, investors should use the information contained in this website as a starting point for doing additional independent research on the featured companies. Smallcaps Daily has not been compensated for this article. The advertisements in this website are believed to be reliable, however, Smallcaps Daily and its owners, affiliates, subsidiaries, officers, directors, representatives and agents disclaim any liability as to the completeness or accuracy of the information contained in any advertisement and for any omissions of materials facts from such advertisement. Smallcaps Daily is not responsible for any claims made by the companies advertised herein, nor is Smallcaps Daily responsible for any other promotional firm, its program or its structure. Smallcaps Daily is not affiliated with any exchange, electronic quotation system, the Securities Exchange Commission or FINRA.