News
BetFury Hosts Successful Crypto Rush, One of the Most Exciting Adventures for Crypto Investors and Enthusiasts
NEW YORK, NY –
(NewMediaWire) – July 11, 2023 – BetFury is proud to
announce the great success of the Crypto Rush, one of the many
exciting adventures on the BetFury platform. Crypto Rush was held from June 21
to July 6. Сrypto hunters competed in Battles, completed tasks, and tried their
luck in the Lottery to share the $800 000 prize pool.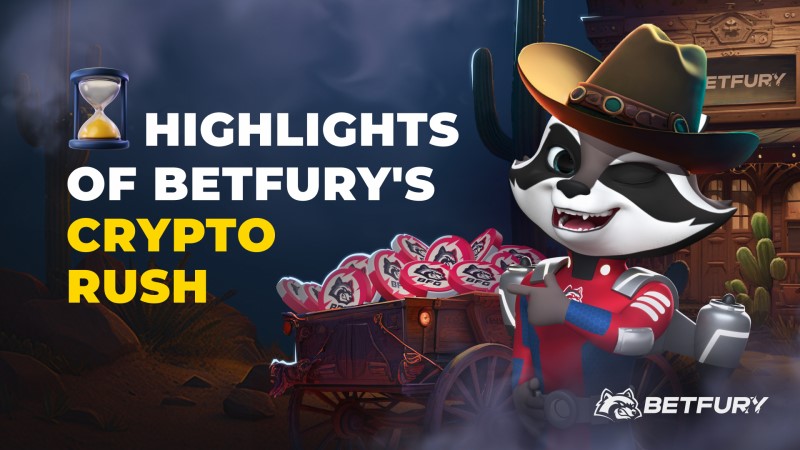 Crypto
Rush for $800 000
Crypto Rush is a themed event
dedicated to the end of BFG Mining. Since BFG (internal BetFury token) has a
strong potential and many utilities, its value has increased significantly.
Therefore, Crypto Rush has become another opportunity for investors and
enthusiasts to get an exclusive currency.
The platform held three themed Battles
with a $150 000 prize pool during the event. According to the results,
every Battle brought 1 500 champions up to $45 000. In addition to
gaming combats, each participant hunted for Gold Tickets by moving from Point
to Point and completing various tasks. For example, users received one Gold
Ticket for a five-day Daily Check-in or three invited friends. The main
destination was to collect as many Gold Tickets as possible because it boosted
the chances of winning the Grand Lottery for $100 000.
The Grand Lottery was the finish line
of the entire event. The lucky winner, who took the first place, won
$10 000. Other 699 users share $90 000. The huge Giveaway and many
surprises awaited users on social media. Everyone could join profitable
activities on BetFury
Official Telegram, Twitter, YouTube, TikTok, and other
social networks. The most active participants got Promo Codes with BFG, Free
Spins for iGaming, and Free Bets for Sports Betting.
Every year the platform held more and
more grandiose events like Summer Hangout or Xmas Party. The expansion of the
global community influenced it, as the desire to strengthen the BFG token's
potential and earn users' trust. Thus, Crypto Rush is just the beginning.
The platform will announce even
greater events thanks to many crypto partnerships, support from top
influencers, and various creative ideas. Moreover, BetFury offers a Welcome
Pack, which will help all beginners plunge into crypto entertainment from the
first minute. Therefore, sign up to get up to 1 000
Free Spins and $3 500.
BetFury is an
ecosystem of crypto products for entertainment and additional income. The
platform has a native BFG token with many utilities. BFG is listed on many
crypto exchanges: PancakeSwap, Biswap, Hotbit, etc. The token has over
55 000 holders, and more than 3 000 000 000 BFG are in circulation.
So, it has become a cryptocurrency with strong potential. The most profitable
utility for using tokens is BetFury Staking, with up to 50% APY and the ability
to flexibly withdraw Staking payouts.
BetFury offers over 8 000 Slots and
Original games with one of the highest RTPs on the market (up to 99.02% RTP).
Along with huge events, the platform provides profitable bonuses: Rakeback,
FuryCharge, and Cashback up to 25%. Every loyal user from Rank 10 gets an
invitation to an elite VIP club. It brings a lot of additional perks, early
access to new games, and a personal VIP manager.
Social
Links
Twitter:
https://twitter.com/betfury_gaming
Telegram:
https://t.me/betfuryofficialchannel
VIP Club:
https://t.me/betfury_vip_notices
Discord:
https://discord.com/invite/D2JNhSah55
YouTube:
https://www.youtube.com/channel/UCTlThuhFNg6yFw8hak4upDw
TikTok:
https://www.tiktok.com/@betfury.io
BitcoinTalk:
https://bitcointalk.org/index.php?topic=5276159
Brand: BetFury
Contact: Mary BetFury
Email: mary.pr@betfury.io
Website: https://betfury.io/
SOURCE: BetFury