News
CTA Filer is Empowering US Businesses to Meet the Demands of the Corporate Transparency Act by Streamlining the Compliance Process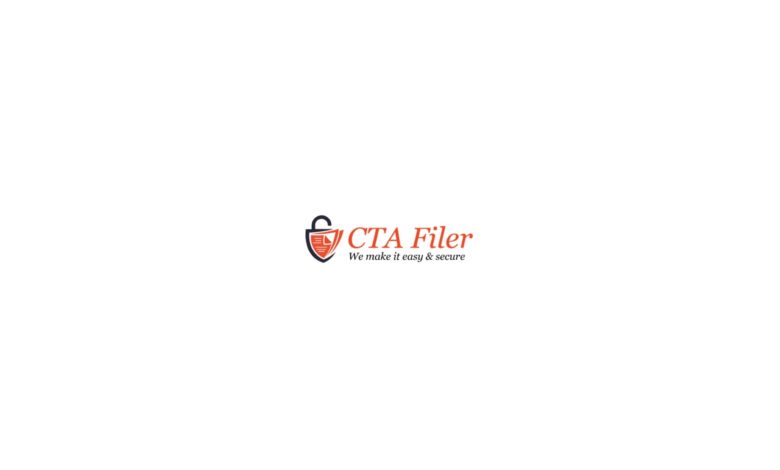 Northbrook, Illinois –

(NewMediaWire) – June 16, 2023 – As the clock ticks toward the implementation of the US Corporate Transparency Act (CTA), businesses across the nation are gearing up to navigate the complexities of new federal regulations. Effective January 1st, 2024, more than 80% of US businesses will be required to file personal information of their beneficial owners with the federal government. Amidst this regulatory landscape, CTA Filer, based in Northbrook, Illinois, emerges as a trusted ally, providing seamless and efficient solutions for businesses to stay compliant.

CTA Filer aims to simplify compliance by assisting businesses in gathering their Beneficial Owners' information and allowing for a seamless filing experience. This innovative platform takes on the crucial task of filing the CTA form with FinCEN, allowing businesses to focus on their core operations. With new regulations requiring over 80% of US businesses to submit their beneficial owners' personal information to the federal government, the platform ensures compliance by providing a straightforward filing and sensitive BOI secure storage solution while offering valuable resources and guidance throughout the process.
At the heart of the compliance process lies CTA Filer's core offering, the CTA Prep Kit, which serves as a catalyst for streamlining businesses' compliance efforts. This innovative kit embodies a wealth of resources, meticulously designed to simplify the intricate world of CTA compliance. With detailed guides that illuminate the nuances of compliance, comprehensive checklists that ensure no essential information is overlooked, and readily available templates for crucial documentation, the CTA Prep Kit becomes an indispensable tool. By significantly reducing the time and effort businesses invest in understanding and meeting CTA requirements, this cost-effective solution not only empowers them but also instills a sense of confidence and tranquility. 
To fortify businesses against the looming threat of fines arising from inaccurate information, CTA Filer presents a vital tool: the CTA Affidavit. This pivotal document serves as a binding legal declaration, bestowing both protection and peace of mind by attesting to the accuracy and verifiability of the information furnished by beneficial owners. By harnessing the power of the CTA Affidavit, businesses can shield themselves and their stakeholders from potential pitfalls while ensuring compliance with the Act. 
With a user-centric approach, CTA Filer services offer an intuitive online filing system accompanied by step-by-step instructions, guaranteeing that the CTA compliance filing process remains effortless and devoid of complications. Through the implementation of robust security measures and annual monitoring of compliance requirements, this platform safeguards the data of businesses, providing peace of mind while significantly reducing the paperwork burden. Moreover, its commitment to staying abreast of the latest changes in CTA regulations ensures that businesses receive the most up-to-date filing requirements assuring them that their compliance efforts remain in line with the evolving regulatory landscape. 
Recognizing the complexity surrounding Beneficial Ownership reporting requirements, CTA Filer goes the extra mile by assisting organizations in determining their specific obligations. Through meticulous analysis, it identifies beneficial owners accurately, ensuring compliance with the Act's mandates. By validating identification documents with utmost care and attention, the platform guarantees the authenticity and reliability of the information provided.
CTA Filer upholds the principles of affordability and accessibility as fundamental pillars of its philosophy. Its services are thoughtfully priced, presenting a cost-effective alternative to pricier accounting or legal options. By ensuring that compliance is within reach for businesses of all sizes, it fosters inclusivity, leaving no organization behind. To further instill trust and confidence in its services, it goes the extra mile by offering a service guarantee.
Envisioned as an "Experience as a Service"® web application, CTA Filer boasts a remarkable team of professionals, including accountable lawyers, trusted CPAs, and expert data security specialists. This distinguished team brings a wealth of knowledge and proficiency, positioning them as sought-after advisors in CTA compliance. They leverage their extensive expertise to provide invaluable guidance, ensuring a streamlined compliance journey. With the US Corporate Transparency Act deadline approaching, businesses in Northbrook, Illinois, and beyond can turn to these professionals for simplified compliance. 
CTA Filer is located at 555 Skokie Blvd. Suite 500, Northbrook, Illinois, 60062, US. To contact their team call 855-237-8062 or visit their website to learn more about CTA filing services.
Media Contact:
Company Name: CTA Filer
Contact Person: M Lightfoot
Phone: 855-237-8062
Address: 555 Skokie Blvd. Suite 500
City: Northbrook
State: Illinois
Postal Code: 60062
Country: USA
Website: https://ctafiler.com/