Market Movers
News
E2open: Is The Elliott Investment Offer A Much Needed Catalyst For Its Turnaround?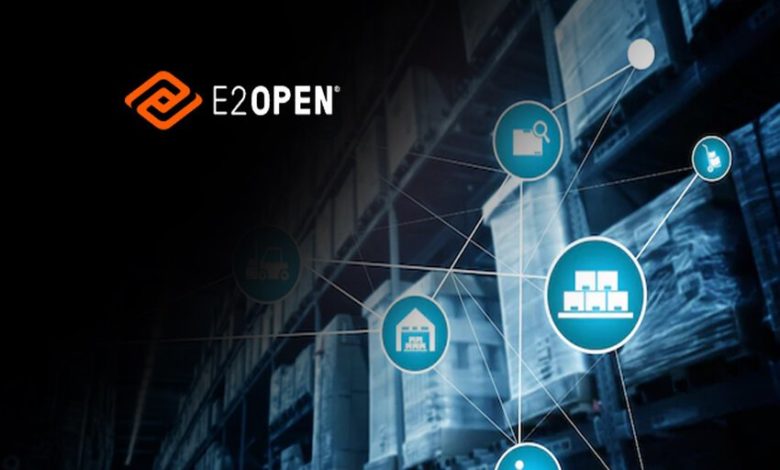 Our small-cap pick for the day is E2open (NYSE:ETWO), a supply-chain software company, which is buzzing all over the news thanks to the recent actions of activist investor Elliott Investment Management. E2open's stock price surged by double-digits after Elliott declared its intention to take a substantial stake and explore the possibility of a takeover offer. In a recent 13D filing, Elliott disclosed a significant 13.8% ownership in E2open, a company with a market capitalization of $823 million. This news comes in the wake of reports by Bloomberg regarding the potential takeover offer. Elliott's investment in E2open amounts to a whopping $69.9 million, signaling its strong belief that the company is undervalued and harbors untapped potential.
What makes this development even more intriguing is that it follows a tumultuous period for E2open, during which its stock price plummeted by 50% to reach an all-time low. The market was shaken when the company revised its earnings forecast and announced the resignation of CEO Michael Farlekas, causing its stock to lose nearly 60% of its value year-to-date. Let us take a closer look at the factors at play, and evaluate the business of E2open including the major factors that could benefit Elliott in the event that they go through with the buyout.
What Does E2open Do?
E2open Parent Holdings, Inc. provides cloud-based and end-to-end supply chain management and orchestration SaaS platform in the Americas, Europe, and the Asia Pacific. Its software solutions orchestrate supply chains and realize value and return on investment for its blue-chip customers. The company's software combines networks, data, and applications to provide a platform that allows customers to optimize their channel and supply chain across channel shaping, demand sensing, business planning, global trade management, transportation and logistics, collaborative manufacturing, and supply management. It serves technology, consumer, industrial, transportation, and other industries. The company was incorporated in 2020 and is headquartered in Austin, Texas.
Go-To-Market Transformation
E2open's future hinges on its ability to revamp its go-to-market strategy. The company is focused to address the top-line weaknesses and improve sales execution. E2open has experienced challenges, including high sales force turnover and significant changes in account coverage, which have disrupted the sales organization. To rectify this, E2open is working on streamlining the sales team, optimizing spans of control, and making sales training more effective. The aim is to create a consistent, high-functioning sales force capable of understanding products and customers intimately. This transformation aims to eliminate the hindrances to sales excellence and drive more significant customer engagement. The ultimate goal is to transition from an M&A-focused company to one that achieves substantial organic growth. While these changes will take time to yield results, they are pivotal for E2open's future success.
Customer Engagement Enhancement
E2open's management recognizes the importance of deep, comprehensive customer engagement, especially in cross-selling enterprise software to large clients. The company acknowledges the need to create a consistent level of engagement across its extensive customer base. To achieve this, E2open is working on implementing best practices around customer engagement. The company is building a customer-centric culture of operational excellence, and it has reorganized its customer support teams, introducing new metrics and a customer survey process to track customer satisfaction rigorously. The goal is to establish consistent service excellence at every point of customer contact and turn clients into referenceable champions of E2open. Deepening engagement is crucial for cross-selling and retaining clients in the long run.
Cost Efficiency & Profitability
E2open maintains an efficient cost structure and operational discipline while continuing to invest in its business, customer experience, and product. The company's financials reflect its ability to sustain strong gross margins despite a period of lower-than-expected growth. The focus on an efficient cost structure has contributed to improved profitability, as evident in the increased adjusted EBITDA. The company continues to drive cost savings related to headcount, consulting spend, and other operating items. It aims to ensure strong and sustainable profitability, even during a period of weaker top-line performance, while maintaining its core objective of generating cash flow to fund future organic growth.
Final Thoughts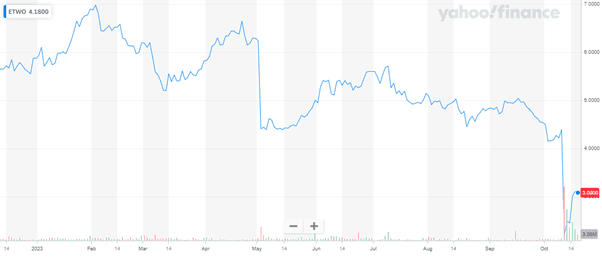 Source: Yahoo Finance
We can clearly see a big plunge in E2open's stock price after the last CEO resignation and the bad result followed by the big spike given Elliott's interest. The hedge fund's interest in E2open is not just about acquiring shares but actively engaging with the company's management and board to explore strategic opportunities. As per news reports, Elliott is not ruling out the possibility of becoming an acquirer, investor, and financing source. They can surely capitalize on the go-to-market transformation, customer engagement enhancement, and cost efficiency approach of E2open. These factors should play a pivotal role in shaping E2open's performance in the coming years.