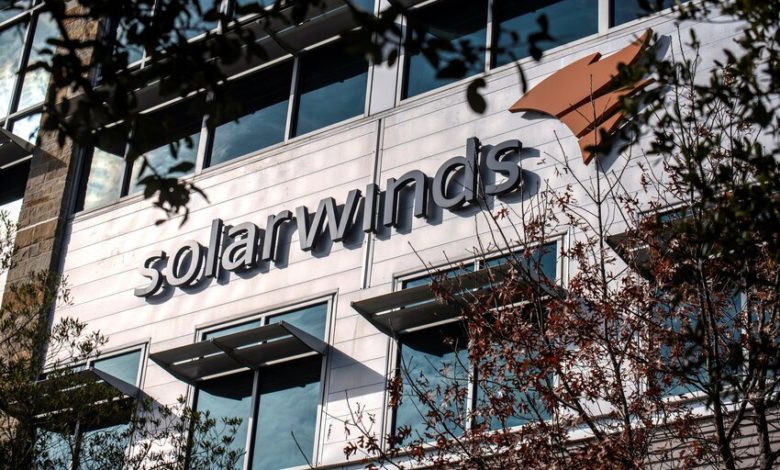 SolarWinds Corporation (NYSE:SWI) is capturing the attention of investors as it surges with a double-digit gain, driven by a report indicating that the software company is actively exploring various strategic options, potentially including a sale. The revelation that SolarWinds is working in collaboration with financial advisors to lay the groundwork for a potential sale process, expected to kick off early next year, is sending ripples through the investment landscape. Let us delve into the factors driving the interest in SolarWinds and gain a comprehensive understanding of SolarWinds as a prospective investment opportunity.
What Does SolarWinds Do?
SolarWinds Corporation is a prominent provider of information technology (IT) management software products, catering to both domestic and international markets. Their extensive portfolio encompasses a range of solutions designed for technology professionals, facilitating the monitoring, management, and optimization of various IT components such as networks, systems, desktops, applications, storage, databases, website infrastructures, and IT service desks. SolarWinds equips technology experts with a suite of network management software, delivering real-time insights into network utilization and bandwidth. This software empowers users to detect, diagnose, and rectify network performance issues promptly. Additionally, their infrastructure management products are instrumental in monitoring and analyzing application performance and the underlying infrastructure, spanning websites, servers, physical, virtual, and cloud resources, storage, and databases. SolarWinds further enhances IT management with their application performance management software, offering visibility into log data, cloud infrastructure metrics, applications, tracing, and digital experiences. The company extends its services to encompass ITIL-compliant service desk solutions for diverse enterprises. Notably, their database performance management software specializes in monitoring, analyzing, diagnosing, and optimizing database operations and performance, catering to various platforms, including Microsoft data systems, open-source databases, and cloud-native databases. SolarWinds also bolsters cybersecurity efforts with security solutions like security information and event management, access rights management, identity monitoring, server configuration monitoring and patching, secure gateways, and file transfers. The company markets its products directly to a wide range of IT professionals, including network and systems engineers, database administrators, storage administrators, DevOps, SecOps, and service desk professionals.
Strong Subscription Revenue Growth
One of the key drivers that will significantly impact SolarWinds' performance in the coming years is its robust subscription revenue growth. In Q2 2023, SolarWinds reported an impressive 44% year-over-year growth in subscription revenue, demonstrating the tangible benefits of its subscription-first strategy. This transformation to a subscription model is more than just a change in business approach; it's about delivering greater value to customers. With 92% of total revenue now classified as recurring, this strategy has already laid a solid foundation for consistent revenue streams and enhanced margins. Furthermore, the company's relentless focus on customer retention and expansion is reflected in its trailing 12-month renewal rate of 94%. As customers increasingly recognize the value of SolarWinds' solutions, the company's ability to retain and grow its customer base is a key driver for future success.
Expanding Product Portfolio &Innovation in AI
SolarWinds' ongoing investments in expanding its product portfolio and harnessing the power of artificial intelligence (AI) are pivotal drivers for its future prospects. The company's relentless pursuit of innovation includes integrating AI capabilities into its solutions, enabling customers to enhance productivity and security. Their AI-driven solutions are uniquely positioned to cater to a broad range of IT operations and DevOps teams, improving issue detection and resolution across applications, networks, infrastructure, and more. The recent recognition by Forrester as a strong performer in AI for IT operations further underlines the company's pledge to AI-driven innovation. As the IT landscape grows increasingly complex, SolarWinds' AI-driven solutions will become indispensable, driving customer satisfaction and expanding their customer base.
Strong Financial Performance & Profitability
SolarWinds' strong financial performance and profitability serve as another vital driver for its stock. The company reported double-digit year-over-year adjusted EBITDA growth in Q2, with an adjusted EBITDA margin of 43%. This impressive performance demonstrates the operating leverage within SolarWinds' business and its dedication to expense and operating discipline. The strategic focus on increasing subscription adoption, coupled with disciplined expense management, ensures the company's ability to maintain and expand its profitability. With net leverage trending downwards and a continued focus on improving efficiency and profitability, SolarWinds' ability to navigate challenging economic conditions and achieve strong financial results is a crucial driver for its stock's future performance.
Final Thoughts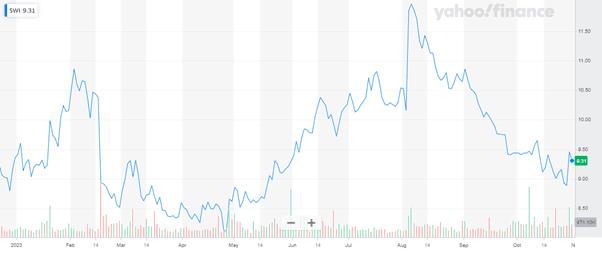 Source: Yahoo Finance
We see a slight spike in the SolarWinds stock price after the announcement of the company exploring a sale although there is expected to be little movement for the next 2 months. It is worth highlighting that SolarWinds is currently under the ownership of private equity giants Silver Lake and Thoma Bravo. The involvement of these influential entities adds an extra layer of complexity to the situation, and the outcome could have far-reaching implications for the software company's future trajectory. Its strong subscription revenue growth, innovative AI-powered solutions, and recent financial performance, position SolarWinds for sustained success and make it an enticing acquisition target. From an investment standpoint, we believe that investors should keep the company on their watchlist at least for the coming 2 months.