Featured
Infobird Co.: Take Flight With This Incredibly Innovative and Adaptive SaaS Company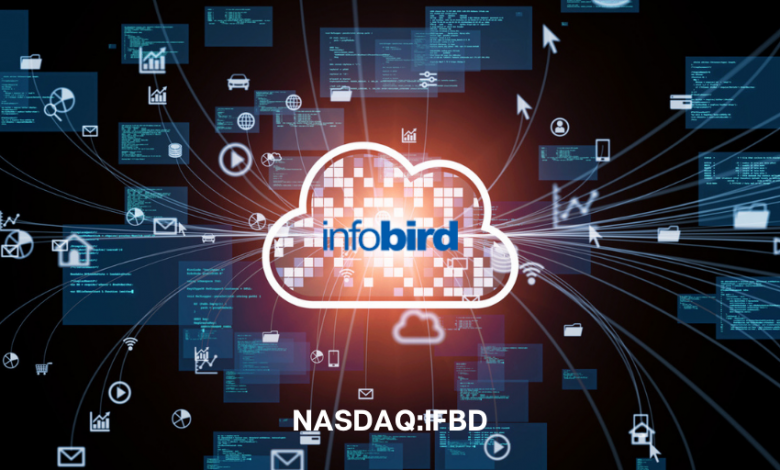 With a current population of 1.4 billion and a GDP that is on target to reach $24.12 trillion by 2025, China is quickly becoming an economic powerhouse and is showing little signs of slowing down. One industry in particular that is set for double digit growth is the information technology and cloud computing sector, which is forecasted to have an incredible CAGR of 30% between 2019-2023. Within this sector, is the software-as-a-service (SaaS) industry which has seen an even more impressive 43.5% CAGR between 2019 and 2020 and is set to continue this meteoric rise into the future.
Cloud computing is becoming much more than just a database or virtual storage room for company's data. New technologies like artificial intelligence and machine learning are being implemented into the cloud to facilitate company's efforts in building customer relationships and penetrating new markets.
These applications are being applied industry wide and are quickly becoming an absolute necessity if companies want to keep up with the competition. A select group of software developers are acting as pioneers within the cloud services industry, assisting a company's transition of their sales force into the cloud, and in doing so are presenting savvy investors with an opportunity to join in on this technological revolution.
Company Overview
Infobird (IFBD) is a SaaS provider of innovative AI-powered customer engagement solutions operating in China. With their self-developed cloud-based architecture, machine learning capabilities, and voice-over-internet-protocol (VOIP) service this company is delivering software solutions to help customers deliver and manage end-to-end customer engagement activities at all stages of the sales process including pre-sales, sales, and post-sales customer support.
They are also offering an AI based sales force management software including quality inspections and intelligent training solutions to help customers monitor, measure, and improve the performance of their sales-force agents. Through these innovative and patented technologies Infobird is allowing users to increase efficiencies, provide exceptional customer service with minimal staff and create cost savings at scale.
The company has a strong customer base with over 10,000 paid active accounts. They have deep roots in the financial sector (which accounted for roughly 7.8% of China's total GDP, giving it a market value of $1.1 trillion) but are quickly expanding into other large industries like education, public services, healthcare, and consumer products.
All told, this young software company is providing a comprehensive portfolio of customer engagement solutions that are highly intelligent, scalable, and customizable for companies across all industries.
A Strong Moat Through Continuous Innovation
A company is only as good as their ability to sustain a competitive advantage, and Infobird is thinking long-term through their large focus on research and development. With 122 employees dedicated solely to R&D the company has put 40% of their entire workforce and over $6 million within the last three years into this department, and the results are speaking for themselves.
Infobird has built an impressive intellectual property portfolio including 19 approved patents, 13 more currently under review, 51 software copyrights, 1 artwork copyright, 39 registered trademarks, and 5 trademark applications under review. Their ability to execute on creating unique proprietary technology is creating a strong moat for themselves through protecting their software solutions from competitors attempting to imitate their success. And more importantly, is showing customers and investors alike their commitment to innovation and continuously improving their product offerings.
What perhaps is even more impressive is the company's ability to invest so heavily into R&D while remaining cash flow positive. Between 2018 to 2020 Infobird has seen their operating cash flow stay incredibly consistent with $2.7, $3.5, and $1.6 million in ending balances despite the heavy investments into R&D over that same time period.
A New Level of Customization For Their Customers
Infobird realizes their past success in attracting new customers and retaining current ones comes from their ability to customize and adapt their software solutions to the specific needs of the customer.
With their recent self-based no-code development platform they can now roll out fully customized software solutions faster than ever before. This no-code platform acts as a "middle platform" for Infobird's developers, letting them write codes and algorithms to generate microservice modules (which is the smallest service a customer can subscribe to) without having to complete the entire software development lifecycle.
Developers no longer need to re-write entire pieces of code for customers, they can simply tweak and combine existing code which is then stored into their internal database. As new customers join or existing customers require more functionality, they can pick-and-pull from this database and then customize to fit each customer's specific needs.
Competitor Analysis
A surging demand for software solutions has led the market to become highly competitive in recent years, and Infobird must compete with companies not just in China but from across the world. However, with a market big enough to allow for multiple winners Infobird's competitors are validating the incredible demand and potential for this still very young company.
Twilio is a cloud-based communication software company headquartered in San Francisco, California. The company specializes in providing a software development platform enabling developers to build, customize and scale customer engagement methods such as instant messaging, VOIP and video communication directly into their web, desktop, and mobile software.
Zendesk is a provider of customer relationship management (CRM) software with their flagship product being "Zendesk Support" allowing companies to track, prioritize and solve customer support tickets.
Five9 offers customers a virtual contact center delivering a suite of applications, enabling the full breadth of contact center related customer service, sales, and marketing functions. Their cloud-based software allows their users to manage these customer interactions across various communication channels such as voice, chat, email, web, social media and more.
| | | | | |
| --- | --- | --- | --- | --- |
| | Infobird | Twilio | Zendesk | Five9 |
| Market Cap | $85.34 million | $68.75 billion | $17.43 billion | $12.94 billion |
| Profit Margin | 27.51% | -30.34% | -20.58% | -9.84% |
| Revenue (ttm) | $14.53 million | $1.99 billion | $1.09 billion | $477.7 million |
Infobird Comps
From the chart above you can see Infobird's competitors are great examples of the revenue and growth potential within the SaaS customer engagement industry. But with staggering valuations presents the problem of how much further growth can these companies realistically accomplish. With a much lower market cap than competitors Infobird is unquestionably presenting investors with the highest potential upside for further growth. Pair this with remarkably better profit margins, strong relationships inside a country with a faster growing market and this young SaaS company is already starting to outshine their much bigger competitors.
Key Takeaway
With an emphasis on research and development, an incredibly simple and customizable development platform, and a huge total addressable market Infobird is positioning themselves as a market winner within the highly competitive software space. Their market cap is less than half of their competitors and with industry leading margins, sustainable operating cash flow, and a massive portfolio of intellectual property this software provider is making things easy for investors, presenting them the opportunity to join a company with incredible (and sustainable) long-term growth.
---
Disclaimer
No positions
Disclaimer
This website is a wholly owned subsidiary of Salesparq, LLC, herein referred to as Salesparq, LLC. Our publications are a commercial advertisement and are for general information purposes ONLY. We are engaged in the business of marketing and advertising companies for monetary compensation. We may receive compensation for this article on a PPC basis as an affiliate. Never invest in any stock featured on our site or emails unless you can afford to lose your entire investment. The disclaimer is to be read and fully understood before using our services, joining our site or our email/blog list as well as any social networking platforms we may use.PLEASE NOTE WELL: Salesparq, LLC and its employees are not a Registered Investment Advisor, Broker Dealer or a member of any association for other research providers in any jurisdiction whatsoever.Release of Liability: Through use of this website viewing or using you agree to hold Salesparq, LLC, its operators owners and employees harmless and to completely release them from any and all liability due to any and all loss (monetary or otherwise), damage (monetary or otherwise), or injury (monetary or otherwise) that you may incur. The information contained herein is based on sources which we believe to be reliable but is not guaranteed by us as being accurate and does not purport to be a complete statement or summary of the available data. Salesparq, LLC encourages readers and investors to supplement the information in these reports with independent research and other professional advice. All information on featured companies is provided by the companies profiled, or is available from public sources and Salesparq, LLC makes no representations, warranties or guarantees as to the accuracy or completeness of the disclosure by the profiled companies. None of the materials or advertisements herein constitute offers or solicitations to purchase or sell securities of the companies profiled herein and any decision to invest in any such company or other financial decisions should not be made based upon the information provided herein. Instead Salesparq, LLC strongly urges you conduct a complete and independent investigation of the respective companies and consideration of all pertinent risks. Readers are advised to review SEC periodic reports: Forms 10-Q, 10K, Form 8-K, insider reports, Forms 3, 4, 5 Schedule 13D. Salesparq, LLC is compliant with the Can Spam Act of 2003. Salesparq, LLC does not offer such advice or analysis, and Salesparq, LLC further urges you to consult your own independent tax, business, financial and investment advisors. Investing in micro-cap and growth securities is highly speculative and carries and extremely high degree of risk. It is possible that an investors investment may be lost or impaired due to the speculative nature of the companies profiled. The Private Securities Litigation Reform Act of 1995 provides investors a safe harbor in regard to forward-looking statements. Any statements that express or involve discussions with respect to predictions, expectations, beliefs, plans, projections, objectives, goals, assumptions or future events or performance are not statements of historical fact may be forward looking statements. Forward looking statements are based on expectations, estimates, and projections at the time the statements are made that involve a number of risks and uncertainties which could cause actual results or events to differ materially from those presently anticipated. Forward looking statements in this action may be identified through use of words such as projects, foresee, expects, will, anticipates, estimates, believes, understands, or that by statements indicating certain actions & quote; may, could, or might occur. Understand there is no guarantee past performance will be indicative of future results.In preparing this publication, Salesparq, LLC has relied upon information supplied by its customers, publicly available information and press releases which it believes to be reliable; however, such reliability cannot be guaranteed. Investors should not rely on the information contained in this website. Rather, investors should use the information contained in this website as a starting point for doing additional independent research on the featured companies. Salesparq, LLC has not been compensated for this article. The advertisements in this website are believed to be reliable, however, Salesparq, LLC and its owners, affiliates, subsidiaries, officers, directors, representatives and agents disclaim any liability as to the completeness or accuracy of the information contained in any advertisement and for any omissions of materials facts from such advertisement. Salesparq, LLC is not responsible for any claims made by the companies advertised herein, nor is Salesparq, LLC responsible for any other promotional firm, its program or its structure. Salesparq, LLC is not affiliated with any exchange, electronic quotation system, the Securities Exchange Commission or FINRA.