Featured
Interactive Strength Inc. is Trading at a Massive Discount Right Now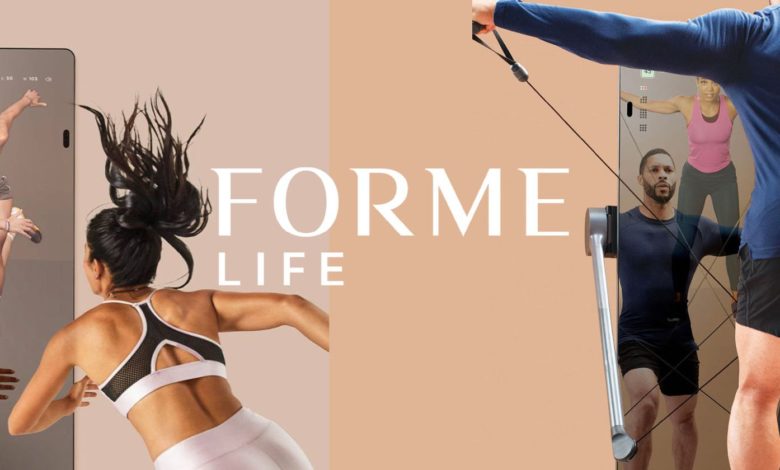 Interactive Strength Inc. (Nasdaq: TRNR – dba "FORME") is the Newest Digital Fitness Company on the Market and May be Trading at a Massive Discount Right Now as Early Investors are Telling You They Expect it to Go to at Least $12 a Share – a 6x return!
The market is inundated with companies scrambling to win big in the market booms of AI, tech, biotech, and clean energy. There are quite a few companies not getting nearly enough discussion as they should in recession-proof segments that are poised to see explosive growth in the future. One of them in the explosive digital fitness sector is Interactive Strength Inc. (Nasdaq: TRNR – dba "FORME").
The home fitness industry is seeing explosive growth and is projected to expand from $15.13 billion in 2022 to $16.55 billion in 2023, demonstrating an impressive compound annual growth rate of 9.3%. There's growing interest in the space from notable investors and EGYM, a Munich-based "smart workout solution" business, recently agreed to a monster equity investment of €207 million ($225 million) led by the investment firm started by Jared Kushner. With Kushner's firm backing the company, it's easy to see that fitness is catching major attention in the business arena. With all that said, this may be the perfect time to put emerging player Interactive Strength Inc. (Nasdaq: TRNR – dba "FORME") on your radar!
Company Overview
FORME delivers an immersive and dynamic at-home fitness experience through two connected hardware products:
1. The FORME Studio (fitness mirror) and
2. The FORME Studio Lift (fitness mirror and cable-based digital resistance)
To watch a video of FORME's products in use, CLICK HERE!
The Studios uniquely transform to host a variety of workouts and activities, returning to an elegant, full-length mirror when not in use.
In addition to the Company's connected fitness hardware products, FORME offers expert personal training and health coaching in different formats and price points through Video On-Demand, Custom Training, and Live 1:1 virtual personal training.
The company has launched a golf fitness training offering that provides clients with a TPI (Titleist Performance Institute) certified trainer that will help golfers with flexibility, range of motion, and power.
The Company also secured two European partners with the luxury hotel chain Aethos and sports retail company SIGNA Sports United. These partnerships will give FORME entry into a new market plus access to an established customer base.
FORME is quickly getting mainstream attention and is already recognized with awards from Men's Health, Shape, and Good Housekeeping.
TRNR had its IPO this past spring and is still very fresh to the scene. While market volatility and economic uncertainty may have dragged the price down, insiders seem to be signaling for bigger prices to come – PAY ATTENTION BELOW!
As Seen On:

The digital fitness industry is positioned for growth and FORME may be at supreme value right now at around $2 a share!
When you consider that major shareholders own more than 50% of the business and invested much higher in the spring of 2022 and also again at IPO this May 2023, they may see tremendous growth potential!
HERE'S THE INSIDE SCOOP – These investors, which include sophisticated Hedge funds and Family Offices, invested tens of millions last year. You can see all this outlined on page 170 in the company's S-1 HERE.

All of the early investors are locked up from trading for a LONG time (18-months until November 2024 in fact), UNLESS if the stock trades at $12, $16, or $20, which is the earliest they could sell anything! This appears to be a lot of optimism that smart money has about where TRNR may be headed and they have written it down in the filings!
And, here's the real kicker – senior management is VERY incentivized to get the stock up there as they were just granted a lot of options that only vest once the stock gets to $12, $16 and $20. Clearly they know that level is possible otherwise they wouldn't do that! t says:
1/3 of the shares subject to the options shall vest if and when the per share price of our common stock is at least $12 per share calculated based on the 30-day VWAP;
1/3 of the shares subject to the options shall vest if and when the per share price of our common stock is at least $16 per share calculated based on the 30-day VWAP; and
1/3 of the shares subject to the options shall vest if and when the per share price of our common stock is at least $20 per share calculated based on 30-day VWAP.
This means that all the people that know the most are saying that they expect the stock is going to be a 6-10x from here! Get involved and ride the wave ahead of the smart money.
All this information is also available to the public! See page 103 of the company's 10-Q HERE.
If there was ever a time to be paying attention to TRNR, it would be right now! Fresh to the trading scene, the stock looks set to perform and the smart money is actually telling you what they are going to do on Wall Street before they do!
Demand for Convenient Digital Fitness Options are Exploding
According to a survey by the American College of Sports Medicine, ONLINE PERSONAL TRAINING was ranked the NUMBER 1 fitness trend in the top ten around the globe. Online training includes live streaming classes and workouts on demand, wearables, bodyweight training, outdoor activities, and high-intensity interval training.
Working from home and the rise of mobile technology make it challenging to balance time between family, work, and personal health and wellness, resulting in increasing demand for convenient fitness options. Digitization increases convenience of fitness options for consumers, enabling them to train from home and increasing flexibility to schedule with trainers from different time zones.
From 2022 to 2023, the worldwide online/virtual fitness market experienced a compound annual growth rate (CAGR) of 39.4%, increasing from $15.65 billion to $21.82 billion. The market is projected to continue growing at a CAGR of 36.9% and reach $76.57 billion by 2027.
Statistics like this just showcase how big the fitness sector is and the lucrative revenue opportunity that TRNR is strategically zooming on. FORME is growing and is already averaging more annualized average revenue per user than Peloton!!
Founded in 2012, Peloton rose to become a fitness unicorn… a startup valued at $1 billion, by selling exercise bikes with large internet-enabled touch screens that played live broadcasts of fitness classes.
The company went from a luxury fitness product to a meme, to a pandemic fitness craze. But now, as Peloton continues to underperform in the market, TRNR is a fitness company taking Wall Street by storm.
Despite being a new company, TRNR is doing a lot more than Peloton and is averaging a $1,650 average annualized recurring revenue per household!!
"The average annualized recurring revenue per household more than tripled to $1,650, reflecting the impact of our strategy to introduce higher revenue training services to our premium smart home gyms. We believe this focus on generating significantly higher recurring revenue per customer than our peers will be the biggest driver toward our future profitability," commented TRNR co-founder and CEO Trent Ward.
The Bottom Line
Home gyms became all the rage during the pandemic and many people are still driven to work out at home despite the reopening of workout facilities. Right from your home you can get a full-blown workout out with smaller, less bulky pieces and this is an attractive incentive to many consumers.
As more consumers prioritize their health, they are less likely to let the market and economic conditions impact how they spend their time and money. Synching workouts to fitness apps is yesterday's news. Imagine having access to world-class trainers through a screen at your home.
TRNR is offering just that, and this emerging company is connecting consumers with personal trainers and introducing a new way to train from home.
FORME is a new company that's emerging rapidly as peers such as Peloton did at their infancy, and has insiders sitting patiently for a minimum price of at least $12 a share.
TRNR is offering a game-changing way to workout from home and could be trading at a supreme discount right now!
Start your research right away!
Disclaimer
This website is a wholly owned subsidiary of SCD Media, LLC, herein referred to as Smallcaps Daily. Our publications are a commercial advertisement and are for general information purposes ONLY. We are engaged in the business of marketing and advertising companies for monetary compensation. We may receive compensation for this article on a PPC basis as an affiliate. Never invest in any stock featured on our site or emails unless you can afford to lose your entire investment. The disclaimer is to be read and fully understood before using our services, joining our site or our email/blog list as well as any social networking platforms we may use. PLEASE NOTE WELL: Smallcaps Daily and its employees are not a Registered Investment Advisor, Broker Dealer or a member of any association for other research providers in any jurisdiction whatsoever.Release of Liability: Through use of this website viewing or using you agree to hold Smallcaps Daily, its operators owners and employees harmless and to completely release them from any and all liability due to any and all loss (monetary or otherwise), damage (monetary or otherwise), or injury (monetary or otherwise) that you may incur. The information contained herein is based on sources which we believe to be reliable but is not guaranteed by us as being accurate and does not purport to be a complete statement or summary of the available data. Smallcaps Daily encourages readers and investors to supplement the information in these reports with independent research and other professional advice. All information on featured companies is provided by the companies profiled, or is available from public sources and Smallcaps Daily makes no representations, warranties or guarantees as to the accuracy or completeness of the disclosure by the profiled companies. None of the materials or advertisements herein constitute offers or solicitations to purchase or sell securities of the companies profiled herein and any decision to invest in any such company or other financial decisions should not be made based upon the information provided herein. Instead Smallcaps Daily strongly urges you conduct a complete and independent investigation of the respective companies and consideration of all pertinent risks. Readers are advised to review SEC periodic reports: Forms 10-Q, 10K, Form 8-K, insider reports, Forms 3, 4, 5 Schedule 13D. Smallcaps Daily is compliant with the Can Spam Act of 2003. Salesparq, LLC does not offer such advice or analysis, and Smallcaps Daily further urges you to consult your own independent tax, business, financial and investment advisors. Investing in micro-cap and growth securities is highly speculative and carries and extremely high degree of risk. It is possible that an investors investment may be lost or impaired due to the speculative nature of the companies profiled. The Private Securities Litigation Reform Act of 1995 provides investors a safe harbor in regard to forward-looking statements. Any statements that express or involve discussions with respect to predictions, expectations, beliefs, plans, projections, objectives, goals, assumptions or future events or performance are not statements of historical fact may be forward looking statements. Forward looking statements are based on expectations, estimates, and projections at the time the statements are made that involve a number of risks and uncertainties which could cause actual results or events to differ materially from those presently anticipated. Forward looking statements in this action may be identified through use of words such as projects, foresee, expects, will, anticipates, estimates, believes, understands, or that by statements indicating certain actions & quote; may, could, or might occur. Understand there is no guarantee past performance will be indicative of future results.In preparing this publication, Smallcaps Daily, has relied upon information supplied by its customers, publicly available information and press releases which it believes to be reliable; however, such reliability cannot be guaranteed. Investors should not rely on the information contained in this website. Rather, investors should use the information contained in this website as a starting point for doing additional independent research on the featured companies. Smallcaps Daily has not been compensated for this article. The advertisements in this website are believed to be reliable, however, Smallcaps Daily and its owners, affiliates, subsidiaries, officers, directors, representatives and agents disclaim any liability as to the completeness or accuracy of the information contained in any advertisement and for any omissions of materials facts from such advertisement. Smallcaps Daily is not responsible for any claims made by the companies advertised herein, nor is Smallcaps Daily responsible for any other promotional firm, its program or its structure. Smallcaps Daily is not affiliated with any exchange, electronic quotation system, the Securities Exchange Commission or FINRA.